Wheaton College chose from one of its own when it appointed Philip Ryken, pastor of Tenth Presbyterian Church in Philadelphia, as its next president. Ryken graduated from the college in 1988 and has served on its board of trustees since 2006. Ryken received his M.Div. from Westminster Theological Seminary and his doctorate in historical theology from the University of Oxford. He is on the board of trustees at Westminster Theological Seminary, and a council member of the Alliance of Confessing Evangelicals and the Gospel Coalition. Ryken will begin on July 1 after president Duane Litfin retires in June. Ryken spoke with online editor Sarah Pulliam Bailey about his plans for the college.
You chose to leave a very prominent pulpit. What is the role of Christian colleges, Wheaton in particular, in shaping evangelicalism?
I see Wheaton College as a definitional institution that in so many ways helps to clarify evangelical commitment for the wider church. Because Wheaton prepares so many young people for kingdom service worldwide, it tends to have a church-shaping influence generation by generation.
Do you think the parachurch drives evangelicalism?
No; however, an institution like Wheaton, which is an interdenominational college, provides an intersection, a meeting place of evangelical commitment that helps the wider church understand the core commitments of evangelical faith.
What do you think the role of college president will demand from you that being the pastor of a large church didn't?
One of the main things is a much wider and deeper understanding of higher education than I presently have. Although I've been very actively involved in various boards at Wheaton College in the past decade, I have so much to learn about higher education. There certainly will be a learning curve for me to serve at Wheaton. One of the unique challenges of a college presidency is the complex and constant demands from different constituencies of the college. In pastoral ministry, I primarily need to have a listening voice to the congregation; there is a complexity on a college campus of listening clearly to faculty, students, staff, and alumni.
You have had no significant experience in academic administration. What would you say to critics who question your ability to judge things like tenure, given that you've never gone through the vetting process or something similar?
I think it's a big advantage that I have served on the academic affairs committee on Wheaton's board. I have already been involved in the process of tenure review for academic hiring. These are not unfamiliar areas to me.
What are the areas of concern in Wheaton's current makeup that you would devote your energies to strengthening?
I'm a keen enthusiast for Wheaton College and the extraordinary work that our faculty, staff, and administration do. Whenever I'm on campus, I have a huge joy in interacting with our students. I do not come to Wheaton with any particular reforming agenda. One thing that I told the presidential selection committee that I want to cultivate campus-wide is a community of grace. I believe that true excellence, whether in academics or in other areas, is best inspired by a deep awareness of God's love for us in Christ. I want to live and serve with a deep awareness of that in my own life and seek to cultivate it in whatever Christian community I belong to, and that now includes in a very intentional way Wheaton College.
It is commonly known that you are deeply committed to Reformed theology. How will you distinguish between your personal convictions and the historically broad definition of evangelicalism at Wheaton?
I grew up in the Wheaton College community, and one of the things I've always loved about Wheaton is the way that Reformed, Arminian, Mennonite, Anglican, Baptist, and other evangelical traditions intersect in one academic institution. I understand that Wheaton has a core theological statement of evangelical conviction that establishes a foundation for our intellectual and spiritual work. That core commitment gives each of us within the Wheaton community the freedom to hold our distinctive theological convictions while at the same time respecting the theological convictions of others in the community.
I do not think it is the president's role to impose his own theological commitments on the college as a whole but to uphold the convictions that we share in common as defined in our statement of faith.
A recent article by Andrew Chignell described Wheaton's approach to theological identity/doctrine and general management structure as "magisterial"; do you see any accuracy in that description? How would you describe the management style you hope to bring to Wheaton?
I do not have a comment on the Chignell piece. I'm happy to answer a question on my own leadership style. Things that are important to me in leadership are championing a vision so that there is the result of collaboration, so that there is widespread communal commitment to a shared vision. Something that's very important to me in leadership is recognizing and honoring the unique gifts of others, and encouraging and supporting them so that they can flourish in the gifts that God has given to them.
How should a college like Wheaton balance theological beliefs and academic freedom?
Our theological statement as a college clarifies those doctrines on which we have a nonnegotiable commitment. What I like to say about a theological statement or confessional statement is that it gives you a place to stand with freedom to move. It's the theological statement itself, by defining certain areas of shared commitment, that lets you know the full degree of latitude and freedom you have, in this case within academics.
What do you expect to be Wheaton's greatest "identity challenge" in relating to trends in American culture?
I think the issue of homosexuality will for the foreseeable future be a defining challenge for the evangelical church generally, and, therefore, also for the college.
Do you hope to see Wheaton expand in any specific academic areas?
I am deeply committed to what at this point is called a faculty mentoring initiative, which is part of our Promise of Wheaton [fundraising] campaign. However, I see it not so much as a mentoring initiative as an opportunity for faculty and students to do collaborative research. I think this is perhaps an underdeveloped area which, in time, could be a the signature part of Wheaton.
Does that mean hiring more faculty?
In order to give faculty time to work with smaller groups of students on research, to give significant amounts of time, it would require growth of the total college faculty.
Do you have a percentage increase in mind?
No, I don't have a percentage.
Several students, alumni, and faculty expressed a desire to see a woman or a minority become president of the school. Will you seek to diversify the campus and globalize Wheaton's curriculum?
For as long as I've been part of the board of visitors or board of trustees, I have been deeply committed to doing everything we can as a college to make connections with the full breadth of evangelical Christianity in America and worldwide, including being proactive in building relationships with a wide variety of ethnic communities. I believe a Wheaton education is enhanced by having broad ethnic diversity in our faculty and our student body.
Globalization is a very important aspect of Wheaton's education because we are committed to Christ and his kingdom, and that kingdom has a global vision. This is one area where I will need to be better educated about Wheaton's current efforts toward globalization, and also have time to develop a broader vision for all that that should include at a Christian college.
Related Elsewhere:
Christianity Today originally reported the news on Liveblog.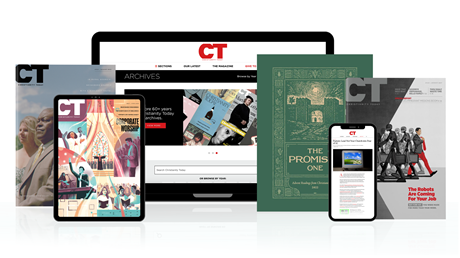 Annual & Monthly subscriptions available.
Print & Digital Issues of CT magazine
Complete access to every article on ChristianityToday.com
Unlimited access to 65+ years of CT's online archives
Member-only special issues
Subscribe
Q+A: Philip Ryken, Wheaton's Next President
Q+A: Philip Ryken, Wheaton's Next President