Sometimes you just want to close your eyes, plug your ears, and hope the economic news somehow gets better. It's too discouraging to hear the somber headlines day after day. If you haven't been laid off, you know someone who has, or someone who narrowly avoided the dreaded call into the boss's office. Worse yet, analysts forecast a "jobless era" to come in America. Is it possible America will never really recover? So warned the latest Atlantic cover story, written by deputy managing editor Don Peck.
"The unemployment rate hit 10 percent in October, and there are good reasons to believe that by 2011, 2012, even 2014, it will have declined only a little," Peck writes. "Late last year, the average duration of unemployment surpassed six months, the first time that has happened since 1948, when the Bureau of Labor Statistics began tracking that number. As of this writing, for every open job in the U.S., six people are actively looking for work."
Some small level of unemployment is necessary for a growing economy. But America has already passed that low threshold. Economic Policy Institute economist Heidi Shierholz examines historic models and forecasts 8 percent unemployment in 2014. So we could be dealing with a problem that threatens the ties that bind our society together.
"We haven't seen anything like this before: a really deep recession combined with a really extended period, maybe as much as eight years, all told, of highly elevated unemployment," Shierholz told Peck. "We're about to see a big national experiment on stress."
Indeed, we're about to see a big national experiment on our theology of marriage and gender roles. Unemployment stresses the marital union like few other factors. And economic uncertainty can roil a family's structure, no matter their theology. How might evangelicals meet the challenge?
Sociological studies of the Great Depression reveal how unemployment diminished male authority in the home by costing husbands respect from their overburdened wives and children. As a result, sex lives deteriorated, socializing disappeared, and fathers retreated from their children. Economist Andrew Oswald likens the effects of prolonged unemployment to the death of a spouse. Both losses need to be mourned.
As with the Great Depression, our Great Recession has affected working males more than anyone else. According to Peck, men have lost about three-fourths of the 8 million jobs that have disappeared since early 2008. That's because many more men than women work in the fields that have suffered most severely, namely manufacturing, construction, and finance. Women, more likely to work in schools and hospitals, have fared much better. Peck cites a stunning statistic: Nearly 20 percent of men between the ages of 25 and 54 were not working last November. Since the Bureau of Labor Statistics starting documenting these figures in 1948, this unemployment rate has never been higher.
This historic moment will change the family. And the family is particularly vulnerable right now. Divorce rates have declined recently, but no one can be happy with the persistently high number of broken marriages. W. Bradford Wilcox, director of the National Marriage Project at the University of Virginia, worries about climbing divorce rates as many men lose their identity as financial providers.
"We could be headed in a direction where, among elites, marriage and family are conventional, but for substantial portions of society, life is more matriarchal," Wilcox told The Atlantic. "Marriage plays an important role in civilizing men. They work harder, longer, more strategically. They spend less time in bars and more time in church, less with friends and more with kin. And they're happier and healthier."
In a follow-up interview, Wilcox told me that churches teaching complementary roles between the genders may be pressured to downplay that message, the way many churches backpedaled on divorce when those rates spiked in the 1970s. It's one thing to teach male headship from Ephesians 5:22–33 when the father earns enough money so the mother can stay home with their children. But a pastor who ignores the changing contemporary context may wonder why such messages no longer resonate. Wilcox's colleague Christine Wehlan suggests major changes in how the genders relate in her article "A Feminist-Friendly Recession?"
"Tough financial times may accelerate the social acceptance of women as equal breadwinners and men as capable parents and homemakers," Wehlan writes. "While it is too soon to know for sure, increasing flexibility and equality, especially among educated and younger Americans, might be a silver lining amidst all this financial gloom and doom."
Egalitarian churches might welcome this shift, despite the circumstances. But how might complementarians respond? Wilcox encourages them to show men that their worth is not limited to financial provision. The same advice could apply to churches that teach men and women share the same roles in the church and family.
"I would encourage them to think of other ways that husbands and fathers can play an important and distinctive role in the lives of their families," Wilcox said. "For instance, fathers who are out of work could take a more active role in teaching their children about theology or history; or they could pick up or augment an interest in home production of some sort (farming, home maintenance/additions, etc). But I think it is important for men who have lost their jobs to create meaningful work on the home front and maintain an active search for new work. Husbands and wives are happiest when the husband has gainful employment."
It's not just happiness but our very social order that's at stake, Kathryn Edin warns. A public policy professor at Harvard, she sees formerly vibrant white working-class communities falling apart. 
"The social fabric of these places is just shredding," she says. "There's little engagement in religious life, and the old civic organizations that people used to belong to are fading. Drugs have ravaged these communities, along with divorce, alcoholism, violence. I hang around these neighborhoods in South Philadelphia, and I think, 'This is beginning to look like the black inner-city neighborhoods we've been studying for the past 20 years.'"
Where government and businesses have failed, evangelical churches can and must intervene. We have both the motivation and the opportunity. Writing in The New York Times, columnist David Brooks credited evangelical churches for teaching manly men to nurture strong families. Wilcox previously noted this trend in his book Soft Patriarchs, New Men: How Christianity Shapes Fathers and Husbands.
Evangelicals look for guidance and inspiration from two men who were not married and owned no home. The apostle Paul warned men against being harsh with their wives and discouraging their children by provoking them (Col. 3:18–21). That's easier said than done when the stress of life strangles us. But all things are possible with God (Mark 10:27). If God truly joins together our families, as Jesus taught (Mark 10:9), then he will be faithful to answer our prayers in this time of need.
Collin Hansen is a CT editor at large and co-author of the forthcoming book, A God-Sized Vision: Revival Stories That Stretch and Stir (Zondervan).
Related Elsewhere:
Previous Theology in the News columns available on our site include:
Theodicy in Light of Eternity | Theologians see hope for the future based on the past. (Jan. 25, 2010)
Finding Meaning in the Pentateuch | Powerful endorsements bolster John Sailhamer's new tome on the Bible's first five books. (January 11, 2010)
My Top Ten Theology Stories of 2009 | Counting down the events, debates, and books that shaped evangelical theology over the past year. (December 28, 2009)
When the Pastor Suffers | Matt Chandler comforts an anxious church following his Thanksgiving seizure. (December 14, 2009)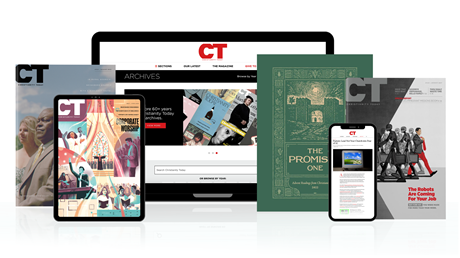 Subscribe to Christianity Today and get access to this article plus 65+ years of archives.
Home delivery of CT magazine
Complete access to articles on ChristianityToday.com
Over 120 years of magazine archives plus full access to all of CT's online archives
Subscribe Now
Dearth of Jobs, Death to the Family?
Dearth of Jobs, Death to the Family?