true
Tyler Doherty is an eight-year-old cancer patient who loves God first and soccer second. Brady McDaniels is a mailman struggling with alcoholism and the break-up of his family. Tyler writes direct, heartfelt Letters to God as a means of praying his way through his illness. Brady picks up those Letters on his postal route and is touched and changed by his encounters with Tyler's faith; so are many of the other characters who populate the unabashedly Christian family drama Letters to God.
The film's co-director Patrick Doughtie, who lost his real-life son Tyler to cancer in 2005, wrote the initial screenplay for Letters to God. Although Doughtie fictionalized many of the elements of Tyler's story for the big screen, it's clear that this film comes from a deeply personal place. The compelling raw material was a perfect match for newly minted Possibility Pictures, director David Nixon's production company. Nixon previously produced the mostly volunteer-made surprise Christian hits Facing the Giantsand Fireproof. Letters is his first time in the director's chair and his first opportunity to work with a budget large enough to secure a professional cast and crew. The result is a film more technically polished than Facing the Giantsor Fireproof, but equally overtly evangelical in its narrative—meaning it will likely delight viewers who loved those earlier movies and further frustrate those who longed for subtler storytelling.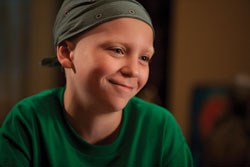 There is much to love about Letters to God. Tanner Maguire (Saving Sarah Cain) gives Tyler a nice mix of spunk and pathos, and Bailee Madison (Brothers) makes Tyler's best friend Sam a winsome scene-stealer. Veteran actor Ralph Waite (of Waltons fame) does what he can with some rather dialogue-heavy exchanges, and Robyn Lively lends some credible pathos to her role as Tyler's mom. Jeffrey S. S. Johnson is the strongest lead; despite an uneven script and some odd progressions in the plot he makes mailman Brady a vulnerable and likeable protagonist. (Strangely, he is evocative of actor Greg Kinnear, who starred in another movie about a postal worker and heavenward Letters in 1996's Dear God, a similarity that may be distracting to some viewers.)
But as well intentioned and sometimes well acted as this film is, it is not always able to rise above its own earnest agenda in order to tell its story in an absorbing manner. Part of the problem lies in pacing and editing—the film seems to languish from scene to scene and repeat expository information, culminating in three or four "endings" that simply lead to further endings. A fresh pair of scissors in the final stages of production might have really helped. Conversely, there are elements left unexplained that leave the viewer craving context—such as the family's visit to "Give Kids the World." An amusement park created specifically to host terminally ill children and their families in Orlando, "Give Kids the World" is a charity close to Doughtie's heart and one the filmmakers seek to support, but it provides a confusing backdrop for some key scenes in the movie because the setting is unclear.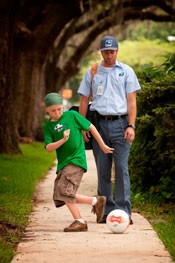 Editing aside, the thematic elements of the film are both its greatest strengths and weaknesses. Terminally ill children always make deeply moving but potentially melodramatic protagonists, and Letters frequently slips into "Movie of the Week" or even "Extreme Home Makeover" territory. A more unique difficulty with Letters is its expressly protestant, Christian, evangelical perspective. Characters stop in the middle of the drama to pray—a grandma with her frustrated teenaged grandson, for example, or a pastor with a troubled man he's just met. These scenes are not entirely inauthentic—I know, as an evangelical, that we are wont to pray just that way. But they make for awkward filmmaking, partly because the language will be foreign to non-churched viewers and mostly because films thrive on action and it is very hard to depict quiet, introspective prayer with dramatic impact.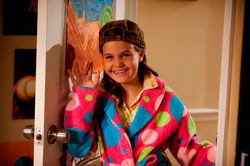 The fact that Tyler's prayers are Letters is a stroke of genius, a way to contextualize and dramatize the child's conversations with God ("It's like texting a friend," he explains to his brother) and at the same time propel forward the plotline involving the disillusioned mailman. Unfortunately, Tyler's characterization and especially his dialogue are sometimes over-sentimentalized, undermining the earthiness of his Letters. When he expresses his worry to his mom that some kids might tease him about his bald head upon his return to school, he answers his own concern: "I know what I'll do! I'll do what Jesus would do." Perhaps the real Tyler said just that, but it, and other similar dialogue like it, doesn't ring true in the movie.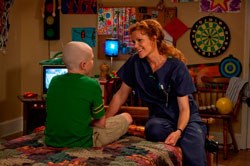 The film's best moments are its least saintly ones—a scene in which Tyler mischievously screams to make his grandmother think she's made an error injecting a medicine tube, or a moment in which Tyler's mom shoots down a platitude with an outburst about Bible quotations failing to cure her son. These scenes are the most natural, authentic, and yes, the most dramatic, and they make the faith affirmed in the midst of them seem far more precious and genuine than the spiritual abstractions espoused in more artificial exchanges.
Letters to God is clearly a labor of love, one that offers up wonderfully worthy messages. If I could write Nixon and Doughtie a letter, I'd thank them, deeply, for their courage and vision in sharing some of Tyler's story. But I'd also ask them, next time, to explain a little less and trust their story (and their audience, and the Spirit of God for that matter) a little more.
Talk About It
Discussion starters
Mr. Perryfield tells Tyler that he has been chosen by God as a warrior. Do you agree with this interpretation of Tyler's cancer? Why or why not?
Maddie (Tyler's mom) becomes frustrated with her own mother's spiritual platitudes in one scene. Was her mother right to quote Scripture to her? Is there anything else she could have done or said?
Do you believe that all disease and death happens for a reason?
Tyler talked to God about everything on his mind through

Letters

. Do you have that sort of ongoing conversation with God? If not, do you think writing a letter could help?
Ben was reluctant to pray for his brother because he was afraid of how he'd feel if God didn't answer his prayer with earthly healing. Have you ever felt that way? What can we ask of God? How should we process "unanswered" prayers?
The Family Corner
For parents to consider
Letters to God is rated PG for thematic material. There is no foul language or sexuality. Some children may find the death of the young protagonist very upsetting, although it is depicted in a gentle matter. Brady's drinking is extensively portrayed (in a disapproving light) and his arrest for drunk driving is shown in flashbacks. Overall the film is very family-friendly and should provide many discussion starters about faith, lifestyle, illness, death and prayer.
Copyright © 2010 Christianity Today. Click for reprint information.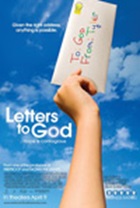 Browse All Movie Reviews By: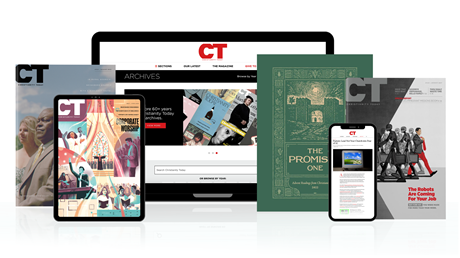 Annual & Monthly subscriptions available.
Print & Digital Issues of CT magazine
Complete access to every article on ChristianityToday.com
Unlimited access to 65+ years of CT's online archives
Member-only special issues
Subscribe
Letters to God
Letters to God