Political Advocacy Tracker is a roundup of what Christian activist organizations have been talking about over the last week.
Replacing Justice Stevens
As Justice John Paul Stevens announced his retirement from the U.S. Supreme Court last week, conservative advocacy groups began weighing potential nominees for the high court.
Focus on the Family Action re-released a statement made last year whenBruce Hausknecht, a judicial analyst for Focus, said of possible replacements for David Souter," the issue is not their sexual orientation. It's whether they are a good judge or not." 
Focus issued a statement clarifying its position:
It has been reported that we would not oppose any U.S. Supreme Court nominee over their "sexual orientation." Our Judicial Analyst made a statement to this effect in an interview with The Plum Line. To be honest, this is one of those conversations we'd like to "do over." We can assure you that we recognize that homosexual behavior is a sin and does not reflect God's created intent and desire for humanity. Further, we at Focus do affirm that character and moral rectitude should be key considerations in appointing members of the judiciary, especially in the case of the highest court in the land. Sexual behavior—be it heterosexual or homosexual—certainly lies at the heart of personal morality.
Tom Minnery, senior vice president of Focus Action, told the Colorado Springs Gazette that he believed a gay justice would be biased in cases involving sexuality.
In February, Focus Action and other groups discussed what they saw as bias by the gay judge in the Proposition 8 court case, which could overturn California's law on banning same-sex marriage.
Last year, Peter Sprigg of the Family Research Council (FRC) said the FRC could support a nominee who is gay if the justice "respects judicial restraint and the original intent of the Constitution." 
"In the real world, however, the chances of finding a highly-qualified judge who fits both of those descriptions are probably about equal to the chances of a camel passing through the eye of a needle," Sprigg said.
Jay Sekulow, chief counsel for the American Center for Law and Justice (ACLJ), summarized a view shared by Focus Action, Traditional Values Coalition, and other groups. President Obama is likely to replace Stevens with another liberal justice, so the balance of the court will not change. The main cause for concern is that the 90-year-old Stevens would be replaced by a younger justice.
Conservatives are looking for judicial appointees who will rule similarly to the four more conservative justices on the bench. Bruce Hausknecht of Focus Action, for example, is looking for "someone in the mold of Chief Justice Roberts, or Justices Alito, Thomas and Scalia."
"President Obama desperately needs to choose a qualified and Constitutionally-sound nominee. It would be healing for the country for President Obama to change course and select a nominee that respects the Constitution more than their own—or foreign countries'—ideology," said Wendy Wright, president of Concerned Women for American (CWA).
For Tony Perkins, president of FRC, the nomination will be a test to see if "the GOP is willing to go to the mat for conservative principles."
"This clash over the Supreme Court is the opportune time for Republicans to draw a clear line of distinction between their ideology and the President's," Perkins said.
The Other Court Fight
The Ninth Circuit has also been a cause of concern for conservative activists. The Senate is currently considering Goodwin Liu, Obama's nominee for the court. Liu has been more controversial than the President's previous judiciary nominees because he is, as The New York Times puts it, "a liberal legal rock star." Conservative advocacy groups have described Liu as "far left of the mainstream" and "unfit for a lifetime appointment to the federal bench because his statements and record demonstrate an extreme liberal agenda that he would impose from the bench."
"With less than two years of legal experience, Liu would help maintain the Ninth Circuit's reputation as the laughingstock of the appellate system," said Perkins of FRC. "The Ninth Circuit is no place for on-the-job training, particularly for someone whose idea of jurisprudence is rooted in 'evolving social norms'—not the U.S. Constitution."
Andrea Lafferty, executive director of the Traditional Values Coalition, framed her criticism by referencing Liu's family background. He was born in the United States to parents who immigrated from Taiwan.
"It is clear that Goodwin Liu would make an ideal judge in Communist China, but probably not the United States where we still value free enterprise, private property, traditional marriage, and freedom of speech," said Lafferty.
Groups Express Concerns about Muslims
Bryan Fischer, director of issue analysis for government and public policy at the American Family Association, has repeated his position on AFA's blog that Muslims need to stay out of America.
His statements on Muslims and America include:
• "Bottom line: every Muslim who enters the United States carries within his bosom the seeds of sedition."
• "Until 'moderate' Muslims help us find a foolproof way to identify the Muslims we do have to worry about—and so far they have not been willing to offer this kind of help—every new Muslim immigrant represent[s] a potential threat to the safety and security of the United States."
• "Muslims who have become naturalized citizens, of course, would need to commit an act of treason to forfeit their citizenship … treasonous acts are likely committed on virtually a weekly basis here in the U.S. in many mosques and Islamic organizations."
• "We must politely decline [Muslim students'] request[s] for naturalization … and use the money we would otherwise spend on their welfare, their education, their medical care and their incarceration to graciously assist them in returning to their countries of origin.
• "Those who are willing to convert to Christianity and renounce Islam, Allah, Mohammed and the Koran may be welcomed, for they can become not just good Christians but true Americans.
"Is this xenophobia? Nope, just common sense and a love of the United States and its exceptionalism. In fact, what we must protect ourselves from are Amerophobes, those who hate us because of who we are and what we believe," Fischer wrote. "It's time for a wake-up call."
On Wednesday, FRC hosted a lecture by Sam Solomon, a former professor of Islamic Shari'ah law, and William Wagner, of Cooley School of Law, in which they addressed "the threat imposed by Shari'ah on American public life and our Constitution itself." "Shari'ah-compliant finance is an economic jihad designed to undermine all (American) institutions," Solomon said. FRC released the following summary:
In other words, while Islamists will not mandate conversion of Christians, agnostics, or anyone else, they insist on submission to their legal, economic and religious structures. They are not pluralists. One reasonable estimate is that there are 35 Islamic "enclaves" already in the United States where Shari'ah law is practiced openly to some degree.
Odds and Ends
• Immigration reform may be considered by the Senate. Allison Johnson, campaign coordinator of Christians for Comprehensive Immigration Reform, wrote on Sojourners' God's Politics blog that America needs more than legislative reform; it needs a change in how it views immigrants.
"Change in our immigration system is not just about the stroke of the president's pen. It is as much about the process as it is about the end result," Johnson wrote. "It's about working together, inside and outside of Washington, to build and shape our nation into a place of welcome, of justice, and a place we can all be proud to call home."
• Bart Stupak (D-Michigan) became nationally known for his stand as a pro-life Democrat and his eventual support for the health care reform law. He instantly became turncoat-number-one for pro-life groups. He has since announced that he will retire at the end of this term. Ken Blackwell of FRC responded to the news with a "good riddance."
"[Stupak] held on and held on and then, when it counted most, he gave in. He dropped the baby. In doing so, he put Obamacare over the top. He turned his back on his own amendment, he turned his back on his own pro-life cause, he turned his back on his own Michigan constituents. He deserves no abuse, but he deserves no thanks," said Blackwell.
• Concerned Women for America has taken an interest in young women as role models. Donna Miller of CWA's North Carolina chapter took aim at two young actresses. Dakota Fanning is starring in Runaways, a biographical film about a female rock band of the same name that Miller described as "pornography." Miley Cyrus is starring in the new film Last Song. According to Miller, the movie itself is not an issue; the problem is Cyrus, who has raised eyebrows with her Vanity Fair photo spread and a music performance where she danced by a pole. "Cyrus' behavior is taking young fans to places where few parents want their children to go," Miller said.
• Chuck Colson supported President Obama's efforts to negotiate a treaty on nuclear weapons but opposed specific restrictions against the use of nuclear weapons. "Prudent steps to reduce tensions between the nuclear powers are always welcome and important," said Colson. The problem, according to Colson, is that the new policy "specifically renounces a U.S. nuclear response to a mass biological or chemical attack." For Colson, this unwisely takes away a credible deterrent.
The United States' new policy does state that the U.S. does not plan to use nuclear weapons against such weapons, but it also says, "the United States reserves the right to make any adjustment in the assurance that may be warranted by the evolution and proliferation of the biological weapons threat and US capacities to counter that threat."
Related Elsewhere:
Earlier Political Advocacy Trackers are available on our site.
Christianity Today also follows political developments on the politics blog.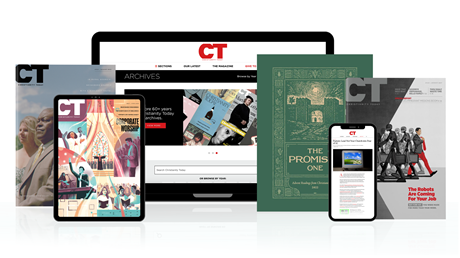 Annual & Monthly subscriptions available.
Print & Digital Issues of CT magazine
Complete access to every article on ChristianityToday.com
Unlimited access to 65+ years of CT's online archives
Member-only special issues
Subscribe
Are All Gay Judges Activists?
Are All Gay Judges Activists?