true
Oral Roberts is dead at age 91. If he had died earlier, say at the height of his career around 1970, the media would take much greater notice. As it is, however, the original televangelist and healing minister is long past his prime and almost forgotten by many Americans. Most of my young seminary students have never heard of him.
My interest in Roberts stems from childhood, when he was an icon in our Pentecostal home. My stepmother gave me comic books about his life and healing ministry published by his Oral Roberts Evangelistic Association. More than once I got into playground brawls over our Pentecostal hero when he was derided by classmates.
By the time I graduated from a Baptist seminary and continued my theological education toward a Ph.D. in religious studies, I had largely moved away from my earlier awe of America's leading "full gospel" evangelist. He had, after all, joined the Methodists while retaining his Pentecostal flavor. Meanwhile, I had left my Pentecostal roots and joined the evangelical mainstream.
After completing a year of study in Germany, I accepted a call to teach theology at Oral Roberts University. I finished my doctoral dissertation while teaching there from 1982–1984. For me it was the best of times and the worst of times. I was somewhat exhilarated by working so closely with my childhood idol, and yet disillusioned by much of what I experienced.
Oral was a larger-than-life figure on the American religious landscape, comparable to earlier revivalists such as Billy Sunday and Aimee Semple McPherson. He became a national celebrity due to his Sunday afternoon nationally broadcast healing services and his later religious-themed hour long prime time variety shows. Few people were indifferent about him; he was either revered or vilified.
Even some Pentecostals were embarrassed by Oral's television persona. In the 1950s his sweating, spitting, grasping prayers for healing made even his admirers cringe. In the 1970s they were sometimes embarrassed by his cloying familiarity with entertainment personalities on his TV specials.
I had plenty of opportunity to watch Oral close up and in person during my two years at ORU. One thing I could not question was his sincerity. At times he seemed emotionally unstable and suffering delusions of grandeur, but his passion for God's goodness and power was beyond doubt or question. He preached a message of abundance that sometimes bordered on the prosperity gospel, but for him it was rooted not in greed but rather in grace. In spite of all his foibles, he was basically a grassroots evangelical at heart. The message of salvation through Jesus Christ was ever present in his ministry.
Unlike many other televangelists, Oral was never convincingly accused of corruption. He sometimes made astounding and disturbing claims, such as that God would "take him home" unless he raised 8 million dollars for his massive hospital and clinic called "The City of Faith." But he did not live a particularly ostentatious lifestyle, and plowed much of his own income into his beloved university. His ministry was never rocked by scandal as were so many of his imitators'.
In the early 1970s, Oral sought to become a bridge between the Pentecostalism of his youth and early ministry and the Protestant mainline by joining the United Methodist Church. I vividly recall how shocked my Pentecostal relatives and friends were by this apparent betrayal. They thought their hero was seeking respectability from the world. There may have been some truth to that, but Oral's intentions were to help renew the mainline churches, and he never fudged on his firm belief in the supernatural power of God and gifts of the Holy Spirit.
Oral's ecumenism extended to his hiring practices at his university. When I taught there, the dean of the School of Arts and Sciences, now a university vice president, was a Roman Catholic. An Eastern Orthodox theologian taught in the Graduate School of Theology. Virtually every Protestant denomination was represented on the faculty and among the students. So far as I could tell, the only criterion for hiring, besides the usual academic credentials, was basic sympathy with Oral's ministry.
Oral was a complicated person, to say the least. On the one hand, he strongly preached the power of God to heal in response to faith; but on the other hand, he never made disabled persons feel second class. His university had many students in wheelchairs, and Oral invited Joni Erickson Tada to preach in chapel.
No individual did more to represent Pentecostals to the world and to bring the wider world into Pentecostalism than Oral Roberts. He invited Billy Graham to speak at ORU's formal dedication, and Graham accepted. Oral spoke at the World Congress on Evangelism in Berlin in 1966, and invited Bob Hope to deliver ORU's commencement address in 1983.
Oral's life was filled with tragedy—which, I believe, helps explain some of his more controversial behavior while and shortly after I taught at the university. His daughter and son-in-law were killed in a plane crash, and his son and heir apparent Ron committed suicide. His grandson died the day he was born. His son Richard's first marriage fell apart, and a rift developed within the family over the issue of succession as head of the ministry and university.
Popular myths about Oral include that he was a fundamentalist and that he thought a special power to heal resided in his own hands. In fact, he was far from being a fundamentalist—to the point that he did not allow any formal statement of faith at the university and frowned on doctrinal debates. He also sometimes seemed to imply that his own messages from God added to the revelation of God in Scripture.
Oral frequently stated that all the power to heal was God's and God's alone. He was nothing more than an instrument gifted by God to pray for the sick. To know Oral was to know that many public perceptions of him were distorted.
On the other hand, the Tulsa evangelist had his foibles, and could have done more to soften his public image. He attributed critics' attacks to Satan, and dealt harshly with perceived disloyalty from employees and faculty. At times, it seemed he stood at the center of his worldview, between God and the devil. But he cared deeply about his ministry and its impact; he wanted his students and followers to make a positive difference by spreading the gospel and taking the message of the "merging of prayer and medicine" to the ends of the earth.
Roger Olson is professor of theology at George W. Truett Theological Seminary at Baylor University, and author of The Story of Christian Theology: Twenty Centuries of Tradition & Reform and 20th-Century Theology.
"Speaking Out" is Christianity Today's guest opinion column and (unlike an editorial) does not necessarily represent the opinion of the publication.
Related Elsewhere:
Christianity Today spoke with Oral Roberts University President Mark Rutland about Roberts's legacy.
Previous articles on Oral Roberts and Oral Roberts University include:
Healing ORU | $70 million and Mart Green's business acumen are repairing a scandal-scarred school. (September 3, 2009)
Fund Raising: Did Oral Roberts Go Too Far? | The television evangelist links receiving $8 million to the extension of his early life. (February 20, 1987)
Obituaries in other publications include:
Oral Roberts dies | The Rev. Oral Roberts, the internationally known television evangelist and faith healer who founded Oral Roberts University, died today in Newport Beach, Calif. He was 91. (The Tulsa World)
Article continues below
Evangelist, university founder Oral Roberts dies at 91 | Oral Roberts, the entrepreneurial evangelist known to millions by catchphrases such as "expect a miracle," and by the Oklahoma university bearing his name, died Tuesday at age 91. (USA Today)
Oral Roberts, Charismatic Pentecostal Evangelist, Dies at 91  | At the height of his influence, Mr. Roberts sat at the head of a religious, educational and communications enterprise based in Tulsa, Okla., that managed a university, conducted healing "crusades" on five continents, preached the gospel on prime-time national television and published dozens of books and magazines. (The New York Times)
Christianity Today also has more "Speaking Out" columns.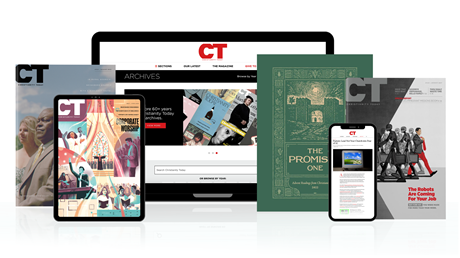 Annual & Monthly subscriptions available.
Print & Digital Issues of CT magazine
Complete access to every article on ChristianityToday.com
Unlimited access to 65+ years of CT's online archives
Member-only special issues
Subscribe
God's Man in Tulsa: The Life and Ministry of the Original Televangelist
God's Man in Tulsa: The Life and Ministry of the ...