In The Girl in the Orange Dress, Margot Starbuck chronicles her quest for her birth parents, for healing of physical and emotional pain, and for the unfailing love that is promised in Scripture, but which she had never felt.
Written with a light tone, the book contains episodes of outlandish behavior by its author—as she struggles through denial, insecurity, seminary, relationships, and an intense period of "seeking." Alicia Cohn spoke with Starbuck about her book, which provides a personal encounter with the message that there is freedom in the love of Christ: freedom to be in health relationships, and freedom to be who he's made each person to be.
What does it mean to be "heard, seen, known"?
At the end of Exodus chapter 2 and the beginning of chapter 3, when God's people are suffering in Egypt, God says, "I see your suffering, I hear your cries, I know and I care." Then God tells Moses to go do it, which kind of seems like a dirty trick. But as I began to look around the circle of people that God had put in my life, I became more and more convinced that that is exactly how God does it. God sees us, God cares about us, and God's method is using human faces to liberate the oppressed, to seek justice, and to tell us the truth about who we are. God's big plan is for a person to be a redeemer. Moses, my therapist, my friends, my husband function that way in [my] life. It feels as though that redemption was in the same pattern of God choosing to come as a person, in the person of Jesus Christ.
Is there a particular desire in women to be "heard, seen, known and loved" by a man?
If we haven't yet received that in our bones from God, that is a burden to put on a man. When I was able to have that deep need met in God's love for me, then I found that—not in a desperate way, but in a natural way—I would see in my husband's face a reflection of some of the things that I longed to see in God's face. He became kind of a human reflection of those.
How did you learn to deal with the tension between forming attachments and becoming clingy to people?
The knowing that we have in our bones, from our earliest relationships with caregivers, teaches us whether forming attachments means that we're safe, protected, nurtured, or whether attachments are scary. To form an attachment means that we're at risk of being hurt again. I'm afraid that our temptation is to think that God could fix it all with a magic wave of his healing wand, which was exactly what I wanted. The process was that I had to face those losses before I could move on and form healthy attachments with others. I really wanted it to be the healing magic, but we have to be brave enough to face those losses, to deal with the conflicts that we've experienced, before we're able to move on and establish those healthy relationships with others.
Can we ever be completely healed from scars in our past?
Although I think we're always going to live with a degree of brokenness, I do believe that God's heart is to put us back together in such a way that we're able to be in healthy relationships with others. There's a degree to which emotional pain and physical pain keeps us preoccupied with ourselves. God is about freeing us up so that we can love God and others, to be for others, the same way that God is for us.
How does our "adoption" as Christians inform our identity?
The first conversation I had with my birth mother, when she told me about who my birth father was, ignited a hunger and a longing not just to see that face but to be seen and known by that face. But what I heard God saying was "turn toward me, I am the face in whom you will find out who you are." I really was at an age and a place in my life where I was asking all of those questions: Who am I? What am I going to do? Who am I going to be? To think that that's found not just in a mirror, because that's where I was looking—I was looking in a mirror of myself to find out who I was, gazing at my own navel—but in God's face. I began to learn about my value, worth, identity by looking into the face of the Father and the face of Jesus Christ. Jesus says in John's Gospel, "If you've seen me, you've seen the Father."
Do we need to do that continually?
We live in that tension between the lies that we're not really worth loving and the truth that we are worth loving because of who God is. We have two choices. The first, which I did for years, is to avoid conflict and build a protective shell around our hearts. This shell does protect us from hurt, but it also prevents intimacy with others. The second choice is to bravely face our past with the confidence that we are not alone. God sees, hears, knows, and cares. There are moments when I tend to listen to the voices that speak lies about who I am, but God's always calling us to stay in that place of living in God's grace.
The Girl in the Orange Dress was released July 31 and is available at ChristianBook.com and other retailers.
Alicia Cohn previously interned at Christianity Today magazine. She has written previous blog posts for Her.meneutics on "So, How Are Those Summer Reading Lists Coming?" marriage in Florida, the Breast Cancer Bible, and The Stoning of Soraya M.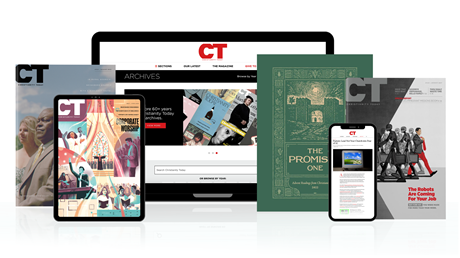 Annual & Monthly subscriptions available.
Print & Digital Issues of CT magazine
Complete access to every article on ChristianityToday.com
Unlimited access to 65+ years of CT's online archives
Member-only special issues
Subscribe
Quest for a Father's Love
Quest for a Father's Love