Fathima Rifqa Bary's story is quickly circulating on blogs and Christian media as proof of Islam's violent roots and the cost of following Christ. While the latter is true no matter who's doing the following, the former is disputable in the case of the Ohio teen who fled her home two weeks ago to meet up with Blake and Beverly Lorenz, Florida pastors she had met on Facebook.
"They [my parents] threatened to kill me," Bary says tearfully in a YouTube video (above) posted Tuesday. She goes on to explain the logic of honor killings: "They have to kill me. My blood is now hallal, which means that because I am now a Christian, I am from a Muslim background. It's an honor, they love God more than me. They have to do this."
Bary says she hitchhiked and rode a bus July 19 from New Albany, a Columbus suburb, to Orlando, calling the Lorenzes upon arriving. She stayed with the pastors of the nondenominational Global Revolution Church until Monday, when she was placed into emergency custody with the Dept. of Children and Families.
"We are doing everything we can to protect her," Blake Lorenz told The Orlando Sentinel. Beverly Lorenz told The Columbus Dispatch they hardly knew Bary but took her in and called an abuse hotline last Friday, which prompted a visit from state police. Blake Lorenz said that he's "very concerned that the system will let her down."
It's unclear when or how Bary became a Christian. In the video she says she had to "hide her Bible for years" and sneak out of her parents' home to pray and attend church. Bary says her father found out she was a Christian through her Facebook page. The attorney representing Bary's mother told Orlando-based 10TV News that they were "allowing [Bary] to explore her Christianity," and that Bary wasn't fearful until she met Pastor Lorenz, who holds Bary tightly throughout the video.
Meanwhile, Sgt. Jerry Cupp with the Columbus missing persons bureau disputes Bary's claims, telling The Columbus Dispatch that Mohamed Bary has known about his daughter's conversion for months and appears to be caring. And today, the attorney for Bary's parents issued a statement that they have never threatened Bary: "If this case is perceived as a clash of religions, it is because Mr. Lorenz recklessly and without authorization put someone else's child in front of television cameras to publicly renounce her previous faith," McCarthy said in the statement. "The parents who love Rifqa are in the best position now to protect her from the mess that Mr. Lorenz has made."
No matter, says Robert Spencer, founder of Jihad Watch and author of The Truth about Muhammad. He calls Bary's case a "slow-motion honor killing" that "bring[s] to the fore once again the prevalence within Islamic communities in the West of attitudes and beliefs that foster honor killings and the murder of apostates from Islam." He calls the statement of Hatim Hamidullah of the Islamic Society of Central Florida that Bary's story does not represent Islam "smooth deceptions."
Lydia McGrew at What's Wrong with the World also writes, "We Christians should be in prayer for our new sister in Christ, Rifqa Bary … The other side has already brought in spin-meisters to imply that she is in no danger. But Rifqa knows better. May God protect her."
The Christian Post audaciously lists Bary's story in its "persecution" news file, claiming that "The situation worsened last month when Fathima's mother found a Christian book in her room. Fathima's mother reportedly said she is dead to her unless she renounces her Christian faith."
Of course, believers can rejoice that this teenager has come to Christ in a cultural context in which it would be difficult to betray her parents' teaching. And if Bary's claims are true, we can also hope that her legal case is handled fairly and wisely, and that she finds support from Christian mentors and friends. But none of this requires that Christians be quick to use Bary's claims to prove that Muslims—in this case, her parents and mosque leaders—are intent on killing Bary because their beliefs make them inherently violent. We should also remember the Christians worldwide who actually risk death by Muslims for following Christ: like those in Pakistan and Nigeria, to name just two recent cases. Seeing persecution where there is likely none keeps the church defensive, improperly focused, and forgetful of the triumph it already has through Christ.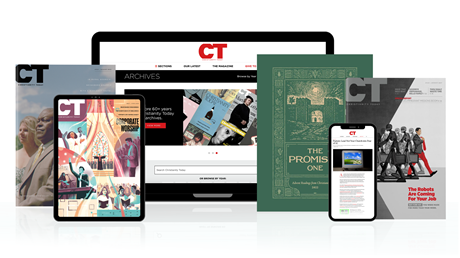 Annual & Monthly subscriptions available.
Print & Digital Issues of CT magazine
Complete access to every article on ChristianityToday.com
Unlimited access to 65+ years of CT's online archives
Member-only special issues
Subscribe
The Persecuted Rifqa Bary?
The Persecuted Rifqa Bary?