French president Nicolas Sarkozy has thrown in support for a Sudanese woman who faces 40 lashes for wearing pants in public, a display the Sudanese government says violates its Shari'ah-based laws on public decency.
"We will continue to work with [Lubna Hussein] to help in her struggle, which is the struggle of all women," Sarkozy wrote in a letter Thursday. Hussein, a journalist in her 30s working for the United Nations, was among 13 women, some of them Christians, arrested at a Khartoum restaurant July 3 for wearing pants.
Ten of the women were flogged and fined the next day, but Hussein and two others went to trial to challenge the law, in place since 1989, when President Omar al-Bashir instated a strict interpretation of Shari'ah. U.S. and international agencies have consistently ranked Sudan as one of the worst human-rights violators, particularly for its complicity in the ethnic cleansing in Darfur since 2003, and for its failure to uphold religious freedom.
After a protest on Tuesday outside a Khartoum courthouse where police fired tear gas at a crowd of about 100, Hussein told Associated Press she is "not afraid of flogging …. It's about changing the law," which she believes violates both Sudanese and Islamic law.
"If the [rulers] claim this is based on Islamic Shari'ah [law], can anyone show me a verse in the Qur'an or in the prophet's teachings that speak of flogging women because of their dress code?"
In June Sarkozy spoke out strongly against the wearing of burkas—a garment covering women head to toe—in France. "The burka is not a sign of religion, it is a sign of subservience. It will not be welcome on the territory of the French republic," he said. Five years ago France banned Islamic headscarves and other conspicuous religious symbols, such as cross necklaces, in state schools. The U.S. State Department estimates that Muslims compose 10 percent of the country of 65 million.
Meanwhile, the Khartoum judge has adjourned Hussein's trial until September, where she might have immunity for her job at the U.N., which she recently quit. However, Hussein has said she's willing to waive her immunity in order to fight the law: "[I]f the constitutional court says the law is constitutional, I'm ready to be whipped not 40 but 40,000 times," she told Middle East Online.
How might Christians respond to stories like this? In light of Sarkozy's comments, might condemning all Islamic women's traditional clothing actually impede on their freedom to express religious beliefs as they see fit? Or, in light of Hussein's case, might there be some religious practices—like flogging Sudanese women if they wear pants—that clearly violate basic standards of human dignity, and should thus be condemned?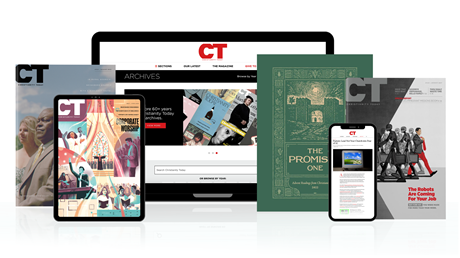 Annual & Monthly subscriptions available.
Print & Digital Issues of CT magazine
Complete access to every article on ChristianityToday.com
Unlimited access to 65+ years of CT's online archives
Member-only special issues
Subscribe
Pants-Wearing Woman Challenges Sudan's Decency Law
Pants-Wearing Woman Challenges Sudan's Decency Law