true
Two women. Fifty-three years in time and an ocean apart. Both recently relocated for their husband's jobs. Both looking for their own role in this new location. Both feeling rather lost.
And both finding their way in the kitchen.
One of them is quite well known—Julia Child (Meryl Streep)—though we're introduced to her before she's made a name for herself. It's 1949 and her husband, Paul (Stanley Tucci), has just been assigned to the American embassy in Paris. The couple pulls up to the lovely flat that's to be their home for the next four years and Julia's beside herself. All this and a country full of amazing food to boot. The giggly, airy-voiced foodie is in heaven.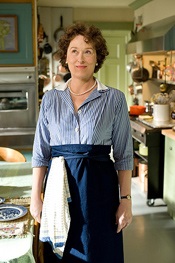 The other woman, Julie Powell (Amy Adams), is experiencing her own version of hell. It's 2002 in Queens and she and her husband, Eric (Chris Messina), have just moved into a 900-square-foot walk-up apartment above a pizza parlor. It's cramped and her kitchen is tiny. This is especially problematic since Julie's only escape from her dismal job—answering angry and distraught phone calls for the Lower Manhattan Development Corporation on the heels of the 9/11 attacks—is the certainty of a well-crafted recipe. Nearly every day she returns home in tears and seeks solace in Julia Child's Mastering the Art of French Cooking.
But back in 1949, Julia has yet to help pen this cookbook classic. And she's begun to grow restless. What to do with herself in France besides eat? She tries a hat-making class, and bridge lessons, and finally lands at Le Cordon Bleu, where she makes her way to an advanced class full of very serious men. Not wanting to be the "silly woman" in the class, she practices her chopping and roasting at home and soon is the star pupil. A new passion is born.
Julia eventually meets two French women who are crafting a French cookbook in English. This pleases Julia greatly as she found no such resource when she first moved to France. When their manuscript is deemed not English enough and a bit dry, Julia is brought into the project. With their meticulous recipe testing, the task of converting metric measurements to American standards, and the slow process of capturing all this information with typewriters and carbon paper, this project spans years. Many delicious, delightful years.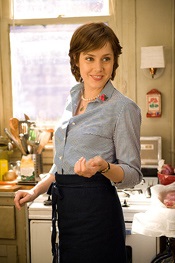 Fast forward quite a few decades to the present time, where Julie, a wannabe writer, is somewhat disgusted when one of her high-powered corporate friends launches a popular blog. Julie should be the one regularly penning clever words for an eager electronic audience. So while she whips up dinner one evening, she and her husband, Eric, brainstorm Julie's blog: She'll cook her way through her hero Julia Child's Mastering the Art of French Cooking in one year, recording her journey through all 524 recipes in 365 days. Though the task is daunting—she'll have to debone a duck and tangle with some lobsters—she's also finally found a needed sense of direction.
The rest of the film continues to ping-pong back and forth between these women as they experience joy—and, of course, frustration—in their newfound cooking/writing projects. There are unsupportive parents, uncooperative lobster, and underwhelmed publishers to contend with. But there's also the delicious process of carving their own path and fighting their own battles, that, in some ways, is as much an answer to their earlier lost-ness as the easy successes are.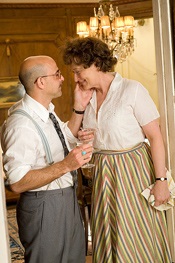 Though the film takes its name from one book, the 2005 best-seller by real-life Julie Powell, it's actually based on two. Beloved rom-com director Nora Ephron combined Julie's blog-turned-book Julie & Julia with My Life in France, a lovely travel narrative written by Julia Child and her grand-nephew Alex Prud'homme.
Though Ephron did a deft job of weaving these women's tales evenly and entertainingly, the segments featuring Julia Child are especially delightful. That's partly due to Child's winning personality and partly due to Streep's charming portrayal. Streep's turn never feels like an SNL sketch (though we are treated to Bill Murray's hysterical portrayal when Julie and Eric watch some late-night TV) but more like a loving homage. But would we expect any less from Streep? No, not at all. It's simply a treat that Hollywood keeps finding juicy characters for her to embody on the big screen.
And it's great to see her paired again with Stanley Tucci. They were a devilishly delightful editor/art director duo in The Devil Wears Prada. Here they form a sweet couple lovingly supporting each other through intimate dinner parties and McCarthy-era inquiries. How refreshing to see a veteran married couple so devoted to each other on film.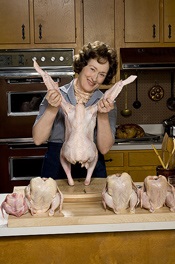 While the segments of the movie that feature Julie's story aren't quite as magical, Amy Adams gives us a lovely picture of a woman frappe-ing in her tiny kitchen, fighting with her husband, and tentatively finding her way in life. Her character isn't quite as charming as Child, but she's real and relatable and we do find ourselves rooting for her in the end. And for her marriage, which goes through a bit of a rough patch.
As with Julia's snippets, Julie's story is as much about her marriage as it is about herself. Both couples offer an insightful and intimate portrait of married life. We see the little wordless moments, the big blow-ups, and everything in between. You can tell these couples are based on real-life people. There's a humanity here largely missing in most Hollywood marriages. Yet another treat in this delicious film.
That said, the film does start to drag in the third quarter. Julie turns whiny and tiring, and there's a bit about her interaction with real-life Julia Child that's never quite resolved. And it would have been fun to see Julia go a bit beyond book author into the television personality that made her such an American icon.
But overall, Julie & Julia is a feast of winning characters, sumptuous food, loving marriages, and strong women who stumble and laugh and cry and write and, of course, cook their way into their unique paths in life—and consequently into our hearts.  
Talk About It
Discussion starters
List the similarities and differences between Julie and Julia. Which person are you more like? What do you like or not like about each woman?


What does cooking represent or provide for each character? Have you ever had a hobby or passion provide needed direction in your life? What impact did finding a God-given skill or interest have on you?


Julia is Julie's hero. Do you have a hero? What role can heroes play in our life even as adults? As Christians?


Describe each of the two marriages in the film. What does each couple do right—and maybe not-so-right? What do we learn from their example?



Julie & Julia

shows us the power of a specific goal in a person's life. Do you need to brainstorm such a project for yourself?


The Family Corner
For parents to consider
Julie & Julia is rated PG-13 for strong language (though there's not a lot of it) and some sensuality (which is only between married couples). We see both couples playfully cavorting in bed, but never gratuitously and never with any nudity (though we do see Amy Adams from the back in her undies in one scene). For the most part, it's a safe film that portrays strong marriages and strong women. Younger kids might grow restless throughout the film. 
Copyright © 2009 Christianity Today. Click for reprint information.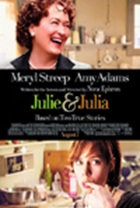 Browse All Movie Reviews By: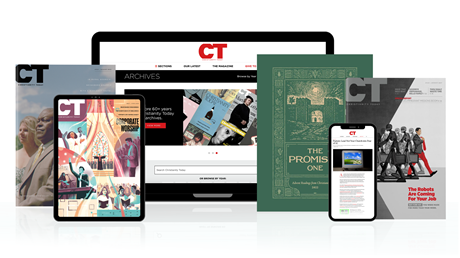 Annual & Monthly subscriptions available.
Print & Digital Issues of CT magazine
Complete access to every article on ChristianityToday.com
Unlimited access to 65+ years of CT's online archives
Member-only special issues
Subscribe
Julie & Julia
Julie & Julia