If nothing else, the latest box office horror flick has people talking. In Orphan, 12-year-old Isabelle Fuhrman plays the eponymous Esther, who is adopted by John and Kate Coleman (Peter Sarsgaard and Vera Farmiga) after their third child is stillborn.
(Yes, you read that right, John and Kate. I'll try not to get too derailed by non sequiturs involving other Jon and Kates.)
This John and Kate bring the newly adopted Esther home, only to learn that "happily ever after" apparently wasn't in the script. Bad things start happening—this is, after all, a horror movie—and Esther turns out to be a whole lot more than anyone bargained for.
Which is a problem, according to some people, especially for the Christian Alliance for Orphans, a Virginia-based parachurch ministry. Through its newly created website Orphans Deserve Better, the alliance is hoping to start a grassroots movement that will counter what it sees as the negative impact of Orphan. "However far-fetched some stories are," the alliance says, "they can still subtly shape our values and perceptions. So when a major motion picture leaves a lingering impression that orphans are damaged goods and that adoption can tear apart your life, those who know the deeper truth must speak up."
Rubbish, says Salon writer Kate Harding:
"If a horror movie is enough to dissuade you from adopting an older child, then that child is probably better off without you." Harding raises excellent points in her article, most notably, the question as to whether or not the alliance's campaign focuses too much on the "warm fuzzies" and not enough on the reality of adopting an older child. But I find myself pausing over her "it's just a movie" logic. The impact of media on our culture is a known phenomenon; we discuss Hollywood's effect on everything from our romantic relationships to our relationship with the planet. Why would we think our attitudes toward adoption would remain untouched?
"What," Harding writes a friend of hers asked, "they're afraid people won't want to adopt white girls anymore?" Actually, yes. That thought had crossed my mind.
Adopting an older child isn't without its share of challenges and difficulties. Let me go out on a limb here, though, and say that parenthood isn't without its share of challenges and difficulties. "Later-adopted children are more likely to show mood or behavioral disorders that require professional help than non-adopted children," Psychology Today's Jean Mercer writes in her blog about the movie, but "it is hard to tell whether some of their parents are prone to seek professional help because they already believe the myths about adopted children."
Amid the debate about Orphan, I find myself returning to this truth: As Christians, we are all adoptees. And I find myself singing the words of hymnist William C. Dix:
Alleluia! Not as orphans are we left in sorrow now;
Alleluia! He is near us, faith believes, nor questions how.
How glad I am that someone saw fit to adopt me.
CT Movies writer Annie Young Frisbie reviewed Orphan here.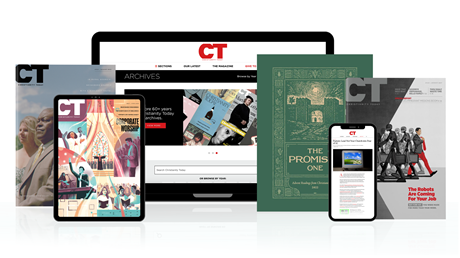 Annual & Monthly subscriptions available.
Print & Digital Issues of CT magazine
Complete access to every article on ChristianityToday.com
Unlimited access to 65+ years of CT's online archives
Member-only special issues
Subscribe
The Horrors of 'Orphan'
The Horrors of 'Orphan'