true
Famous for his ever-present monocle and long cigarette holder, the Austrian filmmaker Fritz Lang was termed the "Master of Darkness" by the British Film Institute. Lang's movies were a huge influence on the film noir style, and the darkness and chiaroscuro of his films may have had something to do with the dilemma of his religious heritage.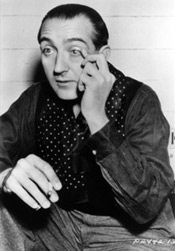 His mother was born Jewish, but later converted to Catholicism. Lang's father was a lapsed Catholic; they raised young Fritz in the Catholic faith. Lang often said he was raised Catholic and "puritanical," although his observance of his religion later in life, beyond mere lip service, is in doubt among his biographers. Notably, Lang would flee Germany in 1934 as the Nazi government was becoming more and more powerful—partly because he abhorred anti-Semitism, and, some speculate, partly because he feared the Nazis would learn of his partly-Jewish roots via his mother.
Born in Vienna in 1890, Lang first encountered anti-Semitism and fascism in the religious school he attended a decade later. He paid little attention to these trends and spent his time reading the likes of Schopenhauer, Kierkegaard, Nietzsche, Schiller, Goethe, and Shakespeare. The strict puritanism of the school introduced him to the Madonna/Magdalene dichotomy in viewing women: they were either chaste or sinners. His own family heritage (his grandmother had become pregnant before wedlock) helped underscore this thinking in his worldview. As one biographer puts it, "Tales that taught the pitfalls of love and sex—featuring respectable men ruined by lusty temptresses—would predominate throughout Fritz Lang's career; a blend of eroticism, violent crime, and the supernatural."
Lang traveled the world after school, going to nearly every continent, and then returned to fight in World War I, where he was wounded three times. While recuperating, he was determined to work in the fledgling film industry. He wrote and acted in silent films at first, then started to direct in Berlin just as the Expressionist film movement took off. His first important film Dr. Mabuse, der Spieler (1922) was the first of a Mabuse series of films that he would make throughout his career. He co-wrote the film with Norbert Jacques and his future wife, the prolific screenwriter Thea von Harbou.
A film for the Nazis?
Die Nibelungen (1924), a four-hour version in two parts of the Germanic epic, became immensely popular in pre-Nazi Germany and may have even led to the rise of their power in the country, at least by preparing the imagination of the people for conquering the world. Adolf Hitler and Joseph Goebbels watched the films repeatedly, casting themselves as the Aryan gods that the German race was built on. The significance of Die Nibelungen was debated in two important film history books: In From Caligari to Hitler: A Psychological History of the German Film, Siegfried Kracauer claimed certain characters were Jewish sterotypes, while Lotte Eisner, in The Haunted Screen: Expressionism in the German Cinema and the Influence of Max Reinhardt, claims the art director was influenced by local Russian-Jewish theater groups of the time, and that Lang intended no anti-Semitism.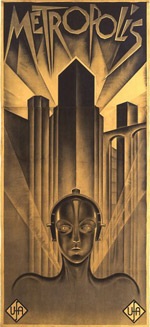 Lang's silent classic Metropolis (1927), based on the novel and screenplay of the same name by his wife, has strong Judeo-Christian imagery and themes. A science fiction classic, the film critiques capitalism for its flaws. The character Maria retells the story of the Tower of Babel in the "modern" setting of the film, to show how management and the workers cannot communicate nor understand each other because of how society is constructed. Also famous is the creation of a robot designed to replace people, similar to the Frankenstein story, in which man plays God. The end of the film takes place in a cathedral, which has turned into a battle zone (perhaps a metaphor for what the church had and would become in Lang's lifetime).
Like Orson Welles did with Citizen Kane, Lang had total control of a film for once, with M (1931)—and likewise created a masterpiece. Choosing Peter Lorre to play the child murderer Hans Beckert, he cast against type since most villains in the day were large, broad-shouldered men. Lang's first sound film, one key clue in capturing the murderer is in the tune he whistles shortly before he kills. A notoriously difficult director to work with, Lang reportedly threw Lorre down a flight of stairs to make him look bruised and disheveled for his final scene. The final monologue was used in anti-Semitic documentaries in Germany, supposedly showing how Lorre's ostensibly Jewish character couldn't help his weaknesses and needed to be exterminated, and all underscored by the claim that Lang's Jewishness was undeniable. Lang again had teamed with his wife, von Harbou, on this script. A year later, she joined the Nazi party, and they soon divorced.
A film against the Nazis
To counteract the adoption of his work by the Nazis, Lang made his next Mabuse film, The Last Will of Dr. Mabuse (1933), which, with its references to the "reign of crime," got him in trouble by mirroring the brutal practices of the rising Nazi party, which banned the film. Lang had found documents that outlined the Nazi's Final Solution to exterminate the Jews and had himself been labeled a "Jewish director" in a few newspapers.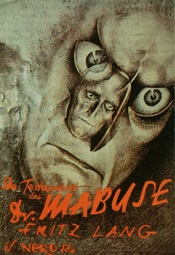 Perhaps to control his films more closely, or simply in honor of his masterful control of his craft, he was apparently offered control of the state film industry, the Reichsfilmkammer, by none other than Goebbels himself (the details of the story change with every retelling Lang gave, and there is no evidence on paper of this meeting ever taking place). But, seeing the writing on the wall regarding his creative freedom if he stayed, and perhaps fearing his half-Jewish ethnicity would cause him trouble, possibly fatal, Lang fled, first to Paris, then to Hollywood. (Mabuse was later shown in the United States concurrently with the release of his powerful anti-Nazi film Hangmen Also Die (1943). But Lang's anti-Nazi stance was closely aligned, by his own design, with his Christian and Catholic faith, rather than his Jewish heritage.)
Lang directed the crime drama Fury (1936), and established himself with that success about an innocent man, played by Spencer Tracy, who is falsely accused of kidnapping, narrowly escapes lynching and sets out to seek revenge. Lang only used American actors here in the States, and stopped speaking German entirely, immersing himself in U.S. culture and nation.
The syrupy ending of You Only Live Once (1937), where the pearly gates open for the hero and a priest's disembodied voice urges him on to heaven, was supposed to be taken seriously by the director. Interviewed by Peter Bogdanovich, Lang insists, "You may laugh, but don't forget I was born a Catholic—perhaps I'm not a good Catholic according to the Church—but Catholic education (and probably any education which has to do with ethics) never leaves you. And I think it was the truth for those people—the doors are open now."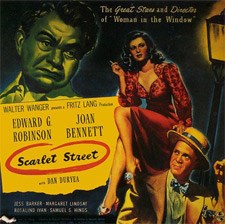 Lang later debated the moral legitimacy of his film Scarlet Street (1945) with the head of the Hays Office, Joseph Breen himself, who, before there were movie ratings, decided what films were acceptable for people to see. Lang used his religion to defend allowing the protagonist, a murderer played by Edward G. Robinson, to go free rather than to jail: "Look, we're both Catholics. By being permitted to live, the Robinson character goes through hell. That's a much greater punishment than being imprisoned for homicide. After all, it was not a premeditated murder, it was a crime of passion. What if he does spend the rest of his life in jail—so what? The greater punishment is surely to have him go legally free, his soul burdened by the knowledge of his deed, his mind constantly echoing with the words of the woman he loved proclaiming her love for the man he'd wrongly send to death in his place." Lang won the argument.
In the '50s, Lang directed many film noirs, most famously, The Big Heat (1953), in which Lee Marvin throws hot coffee in Gloria Grahame's face. But otherwise, his films in this decade are not memorable nor really religious in theme or content. Lang seems to have lost his faith, although even that is in doubt. In 1960, nearly blind, Lang directed his final Mabuse film, The Thousand Eyes of Dr. Mabuse, and retired shortly after its completion.
'God is not really dead'
In 1967, when asked about making a film that might discuss God or morality in a time when many did not believe, Lang said, "Naturally I don't believe in God as the man with a white beard or such a thing, but I believe in something which you can call God in some kind of an eternal law or eternal mathematical conception of the universe. When they said in the States that God is dead, I considered it wrong. I said to them 'God has only changed his address—he is not really dead.' That seems for me to be the crux: naturally we cannot believe in certain things that have been told us over the centuries."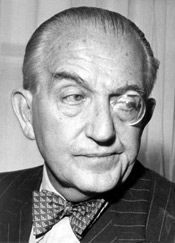 In 1973, the Director's Guild honored Lang with a special award. The man, who had not made a film in more than a decade, stunned the audience by saying, "All of my German films and the best of my American ones deal with fate. I don't believe in fate anymore. Everyone makes fate for himself. You can accept it, you can reject it and go on. There is no mysterious something, no God who puts the fate on you. It is you who makes the fate yourself."
Lang died three years later, asking on his deathbed for a priest to help him remember the words of the Lord's Prayer. However Lang's widow and third wife Lilly Latte, who had married him in the presence of a rabbi, rather than a priest, told others that Lang wanted to be remembered as an atheist. To the end, Lang kept people in the dark, perhaps even those closest to him, about where he stood with his Maker.
Filmmakers of Faith, an occasional feature at CT Movies, highlights directors who adhere to the Christian faith—sometimes strongly, sometimes loosely, and sometimes somewhere in between. This series will include everyone from biblically-minded evangelicals to directors who may only have a "church background" and perhaps a lapsed faith … but their films are clearly informed by their spiritual history.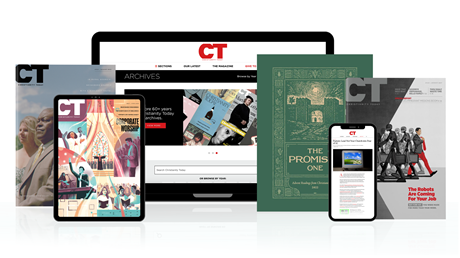 Annual & Monthly subscriptions available.
Print & Digital Issues of CT magazine
Complete access to every article on ChristianityToday.com
Unlimited access to 65+ years of CT's online archives
Member-only special issues
Subscribe
The Master of Darkness
The Master of Darkness