true
A plethora of new artists debut every year with ambitions of breaking big, but alongside the pursuit of the dream comes loads of sweat and sacrifice—and even a few fears. While these newbies will often amplify their aspirations in interviews, we also wanted to know what they're worried about as they look ahead—especially in a lousy economy. Here are eight new artists we caught up with recently in Nashville.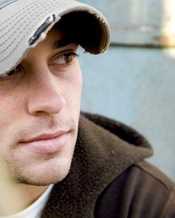 Though he originally went to college with hopes of playing pro baseball, Diaz started exploring his artistic side and became an indie singer/songwriter. Though his brother Matt wound up with the Atlanta Braves, Jonny landed a record deal with INO Records after graduation. The resulting self-titled CD already spawned the smash single "More Beautiful You," though he'll be the first to admit the charts aren't what they're cracked up to be.
The Hopes: "I'm not looking to sell out arenas of ten thousand people, but hopefully work up to a theatre setting of around a thousand people. I look forward to making rooms that size feel like a living room where I can share my heart and my songs, and make everyone feel like they got to know me. I don't spend my whole time in songwriting or on stage trying to tell people about Jesus. Instead, I try to challenge, inspire and encourage the body of Christ to do great things for him."
The Fears: "As an artist who strives to put Christ first, my biggest fear is that I'd lose track of that. When I was indie, I wasn't in any competition, but now all of a sudden, I catch myself looking at the radio charts. My new song is up to the Top 20 for the first time, but I can't start letting that dictate how I feel about this. From an artistic standpoint, there's my fear of getting lost in mediocrity, though I would love to be remembered as somebody who worked hard enough to excel."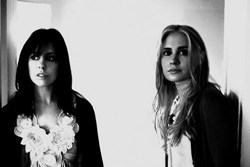 Taking cues from alternative pop acts Feist and Imogen Heap, this sister act from Portland, Maine merges acoustic instrumentation with electronic programming and silky harmonies. The group's already tested the waters on tour with Superchick and recently released its Essential Records debut Wake Me.
The Hopes: "Our aspiration is to create songs that Christians who don't normally listen to Christian music can identify with," says Tal. "A lot of college students tend to walk away from Christian music because they don't feel there's enough variety, and admittedly, there aren't a lot of [faith-based] groups that sound like Feist, so they wind up exploring all sorts of [mainstream] music instead."
The Fears: "The economy is already sort of bad and we don't make a lot of money, so I often wonder, Will I have to stay at my parents' house forever?" says Acacia. "The stage also freaks me out and I almost have a stress attack before a show. But in both of those cases, I just have to rely on God and pray to help calm my nervousness. I feel nervous and afraid, but there's a reason we're here and we're just trying to be obedient, which helps alleviate the stress."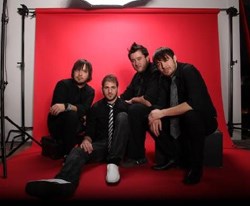 These modern rockers from Kentucky have already scored a number one regional single, opened for TobyMac, Skillet, Jars of Clay, and Family Force 5, along with main stage performance slots at the famed AtlantaFest and Rock the Universe. The foursome's also caught the ear of powerhouse producer Ainslie Grosser (Mute Math, Rebecca St. James), who'll be working his wizardry on a full-length debut this fall.
The Hopes: "We aspire to play to large crowds, but we don't want to be idols or have any interest in the fame side," says bassist Joel Purdy. "We want audiences to just see us as cool guys who are personal and friendly. I remember what it was like to wait three hours for an autograph and then be disappointed when an artist didn't have time for me. We're always out at the table before and after shows and want to be a listening ear for people, because that's when there's room for lives to be changed."
The Fears: "The number one question that comes to mind is 'am I being a good husband?' because being in a band requires a lot of sacrifice," says frontman Craig Felker. "And then from there, 'Am I being a good youth pastor?' The band is a big part of who I am, but at the same time, I'm involved in a lot of other activities and we have to keep each other in check to make sure we're being good stewards of our time."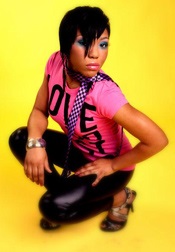 With influences spanning Motown to modern day dance, Jade Harrell is certainly an anomaly to Christian music. No wonder she was scouted out by the guys in Grits and inked a deal with their Revolution Art label, the home to her recent release Class Reject, which tackles topics of self-esteem and spiritual assurance.
The Hopes: "I would like to convey to fans to find who they are, which was my biggest issue growing up and caused me to [develop an eating disorder]. "I don't want to shove Jesus down somebody's throat, but rather relate to people in a way that helps them get closer to God." My dream is to someday open some sort of rehab center for kids under 18 to catch them before it's too late. I also want to give them a chance to intern with me, travel and see what alternatives there are out there besides selling dope or your body."
The Fears: "One of my biggest fears is I won't get accepted in the Christian industry. One thing I hate is being told what to do or to be forced to change my image so people accept me. I'm real free spirited, and I know not everybody will take that, but I'm not going to play a puppet. I just hope I don't come off wrong to anybody or have them think I'm trying to be like a secular artist."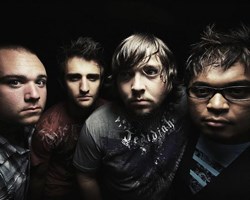 Pop/rockers Two Empty Chairs are committed to accepting every concert inquiry even if the requester doesn't have enough money to cover its honorarium. It's kept the Arkansas act on the road for the majority of the past three years, building a feverish fan base to sing along to its latest CD Brighter Day, but also burning a hole in their personal pockets. 
The Hopes: "We're honestly very genuine about being there for people, and I know a lot of people say that, but through meeting someone, hopefully we can help them some way," says vocalist/guitarist Cliff Preston. "We may not have all the answers or any degrees in counseling, but we really try to bring awareness to teen suicide and depression. We stay at every show as long as we can and we're here to help whatever way we can."
The Fears: "The last couple of months we've struggled badly and the travel's been really hard," says Preston. "We don't have a lot of money and I don't think we ever will, but it got to the point where we asked, 'Are we gonna make it to eat tomorrow?' There are times when we're on the road and we have twenty or thirty dollars left and have to go three hundred miles. There's no way that's gonna work, but we rely on God to finance a lot of our trips and we're always provided for by someone. Still, we're all human and that obviously still makes us apprehensive."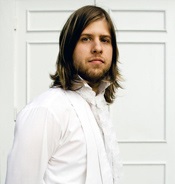 He's been listed as a producer or co-writer on albums as diverse as crossover sensation Stacie Orrico, Backstreet Boy Nick Carter, and singer/songwriters Jamie Jamgochian and Lanae' Hale. But after watching from the sidelines for so long, Bee recently entered the full time artist foray, anchoring his solo debut This Is the Revolution in vertical lyrics and British rock instrumentation.
The Hopes: "My goal is to truly just lead worship and I hope churches realize it doesn't matter who is up there—they can reach and praise God no matter [how famous] they are. I really love on worship leaders when I'm touring and I use their team 90 percent of the time. My hope is that everywhere I go, I can make an impact on not only the body of the church, but also the people who are actually playing the music and ministering."
The Fears: "I do fear CD sales for the record label's sake, but that's more of a fear for the industry's uncertainty than me personally. My biggest fear is that churches are not going to unify and just keep sticking with individual denominations. I do a lot of shows at Calvary, Four Squares, and some Assemblies of God churches, but I haven't been at that many other kinds and I fear that I'm only impacting a certain group of believers. As a body, we should all be one church since we are all one bride."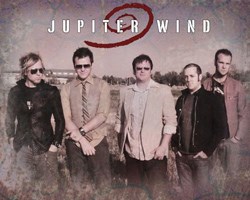 Indie act Jupiter Wind is burning the candle at both ends handling the creative and business facets of its career, but that work ethic—and talent—led them to a fairly famous producer. Dale Oliver (Casting Crowns, Josh Bates) worked on the South Carolina band's self-titled EP, and the guys are hitting the road to be a beacon of hope to wandering teens.
The Hopes: "When we travel, we see the church is not changing as rapidly as it should to really reach children and young adults, many of whom are becoming bored and leaving [the faith] all together," says front man Jack Eason. "We want to reach out and give them something to do instead of just sitting on the sidelines. Our hope is to share what the proactive side of Christianity is all about, which we've noticed is a foreign concept to students in some churches."
The Fears: "On a personal level, I have two kids ages one and two, so being gone so much could have a negative impact on them," says bassist Matt Hawkins. "I make every effort to call and talk with them, plus plan family time when I'm home, but it's a lot of compromise. On the financial end, my wife works and I do this plus lead worship at church. I'm not paid much there, and since the band is starting out, that's a lot of [financial] strain."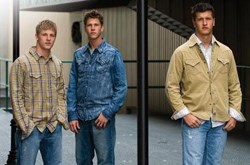 This trio of teen and twenty-something brothers from Canada are down home boys at heart whose blue collar lifestyle is just as country as their music. While growing up and helping out on the family farm, the guys formed a band and toured throughout their home country before landing a spot on Centricity Records.
The Hopes: "We want to deliver a modern country sound with hard -orking man kind of lyrics, but with songs based in faith," says co-frontman Brad Rempel. "We're gonna have love songs and crank-up-the-volume-with-the-windows-rolled-down songs, but at the end of the day, we want people to know our faith in Jesus makes us do what we do. We're really family-oriented and hope our concerts can appeal to teenagers, adults and seniors."
The Fears: "Our hometown of La Crete is as far north as Juneau, Alaska and 2,600 miles north of Nashville," Rempel says. "We base ourselves out of Nashville half the year, but if we ever want to see our parents and three sisters, we need to fly home and get there. One of our biggest fears is that balance and the fact that even if we do fly home, we're still an eight-hour drive from the airport! I'm also married and have a little baby, so we're trying to find the right balance of aggressively seeking out our passion, while still figuring out a home lifestyle that feels like we live there."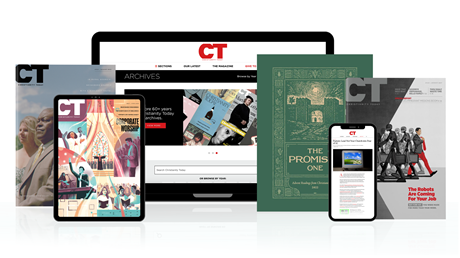 Annual & Monthly subscriptions available.
Print & Digital Issues of CT magazine
Complete access to every article on ChristianityToday.com
Unlimited access to 65+ years of CT's online archives
Member-only special issues
Subscribe
High Anxiety
High Anxiety