The decline and fall of the modern religious right's notion of a Christian America creates a calmer political environment and, for many believers, may help open the way for a more theologically serious religious life.Jon Meacham, "The End of Christian America,"

Newsweek

, April 13, 2009
The ascended christ reigns over the church and all societies but in different ways. In truth, the only "Christian nation" is the body of Christ as it is dispersed throughout all peoples and in all times. Confusion on this point has resulted in far-reaching consequences.
"Christendom" is a contrived empire. I would have preferred to pass over this matter in utter silence if I were not aware that here many dangerously go astray in our day. For there are some who deny that a commonwealth is duly framed that neglects the political system of Moses, and is ruled by the common laws of nations. Let other men consider how perilous and seditious this notion is; it will be enough for me to have proved it false and foolish.
God planted into the human conscience from creation the precepts of his moral law. In fact, what we call the moral law of God is simply the testimony of this natural law. Consequently, the laws of nations today are to be governed by the principle of equity: justice tempered by friendly love. It is not the ethic of the kingdom of Christ, but it is a genuine civility of which even unbelievers are capable in this age. Whatever laws shall be framed to this rule of equity, we should not disapprove of them even if they differ greatly from the laws of the old covenant or even from nation to nation. There is a variety of ages, conditions, histories, and cultures that require different laws and constitutions.
Therefore, it would be malicious toward the public good to be offended by such diversity and insist upon the particular laws prescribed for the ancient theocracy. For the Lord through the hand of Moses did not give that law to be proclaimed among all nations and to be in force everywhere. But when he had taken the Jewish nation into his safekeeping, defense, and protection, he also willed to be a lawgiver especially to it, and—as becomes a wise lawgiver—he had a special concern for it in making its laws.
We are often amazed by the wisdom that the Spirit gave even to pagan peoples in establishing constitutions and laws for the preservation of this equity. Whenever we come upon these matters in secular writers, let that admirable light of truth shining in them teach us that the human mind, though fallen and perverted from its wholeness, is nevertheless clothed and ornamented with God's excellent gifts.
Shall we deny that the truth shone on the ancient jurists who established civic order and discipline with such great equity? Shall we say that the philosophers were blind in their fine observation and artful description of nature? Shall we say that they are insane who developed medicine, devoting their labor to our benefit? What shall we say of all the mathematical sciences? Those whom Scripture calls "natural men" were indeed sharp and penetrating in their investigation of earthly things. Let us accordingly learn by their example how many gifts the Lord left to human nature, even after it was despoiled of its true good.
At the present time, we are under a two-fold government, so that we do not (as commonly happens) unwisely mingle these two, which have a completely different nature. Christ's spiritual kingdom and the civic jurisdiction are things completely distinct. For now Christ's visible rule is a kingdom of grace, advancing through the proclamation of the gospel: the preaching of the Word and the sacraments. In this kingdom, enemies of God are made heirs, strangers and aliens are bound together in a communion deeper than any social bond, and the gospel conquers the earth through the Word and Spirit rather than through secular powers and cultural labors. Only when Christ returns will he reign in a kingdom of glory, as the realms of this age are made subservient to his will.
These kingdoms are distinguished but should not be opposed. We are citizens of two cities: one temporary and the other eternal. In the one, we are made neighbors, in a society that can never be perfected, but in which we love and serve our fellows with our common gifts. In the other, we are made co-heirs with Christ in a communion of saints, sharing all heavenly blessings forever.
John Calvin is the author of The Institutes of the Christian Religion and other writings, which have been excerpted and paraphrased for this column by a member of the Calvinist family of faith.
Related Elsewhere:
The Institutes of the Christian Religion is available at ChristianBook.com and other book retailers.
Previous Re-Formed columns from Christianity Today are available on our site, including:
Christ Alone | Why indulgences are still a bad idea. (June 1, 2009)
The Real Prosperity Gospel | God's ways may be hidden, but his purpose for us is not. (April 21, 2009)
Reverence for the Mystery | God does not have to answer to us for his ways. (March 3, 2009)
Have something to add about this? See something we missed? Share your feedback here.
Re-Formed
To commemorate the 500th birthday of John Calvin in 2009, Christianity Today published a bimonthly column adapted and paraphrased from Institutes of the Christian Religion. It was ghostwritten by Michael Horton, professor of theology and apologetics at Westminster Seminary California, and editor-in-chief of Modern Reformation magazine.
Previous Re-Formed Columns:
Our digital archives are a work in progress. Let us know if corrections need to be made.
This article is from the August 2009 issue.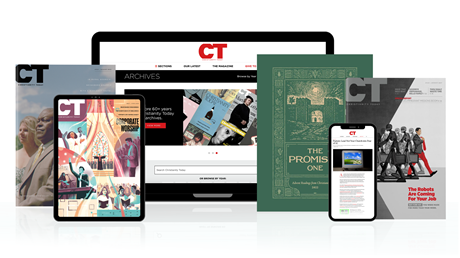 Annual & Monthly subscriptions available.
Print & Digital Issues of CT magazine
Complete access to every article on ChristianityToday.com
Unlimited access to 65+ years of CT's online archives
Member-only special issues
Subscribe
The Only 'Christian Nation'
The Only 'Christian Nation'