true
Synecdoche, New York is comically difficult to summarize (and pronounce), but here goes: Caden Cotard (Philip Seymour Hoffman), who may or may not be a hypochondriac, is a small-time theater director lives in Schenectady, New York (a small, slowly dying city near my hometown, three hours north of New York City) with his wife, Adele (Catherine Keener), who has attained some fame as a painter of tiny canvases. Cotard directs at a local theater, where he and the receptionist, Hazel (Samantha Morton), flirt on smoking breaks. In the midst of rehearsals for Death of a Salesman, Cotard's body starts acting up on him. Strange afflictions plague him, but soldiering on toward his artistic vision, he produces the play, which everyone loves but Adele.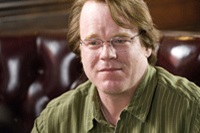 Then, one day, Adele decides that Cotard shouldn't come on the family's long-planned Berlin trip for her exhibition. Taking their daughter with her, she leaves—and never comes back. Cotard's world begins to blur, and time elasticizes until he is suddenly awarded a MacArthur Genius grant, and with some regained passion he moves the company, along with his new wife (Michelle Williams) and daughter to New York City. He plans to create a grand, experience-encompassing "theater of the real," which will explore everyday moments in his own life by re-enacting them. He'll create the most real theater—ever—that will face the truth head-on: the truth about his failed relationships with Adele and Hazel, his estranged daughter, and his own afflictions.
Cotard locates a cavernous warehouse in downtown Manhattan and moves the production in to begin rehearsals. By now he's aging rapidly and fully collapsed into himself; his work turns into a colossal navel-gazing session, with everyone in the production playing parts in his life. The production moves ponderously on for decades while Cotard struggles to find the answers to what went wrong in the life he's all but abandoned. The warehouse-world becomes a hall of mirrors—art reflecting life reflecting art, until the lines are thoroughly smudged—and Cotard's "life" is bewilderingly confused with his work.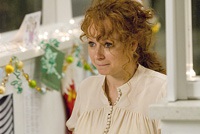 Make no mistake: Synecdoche starts out plausibly enough, but by the end it has completely (and purposefully) veered off into fairy-tale territory. At this point in his career, writer/director Charlie Kaufman could be called the founder, or at least the patriarch, of a cinematic brand of naturalistic surrealism. This is his directorial debut, but he's best known for writing brain-benders Eternal Sunshine of the Spotless Mind, Adaptation, and Being John Malkovich. Kaufman has a unique voice in today's cinema. He can take a twisted premise that only occasionally dovetails with the real world and still somehow strike a chord in the audience's consciousness.
The makeup and art departments deserve a medal of some sort; Hoffman, Morton, Williams, and myriad others transform before our eyes into what could very well be the seventy-year-old versions of themselves. The film's sense of time is appropriately preposterous. Decades pass without any explanation. Some people age, and others don't. Eventually it becomes apparent that we're witnessing some amalgamation of actual events in Cotard's life, filtered through a consciousness that's bogged down in old memories.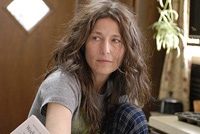 Synecdoche, New York is a grand variation on Kaufman's favorite themes—dealing with regrets, grasping to recapture the past, wanting to be someone else. It's about the desperate need to capture the passing time, and the havoc it wreaks on relationships. These people are struggling to somehow deal with their memories and failed relationships, either to move forward (for Hazel) or hang onto a memory of a past life (for Cotard). Synecdoche is about trying to recreate moments by recreating situations, which nevertheless lack something of the original. Not coincidentally, "synecdoche"—pronounced "sih-NECK-doh-kee," which sounds almost the same as "Schenectady"—is a term that refers to a figure of speech in which a part is used to refer to the whole (for instance, "the boards" for "the stage"), or vice versa. Cotard uses part of his life (theater) to substitute for the whole, which has spiraled far beyond his control.
But to say all that makes it sound like a bogglingly tedious Kaufman passion project. On the contrary: Synecdoche, while sprawling, messy, and sometimes even infuriating, is endowed with enough quirk, wit, and humanity to keep you fully pulled into Cotard's theater of the truly absurd. This is a rich cast, made up of most of today's best art-house screen talent, with a steady stream of brilliant actresses (Morton, Keen, Williams, Wiest, and many others) and Hoffman at the helm, who is indisputably one of the greatest actors of our time. And as we recognize in Cotard our own desires to go back and fix what went wrong, his struggle, waste, fears, and longings break our hearts.
At its core, Synecdoche, New York is a brilliant, gut-wrenching plunge into the painful work of facing the decisions we make and choosing to either continue onward, or live in regret. It's a powerful reminder that the choices we make each day matter—not just in our own lives, but in the lives of those around us. Those looking for some light entertainment to go along with their popcorn will likely come away frustrated, but those who are willing to take the plunge will find plenty to chew on for a long time.
>Talk About It
Discussion starters
This film is all about attempting to re-seize the day, to capture time that has already passed for introspection and examination, with ludicrous consequences. Have you ever found yourself becoming overly analytical of your own life? What effect did that have on those around you?
What significance does Cotard's physical decline at the beginning of the movie—in autumn—have for the rest of the film?
What do 1 John 1:9 and Psalm 103:12 have to say about regretting the failures in our past?
The Family Corner
For parents to consider
Synecdoche, New York is rated R for language and some sexual content/nudity. It includes pervasive bad language and a several scenes of female frontal nudity, including one in a seedy peep show. Cotard's slow physical decline includes some "gross-out" moments.
Copyright © 2008 Christianity Today. Click for reprint information.
What other Christian critics are saying: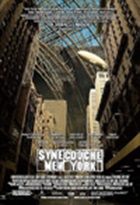 Browse All Movie Reviews By: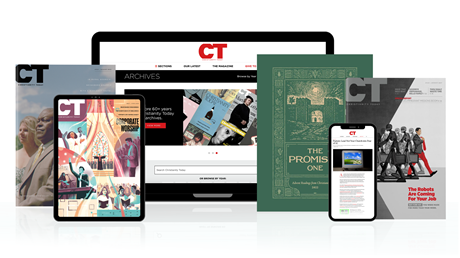 Annual & Monthly subscriptions available.
Print & Digital Issues of CT magazine
Complete access to every article on ChristianityToday.com
Unlimited access to 65+ years of CT's online archives
Member-only special issues
Subscribe
Synecdoche, New York
Synecdoche, New York