true
Five minutes into The Secret Life of Bees, we learn Lily Owens's (Dakota Fanning) life-altering secret: When she was just four years old, she accidentally shot and killed her mother. Lily's mom had left her and her dad, T. Ray (Paul Bettany), months earlier and had returned, according to him, simply to retrieve her belongings. Not, he stresses to now 14-year-old Lily, to retrieve her.
Father and daughter have spent the intervening 10 years in a fog of grief and abuse, which is only heightened by the racial tensions swirling about them in their small southern town (it's the summer of 1964). Lily's one consolation is sneaking out at night to dig up a box of her mom's things—silk gloves, her picture, and an illustration of a Black Madonna.
Scribbled on the back of this odd religious image is the name of a town—Tiburon, South Carolina. When T. Ray's abuse escalates and Lily's black caretaker, Rosaleen (Jennifer Hudson), gets brutally attacked by the town racists, Lily stages their escape to this mysterious promised land. It's the one sense of direction her mother seems to have left Lily for discovering who she is and where she belongs.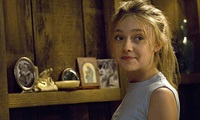 After hitch-hiking to Tiburon, Lily and Rosaleen discover that the Black Madonna image is from the label on some locally made honey. The beekeepers—August (Queen Latifah), June (Alicia Keys), and May (Sophie Okonedo) Boatwright—live in a Pepto-Bismol-pink house at the edge of town. When Lily tells them a tall tale about recently deceased parents and an aunt they're traveling toward, the sisters offer them temporary shelter on the cots in their honey house.
Before falling asleep that night, Lily announces to Rosaleen, "I feel like I'm where I'm supposed to be. Now I just need to figure out why." As August takes her under her wing and teaches her the fine art of beekeeping, the why slowly reveals itself.
Lily also slowly relaxes into the community offered by these eccentric sisters. August is the independent, level-headed matriarch of the group. June is the militant who keeps others at arm's length. But the most fascinating sister is May, a complex bleeding heart who feels the world's hurts to her very bones.
These characters display the depth and dimension of those originated in a book; in fact, many of us first got acquainted with Lily, Rosaleen, and the Boatwright sisters in the pages of the New York Times bestselling book by Sue Monk Kidd. I remember plowing through the final pages of The Secret Life of Bees on a flight several years ago. I had tears streaming down my face, but I really didn't care how ridiculous I looked. The book was that good. And I was that thrilled when I heard the story was coming to the big screen.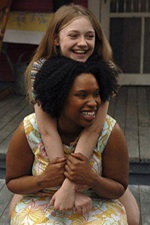 Any trepidation I had that the movie wouldn't do the book justice was dispelled almost instantly. Fanning is a wonderfully nuanced Lily, a not altogether sympathetic character. Though at times I would have liked Fanning to be a smidge grittier, she does a nice job of avoiding her trademark cuteness and instead offers a believable vacantness from one who's been deprived of love. Latifah is in a familiar role as the wise, calm, mother-hen of the group, and she performs the role as expertly as we've come to expect her to.
The performance that struck me most was Okonedo as May. The character isn't quite mentally challenged, but certainly has moments when that seems the case. Okonedo (an Oscar nominee in Hotel Rwanda) does a superb job of keeping this rich character from becoming a caricature. When she wails for the hurts of others, you don't want to giggle at her so much as cry with her … and for her. Hudson and Keys also turn in strong performances and round of one of the stronger female ensembles we've seen in years.
The other "inhabitant" of the Pepto-Bismol-pink house is a large wooden Black Madonna perched in the corner of the living room. At the Boatwright sisters' "church" gathering one Sunday morning, August retells the story of this mystical mother who protects and presides over them all.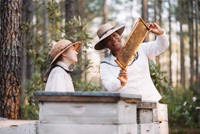 This odd spirituality may turn off some Christians. Instead of being based on Father, Son, and Holy Spirit, this belief system revolves around a mystical mother-love. Make no mistake, this isn't a Christian movie. (Book author Sue Monk Kidd, whose website says she's into "contemplative spirituality" and "feminist theology," is the Writer in Residence for the Sophia Institute, whose mission is to "foster Wisdom, Wholeness, Oneness, Sustainability, Peace and the Integration of the Sacred Feminine and Masculine for the transformation of Self and Society.") Still, Christians will resonate with many themes throughout the film: healing community, redeeming love, and transforming forgiveness.
The movie compellingly illustrates the universal needs for love and belonging—desires that drove many of us to the Cross. Those who can appreciate the movie as literature and folklore will no doubt find Bees to be a lovely piece of storytelling. Christians who want their religious beliefs clearly mirrored on the big screen might be disappointed and/or frustrated.
Still, I think all can agree on the compelling community evidenced in the Boatwright sisters. For example, August painted the house the garish pink because the color brought May such joy. She wisely instructs Lily that some things matter in this world—like lifting someone's spirits—and some things simply don't—like the embarrassment of living in a house you can practically see from across town. In the Boatwrights' relationships with each other and in their various ways of reaching out to the two young lost and hurting strangers, we see a winning example of sacrificial, Samaritan-like love.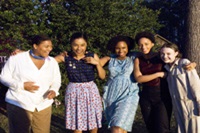 Bees also explores the tenuous relationship between blacks and whites in the 1960s South. While we see the expected hatred from narrow-minded bigots, what's more intriguing is the delicate journey for whites who want to love their African-American friends. They will never truly understand the black experience, even though some desire to—and even though they unwittingly create danger in their black friends' lives in the process. For example, when Lily attends a movie with her black friend (and slowly budding boyfriend) Zach, he gets beat up when some white men find her sitting with him in the "Coloreds Only" balcony. It's the nuanced characters and relationships on both sides of the color line that offer the most interesting peeks into this troubled part of American history.
With these meaty themes and compelling characters, Bees is a rich, emotional exploration of the redeeming power of love and the transforming comfort of home.
>Talk About It
Discussion starters
Which character do you most relate to and why?
What does Lily go searching for in Tiburon? Do you think she eventually finds it?
What do you think of May's Wailing Wall? What do you do to handle life's hurts and disappointments?
August tells Lily there are four rules of bee-yard etiquette: Don't be afraid, don't be an idiot, don't swat, and send the bees love. Do you think there are any life lessons hidden in these rules?
In one scene, May says, "Sometimes not feeling is the only way you can survive." Have you ever felt that way?
In another scene, Lily's friend Zach tells her, "Finding out the truth is only half of it—it's what you do with it that matters." When have you had to face a difficult truth? What did you do with this truth?
The Family Corner
For parents to consider
The Secret Life of Bees is rated PG-13 for thematic material and some violence. We see four-year-old Lily accidentally shoot her mother, though it's in flashback and there's no blood or gore. We also see Lily's father make her kneel in a pile of grits for an hour, an act that leaves her with shredded knees. Rosaleen gets beat up by racists for trying to register to vote. And later in the film, Lily's black guy friend also gets beat up by racists. The abuse and racism at the hands of grown men who should know better would need some explaining for younger children, and could inspire good conversation with older teens. We also see June make out with her boyfriend in several scenes.
Copyright © 2008 Christianity Today. Click for reprint information.
What other Christian critics are saying: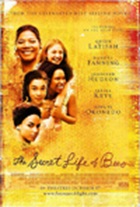 Browse All Movie Reviews By: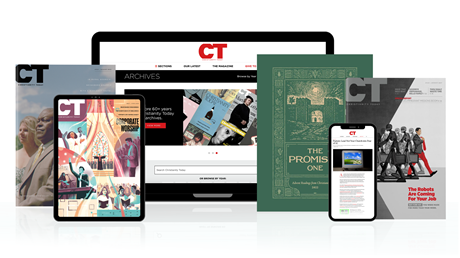 Annual & Monthly subscriptions available.
Print & Digital Issues of CT magazine
Complete access to every article on ChristianityToday.com
Unlimited access to 65+ years of CT's online archives
Member-only special issues
Subscribe
The Secret Life of Bees
The Secret Life of Bees