This article originally appeared in the November 18, 1988 issue of Christianity Today.
Not much in Billy Graham's theological outlook is conspicuously "new," and Graham himself would doubtless be gratified that it is not. When modernist and humanist critics accused him of turning back the clock of theological progress by a generation, he offered to escort them back 19 centuries to Jesus and the apostles.
Graham is not simply an evangelist, but is expressly an evangelical evangelist, and that implies at once an irreducible theological content and commitment to a complex of Bible doctrines. He has never vacillated on the fundamentals that evangelical orthodoxy championed against theological liberalism.
Graham did not shape recent evangelical doctrine as much as he proclaimed it. He was a student at Wheaton College when the National Association of Evangelicals arose in 1942 with its definitive theological affirmations. He pursued no formal theological studies beyond the A.B. degree, a circumstance that some critics of seminary trends—rightly or wrongly—consider a blessing that may have preserved his evangelistic zeal. From 1947 to 1952 he served as president of Northwestern College in Minneapolis, where, in 1951, he graciously invited me to give the W. B. Riley Memorial Lectures to a student body more alert to evangelism than to theology.
Graham's weekly "Hour of Decision" radio program, inaugurated in 1950, featured powerful sermonic evangelism more than structured theological exposition. And to this day his monthly sermon in Decision magazine is oriented more to a popular mass-media audience than to cognitively oriented theologians. Yet almost from the beginning of his nationwide evangelistic campaigns in 1949, many of Graham's sermons incorporated more theological content than did much past-generation fundamentalist preaching.
The evangelist would, of course, hurriedly deny that he is a theologian in the primary dictionary sense. Yet he surely meets the secondary criterion of a "student of" and "writer on" theology. He has often preached on one or another of the Bible doctrines, although not in a systematic way. His books include volumes on Angels (1976) and The Holy Spirit (1979). Even these texts are intended more for the laity than for seminarians, although theological beginners often find them helpful. His books tend to gloss over doctrinal divisions within evangelical circles; like his preaching, his writing insistently hews to mainline evangelical emphases.
Graham is not at home in professional academic societies or their journals; he is not a member of the Evangelical Theological Society. But his personal role in relation to Fuller Theological Seminary, Christianity Today, and the Billy Graham Center has theological implications. He continues on the boards of these enterprises, although not always in a theologically decisive way, despite his commitment to the inerrancy of the Bible.
Indeed, evangelical theologians applaud Graham for his unhesitating proclamation of a fully reliable Scripture, his focus on the Christological center of the Bible, his demonstration of the converting power of the gospel, his fervent vision of the duty of global evangelism, and his insistence that the fallen human race faces an awesome dual destiny in eternity that only belief in Christ can infuse with hope. For a non-theologian, that is a hefty contribution, and we may all be grateful to God for it.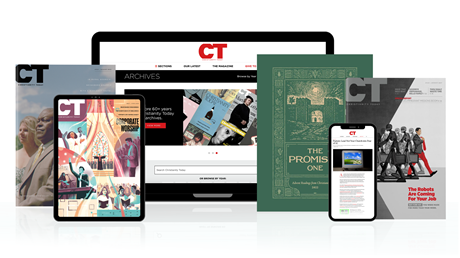 Annual & Monthly subscriptions available.
Print & Digital Issues of CT magazine
Complete access to every article on ChristianityToday.com
Unlimited access to 65+ years of CT's online archives
Member-only special issues
Subscribe
Firm on the Fundamentals
Firm on the Fundamentals