Like true swing voters, Hispanic Protestants do not fit into traditional political categories on hot-button issues.
But a new survey shows that when the dust settles, most of them will likely be standing on Barack Obama's side of the fence.
Hispanic Protestants lean conservative on the issues of abortion and same-sex marriage, but lean more liberal on immigration and the economy. Although 63 percent of them voted for President Bush in 2004, only a third say they support John McCain, according to a survey conducted by SDR Consulting in Atlanta.
"The shift is a direct result of the immigration-reform debacle," said Samuel Rodriguez, president of the National Hispanic Christian Leadership Conference (NHCLC). "Immigration is a profoundly religious issue for Hispanic evangelicals."
Hispanics represent the largest minority group in the United States, and 9.2 million — or one-third of them — are Protestant. Three out of four survey respondents considered abortion extremely or very important to their vote, while 71 percent of them said the same thing about immigration reform. Slightly more than half —56 percent—said gay marriage was extremely or very important in their voting.
"Abortion is still probably the primary concern, with immigration not too far behind," said Rodriguez, whose group co-sponsored the survey. "Sen. Obama continues to repeat abortion reduction. That continues to resonate with Latino Protestants."
Eighty percent of the Hispanic Protestant survey respondents identified themselves as born again or attend an evangelical denomination in the telephone poll conducted October 1 to October 7. The poll found that 65 percent of Hispanic Protestants support Obama's plan for immigration reform while 23 percent support McCain's plan.
Both parties are vying for Hispanic Protestant support. Obama attended a breakfast with 200 leaders and spoke on a conference call with 30 of them earlier this year. Samuel Rodriguez's wife, Eva, prayed at the Republican National Convention in August.
Half of the Hispanic Protestants surveyed said they support Obama — still far from the 68 percent of Hispanic Protestant votes Al Gore received in 2000, (10 percent are still undecided). Gastón Espinosa, a professor at Claremont McKenna College in California, said there is some discrimination against blacks within the Hispanic community and that many Hispanics may see Obama as too young.
"There's a perception that Barack Obama is a liberal Protestant," he said. "They're not really sure whether or not they agree with him on some of these faith issues."
Although McCain's running mate, Sarah Palin, is against abortion, she has not often expressed her views on immigration, making it difficult for Hispanic Protestants to know where she stands. Even vice presidents at the NHCLC are divided: the Rev. Mark Gonzalez is supporting McCain while the Rev. Wilfredo De Jesús is backing Obama.
"We have our differences, but we come to the table, and we want to make sure the Hispanic agenda is heard," De Jesús told Christianity Today Thursday night before speaking to pastors in New Mexico about Obama. "We're sending a message to the Republican Party. I don't think they resonated with our people."
De Jesús said many Hispanic Protestants have left the Republican Party because they consider it friendlier to anti-immigrant sentiments. In the survey, 40 percent of Hispanic Protestants associated negative rhetoric on immigration with only the Republican Party, compared with 7 percent who associate the same rhetoric with only the Democratic Party. But 43.4 percent say they associate it with both parties.
Half of Hispanic Protestants identify themselves with the Democratic Party, which rose from 43 percent in 2004, according to a spring study by the Paul B. Henry Institute at Calvin College. At the same time, Hispanic Protestants who considered themselves Republican dropped from 37 percent to 16 percent between 2004 and 2008.
McCain's sponsorship of immigration-reform legislation seems not to trump perception of the Republican Party as a whole, said Mark Silk, professor of religion in public life at Trinity College in Hartford, Connecticut.
"Latino Protestants were not Democrats, and they were not really Republicans. They were sort of looking for a home," Silk said. "It's striking that after Bush, who made real inroads in that part of the Latino population in 2004, the Republicans blew it."
Hispanic Protestants will be an important voting bloc in states where the race is expected to be closely contested, such as New Mexico, Nevada, Colorado, and Florida.
Related Elsewhere:
The Associated Press, the Los Angeles Times and Religion News Service also reported on the survey.
Newsweek and the South Florida Sun-Sentinel also recently wrote about Hispanic evangelicals.
Christianity Today previously wrote about Hispanic evangelicals moving away from the Democratic Party.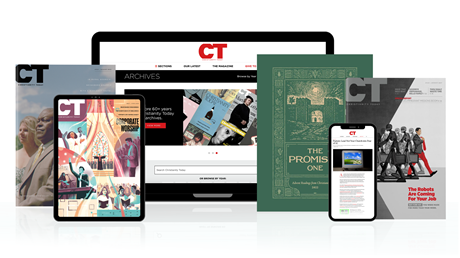 Annual & Monthly subscriptions available.
Print & Digital Issues of CT magazine
Complete access to every article on ChristianityToday.com
Unlimited access to 65+ years of CT's online archives
Member-only special issues
Subscribe
Over the Fence
Over the Fence