Christ Our Joy: The Theological Vision of Pope Benedict XVI
by Joseph Murphy
Ignatius Press, April 2008
236 pp., $16.99
For the better part of his 82 years, Pope Benedict XVI has dedicated his life to serving Christ and his church — as priest and pastor, as theology professor and author, as archbishop of Munich-Freising and prefect of the Congregation for the Doctrine of the Faith, and now as the Roman Catholic Church's chief shepherd. What, if anything, has unified his thought throughout these years?
In Christ Our Joy: The Theological Vision of Pope Benedict XVI, Monsignor Joseph Murphy, an official in the Vatican Secretariat of State who studied theology at Rome's Pontifical Gregorian University, proposes that what ties Benedict's theology together is an emphasis on joy.
Consider Benedict's diagnosis of our existential plight. As he sees it, modern man is, above all else, unhappy. Modern anxieties, Murphy notes, produce "boredom, spiritual lethargy, and a sense of meaningless" that make life almost insufferable. The American phenomenon of the "man-child" — the 20-year-old professional who works by day and parties by night with no plans to settle down — and Europe's plummeting birthrates and low religious practice support Benedict's claim. Searching for joy yet blind to the point of living, we retreat from reality.
Murphy pays particular attention to Nietzsche, to whom Benedict returns repeatedly. In his first encyclical letter as pope, Benedict summarized the Nietzschean mindset: "Doesn't the church, with all her commandments and prohibitions, turn to bitterness the most precious thing in life? Doesn't she blow the whistle just when the joy which is the Creator's gift offers us a happiness which is itself a certain foretaste of the divine?"
Nietzsche's attack on Christianity's "slave morality" paved the way for modern rejection of objective standards of goodness, truth, and beauty. But by making ourselves the measure of everything, we have lost a shared measure of anything. Having shrugged off Christ's yoke and with it our moorings to God's truth and goodness, we know of no excellence for which to strive, only arbitrary tastes and their pointless pursuit: the "escapist pleasure of the consumer economy" and the "exploitation that increasingly marks human relationships." What was to be our liberation has become our enslavement.
But we need not remain slaves forever. As Benedict sees it, we can regain joy by participating in love—both giving and receiving. Thus, Benedict invites modern man to rediscover his lofty vocation as a beloved child of God, for "one cannot become wholly man in any other way than by being loved, by letting oneself be loved." This divine love cannot be a noble fiction meant to keep us from despair; as Benedict writes, "Only when love and truth are in harmony can man know joy." The question, then, is whether the gospel is true.
From here Benedict launches his fight against the "dictatorship of relativism." While many commentators focus on relativism's moral and political implications, Benedict probes its spiritual consequences. Modern scientific rationalism has so neutered reason that, though useful for solving technical questions, it is impotent to address major questions about life's origins, meaning, or destiny. As Benedict puts it, "[K]nowledge of the functional aspect of the world … brings with it no understanding of the world and of being," since what is immaterial "cannot be approached with methods appropriate to what is material." The scientific method can never establish or discredit Christianity, he argues, "because the kind of experiment demanded — pledging one's life for this — is of quite a different kind."
Benedict proposes, then, not the Uncaused Cause of Greek philosophy or the unnamable, unknowable Absolute of Eastern religion, but the God of love revealed in Jesus Christ. He stated this forcefully in his inaugural homily as pope: "If we let Christ in our lives, we lose nothing, nothing, absolutely nothing of what makes life free, beautiful, and great. No! Only in this friendship are the doors of life opened wide. Only in this friendship is the great potential of human existence truly revealed. Only in this friendship do we experience beauty and liberation."
Murphy traces this double motif of joy and love in the pope's writings. Benedict presents the persons of the Trinity as essentially related by love; Jesus Christ as uniting all mankind to himself so that we might participate in the Trinitarian life of love; and the church as the communion of believers making Jesus — and his joy — present in the world. He presents the Eucharist as the sacrament whereby Jesus gives himself fully to each of us so that our joy might be complete; Creation as the intelligible, loving work of the Creator, intrinsically ordered toward the Sabbath rest that allows man to worship his Creator and thus discover his true and lasting joy; and the Holy Spirit as the one whose indwelling makes our joy manifest.
Of course, no book can exhaust its subject. Christ Our Joy passes over Benedict's extensive work in moral and liturgical theology, as well as his writings on European culture and Western civilization. Likewise, there is little on Benedict's place within history or his theological influences. Also problematic is Murphy's failure at times to distinguish his own reasoning, Benedict's thought, and standard Catholic theology.
But the book is a fine introduction to Christian theology through Benedict's eyes, especially suited for anyone suffering the existential crisis of meaninglessness. Evangelicals will particularly appreciate Benedict's focus on Christology and his firm grounding in Scripture and in the church's early tradition, particularly Augustine and the church fathers. By his own admission, Benedict has "never tried to create an individual theology. … I simply want to think in communion with the faith of the church … in communion with the great thinkers of the faith."
What he has discovered by thinking with the church is friendship with Jesus Christ, who is our joy, and the call to communicate that joy — as priest, professor, bishop, cardinal, and pope. As Benedict proclaimed at the 2005 World Youth Day in Cologne, Germany, "Anyone who has discovered Christ must lead others to him. A great joy cannot be kept to oneself. It has to be passed on."
Ryan T. Anderson is the editor of Public Discourse: Ethics, Law, and the Common Good a new publication of the Witherspoon Institute of Princeton, N.J..
Related Elsewhere:
Christ Our Joy is available at ChristianBook.com and other book retailers. Google Books has an excerpt, and Ignatius Insight Scoop has an interview with Murphy.
Christianity Today has other book reviews on a section of our website, as well as more coverage of Catholicism and theology.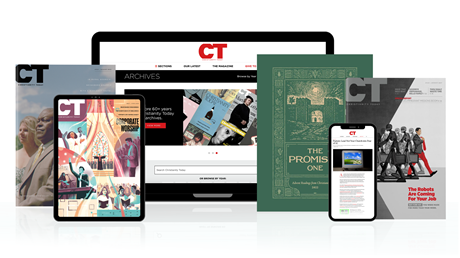 Annual & Monthly subscriptions available.
Print & Digital Issues of CT magazine
Complete access to every article on ChristianityToday.com
Unlimited access to 65+ years of CT's online archives
Member-only special issues
Subscribe
The Imprimatur of Happiness
The Imprimatur of Happiness