Mark Mittelberg is the author of Becoming a Contagious Church and coauthor, alongside Bill Hybels, of Becoming a Contagious Christian. His latest work is Choosing Your Faith: In a World of Spiritual Options (Tyndale, 2008). CT's Stan Guthrie spoke with him.
Many books have been written about Christian apologetics. What's different about this one?
It seems that we live in a world with increasing numbers of spiritual choices before us: religions, cults, sects, and secular viewpoints, including the New Atheism. The average person is thinking, I don't know what to think about all of this stuff. How do I figure out if any of it's true? Maybe I just won't believe any faith. Well, we all have faith in something. But have we thought about it? Have we carefully weighed our options? Have we considered what criteria to use to figure out what's true?
The first half of this book is about how to weigh the criteria, and I show six faith paths that people tend to travel on as they figure out what to believe. And I help people think about which of those paths are more reliable, and which are less reliable, so that they know what criteria to value in their journey.
Is your book for the informed secular person, or also for followers of other religious traditions, such as Muslims and Hindus?
Both. I'm not saying there aren't exceptions, but most people—Christian and non-Christian—believe because Mom and Dad told them it's true or because it was part of their culture growing up. I challenge them to test their traditions and think about this vitally important area more carefully.
How do cultural currents such as immigration and increasing pluralism affect your approach?
They increase the sense of confusion about what to believe. We're in such a widely diverse, pluralistic culture today that kids go to school surrounded by all kinds of viewpoints and beliefs. That's not necessarily a bad thing, but we Christians need to think more carefully and to teach our kids more accurately about why the Christian faith makes sense, why we believe it's true, and why we don't believe the others are true.
How does postmodern thinking affect faith?
It depends on how people view and live out postmodernism. When they interpret that to mean that truth is subjective and relative, this is the first of the six faith paths I discuss in the book, the relativistic or pragmatic approach to choosing your faith. Now I don't think everyone who claims to be a postmodern would interpret that the same way. But for those who do interpret it in a really relativistic fashion, I argue that that's a dangerous approach. As in speed limits, what you eat, how you exercise, and what answer you put down on a test at school—in all these areas we have to deal with the real world. It's not my truth or your truth. It's whether I gave the right answer on the test. It's whether I was going the speed limit. It's whether I stepped out in front of that truck coming down the road. Those are all realities that do not change based on my beliefs. What you believe does not change what's real—in the physical world or the spiritual world.
But if by postmodernism we're talking methodologically about how to communicate the Christian faith in our culture today, I would certainly support telling the story through music, drama, movies, and novels. We should never limit ourselves to one mode of communication. But if all we do is tell stories and give the narrative and convey our faith in that way, there will always be a number of people who will say, "Well, that's your story and that's nice for you, but I have my story, and I like mine better." We've always got to be ready to also say, "I don't want to just compare beauty of stories or intensity of emotion or the sense of love or inclusiveness within our group, all of which are important. There's also this deal about truth and reality and how we know what we need to consider in order to make wise decisions about faith."
I would urge my fellow believers to not let go of one of the most important things God has given us: logic, evidence, old-fashioned apologetics, which Jesus often appealed to when he was questioned. He would say, "Don't just listen to my words, but look at my works, look at my miracles, look at the fact that I am fulfilling the roles of the Messiah in the prophecies. Look to the fact that I will rise from the dead." And then to Thomas the doubter, he said, "Look at the holes in my hands and in my side. Look at me; it's Jesus." Over and over he pointed to the facts, the evidence, as did the apostles and other writers of Scripture. I'm not saying it's the only approach; I'm just saying it's an important approach that we need to use well, which is why I present this kind of evidence in the second half of Choosing Your Faith. Young people and folks both inside and outside the church are asking these questions and need good answers.
Related Elsewhere:
This article accompanies "A New Day for Apologetics."
Choosing Your Faith: In a World of Spiritual Options will be available from ChristianBook.com and other retailers in August.
Recent articles on evangelism and apologetics include:
From Four Laws to Four Circles | James Choung has found a way to tell the old, old story to a new generation. (June 27, 2008)
Tim Keller Reasons with America | The New York pastor explains why he's taking his ministry model on the road. (June 20, 2008)
Unapologetic Apologist | Jay Smith confronts Muslim fundamentalists with fundamentalist fervor. (June 13, 2008)
Unexpected Dialogue | Why is a former Chinese official talking to Luis Palau? (May 22, 2008)
Have something to add about this? See something we missed? Share your feedback here.
Our digital archives are a work in progress. Let us know if corrections need to be made.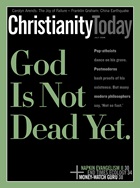 This article is from the July 2008 issue.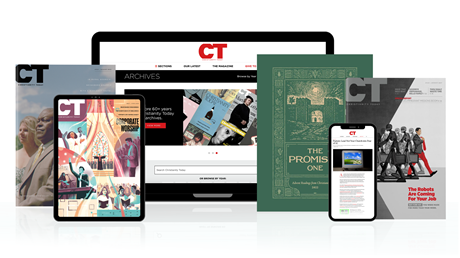 Annual & Monthly subscriptions available.
Print & Digital Issues of CT magazine
Complete access to every article on ChristianityToday.com
Unlimited access to 65+ years of CT's online archives
Member-only special issues
Subscribe
Fact and Faith
Fact and Faith