true
For the first time, our annual Readers' Choice Awards had a close finish. In 2004, The Passion of the Christ was a runaway winner; in '05, it was The Lion, The Witch and The Wardrobe. The only question in those years was, who would finish No. 2?
This time, the voting went right down to the wire, with Pirates of the Caribbean: Dead Man's Chest just beating X-Men 3: The Last Stand for the top choice.
The independent and quirkily charming Little Miss Sunshine, which some of our readers (and a few Christian film pundits) have called "abhorrent," finished third—just ahead of The Nativity Story. Rounding out the top ten are Cars, United 93, Casino Royale, Children of Men, End of the Spear, and The Pursuit of Happyness.
Interestingly, despite receiving many e-mails from readers who complained that we didn't include Facing the Giants on either our Most Redeeming Films or Critics' Choices lists, readers didn't vote it among their top ten favorites. Facing the Giants finished 15th in the voting.
We asked readers for their comments on their top picks, and here's a sampling of what they were saying about the top picks:
Pirates of the Caribbean: Dead Man's Chest
"Love watching Johnny Depp as Captain Jack Sparrow. Just an overall enjoyable movie."
"Mr. Depp has created the greatest human character ever to grace the big screen."
"Kraken!!!!"
"I needed a good laugh, and also appreciated the concepts of sacrifice and redemption. Wonderful special effects and a good score. Depp is one of a kind."
"Beautifully shot. Wonderfully acted and written. Pure entertainment."
"Romance, action like a thrill ride at Disney, and, of course, Johnny!"
"Fun, fun fun."
"Captain Jack Sparrow is the sinner, like most of us, battling a dark side. We catch the glimpses of growth in him, a spirit longing to shine as a better person, and so the hero dormant in most of us is able to shine through."
"It just rocks."
X-Men 3: The Last Stand
"I enjoyed the action as well as the special effects. The story was also compelling."
"I like comic books, and I liked this movie despite them changing minor details."
"Strong plot, great action."
"I'm a comic book geek, and I enjoyed the other two X-Men movies."
"The best movie of the X-Men trilogy—great special affects and fine acting (well, save for a couple of over-the-top performances)."
Little Miss Sunshine
"Great redemptive themes!"
"A quirky look at what things are truly valuable."
"I liked many of the movies on the list, but Little Miss Sunshine lifted me clean out of my life to enjoy theirs for a few hours."
"A dysfunctional family stays together no matter what the setbacks."
"It's a perfect picture of what Stitch said at the end of Lilo and Stitch: 'My family is small and broken, but still good.' I love how this family realizes that it's still a family. And it's bloody funny!"
"Their brokenness was inspirational."
"Funny, heart-warming, deep."
The Nativity Story
"It made the Christmas story really come alive in a way I'd never seen before. Kudos to the creators of it."
"A gentle Bible film with Hollywood quality production standards. A rare movie that has the guts to tell this Bible story as faithfully to Holy Scripture as it actually does."
"It helped me to visualize the circumstances surrounding the birth of Christ, and get a better idea of what life was like in that time. It made me appreciate what Mary and Joseph went through."
"Great to see a family movie that exudes the real meaning of the holiday season."
"It was faithful to the Gospel and had a much better production value than I expected. Very well done."
"The story was told beautifully and realistically."
"This film gave me new respect for Joseph, and for a few moments, let me feel what it might have been like to be an eyewitness to the birth of Jesus."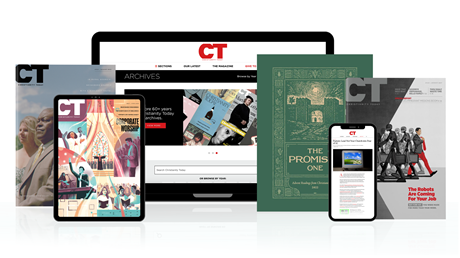 Annual & Monthly subscriptions available.
Print & Digital Issues of CT magazine
Complete access to every article on ChristianityToday.com
Unlimited access to 65+ years of CT's online archives
Member-only special issues
Subscribe
Ahoy! Readers Pick Pirates
Ahoy! Readers Pick Pirates