true
The first three minutes of Music and Lyrics are arguably the best. The film opens with a brilliantly cheesy '80s music video featuring the group PoP!, singing a hit appropriately entitled "Pop Goes My Heart." Both the band and the hit are fictional, but anyone old enough to remember the dawn of the MTV-era will appreciate the historical accuracy of the clip. Checkered backdrops, big hair, bad acting, worse dancing, and monster synthesizer hooks are all put to wonderfully evocative use. And it's especially fun to realize, about 30 seconds into the video, that one of PoP!'s pretty boy leads is none other than Hugh Grant.
The final 93 minutes of the film may not quite live up to the glory of the first three, but they are agreeably spent exploring the present-day life of Grant's Alex Fletcher. PoP's other lead vocalist, Colin, has gone on to enjoy immense success as a solo artist, while Alex has gone on to land the occasional gig at amusement parks and '80s reunions. (You may find yourself thinking about the "other guy" from Wham). Still, Alex has managed to retain his sense of humor, his knack for melodies and a decent manager named Chris Riley (Everybody Loves Raymond's Brad Garrett). Early in the movie, Chris informs Alex that Cora, a teen dance sensation currently dominating the charts, has a penchant for retro artists and would like him to write a song and then sing it with her at the launch of her world tour. Given only a few days to deliver the song, Alex is keen to try. But first he has to find a lyricist.
Royalties have kept Alex in a swank New York apartment, with a grand piano and enough plants to warrant a plant-girl. Good thing, too, because it turns out that Sophie Fisher (Drew Barrymore), the substitute plant-girl, has a real knack for words. At first, Sophie resists Alex's pleas for help—her confidence as a writer has been annihilated by her former literary professor, an arrogant author (Campbell Scott) who bedded her and then based his new best seller on a withering caricature of her. In due course, however, Sophie's writerly instincts take over and she joins Alex in an around-the-clock quest to finish the song. Along the way, the creative chemistry turns romantic, complications ensue, and, well, you know. Boy meets girl, boy gets girl to help him write hit song, boy loses girl … and so on.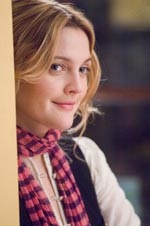 When you look at the ingredients that make up Music and Lyrics, it's easy to detect a recipe for romance. Writer/director Marc Lawrence is a romantic comedy specialist, having written the Miss Congeniality movies and scripted and directed 2002's Two Week's Notice (also starring Grant). Grant and Barrymore both deliver their usual quirky charisma and are immensely watch-able—not to mention listen-able; they handle their singing parts quite ably as well. The forces behind Music and Lyrics are so confident of its romantic charm they've chosen to release the film on Valentine's Day.
And yet it is the romantic elements of the movie that are its weakest link. Grant and Barrymore are completely believable as a creative team, but the romantic development seems arbitrary—or, more accurately, obligatory. Until the moment the relationship turns amorous, Grant, 15 years Barrymore's senior, seems almost parental toward her, or at least big brotherly. The script seems to rely on the assumption that if you put two likable people in a room together for long enough, love will ensue. Such a premise is not offensive; it's just not particularly convincing.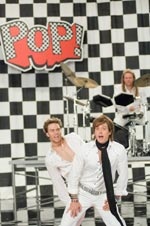 More successful is the film's gentle satire of the music industry. Newcomer Haley Bennett plays teen popstress Cora, whose "Buddhism in a thong" mix of pseudo-spirituality and blatant sexuality has brought her success and the stress that comes with it. In a scene where a video is being filmed for Cora's "Welcome to Bootytown," the over-the-top exploitation of young bodies would seem ridiculous and distasteful if it did not so accurately resemble countless real top ten videos. On the other end of the spectrum, Grant does a brilliant job inhabiting the slight desperation of an aging pop star—a scene in which he attempts to continue to dance after pulling a hamstring is classic.
Music and Lyrics is rarely laugh-out-loud funny (excepting the aforementioned hamstring incident), but it is witty and relatively cliché -free. A strong supporting cast helps to keep things engaging. Kristen Johnston (best-known from Third Rock Under the Son) is a propelling force as Sophie's older sister Rhonda, the food-obsessed manager of a line of weight loss clinics who is old enough to still have a nostalgic crush on Alex. Just the right mix of bossiness and tenderness make Rhonda a great foil for Sophie's reticence and pathos. As Alex's manager, Garnett has less material to work with than he did on any given episode of Raymond, but he still manages to add levity and heart to the film. Jason Antoon makes the most of his brief appearances as the embittered lyricist who doesn't get the gig, and Aasif Mandvi is used to great comic effect as the tone-deaf doorman who gets to hear Sophie and Alex's efforts first.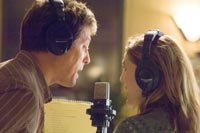 Most of Music and Lyrics' music and lyrics were written by Fountains of Wayne bassist and songwriter, Adam Schlesinger. Spoofy songs like "Pop Goes My Heart" and Cora's "Bootytown" are terrific. The song Alex and Sophie write for Cora—assumed in the plot to be a legitimately great pop tune—is hooky and innocuous. Unfortunately, some of the other music along the way (often written by Marc Lawrence) is a bit cringe-worthy. Sophie's words for a ditty called "Love Autopsy," for example, are meant to establish her promise as a lyricist; they do no such thing. And Alex's melody for the same tune, proclaimed by Sophie to be wonderful, is likewise underwhelming. Still, on the whole, the music is lightweight but enjoyable—much like the film itself.
Talk About It
Discussion starters
Cora feels pressure to keep her musical act sexually provocative in order to have commercial success. Why do you think pop music is so dominated by sexuality? Is sex appeal important in genres other than dance? How do you think the emphasis on sexuality affects the young fans of the music?
Music and Lyrics assumes that a man and woman who collaborate creatively will also be attracted romantically. Is this always the case?
Sophie's literary professor and ex-boyfriend accuses her of being a successful mimic (as a writer) but unoriginal. Is there such a thing as original writing? (See Ecclesiastes 1:9-14, and consider this quote from U2: "Every artist is a cannibal, every poet is a thief.")
The Family Corner
For parents to consider
Music and Lyrics is rated PG-13 for some sexual content—mostly the body-baring costumes and provocative dance moves of the fictional pop singer Cora and her troupe. Otherwise, sex (outside of marriage) is implied in one scene and one other storyline, but not shown.
Copyright © 2007 Christianity Today. Click for reprint information.
What Other Critics Are Saying
compiled by Jeffrey Overstreet
from Film Forum, 02/15/07
Hugh Grant is still playing the same kind of romantic lead that has always worked for him … even if his leading ladies seem to be getting younger.
In Music and Lyrics, Grant plays a burned-out pop star, whose ridiculous '80s music videos give us great send-ups of that decade's regrettable style. Ready to revitalize his career with inspiration and romance, Drew Barrymore delivers the kind of effortless charm that have made her an audience favorite.
Article continues below
And yet, while the stars shine, the move flickers and then fades out.
Christopher Lyon (Plugged In) says the movie "fits easily into the spirit of the '80s pop songs it celebrates. It provides a romantic, feel-good atmosphere while remaining relatively empty-headed, ridiculously earnest and pleasantly forgettable."
Christa Banister (Crosswalk) says, "Unlike the majority of romantic comedies that often—unsuccessfully—try to have a greater underlying message, something usually along the lines of 'stay true to yourself' or 'love conquers all,' Music and Lyrics doesn't pretend to be anything more than it is—cute, light-hearted fun. And for that reason alone, and undoubtedly, the pitch-perfect portrayal of '80s music nostalgia … Music and Lyrics will hit most of the right notes with the masses."
Mainstream critics are giving it mixed reactions.
Browse All Movie Reviews By: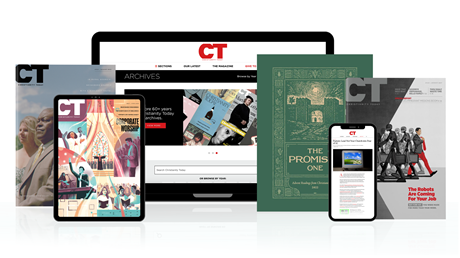 Annual & Monthly subscriptions available.
Print & Digital Issues of CT magazine
Complete access to every article on ChristianityToday.com
Unlimited access to 65+ years of CT's online archives
Member-only special issues
Subscribe
Music and Lyrics
Music and Lyrics