true
In 1999, someone introduced veteran Hollywood producer Ken Wales to Philip Anschutz, a reclusive billionaire entrepreneur and devout evangelical. Anschutz's passion was to see more redeeming movies come out of Tinseltown.
At the time, Anschutz owned a production company with a politically incorrect name: Crusader Films. He asked Wales, also a Christian, what kind of movies he'd like to make. Wales, who had produced the popular tv series Christy in the early '90s, rattled off a few ideas—including his dream of making a film about John Newton, the former slave trader who wrote "Amazing Grace," perhaps the most popular English hymn of the last century.
Wales began describing how he wanted to bring Newton's story to the big screen. Anschutz interrupted: "Have you ever heard of William Wilberforce? Because I'd really like to see a movie about him."
Wales, recounting the story to CT, said he was familiar with the famous 19th-century Christian abolitionist, and he agreed it would make a good movie—after the Newton film. Wales said Newton's story should come first, since it was Newton who, following his conversion to Christianity, eventually mentored Wilberforce.
But Anschutz wouldn't bite. He wanted a Wilberforce film—and got it. Amazing Grace (the title Wales wanted for the Newton movie) opens in theaters on February 23, the 200th anniversary of the British parliament's vote to ban the slave trade in British colonies.
"Phil really wanted the Wilberforce movie," says Wales. "When I asked why he was so passionate about it, he said, 'Because of what Wilberforce did, because of his tenacity, because he stayed the course and really worked with his friends and associates to change the world.' "
In Amazing Grace, actor Ioan Gruffudd (King Arthur, Fantastic Four) plays Wilberforce, and Albert Finney (Erin Brockovich, Big Fish) plays Newton.
The result is a well-crafted film with evocative moments between Newton and Wilberforce. Newton emerges as an old man in sackcloth, mopping church floors and lamenting his years as a slave trader—telling tales that encourage Wilberforce to remain steadfast.
We see Wilberforce, starting in his early 20s, eloquently arguing on behalf of slaves before a hostile parliament. Scenes between Wilberforce and his childhood friend, William Pitt—England's youngest prime minister at the age of 24—show Pitt encouraging his comrade. And there's a bit of a love story as Wilberforce courts Barbara Spooner (Ramola Garai), who shares his passion for social justice.
It's the scenes of backroom politics, after the fancy wigs and stifling coats have come off, that make the film soar. In these clandestine meetings—between Wilberforce, some of his fellow lawmakers, and a small-but-conscientious team of ordinary citizens, including a former slave who'd bought his own freedom—we see real progress.
Amazing Grace reveals Wilberforce as a man of faith, but never gets preachy. Director Michael Apted, who calls himself an agnostic, says, "You don't have to be a Christian to be a man of principle. I'm always interested in making films about people of principle, and Wilberforce was certainly that."
Apted, who studied history and law at Cambridge and knew Wilberforce's story well, wanted a film "where politics is seen as somewhat heroic. And this seemed to me a genuine piece of political heroism."
"If the film can in some way draw attention to the world we live in," he adds, "that would be great."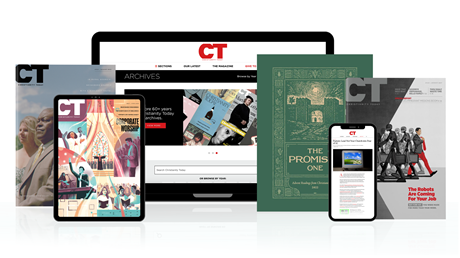 Annual & Monthly subscriptions available.
Print & Digital Issues of CT magazine
Complete access to every article on ChristianityToday.com
Unlimited access to 65+ years of CT's online archives
Member-only special issues
Subscribe
Amazing Abolitionist
Amazing Abolitionist