For many people, football is religion. Superstar players are deified, weekly games are strictly observed, and everyone—devoted fan or not—watches the Super Bowl.
But for Tony Dungy and Lovie Smith, football has not taken God's place.
The head coaches of the AFC champion Indianapolis Colts and the NFC champion Chicago Bears, who will lead their teams in Super Bowl XLI on Sunday, have a lot in common. As has been well documented, they share the distinction of being the first black head coaches in the Super Bowl. They are close friends, having coached together with the Tampa Bay Buccaneers for five years. They are also Christians.
"God is the center of my life," Smith told the media during a Super Bowl press conference earlier this week. "It controls all that I do. I hope I don't have to spend my time telling my players I'm a Christian. I hope they see it in my life every day."
Smith and Dungy are not just Christians when the spotlight shines on them. Their day-to-day coaching styles and set of priorities stand out among a league of coaches obsessed with winning at all costs.
The coaches in the headlines this regular season have been highlighted because of their animosity (Bill Belichick), duplicity (Nick Saban), and postgame electricity (Dennis Green). With only two coaches left to write about, the tenor of the articles has clearly changed.
"He does things the right way," Dungy said of Smith after the Colts and Bears each won their conference championship games. "No profanity, no intimidation, just helping his guys the best he can—and that's the way I try to do it. I think it's great that we're able to show the world not only that African-American coaches can do it, but Christian coaches can do it in a way that we can still win."
The trait that makes Dungy and Smith excellent coaches is their ability to put things in perspective. During even the most stressful situations, neither wavers from his steady approach to the ups and downs that are inherent in a volatile game. Although their mild-mannered styles do not make great headlines, they have proved endearing to players who look to Dungy and Smith for leadership.
The best coaches have players who are willing to do anything—within moral and legal boundaries—for them. Dungy and Smith have commanded that respect because they love and discipline their players as a father would his son or God his children. And while a players' coach (e.g., Dick Vermeil) and a disciplinarian (e.g., Bill Parcells) can win Super Bowls, it takes a certain type of coach to lose Super Bowls well.
Will the losing coach of Super Bowl XLI be upset knowing how hard he worked and how far he came, only to lose the biggest game of his career? Most certainly. Will the losing coach be distraught and go into a three-day funk before beginning to scout college seniors? Most definitely not.
Both Dungy and Smith will be back at work, rededicated to another season, in due time. But they are perhaps most different in that regard. While the NFL has turned into a 24-7 affair where coaches like to brag about how late they fall asleep and how early they wake up (with bonus points for sleeping in their office or filmroom) Dungy and Smith have always made sure that their priorities are in order–God comes first, family comes second, and football is a distant third.
This hierarchy was most recently apparent shortly before last Christmas, when Dungy's 18-year-old son, James, committed suicide. After taking a few weeks away from football to grieve, Dungy returned to the field with a professionalism that served as a witness to his deeply held faith.
Dungy and Smith are respected coaches not only because of their football knowledge (the duo collaborated to create the Tampa 2 defense, which both the Colts and Bears will use in the Super Bowl), but also because of the way that they conduct business both on and off the field.
After the Super Bowl, Dungy and Smith will continue to be the same people they were before the big game. There will be no finger pointing, neither outward nor upward, for the unpretentious duo.
The two coaches live out their faith. While they do not proclaim it in response to every question asked at a press conference, they do not come close to hiding their true devotion.
"The Lord set this up in a way that no one would believe it," Dungy said after the Colts and Bears advanced to the Super Bowl. "The Lord tested us a lot this year, but he set this up to get all the glory."
Related Elsewhere:
Baptist Press sports coverage of the Super Bowl teams includes:
Among the Colts, faith has made a difference, players say | From South Beach with all its glitz and glamour to an array of parties in other parts of Miami, the Super Bowl XLI scene is one large distraction for faith-filled players and coaches.
Bears credit Lovie Smith for coaching without cursing | Chicago Bears offensive tackle John St. Clair says he is proud to play for head coach Lovie Smith, who not only shares his faith in Christ publicly but has led his team to the Super Bowl without the need to berate or curse at his players.
Article continues below
Other coverage on Smith and Dungy's faith includes:
Super Bowl coaches' Baptist, Methodist roots remain with them on game day | While much has been made about NFL head coaches Tony Dungy's and Lovie Smith's skin color, they've got a stronger bond than being the first African-American head coaches to lead their teams to the Super Bowl. (Associated Baptist Press)
He yells, all right - celebrating victory | The example Lovie Smith has set as he leads the Bears into Super Bowl XLI. (The St. Petersburg Times)
Super Bowl coaches Dungy and Smith known for Christian testimony | Super Bowl XLI will feature two teams making their first super game appearance in two-plus decades, two Midwestern teams separated by only a couple hundred miles, but most importantly two coaches who are strong believers in Jesus Christ. (ChurchExecutive.com)
It's character, not color, that separates Smith, Dungy | So just how big a deal is it that a brotha (two as it turned out) finally led a team to the Super Bowl? Put it this way: a big enough deal to make black folk in Baltimore root for the hated Colts. (ESPN)
2 leaders tell us about ourselves | The biggest audience in television is about to get a live lesson in leadership. Pay attention. It may come in handy in choosing our next president. (Chicago Tribune)
Play Ball
From 2005 to 2007, "Play Ball" examined the relationship of sports and faith: sports is important precisely because it is a form of play, that is, a manifestation of the Sabbath. Contributors included Mark Galli, Collin Hansen, Mark Moring, and others.
Previous Play Ball Columns: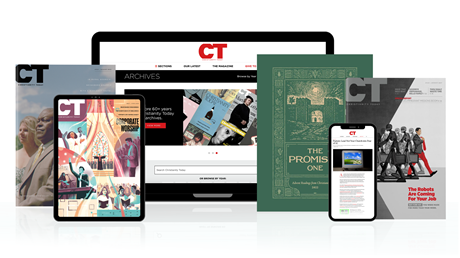 Annual & Monthly subscriptions available.
Print & Digital Issues of CT magazine
Complete access to every article on ChristianityToday.com
Unlimited access to 65+ years of CT's online archives
Member-only special issues
Subscribe
Christian Coaches Face Off for Super Bowl XLI
Christian Coaches Face Off for Super Bowl XLI