I cannot recall my earliest memory of Mother, but I am quite certain it is associated with joy. Her joy did not stem from perfect or ideal circumstances but from a deep, abiding love affair with the Lord Jesus.
Mother was born in China during a time of warlords and bandits. She grew up hearing gunfire in the distance at night and could recall seeing bombs in their berths as planes flew low over their compound, but she doesn't remember fear being part of her childhood. She lost a brother to dysentery when he was 18 months old but remembers no lingering shadow of sorrow.
Her mother, Virginia Bell, was a talented and creative homemaker. She was single-mindedly supportive of her husband. Her philosophy of child rearing was simple: Her job was not to make them happy but to make them good. She succeeded in doing both well. Her life's commitment was to serve Christ, her husband, and her family.
My mother's father, Nelson Bell, a busy surgeon, created a secure, loving home filled with music, quality family experiences, and humor. His fidelity to Christ and his service never wavered. It was his life's purpose.
These were Mother's role models. Her parents exercised a profound effect upon the development of her character and laid the foundations for who she was. I observed traits in her that I knew were formed long ago by these two godly people who were committed to Christ and their family.
Mother was greatly saddened when she had to leave the shelter of her home and go away to northern Korea for high school. She often said that God was then preparing her for a lifetime of goodbyes. A young 13-year-old girl whose heart was heavy with homesickness, and had no idea what God's purpose was, she turned to the one who promised to always be with her—her heavenly Father. Early in her life, she made Christ her home.
What she witnessed in her family's home, she practiced for herself—dependence on God in every circumstance, love for his Word, concern for others above self, and an indomitable spirit displayed with a smile. Self-sacrifice was a way of life.
Although Mother left China at age eighteen to go to Wheaton College and did not return until 1980, she never forgot China—the land and people of her happy childhood. She read, studied, and interviewed those who might afford any clue about her homeland and how the Christian church was faring under intense persecution. China was in her blood. It became a passion that bore fruit when she stood with my Father as he proclaimed the gospel in the land of her birth.
In 1989, my two sisters and I were privileged to accompany our mother back to China to visit her hometown. As we toured the grounds of the old hospital, Chinese officials told us their plans for a new hospital they were building. When it was Mother's turn to speak, she presented the gospel simply and clearly. She had the heart of an evangelist, though her gift was often overshadowed by that of my father's. At her deepest core was the desire for individuals to know Christ in a personal and intimate way. Early in life spreading the Gospel became her purpose.
One word that never applied to Mother was condemnation. She had a marvelous capacity to accept people where and as they were. However, she did have difficulty with anyone who attacked those she loved. She was fiercely loyal.
Mother had a strong sense of family. She was happiest when in her home in the mountains of North Carolina surrounded by her children, grandchildren, and well-worn books. (Her grandchildren—all 19 of them—adored her.)
Mother was never tempted by the need for status or acquiring things. She was surprised to be told that the things she enjoyed collecting grew to be valuable—like the primitive antiques she had bought because they were less expensive to furnish the old log house she had built out of salvage. Old things always appealed to her and made her feel at home.
She was a collector of books, though she never understood why people collect books just to decorate a room—her books were her friends. Her markings, marginal comments, and notations show where she read. Her bedside was crowded with books from the latest bestseller to something on China to biographies, and always nearby, her beloved Bible. Her reading reflected her interests and needs. When someone once told her he felt guilty if he started one book before finishing the first, she told him she did not. "After all," she said, "you don't finish all the pickles before you open the olives."
She also collected quotations. There were few situations where she could not come up with a choice quotation from someone she had read. Her favorites were John Trapp (a 16th-century biblical scholar), C. S. Lewis, and George MacDonald. One of her favorite quotations was, "No one is useless; they can always serve as a bad example." When asked if she and my father ever argued, she said, "When two people agree on everything, one of them is unnecessary." These quotations were a window to her attitude and perspective on life.
Mother sprinkled all her conversations with humor and understanding. Consequently, they were never dull—though sometimes outlandish, due to her marvelous sense of the ridiculous. She didn't take herself so seriously that she could not laugh at herself.
Life was not easy for Mother. However, I would not say that I ever saw Mother display anger or doubt. With five children to rear, a home to run, bills to pay, not enough money to meet the demands, expectations to act and dress appropriately although she was never trained for her position, and a husband who was married to his ministry and often preoccupied, she maintained her perspective. How did she do it? Early on she made Christ her center.
Mother felt deeply and had strong opinions on most things. She was always a private person, and because of her position did not have the privilege of "spouting off." Instead, she wrote. And the world is richer for it. Her suffering was the seed for thoughtful poetry, personal accounts of my father's worldwide ministry, humorous insights, and always a record of her pilgrimage with the Lord. Some of her writing has been published. Some will remain just hers—expressions of her emotions to her best friend the Lord Jesus. Early on she made Christ her confidant.
Mother had a tender and yielded heart. Her happiness and fulfillment did not depend on circumstances. She was the woman she was because early in her life, she had made Christ her home, her purpose, her center, and her confidant.
Ruth Graham is author of In Every Pew Sits a Broken Heart (Zondervan) as well as Legacy of Love, Things I Learned from My Mother (Zondervan) and founder of Ruth Graham and Friends.
Related elsewhere:
Ruth Graham's sister, Anne Graham Lotz, also wrote about their mother's legacy.
Christianity Today published an original and an RNS obituary for Ruth Graham on June 14, 2007.
The Billy Graham Evangelistic Association has a memorial site for Ruth. The press release above is from A. Larry Ross and Associates, Billy's longtime personal publicist and spokesman, has photos, video, and more information.
Christianity Today articles by and about Ruth Bell Graham include:
Mrs. Graham's Grit | Three cheers for incompatibility. (August 1, 2007)
"The Epitome of a Christian Woman" | A longtime friend of Ruth Graham says this woman of great faith also missed her husband deeply. (June 20, 2007)
A Living Birthday Letter | Ruth Graham's life is a letter crafted especially for people like me who dread the thought of growing old. (Wendy Murray Zoba, June 12, 2000)
Article continues below
What Ruth Graham Taught Me About Prayer | A powerful way to make God's words your own. (Today's Christian, July/August 1999)
Moved into the Presence of God | Ruth Graham tells what book has influenced her the most. (September 2, 1983)
Afraid of the Right Things | One fear puts all others in proper perspective. (March 4, 1983)
Love Covers—or Discovers? | Every cat knows some things need to be buried. (Ruth Bell Graham, May 21, 1982)
Putting Pressure in Its Place | Ruth Bell Graham on the purpose of stress. (May 8, 1981)
RuthBellGraham.com expired in 2005 and is now a cybersquatter's site, but its content is still available at the Internet Archive.
The Billy Graham Center Archives in Wheaton, Illinois, (not to be confused with the Billy Graham Library in Charlotte, N.C.) has wonderful photos, recordings, and documents.
Obituaries on Ruth Bell Graham include those from the Associated Press, Asheville Citizen-Times, Charlotte Observer, Time, Newsweek, The New York Times, USA Today, Washington Post, Los Angeles Times, Atlanta Journal-Constitution, News14 Charlotte, and other sources.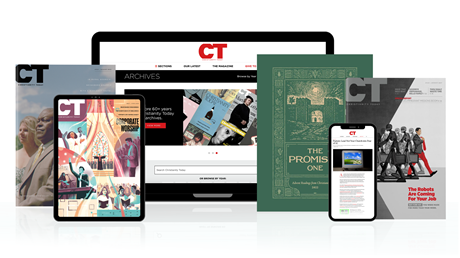 Annual & Monthly subscriptions available.
Print & Digital Issues of CT magazine
Complete access to every article on ChristianityToday.com
Unlimited access to 65+ years of CT's online archives
Member-only special issues
Subscribe
"She Made Christ Her Home"
"She Made Christ Her Home"