On the second Saturday of every month, my family provides a meal for a local homeless shelter. On some of those days, we're joined in the serving line by a 20-ish young man who is doing time—sentenced to community service for a run-in with the law.
I've enjoyed my conversations with this guy as, side-by-side, we lop grub onto waiting plastic plates. He seems to have learned his lesson—I have no clue what his crime was—and to enjoy his work at the shelter. He works hard, and relates to the people well. His sentence exemplifies what "community service" should look like: He's doing a Very Good Thing for his fellow man, and becoming a better man in the process.
Recently, I heard about another guy sentenced to community service. In his case, that means getting picked up at home by a limo service and being driven to a dinner, where he poses for pictures, signs autographs, gives a "motivational" speech, then climbs back into the limo for the ride home.
According to a special report in USA Today, that's exactly how "community service" works for the NBA's DeShawn Stevenson, sentenced for the statutory rape of a 14-year-old girl.
Stevenson is apparently not alone with a lightweight sentence, one that looks pretty much like what a civic-minded pro athlete might do willingly in his spare time anyway.
When NASCAR driver Kurt Busch got pulled for speeding in Arizona last fall, he called the deputies "punks," said they "should be directing traffic somewhere," and criticized what he called their "gay-ass" sobriety test. He was later charged for speeding, following too closely, and passing in a no-passing zone.
Busch was sentenced to 50 hours of community service, which for him included signing autographs at a charity benefit and throwing out the first pitch at a major-league baseball game.
Poor thing. All those John Hancocks, and then tossing a ball in the general direction of home plate. Gosh, he might've torn a rotator cuff, and then how would he have managed to make all those high-speed left turns on Saturday afternoons? Woe is he.
OK, I'm not being completely fair: Busch also donated $10,000 worth of baseball equipment to a recreation center, and will pay all costs for a public service TV commercial in which he discusses the dangers of reckless driving. Nice gestures, yes, and indeed, they do serve the community.
But to me, community service means actually getting into the community—not just your money, and not just your TV spot—getting your hands dirty, and interacting with people. It includes putting your own ego aside, and focusing on their needs instead.
Say, didn't Jesus do something like that, mixing with the homeless, the helpless, the dregs of society?
When done like that, community service can be a nice reality check—and if anybody needs that, it's likely a big-headed, pampered pro athlete who may think he's above the law in the first place.
So why in the world does our legal system allow these guys—the USA Today article chronicles many more cases—to get off the hook? To sign autographs instead of work at the soup kitchen? According to the story, high-priced lawyers—the ones the rest of us can't afford—are behind it.
Figures.
Ah, figures. Perhaps that's the key—as in dollar figures. If the legal system won't hammer them, the league certainly can—as did the NBA with a 73-game suspension for Indiana Pacers forward Ron Artest, who had climbed into the stands to deck a fan. The suspension cost Artest $5 million of his $6.2 million salary; now that hurts. Additionally, he was denied the thing he loves most: Playing the game.
That's one example of the sport itself stepping in, where the law might've just slapped him on the wrist.
We often complain about pampered athletes who are clueless about real life. But in these "community service" cases, it's not necessarily the athletes who are to blame, but a legal system that condones such lightweight "punishments" in the first place.
So here's my challenge to prosecutors, courts and judges: Show some backbone. Don't let expensive lawyers con you into approving such lame sentences. Make these athletes really do "community service" by doing something constructive not just for a community, but actually in it as well.
Hey, send 'em to me. I know of a local homeless shelter that could use the help.
Mark Moring, editor of Christianity Today Movies, doesn't really hate pro athletes. He actually likes a few of them—especially if they play for the Washington Redskins, the only pro team—in any sport—he gives a rip about.
Related Elsewhere:
Earlier Play Ball columns include:
Bowling Alone No More | A stealth revolution in attitude may be brewing. (May 4, 2006)
Sports as Soap Opera | Sportswriters seem to have forgotten their godly calling. By Mark Galli (April 27,2006)
'You Trying to Say Jesus Christ Can't Hit a Curveball?' | Fans vent their frustration on struggling slugger who professes religious devotion. By Collin Hansen (Apr., 20, 2006)
Article continues below
Un Problema Grande, No? | What major league baseball reveals about the dangers of immigration. By Mark Galli (Apr. 13, 2006)
WWJWD? | In the wake of UCLA's loss in Monday's NCAA championship game, I couldn't help but wonder: What would John Wooden do? By Mark Moring (April 6, 2006)
There IS Crying in Basketball | If only we all had something so precious to weep about. By Collin Hansen (March 30, 2006)
Pirates vs. Braves | Reforming sports one city at a time. By Mark Galli (March 23, 2006)
Bjorn Again? | It's been a while since tennis legend Bjorn Borg was in the news. Too bad he's back because he's selling his Wimbledon trophies. By Mark Moring (March 16, 2006)
Steroids 'R' Us | It's not just Barry Bonds's heart that is desperately wicked. By Mark Galli (Mar. 9, 2006)
Play Ball
From 2005 to 2007, "Play Ball" examined the relationship of sports and faith: sports is important precisely because it is a form of play, that is, a manifestation of the Sabbath. Contributors included Mark Galli, Collin Hansen, Mark Moring, and others.
Previous Play Ball Columns: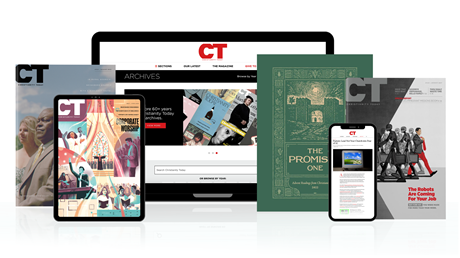 Annual & Monthly subscriptions available.
Print & Digital Issues of CT magazine
Complete access to every article on ChristianityToday.com
Unlimited access to 65+ years of CT's online archives
Member-only special issues
Subscribe
Incomplete Sentences
Incomplete Sentences