Our national community is rapidly disintegrating, say the social scientists. We live in growing isolation from one another. We're cocooning. We're iPodding. We're bowling alone.
Oops. Check that. Despite Robert Putnam's now famous thesis (that the demise of bowling leagues symbolizes the rise in social fragmentation), we may not be bowling alone as much as we used to. And if the rising generation is any indication, we may be seeing a new social reintegration.
Earlier this year, The New York Times published "Making Varsity, With a Ball That Has Holes in It" (February 9, 2008, page A20), in which it claimed (via the National Federation of State High School Associations) that the fastest growing high school varsity sport is bowling.
I studied the NFSHSA website and could not find that exact stat for 2004-2005 (though it was certainly true for 2003-2004), but I did discover that team bowling is especially popular in New York, New Jersey, Michigan, Illinois, Tennesse, Ohio, and Florida. Nationwide, nearly 40,000 high school students participate in school-sponsored teams. It surprised me to see that's almost as many as play ice hockey, and twice as many as participate in gymnastics.
When compared with ice hockey and gymnastics, bowling has "an image problem," as the Times put it, so it is often a "stealth sport" on campus. But despite its seeming nerdiness, more and more students are bowling. Together. Why?
The Times's description of one match gives a hint: "At 4 p.m. on a rainy recent Tuesday, the North Bergen Interscholastic Athletic League filled all 36 lanes at Parkway Lanes in Elmwood Park [New Jersey]. It is a relaxed scene, with no huddles, no yelling coaches, just lots of French fries, hand slapping and visiting among teams. The bowlers say the matches, more than in most sports, let them test their skills while having plenty of time to socialize."
Rachel Patti is a Ramsey (New Jersey) High senior who plays soccer and softball. She is on the bowling team for the fourth year in a row. "I really didn't want to," she said, "but my parents wanted me to do a winter sport, so I started freshman year, when I could barely break 100, and a few weeks ago, I bowled 221. It's really a great sport. It's competitive, it's a team, and it's fun."
Tim Wheeler, a junior at Bergenfield (New Jersey) High, put it succinctly: "You just have to be serious for a few minutes when it's your turn, and then you can hang out."
This reminded me of a remark by my daughter Theresa, who runs cross country and track for Glenbard West High School (Glen Ellyn, Illinois). The Saturday half- to all-day meets strike me as especially grueling, and I said as much when I dropped her off one day.
She asked me what I meant. I said, "Well, you only run one or two events, and then you have to kill time for a whole day, just sitting around and talking."
"Daaaad," she said with a sigh. "That's the best part!"
Sports as a way to have fun. Sports as a way to socialize. Sports as a way to build community and cement friendships.
Stealth ideas these days. God willing, maybe they'll become popular again.
Mark Galli is managing editor of Christianity Today.
Related Elsewhere:
Earlier Play Ball columns include:
Sports as Soap Opera | Sportswriters seem to have forgotten their godly calling. By Mark Galli (April 27,2006)
'You Trying to Say Jesus Christ Can't Hit a Curveball?' | Fans vent their frustration on struggling slugger who professes religious devotion. By Collin Hansen (Apr., 20, 2006)
Un Problema Grande, No? | What major league baseball reveals about the dangers of immigration. By Mark Galli (Apr. 13, 2006)
WWJWD? | In the wake of UCLA's loss in Monday's NCAA championship game, I couldn't help but wonder: What would John Wooden do? By Mark Moring (April 6, 2006)
There IS Crying in Basketball | If only we all had something so precious to weep about. By Collin Hansen (March 30, 2006)
Pirates vs. Braves | Reforming sports one city at a time. By Mark Galli (March 23, 2006)
Bjorn Again? | It's been a while since tennis legend Bjorn Borg was in the news. Too bad he's back because he's selling his Wimbledon trophies. By Mark Moring (March 16, 2006)
Steroids 'R' Us | It's not just Barry Bonds's heart that is desperately wicked. By Mark Galli (Mar. 9, 2006)
Heavy Medal | At the Olympics, if you don't medal, you certainly must be a loser. By Mark Moring (Feb. 23, 2006)
Play Ball
From 2005 to 2007, "Play Ball" examined the relationship of sports and faith: sports is important precisely because it is a form of play, that is, a manifestation of the Sabbath. Contributors included Mark Galli, Collin Hansen, Mark Moring, and others.
Previous Play Ball Columns: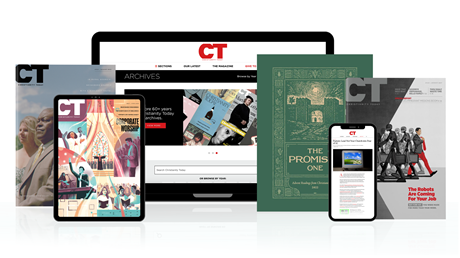 Annual & Monthly subscriptions available.
Print & Digital Issues of CT magazine
Complete access to every article on ChristianityToday.com
Unlimited access to 65+ years of CT's online archives
Member-only special issues
Subscribe
Bowling Alone No More
Bowling Alone No More