Today's Top Five
1. City shuts down church's rock and roll
"An organ recital is a church event. This is not a church event." That's the ominous argument of Albany (N.Y.) Police Chief James Tuffey, who sent his officers to break up a concert at Trinity Methodist Church and summon pastor Maurice E. Drown to court for running "an illegal nightclub."
Tuffey says that the church's taking donations at the door for the youth rock shows (where smoking and alcohol are banned) is akin to charging admission, which makes it a nightclub.
(Actually, according to the Albany City Code, it would not be a nightclub, since the code's definitions require such establishments to sell or allow the consumption of alcohol. Now, the city might make a case that the church is violating its code by running a "nonalcoholic dance club," but if Drown's summons actually uses the word nightclub, it seems clear that he can win his case outright.)
The church has been using its stage for entertainment ministries since 1931 and has long hosted sock-hops, dances, fashion shows, and other events. The Albany County Convention and Visitors Bureau even lists it as a "creative meeting space" for hosting outside events. So why the problem now? Ask neighbor Colleen Ryan: "You've got a herd of kids standing out there with spikes and studs and what look like prison tattoos," she told the paper. "We are trying to promote the city as a good place to live in and raise children in."
Let's complicate things a bit by noting that the church's youth music nights, called "New Age Cabaret," include bands like Drown Retarded Children and Clitorture (which has a lovely song called "Why Won't Jesus Die" that starts like this: "Why won't Jesus [expletive] die? Hopelessly turning the pages, the good book of lies. Your moral guide to a self-righteous life. Knees pounded into the dirt, free will has died. In the palm of God's hands, you're wasting your life. Slaughter the lamb. Worship the goat. Pry the Lord's hands away from your throat. Before I pray, I'll slit my own wrists. Religion of hate, to each his own scorn. All these years of worship have left you with nothing."
Agree with Chief Tuffey now?
2. Valedictorian sues over cut speech
So Brittany McComb wanted to deliver a commencement speech with two reference to "the Lord," nine mentions of "God" and one mention of Christ. Officials at Las Vegas's Foothill High School cut six of those words and two biblical references, according to the Las Vegas Review Journal. McComb apparently agreed to the edited speech—then delivered her original. The school officials cut power to the microphone in the middle of her speech. And now she's suing.
"I went through four years of school at Foothill and they taught me logic and they taught me freedom of speech," says McComb.
One of her teachers responds, "You made a promise. If you break that promise, you would be lying, and that is a sin. Would that not be dishonorable to yourself and to your religious beliefs?"
3. Vatican condemns Israel, terrorists
The Vatican's response to the Middle East violence, as delivered by Cardinal Secretary of State Angelo Sodano, is relatively short:
The news we are receiving from the Middle East is certainly worrying.
The Holy Father Benedict XVI and all his collaborators are following with great attention the latest dramatic episodes, which risk degenerating into a conflict with international repercussions.
As in the past, the Holy See also condemns both the terrorist attacks on the one side and the military reprisals on the other. Indeed, a State's right to self-defense does not exempt it from respecting the norms of international law, especially as regards the protection of civilian populations.
In particular, the Holy See deplores the attack on Lebanon, a free and sovereign nation, and gives assurances of its closeness to those people who have suffered so much in the defense of their own independence.
4. Provincetown, capital of hate?
Police say they're getting several complaints of "slurs and bigoted behavior," The Boston Globe. And they're getting them in Provincetown, America's gayest municipality. "Police say they logged numerous complaints of straight people being called 'breeders' by gays over the July Fourth holiday weekend," Adrienne P. Samuels, reports. "And a woman was verbally accosted after signing a petition that opposed same-sex marriage." Others who signed the petition—local gay activists have publicized the names and addresses of residents who did so—reported had manure spread on their properties.
Samuels continues:
The town, which prizes its reputation for openness and tolerance, is taking the concerns seriously, though police say they do not consider the incidents hate crimes.
"Hate language is usually the early-warning signal that could lead to hate-motivated violence" Town Manager Keith Bergman said. "And before that happens, we try to nip it in the bud."
5. Lauren Winner on clergy wives
Winner's Wall Street Journalarticle, taking off of The Rabbi's Wife by Shuly Rubin Schwartz, is a very good and perhaps too-short piece not just for pastors' wives, but for all churchgoers. Read it through to the end.
More articles
Church and state | Valedictorian sues over cut speech | Education | Life ethics | Homosexuality | Church life | Catholicism | Missions and ministry | People | Film and theater | Music | Money and business | Other stories of interest
Youth rock at church hits sour note | Albany's Trinity Methodist operating an illegal nightclub, police say (Times Union, Albany, N.Y.)


Beware the vicar | It's all legal but it's the insurers, lawyers and search companies that will profit from an ancient tithe (The Times, London)


Taliban thinking in San Diego | Lawsuit against cross monument simply religious intolerance (Susan McQueen, The Orange County Register)


Valedictorian sues over cut speech:
Group files lawsuit, alleges school officials violated teen's rights | Lawsuit alleges school officials' decision to pull the plug on McComb's speech infringed on her freedoms of speech and equal protection (Las Vegas Review-Journal)


Religious valedictorian sues Nevada school | A high school valedictorian who had the plug pulled on her microphone as she gave an address referring to Jesus Christ has filed a lawsuit against school officials, claiming her rights to religious freedom and free speech were trampled (Associated Press)


Brittany's broken promise | Valedictorian's speech cut short because she strayed from approved text (Karen Vaughan, Las Vegas Review-Journal)


Earlier: District pulls plug on speech | Foothill valedictorian criticizes decision to censor her proclamation of faith (Las Vegas Review-Journal, Jun. 17)


Vicar told to quit over kiss on cheek | A vicar has had to stand down as a school governor after innocently kissing a primary school pupil on the cheek to congratulate her—only to find himself accused of common assault (The Telegraph, London)


Also: Vicar loses school post over kiss for maths girl | A kiss is just a kiss. But not if you are a vicar helping a class of ten-year-old children with their long division (The Times, London)


On a wink and a prayer | They don't believe. And vicars often know they don't. Yet more and more middle-class parents are going to church in order to get their children into church schools, where they think they will get a better education. The result is divided communities - so why is the church allowing it to happen? (The Guardian, London)


Death penalty question clouds Texas abortion law | Doctors who perform banned abortions in Texas, such as those late in pregnancy or on minors whose parents have not given consent, could face capital murder charges and the death penalty because of recent changes in state law, a prosecutors group contends. (Ft. Worth Star-Telegram, Tex.)


Stem cell funding, a silver bullet for Democrats? | Senate heads toward closely watched election-year vote on federal funding (MSNBC)


Civil-rights leaders need reality check | Our civil-rights warhorses bluntly declared that the message of America's largest black churches has been "coopted by American capitalism." Further, they said, these churches have abandoned Jesus' emphasis on social justice to preach a gospel of wealth and self-help. Nothing could be further from the truth. (Harry Jackson, The Philadelphia Inquirer)


Priest follows his heart and weds | Recently married Catholic Priest Father Godfrey Shiundu has broken his vows of celibacy (The Monitor, Uganda)


Dallas bishop to offer resignation | He hopes for Hispanic successor to lead booming population (The Dallas Morning News)


Bishop Grahmann's legacy | He leaves a diocese in need of healing (The Dallas Morning News)


Welcome to the breadline | The news that the Federal Government has registered the welfare arm of Hillsong Church as the state's —and possibly the country's—biggest charitable provider of financial counselling services to indigent unemployed people has raised alarm bells in some quarters (The Sydney Morning Herald)


'Revival is what we needed here' | Attendance figures called impressive (Biloxi Sun Herald, Miss.)


Is there a Christian theme in 'Pirates of the Caribbean?' | An interview with MovieMinistry.com's Marc Newman (The O'Reilly Factor, Fox News)


'Smoke' revives old-time religion with songs and humor | Christianity is not essentially a hate group (Seattle Post-Intelligencer)


The gospel of Ottawa | The capital has an underground gospel scene, and today it stands in the Bluesfest spotlight (The Ottawa Sun)


Jesus is my hype man | The South Bronx's premiere hip-hop pastor expertly mingles the dope with the dopey (The Village Voice)


Entrepreneur draws fans to games on faith | Faith Nights, a combination of a pregame Christian concert, a personal Christian testimony from a ballplayer, post-game fireworks show and giveaways, have proved enormously successful (Commercial Appeal, Memphis)


Bar brawl | Development in South Dakota prompts unlikely coalition: Christians, Indians, ranchers (The Wall Street Journal)


Battle of the Christian titans | Tired of outraging Muslims, local Christians turn on each other (OC Weekly)


Jesus beer billboard causing quite a stir | It shows Jesus holding a Budweiser in between the phrases "Jesus, King of Jews" and "Jesus, King of Beers" (KTRK, Houston)


Related Elsewhere:
Suggest links and stories by sending e-mail to weblog@christianitytoday.com
See our past Weblog updates:
July 13 | 12b | 12a | 10
July 7 | 6 | 5 | 3
June 29b | 29a | 28
June 23 | 22 | 21
June 16 | 15 | 14 | 13b | 13
June 9 | 8 | 7 | 6
June 2b | 2a | May 31
Weblog
Launched in 1999, Christianity Today's Weblog was not just one of the first religion-oriented weblogs, but one of the first published by a media organization. (Hence its rather bland title.) Mostly compiled by then-online editor Ted Olsen, Weblog rounded up religion news and opinion pieces from publications around the world. As Christianity Today's website grew, it launched other blogs. Olsen took on management responsibilities, and the Weblog feature as such was mothballed. But CT's efforts to round up important news and opinion from around the web continues, especially on our Gleanings feature.
Ted Olsen is Christianity Today's executive editor. He wrote the magazine's Weblog—a collection of news and opinion articles from mainstream news sources around the world—from 1999 to 2006. In 2004, the magazine launched Weblog in Print, which looks for unexpected connections and trends in articles appearing in the mainstream press. The column was later renamed "Tidings" and ran until 2007.
Previous Weblog Columns: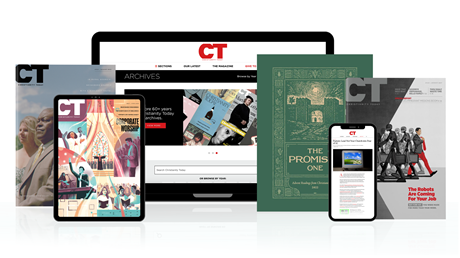 Annual & Monthly subscriptions available.
Print & Digital Issues of CT magazine
Complete access to every article on ChristianityToday.com
Unlimited access to 65+ years of CT's online archives
Member-only special issues
Subscribe
Church Youth Nights an 'Illegal Nightclub,' Albany Says
Church Youth Nights an 'Illegal Nightclub,' Albany Says