Today's Top Five
1. Ireland not very Catholic now, says Chicago Tribune
At a Dublin Catholic church, the Chicago Tribune's Tom Hundley writes, "you might expect to see Father O'Sullivan at the altar. Or perhaps Father O'Reilly or Father O'Flaherty. Father Owuamanam comes as a bit of a surprise." Ireland isn't turning out enough priests to minister to its churches, the paper reports, so it's importing them from places like Nigeria. But soon it might not be a problem: there might be dramatically fewer churches. "As recently as the 1970s, 90 percent of the Irish identified themselves as Catholic and almost the same number went to mass at least once a week; now the figure for mass attendance is closer to 25 percent, according to church officials in Dublin," Hundley reports. His chronicle of the reasons behind the exodus are worth reading—and adding to prayer lists. (One unanswered question is whether Ireland is becoming secular, or whether at least some of those Catholics are turning to evangelical Protestantism, as seems to be happening in Boston.)
2. Billy Graham preaches in Baltimore
You know the song—one of our favorites—so everybody sing along: Billy preached what may be his last public sermon to tens of thousands, and about four percent responded to his invitation to commit their lives to Jesus. His sermon drew heavily upon Scripture and pop culture references, and contained numerous allusions to whether his listeners were prepared for death. It's a great song, isn't it?
3. Church of England votes to allow female bishops
It's "a huge change in centuries of policy for a church that ordained its first female priest just 12 years ago," The New York Times explains. The vote itself argued, in essence, just the opposite: that ordaining women as bishops is "consonant with the faith of the Church." The Telegraph and The Guardian emphasize that the vote could damage the church's relations with the Vatican, while The Times says "traditionalists" in the church "are preparing for a possible breakaway over women bishops by taking legal advice on whether they could claim property worth more than £1 billion." Nigerian Anglicans are apparently upset about the synod's decision.
4. Rob Bell, cool dude
The New York Times's kingmaking story on Rob Bell and his current preaching tour is certainly an important read, not least because it guarantees that you'll be seeing his name much more frequently in the near future. And it also captures the zeitgeist of post-evangelical evangelicalism. Here's a section from near the end of the piece:
At the Chicago performance, a middle-aged Tom Fell and his friends were left cold.
"I thought it was very creative, but if it was targeted at Christians, he missed the point," said Mr. Fell, who considers Mr. Bell a celebrity preacher. "When I was 18, we'd get high and talk about stuff like that."
His friend John Duval, 42, agreed. "He didn't tell us how to go out and be disciples," Mr. Duval said.
But Alex Beh, 23, who lined up an hour early for the performance, said it had left him exhilarated.
"It's more like Jesus' teaching than the church's teaching," said Mr. Beh, adding: "I loved that there was beer available. The church needs to go more in that direction, more culture-friendly rather than sectarian, or dividing people."
5. Who hears God?
Kudos to The Atlanta Journal-Constitution for examining the theological—not merely the political—issues involved in the intra-Christian debates on hearing God's voice outside of Scripture. "People of faith often talk about hearing God's voice in a dramatic situation or being led by an inner voice or a divine sign," John Blake writes. He continues:
But what happens when revelation becomes routine? What happens when some preachers talk about God as if they have his cellphone number? God lets them know who to vote for, what sermon to preach and when to start a new building program. That practice trivializes God, some scholars and preachers say. It also contradicts what history's greatest prophets and mystics say about hearing from God.
The article also gives space to Pentecostals who say some have merely deafened themselves to God. Those interested in further reading might be interested in Ruth Tucker's new book, God Talk, and her related blog at InterVarsity Press, Questioning Faith.com.
Quote of the day:
"For now, let's start with this: as fellow believers, we should not be afraid to engage the evangelical left's ideas in a spirit of love.  It would be a mistake, as we begin this dialogue, to view these men and women as "political enemies" rather than fellow members of the body of Christ. … Liberal evangelicals help us because they share our foundational commitment to Christ, yet they see political questions in a different light.  As we actively dialogue with them about our political positions, hopefully both sides will benefit.  Most importantly, let us pray that Christ will be glorified in the way we conduct our conversation."
—Ken Connor, who resigned as president of the Family Research Council in 2003 after a disagreement with board members over the Federal Marriage Amendment.
Beyond the top five:
Don't skip the links below. The weekend had many important stories that just didn't make our top five. For example, check out the latest on the Mt. Soledad cross dispute, The Washington Post on the Alliance Defense Fund, Peter Steinfels on post-secular higher education, Harvey Cox on progressive religion, another denomination's fight over homosexual clergy, and a court decision against the companies that "clean up" Hollywood films.
More articles
Ireland | Catholicism | Pope Benedict XVI in Spain | Church life | Women bishops in the Church of England | More Anglican disputes | Australia's Uniting Church | New York's ruling against gay marriage | Mass. gay marriage ban | More on homosexuality | More on sexual ethics and family | Life ethics | War and terrorism | Politics | Religious Left | Barack Obama | Philippines | India | China | Church and state | Lawsuits | Mt. Soledad cross | Education | Evolution | History | Books | 'Cleaning' movies illegal | Music | Entertainment and media | Missions & ministry | Billy Graham in Baltimore | People | Spirituality | Jamaica abuse case | Pa. abuse cases | More abuse | Crime | Other stories of interest
How Catholicism fell from grace in Ireland | Country doesn't even have enough priests (Chicago Tribune)


Recruitment drive as number of young priests dwindles | Church scandals must not put off young men from joining the priesthood, the Archbishop of Dublin said today (Ireland Online)


Shrinking town forces church to close on 100th birthday | The First United Methodist Church and its five regular worshippers, some of who remember when it was hard to get a seat on Sunday mornings, held the church's last service in the town that's dwindled to less than 400 residents and had to consolidate its tiny school district with nearby Haskell last year (Associated Press)


Cyber-savvy pastors blog when the spirit moves them | Reaching out to younger generations has long been one of the major challenges for ministers, but hundreds think they have found an answer in blogging (The Washington Post)


Women bishops in the Church of England:
Top Anglicans vote to allow female bishops | Officials of the governing body emphasized that while the theological questions had been effectively resolved, details of the change had yet to be worked out (The New York Times)


Church of England votes to make women bishops | The Church of England voted on Saturday to ordain women as bishops, a major liberalising step in a faith that has also faced schism over homosexuality, although it could be years before the first woman bishop is named (Reuters)


Anglican Church opposes women ordination | The status quo will still remain in the Church of Nigeria (Anglican Communion) as 82 per cent of the church population voted against the ordination of women as ministers in church (Nigerian Tribune)


Failure to ban gay clergy may split church | The Uniting Church is facing rebellion after conservatives conceded they had lost their battle to exclude practicing gays from the ministry (The Sydney Morning Herald)


New York's ruling against gay marriage:
Mass. court backs gay marriage on ballot | The same court that made Massachusetts the first state to legalize gay marriage ruled Monday that a proposed constitutional amendment to ban future same-sex marriages can be placed on the ballot, if approved by the Legislature (Associated Press)


Lutherans confirm same-sex blessings | Conference delegates reject appeal; congregations will get final say (The Record, Kitchener, Ont., Canada)


California court to hear gay marriage case | The First District Court of Appeal is scheduled to hear six hours of arguments in as many related cases — four of them filed by the city and lawyers for 20 couples seeking the right to wed, and two brought by groups that want to maintain the status quo barring same-sex unions (Associated Press)


Huckabee optimistic of gay parents ban | Arkansas Gov. Mike Huckabee is optimistic the Legislature quickly will reinstate a ban on same sex couples serving as foster parents in his state (Associated Press)


A Christianity that honors difference | Voices for gay rights are not the religion's loudest, but these activists also are adhering to tradition (Chris Hedges, The Philadelphia Inquirer)


In debates over homosexuality, schools should be both safe and free | A good place to start would be to address growing tension between free-speech, religious claims on one side vs. concerns about harassment of gay, lesbian students on the other (Charles C. Haynes, First Amendment Center)


More on sexual ethics and family:
The black rebellion against fatherlessness | Black Boston, like black America, is in the midst of a moral and cultural crisis. (Eugene F. Rivers III, The Boston Globe)


In a land of disease, some find hope and a future | An ingrained culture of promiscuity has been one foe; silence, and denial, have been others (The Boston Globe)


House GOP tries to shrug off setbacks | Could a Republican-controlled Congress, pass a bill to protect the words "under God" in the Pledge of Allegiance from court challenges? (Associated Press)


Politicians need not abandon religion | My faith shapes my values, but applying those values to policymaking must be done with principles that are accessible to all people, religious or not. Even so, those who enter the public square are not required to leave their beliefs at the door (Barack Obama, USA Today)


Blind spot on religious matters | Am I too touchy about church/state matters? Sen. Barack Obama certainly thinks so. (Eric Zorn, Chicago Tribune)


Earlier: Strawman to Barack Obama: Uncle! | Obama is wrong if he imagines there are a significant number of secularists who are actually asking believers to abandon their values or beliefs as a prerequisite to engaging in political debate. In fact, I defy him to name one (Eric Zorn, Chicago Tribune)


More church people sign impeachment complaint | Eighteen more church people, including Catholics priests, protestant pastors, and lay workers, have signed the impeachment complaint against President Gloria Macapagal-Arroyo even as they urged the Catholic Bishops Conference of the Philippines to endorse the complaint (The Philippine Inquirer)


'We concur with CBCP on impeachment'—Palace | Opposition solon asks bishops for alternative (The Philippine Inquirer)


Gentle cleric's stature grows as he risks ire of China | Hong Kong's Cardinal Joseph Zen Zi-kiun wields considerable political influence, but his high profile has antagonized senior officials in mainland China (The New York Times)


China jails underground church head | A court in China's Henan province has jailed Zhang Rongliang,  the head of one of the country's largest underground Christian churches, for seven and a half years, Hong Kong's RTHK radio reported on Saturday (Reuters)


Chinese to prosecute peasant who resisted one-child policy | Decision reveals growing clout of Beijing hard-liners (The Washington Post)


Bringing the church to the courtroom | Christian group becomes force in major legal battles (The Washington Post)


Seventh-day Adventist wins workplace case | A former UPS deliveryman was awarded more than $300,000 last week by a U.S. District Court in Fayetteville, Ark., that affirmed his right to religious accommodation to observe the Sabbath (The Washington Post)


Reprieve for cross extended | Justice's decision suggests high court would hear case (San Diego Union-Tribune)


Supreme Court stay upheld in cross case | Justice Anthony M. Kennedy said the temporary stay he authorized earlier this week should protect the cross until the San Francisco-based 9th U.S. Circuit Court of Appeals hears arguments this fall in a long-running dispute over the cross (Associated Press)


Cross gets a limited reprieve | The U.S. Supreme Court rules that the 43-foot symbol can remain atop Mt. Soledad in San Diego until all legal appeals are resolved (Los Angeles Times)


Kennedy delays cross removal | In postponing the judge's removal order, Kennedy said there would be "irreparable harm of altering the memorial and removing the cross" while there would be only "slight harm" in a brief delay while the Ninth Circuit considers the city's appeal (Lyle Denniston, SCOTUSBlog)


Slavery reparations gaining momentum | The most recent victories for reparations advocates came in June, when the Moravian Church and the Episcopal Church both apologized for owning slaves and promised to battle current racism (Associated Press)


Unearthing a mystery | Archeologists, priests remove remains at former Roxbury parish (The Boston Globe)


Megiddo prisoners could be moved after Christian relics found on site | Prisoners are likely to be transferred from Megiddo Prison to make way for archaeologists and tourists, after the discovery of an ancient Christian prayer house - considered the oldest in the world - at the site last year (Haaretz, Tel Aviv)


Judge: 'Cleaning' movies violates copyright:
Judge: Sterile movies illegal | Ruling says firms' editing of content violates copyrights (Rocky Mountain News, Denver)


'Sanitizers' of home video lose in court | A federal judge has issued final cut to studios, ruling that companies that snip out potentially offending material from movies for home viewing violate copyright laws (Los Angeles Times)


Utah film sanitizers ordered to cut it | Court ruling: Deleting objectionable language, sex and violence injures artistic expression (The Salt Lake Tribune)


CleanFlicks plans to appeal ruling | Edited-movie distributor CleanFlicks plans to appeal Monday the decision of a federal court judge who has ruled that production of "sanitized" movies violates federal copyright law and hurts the Hollywood directors and studios who own the movie rights (Deseret Morning News, Ut.)


Video companies ordered to stop sanitizing films | Federal judge tells businesses to turn over inventory to Hollywood studios, saying editing films causes 'irreparable injury to the creative artistic expression in the copyrighted movies' (Associated Press)


Is Bono a vapid poseur? | The sanctimonious rock star is investing in imperialist video games (Liza Featherstone, The Nation)


Spacewalking astronauts try ISS repairs | The space shuttle crew awoke Saturday to "God of Wonders," a popular Christian music recording chosen by Fossum's family (Associated Press)


This ain't your mama's Bible school | Theme-based lessons take place of rote recitation (The Atlanta Journal-Constitution)


Also: Cool school | Churches are using creative themes, night activities to draw children to Bible school (Ft. Worth Star-Telegram)


Churches draw in new faces with car shows | Curiosity drives people to stop and check out fancy vehicles (Tallahassee Democrat, Fla.)


Hard work in the Big Easy | Vacationers donate time to help Katrina victims (The Washington Post)


Seafaring strangers | For as long as sailors take to the high seas there will always be a need for a Christian mission to serve them (Richard Frith, The Guardian, London)


Minister finds jail fits his calling | Peter Bandstra, an ordained Southern Baptist minister through First Baptist Church of Leesburg, has been working at the jail since 1998 and is employed by Good News Jail & Prison Ministry (The Orlando Sentinel)


Hundreds gather to 'petition God' | Praying for change (The State, Columbia, S.C.)


Earlier: Pastor hopes to fill stadium with prayer (The State, Columbia, S.C.)


Bonding through fun and prayer | Women of Faith stop expects to attract 11,000 (The Plain Dealer, Cleveland)


Baltimore hears Graham's call | Ailing evangelist thrills tens of thousands at Maryland Metro Festival (The Baltimore Sun)


Young and old soak up the gospel of Graham | Passion still strong at Baltimore gathering (The Washington Post)


Billy Graham, a man still on fire | The Rev. Billy Graham, feeling the weight of his 87 years but still on fire with the Gospel, returned to the pulpit yesterday to urge thousands to hold fast to their faith in God in a time of war and uncertainty in a world riven with strife and danger (The Washington Times)


Spokane Diocese tries to clean up "a hell of a mess" | In this city of 200,000, where the Catholic Church has long been a political and social force, the bankruptcy of a diocese and the sex scandal that caused it have created deep divisions (The Seattle Times)


Dolan braces archdiocese for priest sex abuse costs | Bankruptcy a possibility as California cases move toward trial (Milwaukee Journal-Sentinel)


Related Elsewhere:
Suggest links and stories by sending e-mail to weblog@christianitytoday.com
See our past Weblog updates:
July 7 | 6 | 5 | 3
June 29b | 29a | 28
June 23 | 22 | 21
June 16 | 15 | 14 | 13b | 13
June 9 | 8 | 7 | 6
June 2b | 2a | May 31
May 26 | 24
Weblog
Launched in 1999, Christianity Today's Weblog was not just one of the first religion-oriented weblogs, but one of the first published by a media organization. (Hence its rather bland title.) Mostly compiled by then-online editor Ted Olsen, Weblog rounded up religion news and opinion pieces from publications around the world. As Christianity Today's website grew, it launched other blogs. Olsen took on management responsibilities, and the Weblog feature as such was mothballed. But CT's efforts to round up important news and opinion from around the web continues, especially on our Gleanings feature.
Ted Olsen is Christianity Today's executive editor. He wrote the magazine's Weblog—a collection of news and opinion articles from mainstream news sources around the world—from 1999 to 2006. In 2004, the magazine launched Weblog in Print, which looks for unexpected connections and trends in articles appearing in the mainstream press. The column was later renamed "Tidings" and ran until 2007.
Previous Weblog Columns: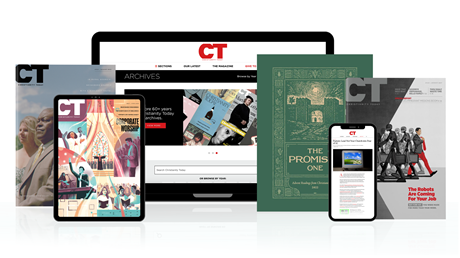 Annual & Monthly subscriptions available.
Print & Digital Issues of CT magazine
Complete access to every article on ChristianityToday.com
Unlimited access to 65+ years of CT's online archives
Member-only special issues
Subscribe
Why Catholicism Is Dying in Ireland
Why Catholicism Is Dying in Ireland