On Saturday, November 12, Frank Lyons, the conservative Anglican bishop of Bolivia, performed four ordinations heard round the world.
In front of 2,400 conservative church leaders at the David L. Lawrence Convention Center in Pittsburgh, Lyons ordained three deacons and one priest—all who will minister in liberal dioceses of the Episcopal Church. In 2003, the 2.3 million-member denomination's top leaders endorsed V. Gene Robinson, an active homosexual, as bishop of New Hampshire. That act galvanized conservative opposition to the church's leftward march. About 22 of 38 primates (as global Anglicanism's leading bishops are called) oppose Robinson's consecration, setting in motion a clash of historic proportions among the world's 77 million Anglicans.
After the ordinations, Lyons told Christianity Today, "The Anglican Communion is broken." He said he and his archbishop in South America (Gregory Venables, Southern Cone) do not recognize the Episcopal Church as a legitimate Anglican body. "As far as I'm concerned, this is one great missionary territory up here for anybody." He said his diocese now has oversight for 18 congregations and 30 clergy within the United States. In normal times, a bishop would never assert that kind of direct control over churches outside his own diocese.
Overseas Oversight
There may be as many as 200 Anglican/Episcopal congregations receiving oversight from non-U.S. bishops or archbishops, mostly from the Global South—Africa, South America, and Southeast Asia.
In addition to Bolivia, oversight is coming from conservative leaders in Chile, Southeast Asia, Nigeria, Rwanda, Uganda, and Kenya. One leader estimated that conservative Anglicans are planting a new congregation in the United States or giving safe harbor to an existing one at a rate of about one every three weeks.
This controversial trend started in 2000 with the creation of the Anglican Mission in America (AMIA), which has 85 congregations under oversight from Africa or Southeast Asia. AMIA's "outside strategy" has been to establish new, conservative Anglican churches accountable to Anglican leaders outside the Episcopal Church.
By contrast, the Anglican Communion Network has worked the "inside strategy." It represents 10 conservative dioceses and many individual congregations, all advocating for reform using the political process inside the church.
But what happened at Pittsburgh's Hope and a Future conference ups the ante considerably. In a significant departure, the network openly brokered new relationships between conservative non-U.S. bishops and startup American congregations.
Robert Duncan, head of the network and the Episcopal bishop of Pittsburgh, embodies this new merger of inside and outside strategies. During an interview with CT, Duncan said, "My permission to Anglican bishops to function in my diocese and ordain priests who are under them is totally licit. I have always administered the canons faithfully and creatively. What has happened on the other side is they have become canonical fundamentalists." Critics have called such actions by the network "schismatic."
Privately, conservative Episcopalians admit that they have argued among themselves and waffled for years as liberals have step-by-step moved the national church to the left. But the Robinson consecration has functioned as a tripwire. Duncan told CT that conservatives have set aside for now disputes over the Episcopal prayer book, the ordination of women, and even the use of contemporary praise music.
"We're in the midst of a reformation of the whole of Christianity, not just Anglicanism," Duncan said. "What's finally happening for the Anglicans? All of the groups that have been put out or forced out are beginning to come together. We may disagree on critical things. Our issue is the authority and supremacy of Scripture. We're absolutely rock solid and united on that one."
Thomas Oden, a Methodist scholar and author of The Rebirth of Orthodoxy, told CT that he labels this new conservative dynamic a "coalescence" of the confessing movement (doctrinal) and renewal movement (church-focused).
At the Pittsburgh meeting, Rick Warren, the Southern Baptist pastor of Southern California's Saddleback Church, put this new, broadly based movement into a sound bite, saying, "I have more in common with a conservative Anglican than a Baptist who's a liberal."
During Warren's plenary address, he urged conservatives conflicted about their future to remember, "What's more important is your faith, not your facilities. The church is the people, not the steeple. They might get the building, but you'll get the blessing."
In like fashion, speakers Anne Graham Lotz, Baroness Caroline Cox, and Joni Eareckson Tada rallied conservatives to refocus on outreach, their relationship with Jesus, and care for the poor, disabled, suffering, and persecuted.
William Haley, one of the three deacons whom Bishop Lyons ordained, told CT, "I hope I am the new face of integrating orthodox theology and social action." He will serve at St. Brendan's Church, a conservative start-up congregation in poverty-stricken northeast Washington, D.C. Haley, a graduate of Gordon-Conwell Theological Seminary, expects to be ordained as an Anglican priest this year. The liberal Episcopal diocese in Washington turned Haley down for ordination. Bishop Lyons told CT that his own application for ordination was rejected in that same diocese about 25 years earlier.
Eventually, Lyons was ordained in Ecuador and consecrated as bishop of Bolivia in 2001. Now, he's sending a conservative missionary priest back into the liberal diocese that once rejected him.
Reflecting the frustration of many conservatives, Lyons said, "Why can't we just ordain people who want to serve the Lord, preach the gospel, and honor him? The [Episcopal] Church is known for running like a 10-ton truck over people."
Through weblogs and internet reports, news of the Pittsburgh ordinations spread quickly.
One of the four, Eliot Winks, an Episcopal deacon, was ordained to the priesthood for service in the diocese of Maryland. Bishop Robert Ihloff of Maryland blasted the ordinations, saying, according to a local press account, "This is a violation of the Windsor Report, which called on bishops in various other parts of the Anglican Communion not to interfere in local matters. This is clearly an indication of an interference."
After the Robinson consecration, top Anglicans met for months before issuing the Windsor Report. They called for Robinson's backers to "express regret" for consecrating Robinson. The report also called for a ban on homosexual ordinations, same-sex unions, and bishops' interfering in each other's territories. But since the report was issued in late 2004, both Left and Right have alleged the other side is in violation of Windsor "moratoria."
Two weeks before the Pittsburgh event, 103 top Anglican conservatives gathered in Egypt at a remote Red Sea coastal resort for the third Global South to South Encounter. After meeting six days, they issued an eight-page communiqué, Trumpet III, saying:
"The Anglican Communion is severely wounded by the witness of errant principles of faith and practice, which in many parts of our communion have adversely affected our efforts to take the gospel to those in need of God's redeeming and saving love."
But as Anglican conservatives were meeting in Egypt, another coalescence was occurring among liberals—a closer relationship between Episcopal leaders and pro-gay Christians outside mainline Protestantism.
John Chane, bishop of Washington D.C., allowed the Metropolitan Community Church to use the National Cathedral, the site of countless national religious services, including the funeral of President Reagan, for the installation of a lesbian, Nancy L. Wilson, to her church's highest office of moderator.
Reports of that event arrived the next day at the Global South to South Encounter in Egypt. Delegate Stephen Noll, vice chancellor of Uganda Christian University, told CT, "The Episcopal Church intends to send a signal that they are going in a certain direction and will not turn back.
"It confirms our sad realization that the Episcopal Church, as it is now constituted, is unreformable. It is a sad day to see your own birth mother fall away."
In recent months, it has dawned more clearly on conservatives that religious revisionists want the church but not the orthodox faith. The Episcopal Church has 7,344 parishes. Many of its congregations are among the oldest and wealthiest churches in their communities and the nation.
These local churches, their members, clergy, and committees, typically have operational control over church sanctuaries, homes for clergy, conference properties, endowments, bequests, scholarships, and many other assets. Perhaps the most famous example of Episcopalian wealth is Trinity Church, Wall Street, New York City, founded in 1697 and one of the richest churches in America due to its prodigious real estate holdings. Trinity operates an astonishing portfolio of social and community services.
Increasingly, conservatives believe revisionists are hijacking mainline churches to advocate a counterfeit gospel, which dismisses Scripture's clarity and authority, orthodox Christian doctrine, and accountability. They describe the revisionist agenda as a "cancer," "gnostic," or "apostate."
Global Strategy
After the meetings in Pittsburgh and Egypt, Bishop Duncan and other leading conservatives appear to have settled on a coordinated, global strategy for reform during the next three years.
One goal is for the Anglican Communion, at its 2008 meeting of about 730 bishops, to reaffirm the 1998 decision that homosexuality is contrary to Scripture. They hope to strengthen the council of 38 primates. They are also developing an Anglican Covenant that would function as a framework for mutual ministry and accountability, reaffirming the supremacy of Scripture over all church teachings, leaders, and institutions. Such a covenant, they believe, would return Anglicanism to its "conciliar" roots in which church councils made decisions binding on all parties—from the archbishop of Canterbury on down.
Duncan told CT, "Folks are going to have to choose. Indeed, a whole Protestant Christianity [is] drifting with the culture. Choose the culture or choose Christ."
Duncan said his mainline colleagues in Pittsburgh tell him they are thankful Anglicans are leading the way. "While I'm not thankful that we're in that role, the truth is I think they are seeing what God is doing.
"This is the tradition that is often most comfortable with the culture. But it's also worldwide probably the best positioned to say—'No!'—when the culture gets away from the plain revelation of God."
Timothy C. Morgan is deputy managing editor of Christianity Today. He reported from Pittsburgh, Pennsylvania, and Ain Sukhna, Suez, Egypt.
Related Elsewhere:
The full text of the Global South's statement, what is now being called TRUMPET III, is at the Anglican Communion News Service's website.
Discussion follows at TitusOneNine.
Classical Anglican Net News has links to other news coverage and commentary.
The American Anglican Council applauded the document. The group has more discussion on its weblog.
Recent Christianity Today coverage of the division in the Anglican Communion includes:
Anglicans 'Severely Wounded' | At a top summit in Egypt, conservatives call for a Scripture-affirming covenant. (Nov. 1, 2005)
'Connecticut Six' Battle Heats Up | Bishop removes priest, changes dissenting church's locks. (Aug. 15, 2005)
Out of Africa | The leader of nearly 18 million Nigerian Anglicans challenges the West's theology and control. (July 15, 2005)
Have something to add about this? See something we missed? Share your feedback here.
Our digital archives are a work in progress. Let us know if corrections need to be made.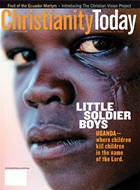 This article is from the January 2006 issue.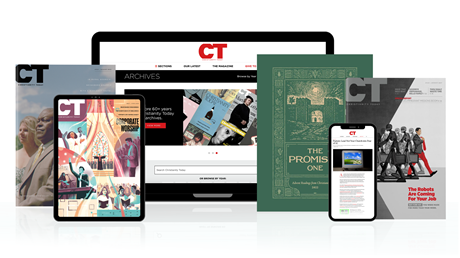 Subscribe to Christianity Today and get access to this article plus 65+ years of archives.
Home delivery of CT magazine
Complete access to articles on ChristianityToday.com
Over 120 years of magazine archives plus full access to all of CT's online archives
Subscribe Now
Global Anglicans Flex Muscle
Global Anglicans Flex Muscle