Every week, children from all around northern Uganda arrive at the Children of War Rehabilitation Center with gunshot wounds, missing limbs, broken bones, and mutilated faces. Most are badly malnourished and sick. All are emotionally traumatized, frightened of how they will be treated, and profoundly confused about Christian faith.
Operated by World Vision, the center's work among former child soldiers is so well known that commanders of the Lord's Resistance Army (LRA) tell captive children that the center's staff will give them a lethal injection or poison their food.
When children arrive at the center in Gulu, they trust no one. Brainwashed into believing people will kill them for their war crimes, many expect to be executed. Their immense feelings of guilt and shame also cause most to feel unworthy of receiving love in the name of Christ.
World Vision has rehabilitated 11,500 children since the center's inception in 1995. The center has a staff of 40 workers, including 14 counselors on site, another 12 based in outlying areas, 5 community outreach workers, drivers, cooks, and other specialists.
Most children stay in the program from one to three months, during which time they receive medical care, nutritional rehabilitation, psychological counseling, and vocational training. Counselors also present the true message of Christianity. Workers model Christian love and forgiveness in everything they do with the children, slowly showing them how to forgive the unforgivable in others and in themselves. But it takes time. One reason the center succeeds is its groundbreaking work in psychological counseling for children.
Ashley Inselman, a World Vision programs officer, seeks to ensure that the rehab program achieves its goals. "Mental health issues are a significant part of the healing process. World Vision has really been groundbreaking in terms of professional, psychosocial healing," she says. "We've come to realize: It's more than just making sure the kids know that Jesus loves and forgives them."
The children exhibit classic symptoms of post-traumatic stress disorder (PTSD), including anxiety attacks, nightmares, and flashbacks. But in a culture where Western clinical terminology is unknown, counselors must act with deep cultural sensitivity.
"In Africa, we don't call it post-traumatic stress disorder. But that's what it is. The Acholi community has several words in its vernacular that describe the various symptoms of PTSD and depression," Inselman says.
The symptoms are often severe. A few children in rehab behave aggressively, and, unsurprisingly, a few become violent. Such children would challenge the most experienced clinician working under the best of circumstances. But these circumstances are far from ideal.
In a few cases, children in the program escaped the LRA years earlier, but never received rehab. Their families send them to the center when their symptoms make life an impossible, daily nightmare. Michael Oruni, the center's director, says in one such case, "A young man was brought by his family when he broke bones in both hands boxing the walls of their house."
The center's counselors are university trained, and a World Vision specialist also trains the counselors in issues specific to LRA violence.
Initially, children are encouraged to express their traumatic experiences through evocative artwork. Through drawings, the children tell stories about their lives before, during, and after their abduction into the LRA. Eventually, most children will then start talking to counselors individually about what happened to them. But some may take a month or longer before they can talk about their LRA experiences.
The program also uses small groups. Oruni says, "Five or six girls or boys, similar in age and experience during captivity, are grouped together and encouraged to talk about what happened and how they feel.
"The girls will say, 'There's nothing good about me,' or 'I was made [a commander's] wife, so I must live on,' and we start there."
Older children are taught vocational trades. Youth who can earn a living are better able to resist the temptation of re-joining the army or beginning a life of prostitution.
The greatest spiritual and emotional need the children have is to forgive others and to feel forgiveness. That only begins to happen in a meaningful way when they openly admit the wrongs they have done and decide to release others of their wrongs as well.
For victims of unspeakable crimes and those who have raped, mutilated, and savagely killed others—especially their own parents or siblings—it is a monumental task. Oruni told ct about one unforgettable story of forgiveness between two Ugandan children:
"There was a pregnant girl who was abducted with four others. These soldiers killed the other four and spared her because she was pregnant, but cut off her lips and nose and left her to bleed to death.
"Not long after she came to the center, the boy soldier who mutilated her escaped and came also. They both surrendered to Jesus Christ. The boy went to this girl and asked her forgiveness. She knew that she must forgive to be forgiven, so she forgave the boy his crime, and they rejoiced together."
Related Elsewhere:
Also posted today is
Deliver Us from Kony | Why the children of Uganda are killing one another in the name of the Lord.
SIDEBAR
Peace Not out of Reach | What American Christians can do to help resolve the LRA conflict.
More Christianity Today articles on Uganda and the Lord's Resistance Army include:
Two Missionaries Killed in Uganda | Couple was willing to help anyone, anywhere, anytime. (March 23, 2004)
Ebola Outbreak Leads to Suspension of Church Services | Panic and terror spread like virus as infections and deaths increase. (Oct. 20, 2000)
Innocence Stolen | A paramilitary group in Uganda is abducting younger children to fill its ranks. Those who manage to escape are plagued with haunting memories. (July 13, 2000)
Under Suspicion | Following cultic deaths of 900, independent Christian groups in Uganda come under a cloud of mistrust and fear. (May 3, 2000)
The BBC has done extensive reporting on the LRA:
Profile: Uganda's LRA rebels | The Lord's Resistance Army, which has been fighting the Ugandan Government for nearly 18 years, has become know for its brutality, but the reasons for their rebellion are less well known. (February 6, 2004)
In pictures | The 'night commuters' who flee their homes each day (February 6, 2004)
Uganda's fallen child rebels | There are few things which can prepare you for the terrible reality of witnessing a "military victory" against the kidnapped child soldiers of Uganda's Lord's Resistance Army (LRA). (April 8, 2004)
Uganda's atrocious war | Uganda's rebel Lord's Resistance Army (LRA) has become synonymous with torture, abductions and killings (June 12, 2003)
Uganda army in 'rights abuses' | The Ugandan army has been accused of carrying out severe human rights abuses on the civilian population in the north of the country. (July16, 2003)
Uganda business prepares for peace | For the casual visitor, Gulu does not seem like a town at the centre of a 17-year-old war. (February 26, 2004)
Have something to add about this? See something we missed? Share your feedback here.
Our digital archives are a work in progress. Let us know if corrections need to be made.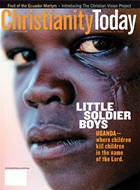 This article is from the January 2006 issue.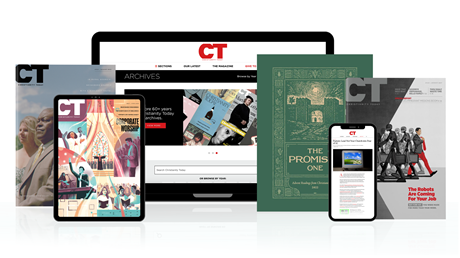 Annual & Monthly subscriptions available.
Print & Digital Issues of CT magazine
Complete access to every article on ChristianityToday.com
Unlimited access to 65+ years of CT's online archives
Member-only special issues
Subscribe
Brutality Therapy
Brutality Therapy