The pharmacist debate raises broader questions about how individuals with conflicting moral beliefs interact in a pluralistic society. What standards should be mandated by government, and what should be worked out by communities? What role should Christians play in the public sphere?
"In a pluralistic society you tolerate a lot of things you don't agree with, but at the same time you need to be a voice for change," says David Stevens of the Christian Medical and Dental Associations. "The Bible tells us very clearly to protect life, widows, orphans, all those who cannot defend themselves. Therefore, we have an obligation to speak out as a voice of righteousness in our culture."
Dr. Rob Vischer, a law professor at the University of St. Thomas, notes that while some Christians "are a little skeptical about this whole pluralism thing," pluralism does have an upside. He argues that in the current debate over conscience in health care, Christians need to be careful about seeking legislative remedies.
"The state either is going to elevate the pharmacist as all-powerful in terms of their moral decisions, where there's no consequence for what they do," he says, "or, if that view loses, the state is going to say that the pharmacist is also irrelevant—you just do what the prescription says." In either case, the battle becomes a political one.
Vischer believes that leaving the issue up to market forces is the best method for maintaining pluralism. Buyers will vote with their feet, he says; in this way, pharmacy chains might better represent the cultural makeup of America.
Stevens disagrees, seeing a legitimate role for legal challenges. In fact, he would like to see current court cases on the subject go even further.
"I would think the wisest strategy would be for Christian pharmacists and their allies to pursue legal channels till all options have been exhausted," he says. "With the recent changes in the Supreme Court, I would endeavor to get the issue of right of conscience before that body, which is the final arbitrator of constitutional interpretation and application."
Related Elsewhere:
Also posted today is:
Pharmacists with no Plan B | Freedom of conscience and 'reproductive rights' clash at the local drugstore.
sidebar
The Noesen Saga | Counting the cost of refusing a prescription.
News elsewhere about pharmacists refusing to fill birth control prescriptions includes:
Pharmacy refusals lead to complaint | Group says women were improperly denied emergency contraception. (Albany Times Union, N.Y., Aug 16, 2006)
Article continues below
Druggists refuse to give out pill | Some pharmacists disagree on moral grounds to fill prescriptions for contraceptives. And states from Rhode Island to Washington have proposed laws that would protect such decisions. (USA Today, Nov. 8, 2004)
Pharmacists' rights at front of new debate | Because of beliefs, some refuse to fill birth control prescriptions (Washington Post, March 28, 2005)
Ill. pharmacies required to fill prescriptions for birth control | Illinois Gov. Rod R. Blagojevich (D) issued an emergency rule Friday that requires pharmacies to accept and fill prescriptions for contraceptives without delay, after a growing number of complaints nationwide that some pharmacists are refusing to dispense birth control pills and the "morning-after" pill. (Washington Post, April 2, 2005)
Are Pharmacists Right To Choose? | Debate over letting them refuse to provide birth control pills (CBS News, March 29, 2005)
Pharmacists 'denying birth control' | The latest religious voice to emerge in US society is that of the pharmacist. (BBC, April 10, 2005)
Other articles on birth control include:
A Hard Pill to Swallow | How the tiny tablet upset my soul. (Nov. 8, 2005)
Other CT articles on reproduction and birth control include:
Has Natural Birth Control Been Proved Impossible? | Don't believe the media reports, cautions the author of Birth Control for Christians. (July 15, 2003)
Make Love and Babies | The contraceptive mentality says children are something to be avoided. We're not buying it. (Nov. 9, 2001)
'Be Fruitful and Multiply' | Is this a command, or a blessing? By Raymond C. Van Leeuwen (Nov. 9, 2001)
Souls on Ice | The costs of in vitro fertilization are moral and spiritual—not just financial (June 24, 2003)
400K and Counting | Christians recoil at explosive growth of frozen human embryos (June 24, 2003)
Charity Defies California Law on Contraception | Court to decide if state can require Catholic ministries to pay for birth control (June 25, 2002)
Hannah's Sisters | At a Washington Assembly of God, prayers for fertility are answered (Mar. 21, 2002)
Books & Culture Corner: More Sex, Fewer Children | Mixed messages on condoms, contraception, and fertility. By John Wilson (Sept. 10, 2001)
No Room in the Womb? | Couples with high-risk pregnancies face the 'selective reduction' dilemma (dec. 10, 1999)
How to Make a Person | New reproductive technologies raise difficult moral issues. (Jan. 6, 1997)
Mourning the Morning-After Pill | A Christianity Today Editorial (Apr. 7, 1997)
Have something to add about this? See something we missed? Share your feedback here.
Our digital archives are a work in progress. Let us know if corrections need to be made.
This article is from the August 2006 issue.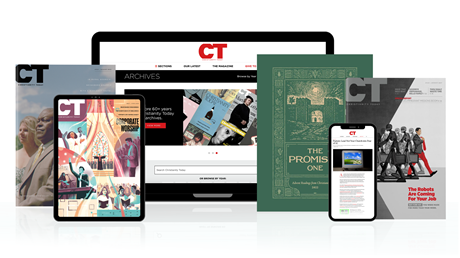 Annual & Monthly subscriptions available.
Print & Digital Issues of CT magazine
Complete access to every article on ChristianityToday.com
Unlimited access to 65+ years of CT's online archives
Member-only special issues
Subscribe
Law or Free Market?
Law or Free Market?