Just when you think you've heard it all, along comes an even more distorted public characterization of evangelicals.
According to a recent critic, the belief held by evangelicals and Prison Fellowship (PF) in the "substitutionary and atoning death of Jesus," reflects "a legalistic understanding of the sacrifice of Jesus, [which] is not shared by many Christians." So much for the central tenet of every historic creed and confession of the Christian church.
Where is this critique—in The New York Times? No, it's the finding of U.S. District Judge Robert Pratt in deciding on June 2 the lawsuit against PF brought by Americans United for Separation of Church and State. The judge declared unconstitutional the InnerChange Freedom Initiative in Iowa, a program started by PF.
Startlingly, the judge devoted a dozen pages to analyzing evangelicalism and PF's statement of faith, apparently determined to separate evangelicals from other Christians. Evangelicalism, he wrote, is "quite distinct from other self-described Christian faiths, such as Roman Catholicism, Mormonism, and Greek Orthodoxy." It is also "distinct from other … Christian denominations, such as Lutheran, United Methodist, Episcopalian, and Presbyterian."
Evangelical Christianity, he found, tends to be "anti-sacramental," downplaying "baptism, holy communion or Eucharist, marriage, [and] ordination" as "appropriate ways to interact or meet with God." (The charge of downplaying baptism will surprise my 20 million fellow Baptists.) Moreover, we are "contemptuous" of Roman Catholic practices, a conclusion sure to amuse my colleagues with Evangelicals and Catholics Together.
To sum up: Evangelicals are a fringe cult inherently discriminatory, coercive, and antagonistic to other Christians.
Ironically, just days after the judge's decision, the Commission on Safety and Abuse in America's Prisons reported a desperate need in prisons for "highly structured programs which reduce misconduct in correctional facilities and lower recidivism rates after release."
This is precisely what InnerChange does. It has a proven record of rehabilitation—8 percent recidivism for graduates, according to a University of Pennsylvania study of a similar program in Texas. This compares with more than 60 percent recidivism nationally. The commission understands the urgency of these programs, because this year, 600,000 prisoners will be released. Within three years, more than two-thirds will be re-arrested.
Bad enough that the judge ordered closed a program that has proven successful, imperiling thousands of faith-based programs. Even worse, he expanded the Supreme Court precedent in Lemon v. Kurtzman. A careful reading of his opinion leads to the conclusion that even if state funds are not involved, any close government cooperation with "pervasively sectarian" groups is unconstitutional. Such a broad standard could easily be applied to church services or evangelistic events not only in prisons, but also in hospitals, military bases, or any government facility.
But the most alarming question is why the judge chose to write a sociological analysis of evangelicalism—something I've never seen before in any case. And why would he so inaccurately characterize evangelicals as a fringe cult? After all, we make up between 33 and 40 percent of the American population, drawing from scores of denominations, including many millions of Catholics.
Whatever the reason, by distinguishing evangelicals from all other Christian groups, Judge Pratt supported his finding that we discriminate and coerce conversions—despite the fact that every inmate testifying in the trial denied any coercion. InnerChange is voluntary; at any time, inmates can drop out. Many participants are not Christians.
Think of the consequences if this definition survives on appeal—enshrining in federal law a definition of evangelicals as a narrow, mean-spirited minority. This ruling could be cited in cases where pastors publicly denounce homosexuality or pray in Jesus' name on public property. What will prevent a court from deciding what is and is not legitimate theology, according to the trendiest, most politically correct standards?
Hopefully, there will be an outcry from Christians. Courts are not indifferent to public attitudes, as we saw in the assisted-suicide case in 1997 (Washington v. Glucksberg).
We have to appeal and fight this decision. But in the process, evangelicals need to do some sober soul searching. For this judge's opinion is but a reflection of how many see us: coercive and bigoted.
The critical question is, do we play into the stereotypes, or do we reflect our rich heritage of abolishing the slave trade, defending human rights, and founding hospitals? This case is a challenge to define evangelicalism, no less before the bar of public opinion than before the bar of justice.
Related Elsewhere:
Christianity Today covered the IFI ruling:
Article continues below
Imprisoned Ministry | The future of Prison Fellowship's rehabilitation program, and other faith-based social services, are in the hands of an appeals court. (July 14, 2006)
A copy of the decision is available from Americans United for Separation of Church and State.
Prison Fellowship's Mark Earley responded to the ruling in several radio shows, linked to from PF. He also wrote this op-ed in The Washington Post.
Russ Pulliam commented on the decision in the Indianapolis Star.
Recent Charles Colson columns for Christianity Today include:
Emerging Confusion | Jesus is the truth whether we experience him or not. (May 31, 2005)
Soothing Ourselves to Death | Should we give people what they want or what they need? (April 5, 2006)
A More Excellent Way | Changing the law isn't enough. (Jan. 23, 2006)
My Soul's Dark Night | The best of evangelicalism didn't prepare me for this struggle. (Dec. 7, 2005)
Machiavellian Morality | One reason teenagers, among others, are jammed in our prisons. (Sept. 22, 2005)
Verdict that Demands Evidence | It is Darwinists, not Christians, who are stonewalling the facts. (March 28, 2005)
The Moral Home Front | America's increasing decadence is giving aid and comfort to Muslim terrorists. (Sept. 23, 04)
Reclaiming Occupied Territory | The Great Commission and the cultural commission are not in competition. (July 21, 2004)
Societal Suicide | Legalizing gay marriage will lead to more family breakdown and crime. (May 24, 2004)
Evangelical Drift | Outsiders say we're the status quo. Our call is to prove them wrong. (March 29, 2004)
Have something to add about this? See something we missed? Share your feedback here.
Charles Colson
Charles Colson was the founder of Prison Fellowship Ministries, an outreach to convicts, victims of crime, and justice officers. Colson, who converted to Christianity before he was indicted on Watergate-related charges, became one of evangelicalism's most influential voices. His books included Born Again and How Now Shall We Live? A Christianity Today columnist since 1985, Colson died in 2012.
Previous Charles Colson Columns:
Our digital archives are a work in progress. Let us know if corrections need to be made.
This article is from the August 2006 issue.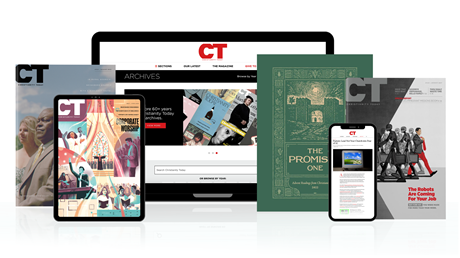 Annual & Monthly subscriptions available.
Print & Digital Issues of CT magazine
Complete access to every article on ChristianityToday.com
Unlimited access to 65+ years of CT's online archives
Member-only special issues
Subscribe
Bad Judgment
Bad Judgment