true
Not long ago, Bob Shallcross found himself in a midlife quasi-crisis, working long hours as a successful creative director at an ad agency, but not seeing nearly enough of his wife and four children. He was, as he puts it, "missing out on some of the simple, important pleasures in life."
So he quit his job and ended up making a semi-autobiographical movie about that very thing—Uncle Nino, written and directed by Shallcross and opening in limited theaters this Friday.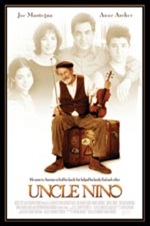 The story features an Italian-American family which isn't connecting with one another. The father, Robert (Joan of Arcadia's Joe Mantegna), is overworked and in dire need of a wake-up call. That's when Uncle Nino (Pierrino Mascarino), an elderly Italian peasant living a bucolic rural live, arrives on the scene to visit his American nephew and family. The serene Uncle Nino, violin in hand, finds a fast-paced suburban culture and a family that barely communicates—and you can guess who plays a role in helping to turn things around. The end result is a sweet film with that sentimental movie-of-the-week type of feel.
We recently caught up with Shallcross, 46, to discuss his film and the state of the American family.
Shallcross hardly sounds Italian, so what are you doing writing an Italian story and how do you understand this culture so well?
Bob Shallcross: I grew up in Roselle (a Chicago suburb) and had a ton of Italian friends, spending a lot of time in their houses and seeing a very interesting, rich tradition, centered around food and family. When I started working on this story, I wanted to do a story about a typical American family—a family that's very much in love, but just disconnected. Everything is organized—running kids here, there, this, that and the other—but the father is almost a stranger in his own household. That's where I was—working a ton at Leo Burnett (an ad agency) with four kids of my own. So I left the agency to start working on films.
I was working on this story of this disconnected family, and I needed a catalyst—something that could kind of bring them together, wake them up to each other and some simple things in life. I was over in Italy, directing commercials for Barilla (the pasta maker), and observing this way of life—the amount of time they spent around the table together and how they really appreciated the simple pleasures in life. That's when I got the notion and created the character of Uncle Namp;igrave;;no. I thought, Hey, what about a long lost relative coming back over and kind of surprising his family, and then he can be the catalyst to kind of wake up this family to each other.
Was your general observation that Italian families seem to be more healthy than the typical American family?
Shallcross: I think American families are loving. I just think that at times we're not as close as we could be, or we're concerned about things that aren't as important as other things.
Tell me a little bit about your own family.
Shallcross: My wife is Patricia, and my kids are 24, 21, 19, and about to be 15. I still have one at home, and three in college.
How are you like the character Robert in Uncle Nino?
Shallcross: I'm like him in that I worked a lot—16, 17, 18 hours a day. I got so busy working and trying to provide for my family that I lost sight of what's really important, which is being with them. I made it very important to be here as much as I could, but come '93, I just was really getting burnt out. I just decided I didn't want to do that anymore. I didn't want to go to my deathbed saying, "I wish I would have worked one more day."
Was there a particular wake-up call, a specific incident that sparked this?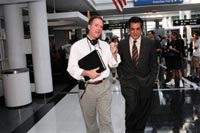 Shallcross: No, it didn't come to that. I just didn't feel grounded with the family. I didn't feel like I was as connected to their daily life as I wanted to be. When my son was four years old, I looked at him one day and realized I really hadn't seen much of him. Maybe that was the wake-up call, in a sense. I thought, He's four years old and I barely remember the first three years. I can't keep doing this.
So since '93, I've been working pretty much out of my home. I'm involved with my family daily. I didn't miss a sporting event. I was able to go to and from school, take them, do all those things. It doesn't seem like a lot, but it's amazing how much it helped, just being closer and more connected to them.
Let's talk about the character Namp;igrave;;no, this Italian uncle who comes to spend time with his American family. On the one hand he's quiet and na&iumlve, and yet he seems to have the power to change a family.
Shallcross: I think sometimes being quiet and subtle, as the old saying goes, speaks much louder than words. Namp;igrave;;no's character has an incredible need to want to nurture people. He wants to feed people. But he also understands that he is a guest in this family, so he would never just barge in and start telling people that their lives are screwed up. His way is more through example, and of connecting with things like food and music.
He connects with the teenager, Bobby, through music. Where'd you get that idea?
Shallcross: My son, who's almost 15, is very interested in music. He's a drummer and a guitar player. He doesn't really have a band; his friends come over and jam with him. And my brother had a garage band growing up, and I really like music myself. I thought, What could Uncle Namp;igrave;;no love that maybe the kids could love? For Bobby it was music. Bobby's not the type who's just going to embrace Uncle Namp;igrave;;no as soon as he walks in. Bobby has a lot of his own issues. I see Bobby's character as somebody who desperately wanted to be close with his dad, and wasn't.
Anything autobiographical about that?
Shallcross: Probably. I've never sat down and talked with my kids about it. Did they ever feel the need to be closer to me? Maybe. But I was thinking of this story more from Robert's point of view—a connection that wasn't happening, a kid who really wanted to be closer to his dad. And I needed a way for them to connect. I thought it would be interesting for them to start communicating through music even before they ever even started talking.
And then you had to figure out a way to get Nino to connect with Bobby's little sister, Gina.
Shallcross: Yes, there's this whole little sub-story for her. She really wants a dog, but with this nice new house and this expensive lawn, the last thing Robert wants is a dog. A dog scratches the floors and dig up the yard. No, we're not having a dog. But every kid needs a dog. So when Namp;igrave;;no brings a dog into the story, that allows Gina and him to have something to connect on—a way for him to kind of get into her world.
Speaking of expensive lawns, there's a fun subplot in the movie where Nino digs up the front yard and plants a garden.
Shallcross: An interesting thing about Italy is that if they have a place to grow something, they're going to grow something they can eat. They can't understand the concept of suburban lawns, why you would spend so much time growing something you can't eat. That just doesn't ring true for them.
You've been quoted as saying you want to make films that are more character and story driven, and that you want to "avoid the compulsion to have an explosion every four minutes."
Shallcross: True. I think there's enough of that. But I'm not one of these who says, "Hey, movies should only be like this or that." I think there's room for all kinds of movies. I'm just saying I believe there's a need for some other types of story-driven films.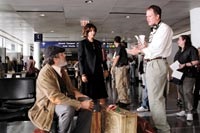 What are some of the movies that you really enjoy?
Shallcross: One of my favorite movies is The Quiet Man. I love Guess Who's Coming to Dinner. I love a lot of Frank Capra's old films—and Uncle Nino is, in a way, like It's A Wonderful Life. No, I don't have a dad to the point where he's going to commit suicide, but he is a dad who's looking for something better. People who have seen the movie say that Robert is somebody they can identify with.
This film already enjoyed a year-long run in Grand Rapids, Michigan. Everything about this movie is so Chicago, though—it's filmed in the Chicago burbs, and Joe Mantegna is from Chicago. So why the trial run in Grand Rapids?
Shallcross: I knew somebody in Grand Rapids who knew the owner of a theater in Grand Rapids. They looked at the movie and said, "We'll give it two weeks. And if it's not doing business, then it's going to go bye-bye." That was December of '03. And we just celebrated our one-year anniversary of showings (in December). I think the film just resonated with a lot of people, and the momentum grew. It's not unlike some other independent films, like My Big Fat Greek Wedding, that start out and then they just grow and get word of mouth. We've had a very similar thing happen in Grand Rapids. The people there just liked it.
For more information about Uncle Nino, click here.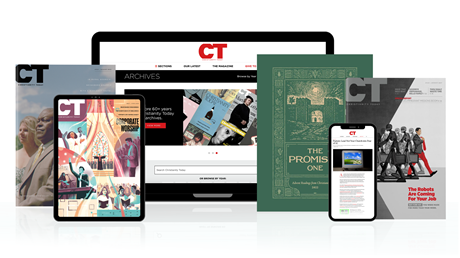 Annual & Monthly subscriptions available.
Print & Digital Issues of CT magazine
Complete access to every article on ChristianityToday.com
Unlimited access to 65+ years of CT's online archives
Member-only special issues
Subscribe
Family Values
Family Values