In an ongoing rift over homosexuality, the Episcopal Church and its Canadian counterpart were asked Thursday to "voluntarily withdraw" from a global panel that helps set policy for the worldwide Anglican Communion.
The admonition from the primates, or senior bishops, of the 38 national branches of the communion was a nuanced nod to conservative complaints that the North American churches were pushing the Anglican family toward permanent schism.
Unlike the Roman Catholic Church, however, the primates have no direct power to discipline the autonomous national churches, leaving the future in the hands of an American church that has shown an independent — conservatives might say rebellious — streak.
The primates gave both North American churches three months to explain their support of same-sex unions in both countries, and the election of an openly gay bishop in New Hampshire. The primates urged a moratorium on both policies.
"There remains a very real question about whether the North American churches are willing to accept the same teaching on matters of sexual morality as is generally accepted elsewhere in the Communion," the primates said in a five-page statement at the end of a four-day summit in Northern Ireland.
The Episcopal Church is the U.S. branch of the Anglican Communion, whose spiritual leader is the archbishop of Canterbury, Rowan Williams. Thirty-five of the 38 primates attended the summit; three from Burundi, Hong Kong and North India did not attend.
The carefully worded statement imposed what little penalty was possible on the U.S. and Canadian churches and signaled that the global body may have run out of patience with the North American rebellion.
Both churches were asked to withdraw their members from the Anglican Consultative Council, a global, elected advisory body that holds no formal power to impose either policy or discipline. It gives counsel to Williams and the wider Communion.
Three Episcopalians — Suffragan Bishop Catherine Roskam of New York, the Rev. Robert Sessum of Lexington, Ky., and attorney Josephine Hicks of North Carolina — represent the U.S. church on the ACC.
The sanction would apply until 2008, when the 77 million-member Anglican Communion will hold its once-a-decade meeting in England. However, the two churches were given a chance to explain their actions when the Council meets in June.
The top U.S. leader, Presiding Bishop Frank Griswold, has been supportive of openly gay Bishop V. Gene Robinson of New Hampshire and said the meeting had "not been easy" for all sides.
"Clearly, all parts of the communiqué will not please everyone," he said in a short statement. "It is important to keep in mind that it was written with a view to making room for a wide variety of perspectives."
The statement was the primates' first collective response to a high-level report issued last October. That report, led by Irish Archbishop Robin Eames, chastised the U.S. and Canadian churches but did not recommend any real discipline.
American bishops, in a statement issued last month, answered the report's request for an apology for the "pain, hurt and damage" caused by Robinson's approval, but stopped short of saying their actions were wrong.
The primates, in general, approved the Eames report, but expressed caution regarding calls for a Catholic-style Curia. The primates said such a body "could override our proper provincial authority."
Acknowledging complaints from some American bishops that some overseas prelates have been meddling in U.S. church affairs by sheltering conservatives, the primates agreed to "neither encourage nor to initiate cross-boundary interventions."
However, the primates urged Williams, as titular head of the Communion, to appoint an oversight panel to ensure the "adequacy of pastoral provisions" for conservatives who feel alienated and assaulted by liberal bishops.
A statement from the conservative American Anglican Council said the church "must choose between repentance … or continued theological innovations that separate them from the teaching and life of the Anglican Communion."
The report gave the U.S. and Canadian churches time to respond "through their relevant constitutional bodies," allowing the U.S. church enough time for its General Convention to make final decisions when it meets in 2006 in Columbus, Ohio.
Related Elsewhere:
Titus One Nine, a weblog run by orthodox Anglican theologian Kendall Harmon, has become the main hang-out for commentary on Episcopal-Anglican matters. Classical Anglican Net News and Midwest Conservative Journal are also Anglican-focused news weblogs with strong orthodox perspectives.
A collection of all Christianity Today's coverage of the Anglican Communion is available on our website, including:
Canterbury Crackup | Eschewing church discipline has come back to haunt Anglicans. (Dec. 03, 2004)
Advice Rejected | Lambeth Commission report leaves church in disarray. (Nov. 10, 2004)
Article continues below
'African Church Has Come of Age,' Say African Anglican Bishops | It now faces the dual threat of Western heresy and militant Islam. (Oct. 27, 2004)
N.T. Wright: Anglican Report Is 'Fireproofing the House' | Top theologian on Lambeth Commission talks about what happened behind the scenes, whether the report should have been tougher, and why it's critical of some conservative bishops. (Oct. 21, 2004)
Windsor Report Leaves Conservative Episcopalians Hopping Mad | Conservative network leader: "The disease of the U.S. church has found its way into this report." (Oct. 19, 2004)
Stronger Action Needed, Say Global Anglican Leaders | "The primates will add teeth" to Windsor Report, conservatives predict, hope. (Oct. 19, 2004)
Disappointed Anglican Conservatives Mull Options, Threaten Revolt | Americans must belong to Episcopal Church, report says. (Oct. 19, 2004)
Report Rebukes Episcopalians for Disunity but Declines Sanctions | U.S. church in limbo as conservative dissidents mull their options. (Oct. 18, 2004)
Weblog: Anglican Report Treats Conservatives Harsher than Liberals | News, predictions that commission would sanction Episcopal Church were greatly exaggerated. (Oct. 18, 2004)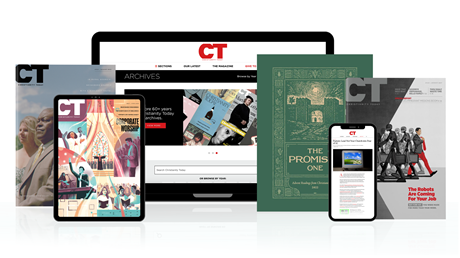 Annual & Monthly subscriptions available.
Print & Digital Issues of CT magazine
Complete access to every article on ChristianityToday.com
Unlimited access to 65+ years of CT's online archives
Member-only special issues
Subscribe
Anglicans Sanction Episcopalians Over Gay Bishop, Gay Unions
Anglicans Sanction Episcopalians Over Gay Bishop, Gay Unions