Where there is sports, there is scandal.
Some recent examples: Football phenom Terrell Owens and sultry starlet Nicollette Sheridan glorified illicit sex in a pre-game network teaser. Baseball stars Jason Giambi and Barry Bonds (of the New York Yankees and the San Francisco Giants, respectively) admitted they illegally used performance enhancing steroids. And there was the All Star Wrestling Match (Ron Artest's Five vs. The Obnoxious Fans), for which the warm-up match was the Detroit Pistons vs. the Indianapolis Pacers.
All generated a great deal of press and outrage this past fall. Ah, but that's old news by now, having been superceded by Minnesota Vikings Randy Moss's fake-mooning of Green Bay Packer Fans and … well, you name it. And there's bound to be another before Superbowl XXXIX exhausts us all.
The problems of sports run deep and wide. One well-known writer has said, "Television threatens to engulf many of the inherent values of sports," and "Throughout our sports programs there is an undue emphasis on violence." Another book summarizes the problem of modern American sports culture: "cheating, rule violations, ego exaggeration."
There is nothing new under the sports sun. The first two quotes come from James Michener's Sports in America, written nearly 30 years ago. The last quote is from Tony Ladd's and James A. Mathiesen's Muscular Christianity (1999), and goes on to note that these problems "came to fruition in the 1920s and affected sport for the remainder of the twentieth century." And the first part of the next century, we might add.
As Paul put it in Romans 1, too many athletes are "filled with all manner of unrighteousness, evil, covetousness, malice. They are … insolent, haughty, boastful, inventors of evil … foolish, faithless, heartless, ruthless." Okay, he was talking about idolaters. Unfortunately, too often the athletic shoe fits.
The temptation for Christians—especially in this Superbowl season of super-hype—is to drone on that things have gotten out of hand, that sports is a waste of time at best and as a form of idolatry at worst, that winning has became too important, that we take sports way too seriously.
I beg to differ. The problem is that we no longer take sports seriously enough.
Signal of transcendence
Sports is supposed to be a form of play. Catholic scholar Johan Huizinga, in his classic Homo Ludens, said play is "a free activity standing quite consciously outside ordinary life as being 'not serious,' but at the same time absorbing the play intensely and utterly … It proceeds within its own proper boundaries of time and space according to fixed rules and in an orderly manner."
The great Green Bay Packers coach (and amateur Catholic theologian), Vince Lombardi, put it well: "Winning isn't everything, it's the only thing." This doesn't mean "win at any cost," or "do anything to win," because, as Huizinga notes, play proceeds "according to fixed rules and in an orderly manner." But when one is absorbed in play "intensely and utterly," the game will be played as if winning is "the only thing"—as if there is really nothing more important in the world at that moment than the game itself.
And play, according to scholar (and devout Roman Catholic) Michael Novak is "the first act of freedom. … The first free act of the human is to assign limits within which freedom can be at play. Play is not tied to necessity, except to the necessity of the human spirit to exercise its freedom, to enjoy something that is not practical, or productive, or required for gaining food or shelter." Or multimillion dollar contracts.
In other words, it is play precisely because it is, in respect to our day-to-day lives, pointless. Like the Sabbath—a day in which nothing useful (by human reckoning) gets done. The Sabbath is not merely an occasion to rest from labor, to get ready for another blistering week of work—as if God thought up the Sabbath because, exhausted after six overtime days, he was just too pooped to go on. Instead, the Sabbath is the seventh and final act of creation, the culmination of Creation—the point of it all.
The Latin Vulgate translation, the church's only version for 1,000 years, translated Proverbs 8:30-31 like this: "I [Wisdom, i.e., Christ] was at his side putting together everything, my delight increasing each day, playing before him all the while, playing in this world made of dust and my delight was to be with the sons of men." Medieval theologian Thomas Aquinas (argghhhh, another Catholic—what do they know that Protestants don't?) concluded, as one scholar summed it up: "God plays. God creates playing. And man should play if he is to live as humanly as possible and to know reality, since it is created by God's playfulness."
Granted, modern scholars translate the Hebrew text differently, but Aquinas's larger point accords with the sweep of salvation history, which begins with the creation of the Sabbath and culminates with the Eternal Sabbath. Whenever we take a Sabbath, as a day or as an activity in the midst of a day, we pause to remind ourselves from where we've come and to where we're going. This is why Peter Berger, in his Rumor of Angels, notes that play is a "signal of transcendence."
All well and good, but between these transcendent goal posts, as it were, we're grinding it out in the trenches of history. So, from Little League to the Super Bowl, we often find that sports has become anything but play. We find that we're easily seduced into trading freedom and joy for pottage that is merely useful: Money (from college scholarships to gaudy professional riches), sex (increasingly a part of the package of professional sports), and power (or, more precisely, cultural status).
How exactly we retrieve the freedom and joy of sports is no easy matter. Among other things, it requires some close thinking about the relationship of sports and faith, which I hope to do more of here in coming weeks. In any event, Christians have a crucial voice in our ongoing cultural conversations about sports, conversations that take place every week in park and recreation offices, PTA meetings, high school and college gyms, and professional locker rooms. But we shouldn't whine that sports is "just a game," but instead demand at every level that we take sports as seriously as possible, as if it were play.
Mark Galli is managing editor of Christianity Today.
Related Elsewhere:
Muscular Christianity, Homo Ludens, and Rumor of Angels are available from Amazon.com and other book retailers.
Christian History Corner remarked on the history of sports and Christianity:
Football's Pious Pioneer | Amos Alonzo Stagg instilled in football Christian values that remain apparent today. (Jan. 14, 2005)
Muscular Christianity's Prodigal Son, College Sports | In the wake of a basketball scandal at a prominent Christian university, we take time to remember the Christian roots of college athletics. (Aug. 15, 2003)
Citius, Altius, Sanctus | The modern Olympics, though hardly Christian, hail from an era when athleticism was next to godliness. (Feb. 15, 2002)
Olympia Revisited | Christianity and the Olympic Games were once competitors, but at other times have been on the same team. (Sept. 28, 2000)
Other Christianity Today articles on sport includes:
'Be Happy!' | How the ancient Olympics differed from the modern spectacle. (Aug. 10, 2004)
Sports Mobs and Manners | There's a difference between cheering the home team and being boorish. (Aug. 25, 2003)—A ready-to-download Bible Study on this article is available at ChristianBibleStudies.com.
Article continues below
Slouching into Sloth | The XFL is but the latest sign of the coarsening of our culture. (April 17, 2001)
God on the Gridiron | Should there be a wall of separation between the church and football? (Nov. 15, 1999)
ChristianityToday.com's sports channel features articles from Sports Spectrum magazine about Christian athletes and sporty devotionals.
Athletes in Action shares the gospel with 1 billion people annually through its sports programs.
The Fellowship of Christian Athletes ministers to athletes and coaches on campuses across the country.
Play Ball
From 2005 to 2007, "Play Ball" examined the relationship of sports and faith: sports is important precisely because it is a form of play, that is, a manifestation of the Sabbath. Contributors included Mark Galli, Collin Hansen, Mark Moring, and others.
Previous Play Ball Columns: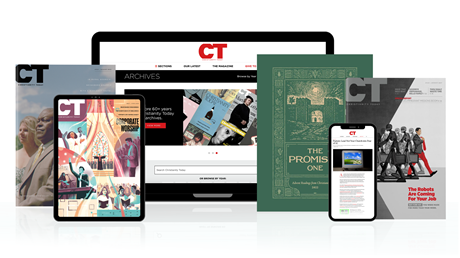 Annual & Monthly subscriptions available.
Print & Digital Issues of CT magazine
Complete access to every article on ChristianityToday.com
Unlimited access to 65+ years of CT's online archives
Member-only special issues
Subscribe
Freedom Between the Goal Posts
Freedom Between the Goal Posts