Joel Osteen, superstar
"Tickets to see the Rev. Joel Osteen this weekend in Dallas are going for as much as 10 times their face value," the Ft. Worth Star-Telegram reports. Dallas' American Airlines Center has only about half the seats of Osteen's Lakewood Church in Houston, and now the $10 tickets—long since sold out—are selling for more than $100. (seems like it would be cheaper to make the four-hour drive to Houston).
"Joel Osteen is now to the Christian religion what Michael Jordan was to the NBA," Perfectseats.com's Gary McBride told the newspaper. "When Michael Jordan played for the Chicago Bulls, game tickets sold out months in advance. In Christianity, Joel Osteen is that much of a superstar."
Religion & politics:
Democrats for life? | Political parties may change, but principles don't. Pro-life voters just might follow their conscience wherever it leads, even into the Democratic Party (Paul Greenberg, The Washington Times)
Gotta have faith | It may be time for the religious left to adjust the volume on its moral broadcast (Salt Lake City Weekly)
Lib Dem stance on religious hatred law could lose votes | Charles Kennedy has been given warning that the surge in Liberal Democrat support among Muslim voters after the Iraq war is being put at risk by his party's failure to back planned laws against religious hatred (The Times, London)
Bush tapes:
From psst to oops: Secret taper of Bush says history can wait | Doug Wead pledged to turn over to President Bush the tapes on which he secretly recorded some of their phone calls (The New York Times)
Friend regrets tapes of Bush | The friend of President Bush's who secretly recorded private conversations with him before his first bid for the White House says he will surrender the tapes and donate proceeds from a book based partly on them to charity (The Washington Times)
Middle East:
Lebanon's religious red lines | While the assassination of Rafik Hariri has raised fears that a new period of violence may engulf Lebanon, the grief uniting the country's different sects shows there is little appetite for another conflict (BBC)
Putting faith in people | On the desert sweeps of Morocco, a cross-cultural conversation is well under way. Evangelical Christians, long viewed as hostile to Islam and its followers, actively are participating in conversations with the Moroccan government, businesses and community leaders (The Washington Times)
Churches & foreign policy:
Church council seeks pressure on Israel | The governing body of the World Council of Churches has asked its members to consider bringing economic pressure on companies that benefit from Israeli policy in the Palestinian territories. American Jewish leaders have condemned the recommendation as biased (Associated Press)
Listen to the Presbyterians | The Presbyterian Church in Taiwan on Tuesday issued a "Statement on Justice and Peace," advocating that Taiwanese sovereignty and independence should be the basis for interparty cooperation and negotiation (Editorial, Taipei Times)
Gays in the military:
Gays' ouster seen leaving gap in military | More than 300 foreign language specialists considered critical in the war on terrorism have been forced out of the military in the past decade because of their sexual orientation, according to the first government study to assess both the warfighting and financial impact of the "Don't Ask, Don't Tell" policy that prohibits openly gay servicemen (The Boston Globe)
Rules on gays exact a cost in recruiting, a study finds | The military has spent more than $200 million to recruit and train personnel to replace troops discharged in the last decade for being openly gay, a new Congressional study has found (The New York Times)
Same-sex marriage:
House, Senate fine-tune marriage measure | The House and Senate are making final adjustments to a constitutional amendment that defines marriage as the union of a man and woman (The Washington Times)
Ontario same-sex legislation exempts clergy | Bill has no protection for civic officials (The Toronto Star)
SJC will hear challenge to 1913 marriage law | The Supreme Judicial Court has agreed to hear a challenge to a 1913 state law that the Commonwealth has used to block out-of-state gay couples from getting married here, a move that is likely to stoke debate over same-sex marriage in the coming months (The Boston Globe)
Sexual ethics:
Signatures collected against sex curriculum | Catholic parishes, with encouragement from the Archdiocese of Washington, are in the midst of a petition drive against new sex-education classes in Montgomery County public schools (The Washington Times)
Adelphia nixes triple-X | Adelphia Communications Corp. is retreating from its plan to sell triple-X films to cable subscribers, responding to criticism of the recent addition of the most graphic category of adult fare to its programming lineup (Broadcasting & Cable)
Abuse:
A Mormon daughter's book stirs a storm | The daughter of one of Mormonism's most prominent religious scholars has accused her father of sexually abusing her as a child in a forthcoming memoir (The New York Times)
Defrocked priest's lawyer seeks new trial | An attorney for Maurice Blackwell, convicted of sexually abusing an altar boy, requested a new trial Wednesday, arguing that statements about other alleged victims made it impossible to get a fair trial (Associated Press)
Anglican Communion:
Anglican churches battle over conflicting beliefs | The hoary joke about Anglicans is that they are Christians who can believe in anything as long as they don't believe in it too strongly. Ha-ha. Except it's a joke that's tripped over its punchline (Michael Valpy, The Globe and Mail, Toronto)
Sydney primate warns of church split on gays | Archbishop of Sydney Peter Jensen has issued the strongest warning yet that conservatives are ready to split with the Anglican Church over gay bishops (Reuters)
Anglican schism feared over gays | Archbishop of Canterbury Rowan Williams, showing signs of exasperation, has warned fellow leaders of the Anglican Church that a dispute over homosexual clergy threatens to shatter their 77-million-member communion (The Washington Times)
Church war on gays | The renewed impetus for a war on gays within the Church of England comes from a homegrown movement—Alpha (Cristina Odone, The Times, London)
Gay priest row 'threatens Bible' | Peter Jensen said a split over gay priests and same-sex marriages would be "painful" but could happen. And the Archbishop of Sydney urged "a turning back to what the Bible says" (BBC)
Church life:
Survey: Teens' religious knowledge shallow | The majority of American teens believe in God and worship in conventional congregations, but their religious knowledge is remarkably shallow and they have a tough time expressing the difference that faith makes in their lives, a new survey says (Associated Press)
Zoning 'set-back' rule halts steeple antennas plan | The town has ordered Verizon Wireless to halt construction of a small building behind the First Evangelical Lutheran Church that would contain support equipment for cell phone antennas being installed in the church steeple (The Providence Journal, R.I.)
Jesus Christ's superflock | Megachurches have found the secret to attracting the unchurched—and it's not just the Sunday service (Mother Jones)
Call for action on child exorcism | Black church and community leaders are calling for action to protect children from the effects of exorcisms (BBC)
Church hopes to sell residents on parking lot | The St. Andrew's expansion plan will be contentious still, despite a bigger lot for the high school (Daily Pilot, Newport Beach, Ca.)
Greek Orthodox name new S.F. leader:
Greek Orthodox leader is named | Greek Orthodox Church leaders meeting in Istanbul have named Bishop Gerasimos Michaleas, formerly dean of students and assistant to the president of Hellenic College-Holy Cross School of Theology in Brookline, as the church's spiritual head in seven Western states (The Boston Globe)
Greek Orthodox Church picks new leader for Western states | Greek Orthodox Church leaders meeting in Istanbul voted Tuesday to elect Bishop Gerasimos Michaleas as the new metropolitan of San Francisco (San Francisco Chronicle)
Pope back in hospital:
Pope returns to hospital with new case of flu | Pope John Paul II returned to the hospital this morning, suffering from a relapse of the flu that forced him to spend nine days there earlier this month (The New York Times)
Frail Pope back in hospital with flu relapse | A Church source said the Polish Pontiff, 84, had a fever and a renewed breathing crisis 2 weeks after doctors had allowed him to go home following a 10-day stay at Rome's Gemelli hospital (Reuters)
Catholics pray for Pope's recovery | In Wadowice, the small town in southern Poland where the pope was born, people offered special prayers at an afternoon mass at St. Mary's Church, where Karol Wojtyla was baptized and attended Mass for years before he became a priest (Associated Press)
Catholicism:
Fides et Internetum | Pope John Paul II takes on media, Old and New (Hugh Hewitt, The Weekly Standard)
A solution to the priest shortage | With one stroke of a pen, US bishops could demand that the Vatican acquiesce and allow them to begin training and ordaining married deacons (Danielle Kinkel and John Kinkel, The Boston Globe)
23 Catholic schools closing | 4,000 students affected in city and suburbs (Chicago Tribune)
Life ethics:
Identical twins | What's the difference between Bush and Romney on stem cells? (Ramesh Ponnuru, National Review Online)
Suits filed to stop stem cell institute | Politically conservative public interest groups filed lawsuits Tuesday seeking to invalidate the $3 billion stem cell research funding institution California voters approved in November (Associated Press)
Lib to push for abortion inquiry | Liberal backbencher Danna Vale plans to push for a national inquiry into abortion, warning that "the tragedy" of post-abortion depression must be tackled (The Australian)
Terri Schiavo:
In Schiavo case, Gov. Bush seeks delay to probe abuse allegations | The surprise request by Florida's Department of Children and Families to intervene in the case of Terri Schiavo stirred an already emotional atmosphere (The Washington Post)
Schiavo feeding tube stays for now | Judge will review new challenges as Gov. Bush vows to 'do whatever I can' to keep woman with brain damage alive (Los Angeles Times)
Florida steps back into fight over feeding tube for woman | Gov. Jeb Bush's administration stepped back into the heated case Wednesday with the state's protective services agency seeking to intervene (The New York Times)
Education:
Fla. Gov. Bush pushes for school vouchers | Gov. Jeb Bush said Wednesday he wants to extend school vouchers to underperforming readers, even after two courts have said the state's existing voucher program is unconstitutional (Associated Press)
Calif. schools chief: Drop anti-drug class | Narconon is tied to the Church of Scientology (Associated Press)
Creation & evolution:
Wrong-way evolution of the creationist movement | After losing favor since the Scopes trial 80 years ago, the creationist movement seems to be making inroads again (Patrick Chisholm, The Christian Science Monitor)
Shepherding their arguments | Scientist Duane Gish helps fellow creationists hone debate skills in order to best evolutionists (The Oregonian)
Panel revising state science standards shifts focus to non-evolution issues | The state's science education standards fill about 105 pages, of which only three or four are on the topic of evolution (Associated Press)
Other religions:
Let us pray together | More Muslim women are fighting for equal treatment in the mosque (The Boston Globe)
Reaching out, Scientology shows a softer side | As the church transforms its "spiritual headquarters" in Fla., it's also transforming its image (The Philadelphia Inquirer)
Religious freedom in India:
Christian magician jailed for blasphemy | A Pakistan court has sentenced a Christian magician to seven years' rigorous imprisonment for tearing up a copy of Quran as part of a magic act (IANS, India)
Christian jailed for 7 years for blasphemy | A court official alleged that Bashir Masih was a magician cum exorcist and police had caught him tearing a copy of the Quran in Chak No 109/Fateh in Bahawalnagar district last year (Daily Times, Pakistan)
GCIC stages dharna to protest `persecution' of Christians (PTI, India)
Bajrang Dal activists held for obstructing Christians | Nearly 70 Bajrang Dal activists were arrested when they tried to stop about 600 people from attending a function by a Christian Mission here even as the Rajasthan State Minorities Commission gave a clean chit on the event, which the saffron outfit charged was being held to convert Hindus (PTI, India)
British Christians oppose Jerry Springer Opera and more:
Evangelical militants go on tour - to stop Springer bandwagon | Churches denounce militants as cancer charity is 'blackmailed' into refusing £3,000 donation (The Times, London)
Militant Christians block donation to cancer charity | A militant Christian group behind an email campaign which bombarded the BBC with 50,000 complaints over the screening of Jerry Springer - The Opera has pressured a cancer charity into refusing money raised from a gala performance of the musical (The Guardian, London)
People:
Critical choices | Jeffrey Overstreet uses movies to close the spiritual-secular gap (The Seattle Times)
Fraud investigator has plenty of experience | Barry Minkow is a San Diego private investigator who has helped shut down several business scams totaling hundreds of millions of dollars. The detective -- whose second job is preaching at an evangelical church -- has some unique insights into the criminal mind. Minkow served several years in prison for running his own multi-million dollar fraud operation (Morning Edition, NPR)
Earlier: The Fraudbuster | The faithful are being defrauded of billions. But this Ponzi-busting ex-con knows how to stop it (Christianity Today, Dec. 17, 2004)
Tickets sell out for star evangelist's Dallas event | Tickets to see the Rev. Joel Osteen this weekend in Dallas are going for as much as 10 times their face value (Ft. Worth Star-Telegram, Tex.)
Most Reverend Archbishop Njongonkulu Ndugane | With Desmond Tutu leaving as the Anglican Bishop of Capetown, South Africa, Njongonkulu Ndugane will replace him. He is an outspoken leader against poverty, third-world debt, and HIV/AIDS. In his youth, Ndugane was an anti-apartheid activist who was jailed for three years on Robben Island. During his imprisonment, Ndugane became religious and entered the priesthood after his release. He then lived in London for a time and became a fellow at King's College. He has published many theological works on the Christian view of human rights (Fresh Air, NPR)
Gambling:
Is bingo's number up? | Numbers and revenue are down as casinos draw players from church halls (The Boston Globe)
House panel approves slots | Meanwhile, church leaders yesterday held a press conference in Annapolis to declare the first two weekends in March as "Stop Slots Sabbaths" -- a campaign sponsored by the group Stop Slots Maryland (The Washington Times)
More articles of interest:
Scholars to debate Resurrection at Bethel | It's John Shelby Spong vs. William Lane Craig (South Bend Tribune, Ind.)
'Passion'-less Oscars aren't worth watching | By snubbing "The Passion" this year, the Oscars have given the vast majority of America no reason to watch this year (Wayne Judkins, The Roanoke Times, Va.)
Groups urged to continue boycott | Movie chain should run pro-marriage ads, they say (The Globe and Mail, Toronto)
Quiet undercurrent of religion pervades UW basketball program | The Huskies don't advertise or moralize this, but they're a relatively spiritual group, from the top down (The SeattlePost-Intelligencer)
Slaves' Bible on the block | The penned entries fill four water-stained pages inside the back cover of a leather-bound Bible printed in 1771. They are about Jeffrey, Lilly and Catherine, son and daughters of Suzanah, and Suzanah dying of smallpox in 1779, and other slaves owned by Samuel Townsend, one of the founders of Oyster Bay (Newsday)
Uganda's AIDS decline attributed to deaths | Abstinence and sexual fidelity have played virtually no role in the much-heralded decline of AIDS rates in the most closely studied region of Uganda, two researchers told a gathering of AIDS scientists here (The Washington Post)
Related Elsewhere:
Suggest links and stories by sending e-mail to weblog@christianitytoday.com
Check out Books & Culture's weekly weblog, Content & Context, and the Christianity Today Movies weekly weblog, Reel News.
See our past Weblog updates:
February 23 | 22
February 18 | 17 | 16 | 15
February 11 | 10 | 9b | 9a
February 4 | 3 | January 31
January 28 | 27 | 26 | 25
January 19 | 18 | 17
Weblog
Launched in 1999, Christianity Today's Weblog was not just one of the first religion-oriented weblogs, but one of the first published by a media organization. (Hence its rather bland title.) Mostly compiled by then-online editor Ted Olsen, Weblog rounded up religion news and opinion pieces from publications around the world. As Christianity Today's website grew, it launched other blogs. Olsen took on management responsibilities, and the Weblog feature as such was mothballed. But CT's efforts to round up important news and opinion from around the web continues, especially on our Gleanings feature.
Ted Olsen is Christianity Today's executive editor. He wrote the magazine's Weblog—a collection of news and opinion articles from mainstream news sources around the world—from 1999 to 2006. In 2004, the magazine launched Weblog in Print, which looks for unexpected connections and trends in articles appearing in the mainstream press. The column was later renamed "Tidings" and ran until 2007.
Previous Weblog Columns: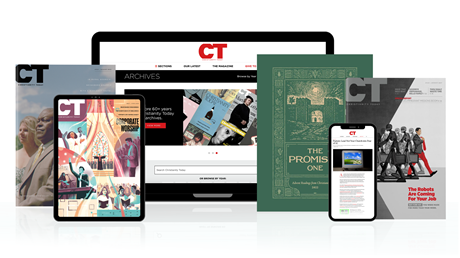 Annual & Monthly subscriptions available.
Print & Digital Issues of CT magazine
Complete access to every article on ChristianityToday.com
Unlimited access to 65+ years of CT's online archives
Member-only special issues
Subscribe
$10 Osteen Tickets Going for $100+
$10 Osteen Tickets Going for $100+