Ex-priest's defense to call psychologist | The defense in the child rape trial of a former priest is focusing on the validity of repressed memory theories, hoping to debunk a key claim of the 27-year-old accuser in the case. (Associated Press)
Prosecution wraps up case against priest | Prosecutors rested their case against the defrocked priest at the center of Boston's church abuse scandal with testimony on recovered memory, a topic the defense also hopes to tackle. (Associated Press)
Prosecutors rest case vs. Shanley | 1 of 3 child rape charges dropped. (The Boston Globe)
Shanley accuser concludes testimony | Proceedings halted briefly as wife cries (The Boston Globe)
A trip down memory lane | The Cambridge courtroom in which Paul R. Shanley is being tried for the rape and sexual abuse of a child will become a political forum as well as a judicial arena this week when testimony turns to the reliability of human memory (Eileen McNamara, The Boston Globe)
Early legal moves are focus in abuse trial | day after he says he recovered memories that he was abused by a priest, a 27-year-old man was talking to a lawyer about pursuing a lawsuit against the Roman Catholic Church, according to testimony and documents presented Friday in the criminal trial of the now-defrocked priest. (The New York Times)
Jury gets case in rape trial of priest | The fate of defrocked priest Paul Shanley, who is charged with raping a boy at his church outside Boston in the 1980s, now rests with a jury. (Associated Press)
2 sides finish at the trial of ex-priest in abuse case | The lawyer for Paul R. Shanley, a defrocked priest accused of sexual abuse, told a jury in closing arguments on Thursday that the accuser, now a 27-year-old firefighter, either had false memories of fictitious abuse or invented the accusations to win a suit. (The New York Times)
Ex - priest's child rape trial in goes to jury | The defense attorney for Paul Shanley, the defrocked U.S. Catholic priest accused of child rape, said on Thursday there was ``massive doubt'' about what occurred two decades ago and called for the jury to acquit him. (Reuters)
Ex-priest's defense to call psychologist | The defense in the child rape trial of a former priest is focusing on the validity of repressed memory theories, hoping to debunk a key claim of the 27-year-old accuser in the case. (Associated Press)
Defense rests in defrocked priest case | The defense for a defrocked priest accused of child rape amounted to a sole witness: a psychologist who discussed how some repressed memories are really false ones. (Associated Press)
Closing arguments hinge on sex abuse memories | The lawyer for a defrocked priest on trial for child rape told a jury Thursday that "there isn't reasonable doubt in this case. There is massive doubt in this case." (Los Angeles Times)
Ex-priest's rape trial hinges on accuser | As Paul Shanley's trial winds down this week, there is only one accuser left, and prosecutors are fighting to convince a jury the man's recovered memories are for real (Associated Press)
Paul Shanley trial ends | Abuse | The Vatican | Pope John Paul II | Catholicism | Religious discrimination | Religious torture | New Jersey Copts murder | Crime | Religion & politics | Religion & politics in Australia | War & terrorism | Iraqi Christians | Israel & Judaism | Sudan | Church & state | Abortion | Sexual ethics | Life ethics | Social justice | The Beloved Community | Jim Wallis | Millard Fuller ousted from Habitat | Black Christians | Intelligent Design & evolution | Religion & schools | Religion on campus | Faith and the Super Bowl | Faith & sports | Bowl ad cut—too offensive | Muslims | Church life | The Anglican Communion | Under bill, Virginia Episcopal church may secede | Religious buildings | Missions & ministry | Tsunami aftermath | AIDS | Interfaith groups | Gay adoption | Marriage amendment | Same-sex marriage | Same-sex marriage in Canada | Homosexuality & religion | The Buster cartoon | Culture | Europe | Speak of the Devil | Books | Zondervan's TNIV | Media | Television | Film | Music | People | Michael J. McManus | Sex change priest | More articles of interest
Abuse:
Catholic statement angers legislator | Church leaders blast plan to require info for victims of rape (Rocky Mountain News, Denver)
Judge in trial of former priest drops 1 of 3 child-rape counts | A judge threw out one of three child-rape charges against a defrocked priest after a defense lawyer argued that prosecutors had not produced sufficient evidence. (The New York Times)
Priest quits post; to face charges of sex solicitation | Incident alleged at Chelsea eatery (The Boston Globe)
Pope tells church to improve priest vetting | Pope John Paul urged the Roman Catholic Church on Tuesday to improve vetting procedures for would-be priests in the wake of numerous sex scandals (Reuters)
Bishop speaks out on abuse case | A Catholic bishop has praised parishoners for the way they responded to their local priest who is at the centre of sex abuse allegations (BBC)
Hunt is on for ex-priest charged in abuse cases | The defrocked cleric, who served in Coachella and Perris in the 1980s, molested at least two boys, authorities say. He may be in Mexico (Los Angeles Times)
$5 million paid in abuse suits | The Archdiocese of Miami spent $5.2 million in 2004 to settle sexual abuse claims made against Catholic priests (The Miami Herald)
Georgia: Defrocked priest sentenced for religious violence | Basil Mkalavishvili was convicted of organizing assaults on Jehovah's Witnesses, Baptists, and Pentecostal Evangelists in the late 1990s and early 2000s (Radio Free Europe)
Pope and circumstance at the Vatican never ceases to impress the faithful | One thing the Roman Catholic Church does well is ceremony. And never is the ceremony better than when electing a new pope. Not that I want to see the present pope off, but when a man reaches a certain age it's inevitable. (John Bogert, Daily Breeze, Calif.)
Italy's 'Beasts of Satan' face murder trial | Eight members of a group allegedly involved in devil worship and drugs are charged in three killings. The Vatican takes notice (Los Angeles Times)
Vatican wheels still turning | John Paul II may be in hospital for a week, but work at the Vatican goes on as normal. (BBC)
Italy to air pogoing Pope cartoon shelved by BBC | Popetown is a knockabout comedy that "looks at the daily nuisances that exist in any workplace", according to a BBC press release - the workplace being the Vatican. But after the show was publicised in November 2002, more than 6,000 British Catholics demanded it be scrapped (The Independent, London)
Get well soon as end is nigh: Pope's attacker | The man who tried to kill Pope John Paul II in 1981 has sent a message from his Turkish jail wishing the ailing pontiff a speedy recovery, and also calling on him to acknowledge that the world would soon be coming to an end. (The Australian, Australia)
A question of humanity | The world suddenly found itself concerned with the legacy of Pope John Paul II when the Pontiff was admitted to hospital this week as the abortion debate revived in Australia. (Melbourne Herald Sun, Australia)
Pope on road to recovery, tests 'satisfactory' | Pope John Paul is making a steady recovery from flu and a respiratory crisis and is expected to stay in hospital for just a week, the Vatican said on Thursday. (Reuters)
Vatican: Pope responding well to treatment | Pope John Paul II was responding well to treatment after being rushed to a Rome hospital with breathing problems brought on by the flu, the Vatican said. Around the world, Roman Catholics - from Franciscan friars in Italy to American teenagers in Florida - prayed for his health. (Associated Press)
Pope's breathing improves at hospital | Pope John Paul II's condition is improving and he has not suffered any more breathing spasms, the Vatican said, but the 84-year-old pontiff may have to spend up to a week in the hospital to fully recover. (Associated Press)
Vatican optimistic about Pope | Health crisis prompts speculation on future (Washington Post)
Pope better; Vatican hopes for weekend audience | Pope John Paul is making a steady recovery from flu and breathing difficulties and Vatican officials are hopeful he will be strong enough to address Roman Catholic faithful this Sunday from his hospital suite. (Reuters)
Vatican's no. 2 now more in spotlight | The Vatican's No. 2, Cardinal Angelo Sodano, spent more than two decades as a key behind-the-scenes churchman before the pontiff's poor health drew him increasingly into the public spotlight. (Associated Press)
Pope spends peaceful night in hospital | Pope John Paul spent a peaceful, third night in hospital, but his recovery from influenza and breathing problems is likely to be slow, Italian media reported on Friday. (Reuters)
Vatican moves to counter fears over Pope | Pope John Paul spent a second night in hospital after emergency treatment for breathing problems and the Vatican moved to assuage fears for the 84-year-old Pontiff. (Reuters)
Pope's health raises questions | Pope John Paul II's deteriorating health has churchmen wondering what might happen if he can no longer carry out his papal duties and doctors questioning when that might happen. (Associated Press)
Church will benefit if priests are able to marry | Celibacy is a rule that the Catholic Church can and should change. (The Age, Australia)
Old beads, new twists | Protestants are showing a growing interest in the rosary (The Dallas Morning News)
Punches fly: Catholic rift turns violent | All hell broke loose at the Khomasdal Catholic Church on Monday evening when the church property became a battleground as parishioners threw punches and swore at each other (The Namibian)
Archbishop: sexual health U-turn a victory | Ex Labour minister damns Scottish Executive for 'backing down to Catholic church' (Sunday Herald, Glasgow, Scotland)
Condom ban divides Catholic clergy as health concerns grow | Faced with AIDS crisis, some theologians justify the use of prophylactics to save lives. (Los Angeles Times)
Catholic group seeks priests for Latin Mass | A schismatic ultra-conservative Catholic group, whose leader was excommunicated in 1988, has sent a letter to Australia's 1400 Catholic priests trying to recruit them. (The Age, Australia)
NGOs urge U.N. to fight bias against all faiths | The United Nations should stop paying special attention to discrimination against Jews, Muslims and Christians and treat all religious prejudice equally, according to an appeal by Christian and human rights groups (Reuters)
Vietnam frees priest and physician | Vietnam announced Monday that it would release two of its best-known dissidents from prison following intense pressure from international human rights groups and the United States (Associated Press)
U.S. lauds planned release of dissidents | The Bush administration welcomed on Monday Vietnam's announcement of an amnesty for 8,325 prisoners, including some prominent dissidents (Associated Press)
Christians persecuted under equality laws—claim | A DUP Assembly member claimed today Christians are being persecuted by equality laws after Ian Paisley junior was officially censured for attacking the homosexual civic union of an Ulster Unionist advisor. (Belfast Telegraph)
Change sought for Alaska embalming law | Aaska public health law prohibits bodies from crossing state lines unless they have been embalmed. But embalming goes against Jewish beliefs (Associated Press)
Catholic priest released from jail | Vietnam yesterday freed from prison an outspoken critic of religious persecution whose release had been demanded by U.S. officials and human rights groups (The Washington Times)
Pastor wins fight against Pictou council | An evangelical Christian pastor has won his battle with the town of Pictou over the right to stage a religious play (Canadian Press)
Performing pastor wins discrimination case | The town of Pictou, N.S., has been ordered to pay damages to an evangelical pastor for opposing the public performance of his religious play. (CBC, Canada)
Saying nothing is torture in itself | Are Americans OK with using religious humiliation as tools of war? How about religious torture? (Jeff Jacoby, The Boston Globe)
Torture chicks gone wild | What good is it for President Bush to speak respectfully of Islam and claim Iraq is not a religious war if the Pentagon denigrates Islamic law? (Maureen Dowd, The New York Times)
Christians on PalTalk chat service tracked by radical Islamic web site | A radical Islamic Web site systematically tracks Christians on PalTalk.com, an Internet chat service on which a New Jersey man received a death threat two months before he and his family were murdered (The New York Sun)
Web site probed in family's killing in Jersey City | It reportedly had photos of a victim who had had heated instant-messaging exchanges on religion (Associated Press)
Chat rooms | FBI looks at radical Islam site in family massacre (The Jersey Journal, N.J.)
Voices of reason, prayers in wake of horrible crime | About 150 people from New Jersey and New York assembled for a prayer vigil to remember the Egyptian immigrant family that was found bound, gagged and stabbed inside the Oakland Avenue home only two weeks ago (Jersey Journal, N.J.)
Bribery scandal engulfs Greek church | Greece's top Orthodox clerics were in an emergency meeting last night aimed at limiting the fallout from the biggest scandal to engulf the church in decades. (The Independent, UK)
Father accused of murdering daughter, 7, while at school | All day Thursday in this quiet Orange County village, parents were gripped with fear and confusion about how a 7-year-old girl could have been killed in a bathroom at a Roman Catholic school. Then on Friday, word spread that the girl's father, the son of a former police chief, had been arrested and charged in her stabbing death. (The New York Times)
State bars sales of investments by couple | Regulators issue an order against two suspected of scamming black church members (Los Angeles Times)
Ex-staffer accused in church theft | A former Southlake Boulevard Presbyterian Church employee is accused of taking more than $100,000 from the congregation and using it to pay her car and cellular phone bills and other personal expenses, according to a police report (Ft. Worth Star-Telegram, Tex.)
Preacher accused in $9m church scam | Kennard, 46, was charged with bilking nearly $9 million from 1,600 churches in 41 states in just over a year. His month-long trial on 132 counts -- from money laundering to tax evasion to mail fraud -- ended Thursday and his fate now lies with a jury, which was scheduled to begin deliberations Friday. (Associated Press)
Bush's words closely sifted | "I'm very frightened by the trend in our government that right-wing evangelicals are pursuing their own agenda," she said. "They say there's a gay agenda? What about the right-wing agenda? There is no gay agenda." (The Saginaw News, Mich.)
Speech pleases conservative evangelicals | Conservative evangelicals who want social issues at the top of President Bush's agenda said Wednesday that they were heartened by his call for a "culture of life" and his support for an amendment to ban gay marriage. (Dallas Morning News)
The kingdom of heaven | Christians need to be extremely wary of the political rhetoric they are hearing these days. A political "kingdom," the United States of America, is claiming to be what it is not—the Kingdom of Heaven. There is no Biblical evidence for this idea. (Marcus Sheffield, The Chattanoogan, Tenn.)
Religious groups' political divide here to stay, expert says | Survey shows `surprising' polarization, says director of UA's Bliss Institute (Akron Beacon Journal, Ohio)
Americans used faith factor in choosing their president | Voter faith — or the lack of it — made a strong imprint in the 2004 presidential election, according to a survey released yesterday by the Pew Forum on Religion & Public Life. (Washington Times)
'U.S. should be open to God's priorities' | President Bush yesterday said that affirming God's supremacy "is particularly appropriate in the heart of a capital built upon the promise of self-government" and called for "opening ourselves to God's priorities" at the National Prayer Breakfast. (Washington Times)
Poll: Catholics favored Bush over Kerry | John Kerry managed the best showing in decades for a Democratic presidential candidate among mainline Protestants, but his failure to capture a majority of Roman Catholics -- people of his own faith -- gave President Bush an important advantage in last November's election, according to a new survey. (Associated Press)
"I'm the one who makes the noise" | Patricia Watkins is called The Evangelist, and not just because she's a Pentecostal minister. She chases drug dealers from the streets and wins legislative victories in Springfield. (Chicago Tribune Magazine)
In the name of faith | The Festival of Blessings organised by the supporters of millionaire televangelist Benny Hinn in Bangalore provides an opportunity for the Sangh Parivar to further its communal politics (Frontline)
Study finds religious polarization in U.S. voters | Voters in last year's presidential election showed a new polarization within some religious faiths, a fact that may make it all the harder for Democrats to recapture the White House, according to a report released on Thursday. (Reuters)
The Message | The theory that faith and family values, red-state style, were the determining factors in the 2004 election may be overly simplistic, but local lawyer turned radio personality Dan Caplis detects plenty of merit in it. (Westword, Col.)
Why Ruth Kelly's faith and her politics cannot be separated | Opus Dei? Ruth Kelly? The Da Vinci Code? The Secretary of State for Education? (Matthew Parris, The Times, London)
Religion & politics in Australia:
Surprise party turns out in force | Family First, the conservative Christian party that took the nation by surprise at last year's federal election, has arrived in force in Western Australia, fielding up to 40 candidates in the state poll. (Townsville Bulletin, Australia)
God gets a stake in affairs of state | Australia's holy war began under lights at the Sydney SuperDome. The combatants did not know it at the time, nor did the 20,000 strong crowd who poured in on this winter's night to celebrate the annual conference of the Hillsong Church. (The Australian, Australia)
National defies the religious and racial censors | The National Theatre said yesterday that it would defy all attempts by religious pressure groups to censor its dramas as it unveiled a hard-hitting slate of plays for the next 12 months. (Telegraph, UK)
Seminary student killed in Iraq | Preacher's son was member of Marine Reserve unit on patrol (The Charlotte Observer, N.C.)
Videos show Guantanamo prisoner abuse | Videotapes of riot squads subduing troublesome terror suspects at the U.S. prison camp at Guantanamo Bay show the guards punching some detainees, tying one to a gurney for questioning and forcing a dozen to strip from the waist down, according to a secret report. One squad was all-female, traumatizing some Muslim prisoners. (Associated Press)
Iraq faces prospect of civil war | In another recent ethnic incident, a Christian demonstrator was so severely beaten up by Kurdish political party workers, he is still in the hospital, Isho said. Christians protested Monday near the northern city of Mosul, complaining that an estimated 150,000 did not get a chance to vote because ballot boxes never arrived. (UPI)
Iraqi refugees overwhelm Syria | Migrants who fled violence put stress on housing market, schools (Washington Post)
Iraqi Christians claim their votes blocked | Even as Iraqi Muslims proclaimed Sunday's elections a success, the Christians of that country complained that they were prevented from voting both in Iraq and in the United States. (Decatur Daily, Ala.)
Iraqi Christian voters hope for security | Christians, mainly Chaldean-Assyrians and Armenians, make up just 3 percent of Iraq's 26 million people (Associated Press)
A republic, if they can keep it | Yet when it comes to the protection of minority rights, no group seems to have clean hands. According to Yonadam Kanna, a leader of the Christian minority in Iraq, 250,000 Christians were prevented from voting on Sunday — by the Kurds. As Kanna put it, "This latest episode denying the ChaldoAssyrians their right to vote is another step towards cleansing Iraq from the indigenous ChaldoAssyrian Christians." (The Day, Conn.)
Iraqi Christians claim their votes blocked | Christian Assyrians, 1 million of whom reside in Iraq, claim that Kurdish officials in North Iraq blocked the delivery of ballot boxes from Assyrian-dominated villages, leaving many Assyrians disenfranchised (Decatur Daily, Ala.)
Results, attacks raise concerns | A Shiite Muslim group led by clerics dominates partial results, while many complain about religious threats and voting irregularities. (Knight Ridder)
Israel to speed immigration for Jews in Ethiopia | At least 15,000 Ethiopian Jews will be brought to Israel by the end of 2007 under an accelerated immigration process. (The New York Times)
Playing the Holocaust card | Jewish organizations and advocates of Israel fail to grasp that they are no longer viewed as the voice of the disenfranchised. Rather, they are seen as a global Goliath, close to the seats of power and capable of influencing policies and damaging reputations. As such, their efforts to raise the alarm increasingly appear as bullying. (Ami Eden, The New York Times)
One of Afghanistan's last two Jews buried | Ishaq Levin, one of Afghanistan's last two Jews, had said he feared dying alone in Kabul without a Jewish funeral. On Wednesday, surrounded by his wife, children, grandchildren and siblings, he was interred in the most revered Jewish burial site on Jerusalem's Mt. of Olives. (Associated Press)
Stolen churches, stolen Jews | In the old Juderia, or Jewish district, of Segovia, Spain, the Corpus Christi church sticks out like a sore thumb and, as it turns out, not without good reason. (Michael Freund, The Jerusalem Post)
US convinced of Darfur 'genocide' | The US is standing by its claim that Sudan is committing genocide in the Darfur region, despite a UN report stopping short of using the term (BBC)
Marketing Darfur | Can a professor's struggle lessen the death toll? (Sebastian Mallaby, The Washington Post)
U.N. clears Sudan of genocide in Darfur | Sudan's government and the Janjaweed militia are not guilty of genocide but did commit mass killings, torture, rape and other atrocities in the Darfur region that merit trials in the International Criminal Court, a U.N.-appointed panel said in a new report. (Associated Press)
New UN report on Darfur triggers US-Europe division | A key report on war crimes in Sudan's Darfur region is triggering an intense diplomatic battle between the United States and Europe on how to prosecute perpetrators of pillage, slaughter and rape. (Reuters)
UN mistaken in failing to find genocide, say Darfur rebels | "If this report says there is no genocide in Darfur then we reject this report," Justice and Equality Movement (JEM) leader Khalil Ibrahim told Reuters by telephone from his headquarters in the Eritrean capital Asmara (Reuters)
UN rules out genocide in Darfur | A UN report has said Sudan's government and its militia systematically abused civilians in Darfur - but it stopped short of calling the violence genocide (BBC)
U.N. panel finds no genocide in Darfur but urges tribunals | A U.N. commission investigating atrocities in Sudan has concluded that the government did not pursue a policy of genocide in the Darfur region but that Khartoum and government-sponsored Arab militias known as the Janjaweed engaged in "widespread and systematic" abuse that may constitute crimes against humanity (The Washington Post)
U.N. finds crimes, not genocide in Darfur | A U.N. commission reported that the crimes in Darfur, Sudan, should be sent to the International Criminal Court for prosecution (The New York Times)
Annan warns Sudan to stop Darfur killing | U.N. Secretary-General Kofi Annan on Wednesday demanded speedy prosecution of Sudanese officials and militiamen guilty of crimes against humanity in Darfur, as members of the Security Council came under renewed pressure to put teeth into threats punish those responsible. (Associated Press)
U.N. report on Sudan draws mixed reaction | Leaders decry call for war crimes trials (The Washington Post)
Commandments' day of Reckoning | A man claiming to represent an athiest organization says his group will bid against Earl Myler's company if the Montgomery County Commissioners endorse Myler's proposal to sell part of the courthouse lawn for a Ten Commandments monument (Journal Review, Crawfordsville, Ind.)
Swanton council may add prayers | ACLU tells officials to choose carefully (Toledo Blade, Oh.)
First Amendment no big deal, students say | When told of the exact text of the First Amendment, more than one in three high school students said it goes "too far" in the rights it guarantees (Associated Press)
Divorce ties Chile in knots | Since Chile became the last country in the Western Hemisphere to legalize divorce, almost nobody is lining up outside the courts, except lawyers (The New York Times)
Colo. town official sues to stop recall | David Habecker says his colleagues are unfairly targeting him for recall over his refusal to recite the Pledge of Allegiance at board meetings (Associated Press)
Administration sticks up for commandments | Outside groups are weighing in as the Supreme Court prepares to hear argument this spring on whether the Ten Commandments can be displayed on government property (UPI)
'Lot's Daughters': Sodom and Lewinsky | Forget the Oedipus complex. The Lot complex says more about the world we live in, argues Robert M. Polhemus (The New York Times Book Review)
Atheist group may bid for plot of courthouse lawn | Businessman wants site for Ten Commandments monument (Associated Press)
Whose common ground? | Despite a campaign that hinged on foreign policy and a candidate who couldn't speak straight, many have decided the culprit is abortion. And they're shopping for "common ground" (Ellen Goodman, The Boston Globe)
Abortion debate takes on a new life of its own | There seems to be lot of talk for a discussion we're not really having (Miranda Devine, Sydney Morning Herald)
How we could have a real abortion debate | Those inciting this "debate" aren't asking enough questions. (Amanda Dunn, The Age, Australia)
Teachers support advice on abortions | Two out of three secondary teachers believe sex education should contain advice for pupils on how to obtain an abortion, according to a survey published today. (Daily Telegraph, UK)
The abortion issue and its many shades of grey | Those seeking to revive a painful and divisive debate should be open about their motivation. (Editorial, The Age, Australia)
War sometimes necessary before peace can be achieved | Does God say war is a sin? Last week in his column George Valko challenged the "pro-life" Christians with a difficult question. How they can be so adamantly opposed to abortion and yet support a war? Doesn't God say war is a sin? How can these two views ever go hand-in-hand? (Amanda Hooper, Bowling Green News, Ohio)
Planned Parenthood chief criticizes Kerry | Gloria Feldt, commended her anti-abortion adversaries Tuesday for their political skills and criticized ally John Kerry for an ineffective defense of abortion rights during his losing presidential campaign (Associated Press)
Once-conservative Adelphia adds hard-core porn to cable | Porn is suddenly sexy to a cable TV company once considered the industry prude (Los Angeles Times)
Don't decide my sex for me | When 'H.' was born, her male genitalia were underdeveloped, a syndrome known as intersex. When she was 11, the doctors decided to turn her into a woman. She hopes others can decide their gender for themselves (Ha'aretz, Israel)
'If you don't take a job as a prostitute, we can stop your benefits' | A 25-year-old waitress who turned down a job providing "sexual services'' at a brothel in Berlin faces possible cuts to her unemployment benefit under laws introduced this year (The Telegraph, London)
New taxes, stricter rules proposed | Owners of strip clubs and adult bookstores said they might be run out of business in Missouri if a bill that a Senate committee approved Wednesday night becomes law. "Everything about the bill has been designed to run these businesses out of the state," said Dick Snow, a co-owner of Bazooka's Showgirls, a nude dance club in Kansas City. "It looks to me like this entire bill was downloaded from an evangelical Web site for right-wing legislators." (The Kansas City Star)
One in 100 US deaths is related to sexual behaviour | More than one in every 100 deaths in the United States can be attributed to sexual behaviour, according to a new study. Rates of illness and premature death attributable to sexual behaviour in the United States are triple the rates in other wealthy nations, the authors say. (British Medical Journal)
Gentle into that good night | Supporters of euthanasia claim that terminally ill people often die in agony. (The Tablet, UK)
Judge rules not to resuscitate baby despite some improvement | The parents of Charlotte Wyatt, a 15 month old brain damaged baby at the centre of a battle over treatment to prolong her life, failed last week in their attempt to persuade a High Court judge to lift his earlier order authorising doctors not to ventilate her if her condition worsens. (British Medical Journal)
Gypsy women launch claim following sterilization | Gypsy women in the Czech Republic who claim they were coerced into being sterilised by doctors are to launch the first claims for damages with courts this month. (British Medical Journal)
Catholic Kelly stands by stem cell policy | Ruth Kelly, the Education Secretary, said yesterday that her strong Catholic beliefs would not affect her readiness to implement Government policy on stem cell research (The Telegraph, London)
Kelly toes Cabinet line on stem-cell research | Ruth Kelly yesterday put the doctrine of collective Cabinet responsibility ahead of the doctrines of Roman Catholicism by making plain that she will back stem-cell research (The Times, London)
Sex and the single robot | "Christians may not like it, but we must consider this the origin of an artificial species," says Kim Jong-Hwan, the director of the ITRC-Intelligent Robot Research Centre (The Guardian, London)
Use of Bible in death penalty case argued | The law requires jurors - not God - to decide whether a convicted murderer should be put to death, a defense attorney told the Colorado Supreme Court on Tuesday (Rocky Mountain News, Denver)
Marrow has cells like stem cells, tests show | Researchers in Boston have isolated a kind of cell from human bone marrow that they say has all the medical potential of human embryonic stem cells -- a claim that, if verified, could shake up the debate over human embryo research that has divided the country for the past six years (The Washington Post)
Save Terri Schiavo | Gov. Jeb Bush and the Florida Legislature may not know it, but they acted in the spirit of Sir Philip Sidney when they tried to save the life of Terri Schiavo (Terence P. Jeffrey, The Washington Times)
Fighting poverty is a local 'moral value' | It should be our top priority (La Cross Tribune, Wi.)
Archbishop tells Church to help save the planet with green policies | The Church of England is embarking on a green revolution, rolling out an eco-friendly policy under which organic bread and wine will be served for Holy Communion, clergy will recycle waste products and fair trade products will be sold at fêtes. (Independent, UK)
Doing unto others | Colman McCarthy reviews Charles Marsh's The Beloved Community: How Faith Shapes Social Justice, from the Civil Rights Movement to Today (The Washington Post)
Theologian attempts to link faith, social justice | If faith-shaped beloved communities exist, as theologian Charles Marsh ardently and reverentially argues, one of them surely isn't the Southern Christian Leadership Conference (Colman McCarthy, Ft. Wayne Journal Gazette, Ind.)
Heroes of the faith: Searching for answers | Searching for answers in the 'Beloved Community' (Charlottesville Daily Progress, Va.)
'God's politics' | Last year, The Reverend Jim Wallis of Call to Renewal and "Sojourners" magazine joined with Riverside Church's Reverend James Forbes and Reverend Bob Edgar, General Secretary of the National Council of Churches in the U.S.A., on a "Rolling to Overcome Poverty Bus Tour." Their message to people across our nation was that ending poverty needs to be a top national and bipartisan commitment. (Marian Wright Edelman, Topeka Capital Journal)
Evangelical who disdains politics of fear offers plowshare alternatives | Steve Duin reviews God's Politics by Jim Wallis (The Oregonian)
Millard Fuller ousted from Habitat:
Reinstatement of Habitat founder urged | The firing of Habitat for Humanity founder Millard Fuller has shocked volunteers nationwide who say he is instrumental in fund raising and has inspired them to carry out the group's mission of building homes for the poor. (Associated Press)
Habitat founder, wife dismissed | The man who built Habitat for Humanity International from an idealistic dream born in rural Georgia into one of the world's best-known nonprofit organizations was fired Monday afternoon (The Atlanta Journal-Constitution)
Habitat founder: Chapters want me back | The founder of Habitat for Humanity, fired over a dispute involving a sexual harassment allegation, says his dismissal has outraged many of the housing ministry's local chapters, and he predicts they will demand his reinstatement (Associated Press)
Habitat for Humanity fires its founder | In a statement, the board's executive committee said it found insufficient evidence to substantiate the sexual harassment allegations stemming from a 2003 business trip, but it cited Millard Fuller's lack of cooperation with the investigation (Associated Press)
Habitat for Humanity dedicates newest home | Patuxent Habitat for Humanity held a ribbon-cutting Saturday for a new house built by the local affiliate's volunteers in California. (Washington Post)
Strife-ridden black Baptists reconcile | Four black Baptist groups whose churches were a training ground for prominent civil rights leaders, but split partly over how that fight should be waged, said Friday they were embarking on a new era of cooperation meant to put the concerns of their community atop the national agenda. (Associated Press)
Church coalition taps goals for blacks | Pasadena pastor among leaders (Pasadena Star-News)
Bush reaches out to blacks | The GOP has been courting black clergy since President Bush's first term, with its federal funding of faith-based projects and regular kaffeeklatsches for black pastors. Now that courtship is bearing fruit. (Editorial, Los Angeles Times)
A socio-political gambit | This being Black History Month, the mainstream media usually makes sure it reports as much as possible about positive things that black folk have done and are doing. But, I presume, when such things involve conservatives, even black folk get slighted. (Deborah Simmons, The Washington Times)
Intelligent Design & evolution:
Doubting Darwin | How did life, in its infinite complexity, come to be? A controversial new theory called 'intelligent design' asserts a supernatural agent was at work. (Newsweek)
Evolution takes a back seat in U.S. classes | In districts around the country, even when evolution is in the curriculum it may not be in the classroom. (The New York Times)
Creationists at the gate | Genesis has a place in comparative religion classes, not public school science classes (Editorial, The Boston Globe)
Darwin put to flight in Bible Belt | The Republican "red states" that voted for President George W Bush in America's Bible Belt are claiming their reward in an unexpected area: rolling back the teaching of evolution in schools (The Times, London)
Cobb evolution case draws offers of help | The Cobb County school board has a standing offer of help and money from a powerful Christian legal group as it appeals a federal court ruling banning its textbook disclaimers about evolution. (The Atlanta Journal-Constitution)
Two sides battle over the teaching of evolution | The conservatives who attacked evolution because it conflicted with the Genesis account of how the world was created have faded into the background. In their place are professionals such as Harris who support intelligent design, a theory that states some aspects of the universe and living things are best explained by intelligent causes, not chance. Darwin's theory of evolution doesn't always add up, they say, and students should hear more about its shortcomings. (Knight Ridder)
Inherit the windbags | Do male nipples prove evolution? Not at all, according to a Web site for a planned Creation Museum devoted to showing that the Bible is literally true. (Maureen Dowd, New York Times)
Schools choosing health textbooks | As high school students across Texas open their health education textbooks in August, a new era of sex education will emerge. The explicit descriptions of sexually transmitted diseases such as gonorrhea and genital warts are still there, but gone is the plain-talk about condoms and contraception. Instead, woven throughout the books is a strong emphasis on abstaining from sex. (Star-Telegram, Fort Worth, Texas)
Schools official assails 'gay lifestyle' | Fairfax letter urges revisions to teaching (Washington Post)
Debate flares over teaching kids tolerance | Cartoon characters adored by kids seized the spotlight in the latest flare-up of America's culture wars, but the debate itself poses serious questions for adults involving the depiction of gays and lesbians in materials for teaching children about diversity and tolerance. (Associated Press)
Catholic school challenges enrollment of gay couple's sons | Parents at a Catholic school in Orange County, Calif., are challenging a gay couple that has put their adopted twin sons into a Catholic kindergarten. The parents are concerned that the children may be part of a broader strategy to create greater tolerance for homosexuality within the church (Morning Edition, NPR)
Educator reflects on firing | Local Christian school headmaster of 13 years says she's unclear why her contract was terminated recently (Daily Pilot, Newport Beach, Ca.)
The Rev Professor Peter Ackroyd dies at 87 | Old Testament scholar taught at Leeds University and Cambridge before becoming the Samuel Davidson Professor of Old Testament Studies at London University, occupying the chair for more than 20 years (The Telegraph, London)
Their leap of faith | Developmentally disabled children learn of religion (The Boston Globe)
Dismissal of teacher's suit sought | Attorneys for the Cupertino Union School District asked a federal court to dismiss a lawsuit filed by an "orthodox Christian" fifth-grade teacher who argued that he has a 1st Amendment right to give students handouts about the American founders' religious beliefs (Los Angeles Times)
Flashpoint: religious materials in class | Christian teacher in Cupertino, Calif., public school files federal lawsuit alleging discrimination after being ordered to stop handing out religious documents in classroom (Associated Press)
College to allow screening of controversial movie | A Fort Pierce community college will show the movie "The Passion of the Christ." (WPBF, Fla.)
Bias in ivory towers | The absurdity of academics jumping to the defense of the professor is that it now seems intellectually acceptable to call American people Nazis, but please do not call them Christians. (David Cowan, The Washington Times)
Bible deserves place in world of academia | A new translation of the Bible has received attention in the news recently. The new "gender accurate" version released by the Today New International Version will replace archaic terms such as "with child" to "pregnant." Loaded words such as "men" will be changed to "men and women." The effort is being made to make the Bible "more accessible" to younger readers. (Benjamin Peisch, Bowdoin Orient, Maine)
Conservatives censored on college campuses? | Free speech movement finds new group of supporters (World News Tonight, ABC)
Christian groups sue universities nationwide | Since 2000, a flood of controversies, protests and lawsuits has pitted Christian student groups against universities' nondiscrimination policies, rocking campuses across the nation. (Stanford Daily)
Passing the torch at Bob Jones U. | Mindful of the MTV generation, Bob Jones III steps aside so his son may run the fundamentalist Christian school (Newsweek)
Peer review | Baylor's president will become its chancellor; LSU faculty senate votes down effort to get new president to spurn tenure; Bob Jones III hands university presidency to his son (Chronicle of Higher Education)
Ministers en route to Super Bowl to help Protestant Eagles | Two ministers from the Living Faith Christian Center are headed to Super Bowl XXXIX. They're not going as fans, however. Theodore Winsley and Lamont McLean provide spiritual counseling and guidance to the Eagles' Protestant players. They will be in Jacksonville to minister to them before Sunday's game. (Courier-Post, N.J.)
In Jacksonville, faith, hope and charity at a Super Bowl | In a city where the daily paper prints quotations from the Bible on its editorial page, David Garrett is trying to infuse his faith into the week of celebrations that culminate Feb. 6 with Super Bowl XXXIX between the New England Patriots and the Philadelphia Eagles (The New York Times)
Referring to faith is hardly unusual | Philadelphia Eagles wide receiver Terrell Owens, out of action the past seven weeks with a broken bone and severe sprain in his right ankle, had plenty of people telling him this week that he shouldn't play in Sunday's Super Bowl. But as far as Owens was concerned, even the opinion of his doctor, Baltimore surgeon Mark Myerson, didn't matter more than the opinion of a higher power. (Baltimore Sun)
Owens: God says he'll play in Super Bowl | God, apparently, is an Iggles fan (Minneapolis Star-Tribune)
Is God Owens' orthopedist, too? | Receiver's invoking deity is insulting to many Mike Celizic, NBCSports.com)
Players use prayer to reach their Sunday best | As many as one-third of players are openly devout, say observers (The Christian Science Monitor)
Faith wins a faceoff | A local couple has turned a low-level junior team into a model of decorum on a wing and a prayer (Pioneer Press, St. Paul, Minn.)
Showing their spirit: a look at athletes and religion | As more athletes publicly express their faith, how are fans of different backgrounds supposed to feel when baseball star Sammy Sosa points his index finger to the heavens before he steps into the batter's box? (The Seattle Times)
In sports, God is always in the game | Christian ministries threaded through athletic world (MSNBC)
Leung discovered new life as Christian | After her senior year in high school, Syracuse freshman Pearly Leung needed a change. Instead of pursuing the college experience, she followed a new calling across the world - Christianity. (The Daily Orange, N.Y.)
When faith steps out of bounds | Divisions over religion can destroy a team (MSNBC)
Ad reaction claims Super Bowl casualty | Ford canceled a spot for a new Lincoln truck, scheduled for the second quarter of Super Bowl XXXIX on Sunday, because of charges from an advocacy organization that it exploited the sex scandals embroiling the Catholic Church. (New York Times)
Ford pulls lustful Super Bowl car ad | Ford Motor Co. on Wednesday yanked a planned Super Bowl advertisement that depicts a clergyman tempted by a new pickup truck after some victims of clergy sex abuse complained it made light of their trauma. (Associated Press)
Mustang ad to replace ad withdrawn by Ford | The Ford Motor Company will replace a commercial for a new Lincoln pickup that it withdrew from Super Bowl XXXIX with a spot for the Ford Mustang. (The New York Times)
Ungodly Saudi missionaries | Muslims in the United States should "behave as if on a mission behind enemy lines." Not the admonition of a crank or a freak from the lunatic fringe, but Saudi-funded religious pamphlets distributed to mosques throughout America (Arnaud de Borchgrave, UPI)
Education watchdog attacks Muslim schools | Britain's education watchdog Ofsted has criticized Muslim faith schools for not teaching tolerance and social participation -- comments that have angered some in the Muslim community. (UPI)
The silence of the feminists | Why don't left-leaning Western women speak up about abuses in the Islamic world. (Pamela Bone, The Age, Australia)
Sermon series to focus on 'hot button' issues | Each sermon will present two predominant sides to each issue, the official United Methodist position and, finally, Gaughan's own perspective. (Sun Publications, Minn.)
Female pastor finds home in Gerald church | Stephanie Spitzer was finishing her last year at Baylor University's George W. Truett Theological Seminary when she realized her progressive spirit and gender were roadblocks on her journey to minister to a Baptist congregation. (Waco Tribune Herald, Texas)
Some 13 percent of male pastors still against female clergy | Opposition to female clergy in decline; local disputes more embittered these days (Helsingin Sanomat, Finland)
Deadline looms for St. Louis Polish parish | Members of a Polish parish faced a Friday deadline to turn over control of the parish's estimated $9 million in assets to the St. Louis Archdiocese, which through an oddity dating to the 1890s has been denied control of them. (Associated Press)
Bethel Lutheran's prayers answered | The combination of two churches in an attempt to strengthen community ties and establish a consistent presence took place Jan. 30 at Bethel Evangelical Lutheran Church. (Vulcan Advocate, Canada)
Getting Jiggy for the Lord | Worshipping has a variety of ways it can be done by Christians to better their relationships with God. The Miracle Saints Entebbe group has chosen performing arts to do it. The Saints have developed a variety of dance styles to communicate to God, and at the same take the scripture to the youth. (The Monitor, Kampala)
City renews permit for Celebration Church to hold services at Cambier Park | Every Sunday morning, members of the Celebration Community Church holds prayer meetings in Cambier Park's band shell. They will continue to do so for another year, thanks to the Naples City Council. (Naples Daily News, Fla.)
Putting down roots | Amish find a home in rugged Maine (The Boston Globe)
Rite of passage | Metropolitan Anthony Gergiannakis wished to be buried at a Greek Orthodox monastery nestled in the Fresno County foothills. With the Legislature's help, his wish may come true (Fresno Bee, Ca.)
Potlucks in peril | Last year, there were 40 food-borne illness outbreaks in Wisconsin. Only four were related to potlucks (WISC, Madison, Wi.)
Clergy oppose plan to limit health care | Pawlenty says other priorities need funds (Pioneer Press, St. Paul, Minn.)
Bellevue church votes to not host Tent City 4 | Members of Aldersgate United Methodist Church cited neighborhood concerns and safety of children enrolled at a church preschool (The Seattle Times)
Is NE area getting too much religion? | Churches spur complaints in Deanwood (Washington Post)
Rwandan bishop's visit here underscores division | The Anglican Church of the Resurrection here split off last year from the Episcopal church, in the wake of the consecration of a gay bishop. (St. Louis Post-Dispatch)
To kneel or not to kneel | What the Church of England teaches about kneeling before the Sacrament is by no means clear, despite, or perhaps because of, a long rubric in the Book of Common Prayer (Christopher Howse, The Telegraph, London)
New Anglican bishop to be consecrated on Sunday | Anglican Bishop-elect, Trevor Mwamba is to be consecrated and enthroned in what promises to be the biggest ceremony in the church's history this Sunday. (Mmegi/The Reporter, Gaborone)
Under bill, Virginia Episcopal church may secede:
Virginia bill would alter rules on church property | A bill before the Virginia Senate has alarmed the Episcopal Church and other mainline Protestant denominations that are deeply torn over the ordination of gay ministers and the blessing of same-sex marriages because, they say, the measure would give local congregations unprecedented powers to break away from their national denominations (The Washington Post)
Senate may skirt church property measure | Critics allege that the bill is a ploy to let angry Episcopalians take over church property and leave the denomination. (The Roanoke Times, Va.)
Taking Sides | You might expect that in its short legislative session the Virginia General Assembly would have more important business than intervening in internal arguments within the Episcopal Church over gay rights. But a bill pending in the state Senate would make it far easier for Episcopal congregations upset at the church's consecration of a gay bishop in New Hampshire to bolt from the national church yet keep their buildings and property. (Editorial, Washington Post)
Virginia bill would alter rules on church property | A bill before the Virginia Senate has alarmed the Episcopal Church and other mainline Protestant denominations that are deeply torn over the ordination of gay ministers and the blessing of same-sex marriages because, they say, the measure would give local congregations unprecedented powers to break away from their national denominations. (Washington Post)
Va. Episcopalians might go their own way | Congregations could secede under bill (USA Today)
Ancient church found | The site of a nearly 1,000-year-old church has been found in Skien, making it likely Norway's oldest. Norway may have been converted to Christianity far earlier than believed. (Aftenposten, Norway)
Dig may have found ancient monk's home | Archaeologists may have found the home of St Baldred of the Bass, one of the best known monks of 8th century Scotland (The Scotsman)
'A beautiful edifice for downtown' | Archdiocese blesses the site of $32 million house of worship (Houston Chronicle)
Light shines in Wesley's chapel | The people that dwelt in darkness - or at least those who attend John Wesley's first chapel in Bristol - have seen a great light (The Guardian, London)
North-west acts of faith save £95m | The parish cake sale or sponsored swim has just got serious. According to a report, voluntary and charitable work by faith groups in the north-west are worth nearly £95m to the region every year. (The Guardian, UK)
Praise the Lord and pass the surf wax | A number of hands rose up in the Community Campus auditorium last week when a teenage surfing evangelist called upon members of the sell-out crowd to "Noah's Ark" to "wash away our sins in the blood of Christ." (Idaho Mountain Express and Guide)
Evangelist disputes relief complaints | Foundation claims the right price could have diverted mission (Houston Chronicle)
Church combs Salvadoran city for hungry and homeless | Huddling with her daughters against the nighttime chill amid black plastic trash bags, Norma Reyes hears the sounds she's been waiting for: a caravan of cars, voices launching into Christian hymns and scattered applause. (Associated Press)
With nun's body gone, former outcasts grieve | Mother Marianne was a Franciscan missionary from Syracuse, who died in 1918 after serving nearly 30 years here in a leper colony where thousands of Hawaiians were banished for life. A voluntary resident of what is now known as "the settlement," Ms. Watanuki is among the final keepers of Mother Marianne's memory in a place where most memories are better left forgotten. (The New York Times)
Provide aid, not ideology | But my minder from World Vision was a splendid Muslim, who had served in the British army with distinction, and who said a Christian grace at every meal, out of deference to my religious convictions. I was also impressed by the World Vision office in Dhaka, the capital, where Hindus and Muslims were plentiful members of staff, Christians being few on the ground in a predominantly Muslim country. (James Murray, The Australian, Australia)
Antioch pastor defends global mix of relief, religion | Antioch Community Church leaders insist they weren't seeking attention when they dispatched aid workers to tsunami-ravaged regions to share worldly goods and heavenly promises (Waco Tribune-Herald, Tex.)
Disaster aid furthers fears of proselytizing | For countries with thousands left homeless and bereft by the tsunami, the outpouring of help from around the world is a godsend. Yet in some nations, the growing presence of faith-based agencies dispensing the aid is posing another challenge - stirring tensions already simmering around evangelism and anti-Christian violence (The Christian Science Monitor)
Tsunami counseling started in Sri Lanka | Sri Lankan leaders asked to identify teachers, priests, nuns, clerics and others who were educated and mature enough to receive a crash course in dealing with trauma (Associated Press)
Healer in a broken land | A Maryland psychologist tends to the tsunami's psychic wounds (The Washington Post)
Mission to shelter orphans stymied | After tsunami, costs skyrocket (The Washington Post)
Protests back tsunami claim | Islamic militants in Morocco defied King Mohammed VI at the weekend by rallying behind claims that the country faced an Asian-style tsunami as punishment for immorality (The Telegraph, London)
Morocco protest over tsunami row | Thousands of people have demonstrated in support of a Moroccan newspaper which claimed that the tsunami was an act of divine retribution (BBC)
Too many volunteers in Phuket? | While villagers are welcoming volunteers and their help, one of the growing concerns now is towards the Christian groups that are trying to angle for new converts (UPI)
Evangelists set aside recruiting to spread a message of love | When the waves hit, Global Action wasted no time. Its employees and graduates live in or near places affected, and the group had a direct link to many supporting churches looking for ways to send money. (The State, S.C.)
AIDS:
U.S. is close to eliminating AIDS in infants, officials say | In 1990, as many as 2,000 babies were born infected with H.I.V., the virus that causes AIDS; now, that number has been reduced to a bit more than 200 a year, according to health officials (The New York Times)
African-Americans and the AIDS conspiracy | Casting suspicion on the CIA and other not entirely unreasonable suspects doesn't deter the spread of HIV among African-Americans, nor provide a plausible excuse for lax behavior. (Jabari Asim, The Washington Post)
Cardinal says condoms could help to stop Aids | A senior Vatican official has supported the use of condoms to fight Africa's Aids pandemic, contradicting the Catholic church's official position. (The Guardian, London)
Bridging the great divide | I've participated in interfaith services before, but none like this. (Colbert I. King, The Washington Post)
Shortfall drives interfaith group's downsizing | Decreased donations affect hires, workshop. (The Washington Post)
Experts dispute Bush on gay-adoption issue | Experts say there is no scientific evidence that children raised by gay couples do any worse - socially, academically or emotionally - than their peers raised in more traditional households (The New York Times)
Gay father seeks to lift restrictions in child custody case | A court ruling forcing a gay father's partner to move out of the house where the father is raising his 12-year-old son "has been so negative for the child in so many ways," the father's lawyer said Monday (Associated Press)
Are two mums better than one? | Oliver James examines a raft of studies which consider the impact of having a lesbian mother (The Observer, London)
Virginia lawmakers weigh marriage amendment | Lawmakers in Virginia this week are expected to endorse several measures in support of traditional marriage, a move they say is necessary because they believe the institution is under attack (The Washington Times)
House okays 'Traditional Marriage' plates | The House approved a bill that would create a special "Traditional Marriage" license plate for Virginia motorists (The Washington Times)
Earlier: Marriage license plate gets okay | Lawmakers gave preliminary approval to a bill that would create a special license plate for supporters of traditional marriage, despite objections from Democrats who said the bill was unconstitutional (The Washington Times)
Kansas sets April vote on marriage | The Kansas House of Representatives yesterday approved a constitutional amendment that defines marriage only as the union of one man and one woman, and outlaws civil unions. (Washington Times)
Utah Senate rejects attempt to soften gay 'marriage' ban | After amending the state constitution last year to define marriage as the union of a man and a woman, Utah legislators are in no hurry to limit the effects that the homosexual "marriage" law could have on other kinds of domestic partnerships. (Associated Press)
Gay marriage constitutional ban fails in conservative Idaho | A proposal to write a ban on same-sex marriage into the Idaho Constitution was defeated today for the second consecutive year. A statutory prohibition remains in force. (Associated Press)
Gay marriage ban fails in Idaho Senate | After more than an hour's debate before a packed gallery, the Idaho Senate voted 21-14 in favor of an amendment to the Idaho Constitution to ban gay marriage and civil unions—and that's not enough to pass the measure, which needed a two-thirds vote, or 24 votes in the Senate, to pass. Idaho law already bans same-sex marriage. (The Spokesman Review, Was.)
Marriage on ballot | The House on Wednesday advanced a proposal that would amend the state constitution to ban gay marriage and same-sex civil unions in Kansas. The measure passed 86-37, receiving three more votes than the two-thirds necessary. (Topeka Capital Journal, Kansas)
Same-sex marriage bill nears final vote | The Kansas House is expected to pass the amendment to the state constitution today and put it on April's ballot (The Wichita Eagle, Kan.)
Bill to fix Utah gay-marriage ban loses | After rushing to write a ban on gay marriage into the state constitution last year, Utah legislators are in no hurry to repair damage the law could deal other kinds of domestic partners (Associated Press)
Mayor faces charges for gay marriages | A judge reinstated criminal charges Wednesday against a small-town mayor who got in trouble for marrying a series of gay couples last year. (Associated Press)
Only faith groups can make a marriage | Government does not marry people. Religious communities organized into churches, synagogues, mosques and other communities of faith carry out marriages. What the government does is recognize a marriage as a civil union and extend to members of the civil union special benefits, from filing joint tax returns to joint custody of children to the rights of inheritance (George McDowell, The Roanoke Times, Va.)
Same-sex marriage debate is feeding partisan politics | Campaign ad may have helped GOP candidate defeat Democrat Gloria Dolbare (The Mobile Register, Ala.)
'Arrogant' Pettigrew blasted by Christian author | Bruce Wilkinson wars Ottawa of negative social consequences of legalizing same-sex marriage (The Edmonton Journal)
A plug for marriage that's 'traditional' | A bill that would create a "traditional marriage'' specialty license plate received preliminary approval in the House of Delegates over the objections of several Democrats, who said that it was unconstitutional and would needlessly open the state up to lawsuits. (The Washington Post)
Clergy divided on same-sex marriage issue | As the Liberal government introduced its controversial same-sex marriage bill in the House of Commons Tuesday, local clergy in Grande Prairie remained clearly split in their views on the subject. (Alberta Daily Herald Tribune, Canada)
Canada lawmakers craft gay - marriage bill | The Canadian government introduced its contentious same-sex marriage bill in Parliament on Tuesday, seeking to legalize gay marriage nationwide over the objections of the Roman Catholic Church and other conservative clergy. (Associated Press)
Liberals to speed debate on gay-marriage rights | Hope to win early vote on 'agreement in principle' by March (Toronto Star)
Churches, groups wade in | Strong reactions from both sides to divisive bill (Toronto Star)
Churches still have choices, says PM | Prime Minister Paul Martin moved swiftly yesterday to reassure religious groups his government's draft same-sex bill won't compromise their freedoms (Edmonton Sun)
Pastor appeals same-sex decision | A St. John's preacher is taking his fight against same-sex marriage to the Newfoundland Supreme Court of Appeal (CBC)
7 marriage commissioners quit posts | Immediately after a Supreme Court of Newfoundland decision that cleared the way for same-sex marriage, the provincial government notified marriage commissioners they would have to agree to abide with the law or resign (CBC, Canada)
Same-sex bill introduced in House of Commons | The Liberal government introduced its long-awaited and controversial same-sex marriage bill in the House of Commons Tuesday, containing two carefully worded sections providing protection for religious groups (The Globe and Mail, Toronto)
Church fights gay marriage bill | The Roman Catholic Church has opened a major campaign to defeat a bill that would legalize same-sex marriage across Canada (The New York Times)
Canada unveils plans to legalize gay marriage | Canada's minority government unveiled draft legislation on Tuesday to allow gay marriages, taking a political gamble on a social issue that has split the country and the ruling Liberal Party (Reuters)
Gay marriage opponents step up campaign in Canada | Opponents of Canada's plan to legalize gay marriage stepped up their protest campaign on Wednesday by arranging a mass rally and printing half a million leaflets in a bid to persuade legislators to reject the idea. (Reuters)
Canada proposes legalizing gay marriage across nation | The government acted to prevent discrimination, the prime minister says. The clergy wouldn't be compelled to preside over such unions (Los Angeles Times)
Janesville church's workshop draws protests | The Wisconsin Council of Churches is sponsoring a series of four workshops at Lutheran churches on the "history of Christian ethical reflection on issues relating to homosexuality" in light of legislative efforts, such as the one in Wisconsin, to constitutionally ban marriage between homosexuals. (Janesville Gazette, Wisc.)
United Church agrees | Many followers of Jesus wish to be in solidarity with gays and lesbians in their quest for legal marriage (Toronto Star)
It's time to teach, not harass | When `gay' means `loser,' schools have a problem to address (Editorial, Mercury News, Calif.)
Religious houses stand divided on gay marriage debate | Attitudes are even split within denominations (The Baltimore Sun)
Bishop lectures to dispel homophobia | Jack Spong goes to Stetson University (News-Journal, Daytona Beach, Fla.)
Safe harbor for gay bigotry | The hurricane of bigotry is gathering steam (Derrick Z. Jackson, The Boston Globe)
Opposing sides have much in common | The two sides shout past each other, calling for radical change, yet yearning for traditional structure. (Marc Fisher, The Washington Post)
Swede's sermon on gays: Bigotry or free speech? | Pastor challenges hate-law restrictions. (The Washington Post)
Virginia Episcopalians 'express regret' | Virginia Episcopalians voted to "express regret" for their role in ordaining a homosexual bishop in 2003 and agreed to stop ordaining such clergy "until some new consensus" emerges in the church (The Washington Times)
Billboard asserts that homosexuals can change | A national group has posted a billboard in Rockville that says homosexuals can become heterosexuals, a message critics say is misleading and only persecutes homosexuals (The Washington Times)
Homosexuality: Church in Africa not united | The Anglican Church in Africa is hoping to "move forward" from the controversies and arguments of the recent past concerning homosexuality in the church (The Nation, Kenya)
Anglican bishop urges all faiths to reject gay unions | Mombasa Anglican Bishop Julius Kalu made the clarion call yesterday, urging all religions to come out against homosexuality and lesbianism (The East Africa Standard, Kenya)
Supporters, opponents of gay rights spar at hearing | House Bill 1515 would ban discrimination against gays and lesbians in employment, housing and insurance (Associated Press)
Stations give 'Buster' episode close look | PBS-TV managers in Maine and New Hampshire said Thursday they have yet to decide whether to air a controversial episode of the popular children's cartoon show "Postcards from Buster" that is about a visit with children in Vermont whose parents are lesbians. (Maine Today, Maine)
Episode aired yesterday | Because of the significant amount of media attention focused on an upcoming episode of its children's series "Postcards from Buster," WGBH decided to move up the broadcast date of "Sugartime!" to Wednesday, Feb. 2. (Marblehead Reporter, Mass.)
Feds Vs. Buster: Secretary of Education needs a lesson on tolerance | There is a lesson about tolerance in the inane dustup between U.S. Secretary of Education Margaret Spellings, PBS, and an animated bunny named Buster. (Editorial, Detroit Free Press)
Safe harbor for gay bigotry | See Spellings run. So obvious is it what tail wags the new education secretary. Allegedly appointed to close the achievement gap and end what President Bush calls the soft bigotry of low expectations, the first loud barks from Margaret Spellings were not directed toward failing schools, incompetent superintendents, or even teachers unions. Spellings bared her teeth at lesbian mothers. (Derrick Z. Jackson, Boston Globe)
The religious right and the phantom TV cartoon threat | It appears that our cartoon characters are menacing us. They are, at any rate, if you harken to the alarms being sounded on the cultural right -- in one instance by no less than President Bush's new secretary of education, Margaret Spellings. (Ventura County Star, Ca.)
Milan bans Da Vinci parody | When a clothes company tried presenting a group of well-dressed women in a Last Supper style pose, their poster campaign was banned in Milan. (The Guardian, UK)
The year of living indecently | This repressive cultural environment was officially ratified on Nov. 2, when Ms. Jackson's breast pulled off its greatest coup of all: the re-election of President Bush. Or so it was decreed by the media horde that retroactively declared "moral values" the campaign's decisive issue and the Super Bowl the blue states' Waterloo. (Frank Rich, New York Times)
A grand collection | St. Anselm exhibit showcases college's treasures (Concord Monitor, N.H.)
Turning a prophet | With his religious paintings, Rembrandt foresaw the value of branding (The Washington Post)
A new breed of rock star: quietly Christian | Unlike Sir Cliff, a new generation of Christian artists taking over the charts is blessed with youth, beauty and critical acclaim. Just don't ask them to talk about their faith (The Guardian, London)
More than just a modern art joke | Works show why Hirst is a real force -- and why not (The Boston Globe)
Common sense not so common | Recent news reveals a society losing tolerance and sense of humor (Mike Macdonald, The Charlotte Observer, N.C.)
Corporatism, entrepreneurship, and faith | If Western Europe is to become an entrepreneurial society, it requires a cultural revolution (Samuel Gregg, The Wall Street Journal)
(Culture) war is declared in Europe | U.S.-style religious and 'town vs. country' conflicts take hold (John Micklethwait and Adrian Wooldridge, Los Angeles Times)
The end of days: a self-fulfilling prophecy | Reformation Europe was alarmingly similar to many parts of the modern world, especially because in 16th-century Europe, a large proportion Catholics and Protestants were convinced that the Last Days were about to arrive. (Diarmaid MacCulloch, The Guardian, London)
Is France getting religion? | In the immigrant suburbs of Paris, secularism is on the wane (Slate)
Taking a shallow look at the 'Devil' | Brigitte Frase reviews M. Scott Peck's Glimpses of the Devil (Los Angeles Times)
Exorcism experts urged for Irish dioceses | Priest wants help with 'strange happenings' (Belfast Telegraph)
Two authors continue an age-old debate | "The End of Faith" vs. "Can a Smart Person Believe in God?" (Rich Barlow, The Boston Globe)
Confessions of a dangerous mind | Portland writer Donald Miller is selling books, wowing fans—and fighting to shake up Christianity as we know it. (Willamette Week, Ore.)
The Heart of Christianity | Marcus J. Borg is not a new-age theologian; he is a well-known scholar on Jesus whose books have been translated into German, Korean and Dutch. In The Heart of Christianity, he divides believers into two camps. There are those who subscribe to the "earlier paradigms" where man was the center of the universe, and those who are for the "emerging paradigms," which unseated man and mother earth from the center (Epoch Times, NY)
Christian bookstore sells Harry Potter | "Our thinking is that because the mainstream public is reading the books, Christians should be aware of them and use them as an opportunity to bring in Christian themes and values," said Beth Ann O'Reilly-Amandes, manager of the Logos Bookstore in Oak Park, Illinois (Associated Press)
Bookstore stocks Potter series | Walk into the Logos Bookstore in Oak Park, Ill., and you'll find Bibles, the "Left Behind" novels and a lot of other works you'd expect at a Christian shop. But go to the children's section, through a make-believe castle door at the back of the store, and you'll see a series of titles that make Logos unique among its peers: Harry Potter books. (Associated Press)
'Purpose Driven' takes next step | St. James begins community outreach based on Warren's bestseller (The Toledo Blade, Oh.)
Who burned the witches? | For years, feminist scholars have argued that witch hunts were inspired by a reactionary, misogynistic church. But new scholarship, like Lyndal Roper's "Witch Craze," reveals that the real villains were the neighbors (Salon.com)
Christian bookstore sells Harry Potter | Most religious shops avoid the popular novels (MSNBC)
New Bible translation upsets some Christians | In the TNIV, some masculine references are made more gender-neutral (Fox News)
Zondervan rolls out Bible translation aimed at young people | Years in the making, publisher Zondervan is releasing a new translation of the Bible this week that's aimed at young adults -- accompanying the effort with a $1-million media blitz. (Associated Press)
Religion in the news | Years in the making, publisher Zondervan is releasing a new translation of the Bible this week that's aimed at young adults - accompanying the effort with a $1-million media blitz. (Associated Press)
New Bible troubles. How interesting | Zondervan instead has come out with a new Bible take that's geared to get the attention of ages 18 through 34. It's called Today's New International Version (TNIV). (Magic City Morning Star, Maine)
The Bible in Rolling Stone: Have the media seen the light? | Media outlets aren't required to accept religious advertising, but when they exclude religion, they fail the First Amendment ideal of free exchange of ideas (Charles C. Haynes, First Amendment Center)
'The Smiling Preacher' builds on large following | Joel Osteen is is perhaps the hottest commodity in the world of multimedia religion these days. (The Washington Post)
Churches decry 'commercial censorship' | The ongoing controversy between the media and religion heated up this month with Rolling Stone's initial rejection of an ad for a new version of the Bible (The Washington Times)
Campaigner hits at BBC decision | Springer show 'galvanised Christians' (Belfast Telegraph)
Where would Jesus advertise? | Bible, Church advertisements have no place in today's media (Christopher Orlet, The American Spectator)
Message on the airwaves | First Congregational Church TV ministry broadcast since 1985 (Grand Traverse Herald, Mich.)
Ned a valued member of 'The Simpsons' | Good heavens! Ned Flanders has come into his own (Associated Press)
MTV programming sends bad signal to youth, group says | A conservative advocacy group that focuses on media decency issues slammed the cable network MTV on Tuesday for what it called "incessant sleaze" in its programming (Los Angeles Times)
Stay tuned as the Word spreads | Six years ago this week, a husband and wife team, Max and Gwen Roullier, put a satellite dish on the roof of their house on a hill overlooking the small southern Queensland town of Beaudesert (The Australian)
VeggieTales walks fine line between hip, wholesome | Series incorporates mainstream, elements of Christian faith (Scripps Howard News Service)
Film:
Grrr! For Caviezel's sake, stop! | Do you really think Jesus gives a rat's behind whether or not an OK film that exploits his death to rake in a half-billion for already grotesquely wealthy human beings wins a Best Picture award? (Mike Straka, Fox News)
The controversy rages | "I don't think anyone is going to come out of 'Million Dollar Baby' saying, 'Boy, I'm going to kill my paraplegic friend,' " says Jeffrey Overstreet, who reviewed the film for Christianity Today's Web site. (Redlands Daily Facts, Calif.)
Singing ambassadors | Mormon Tabernacle Choir has helped transform perceptions of the church (San Diego Union-Tribune)
Comeback kids | Although Jump5 is now a quartet, group still making pop-Gospel music (Houston Chronicle)
Church shuts Lamb of God out of Los Angeles venue | Note to aspiring musicians — if you ever want to play The Great Western Forum in Los Angeles, don't allude to the burning of Christian figures in your band name. (Chart Attack, Canada)
Venue cancels metal band's appearance | Call it silence of the Lamb. The church-owned Great Western Forum has canceled an April 9 concert appearance by the heavy metal band Lamb of God because church leaders were offended by the group's previous name, Burn the Priest. (Associated Press)
Forum uneasy about band's former name | A Forum performance by the heavy metal group Lamb of God has been canceled after the venue's owners, the Faithful Central Bible Church, learned that the band formerly went by the name Burn the Priest. (Los Angeles Times)
Longtime Fremont pastor forging new relationships in ELCA | The longest tenured pastor now serving in Fremont is embarking on a new venture. The Rev. Mark Grorud, senior pastor for the past 25 years at First Lutheran Church, is stepping down and stepping out in faith. (Fremont Tribune, Neb.)
4 chaplains' deeds in '43 still inspire | A Catholic priest, a Jewish rabbi and 2 Protestant ministers taught a nation a lesson in brotherhood aboard a torpedoed troopship during WWII (Chicago Tribune)
Ulster cleric urged to quit | Presbyterian objectors call time on 'undignified' services (Belfast Telegraph)
To some, 'Chief Justice Scalia' has a certain ring | Is abortion opponent on a "charm offensive"? (The Washington Post)
Evangelical to be next Presbyterian Church Moderator | Election had been widely expected (The Belfast Telegraph)
Q&A with Chuck Swindoll | Swindoll's latest book, Getting Through the Tough Stuff, challenges Christians and others to work through life's difficulties with an optimism born of faith (The Dallas Morning News)
Get Moore Jesus in the statehouse? | Early signals seem to indicate that Judge Roy Moore will run for governor of Alabama. It is the political nightmare both parties in the state have been having since Judge Moore was forced to step down as chief justice of Alabama's Supreme Court for failing to obey a federal court order (James L. Evans, Decatur Daily, Ala.)
A faith-full farewell | Denver bishop offers tearful homily before he leaves for Texas (The Denver Post)
Evangelist plays hardball to move spirits worldwide | K.A. Paul isn't well-known here, but his mission has global reach (Houston Chronicle)
Recognition and challenges for tri-cities Christians | Milligan College is again searching for examples of Christian leaders in the Tri-Cities who integrate their faith with their profession. (Bristol Herald Courier, Tenn.)
Anatomy of an ethical lapse | Last Friday I was the subject of a Page 1 story by USA Today. It questioned my integrity, which has never before been challenged. Frankly, it has been a stunning experience, which has taken time for me to absorb. What's particularly painful, I write a column called "Ethics & Religion" and am guilty of an ethical lapse. How did this happen? (Michael J. McManus)
A loss for no-fault divorce | For the first time in decades, a divorce order was reversed last week (Michael J. McManus, The Washington Times)
Vicar - I used to be a man | A female priest has been supported by her parishioners after revealing she underwent a sex-change operation nearly 20 years ago (The Birmingham Post, England)
Parish backs woman of God who was a man | The Bishop of Hereford, the Right Rev Anthony Priddis, was aware of Sarah Jones's past when he ordained her as deacon last July and appointed her assistant curate of the Ross team ministry. He will have no hesitation in priesting her in September (The Times, London)
Bishop supports sex-change priest | A female priest who underwent a sex-change operation almost 20 years ago has been given public support by the Bishop of Hereford (BBC)
Depiction of Jesus carries kernel of truth | Hasn't Christ often been reduced as a puppet figure to be manipulated by Christians who in the name of Christ have performed acts of evil? (Mike McClellan, The Arizona Republic)
When the Bible is used for hate | Sadly, today the Bible is being used to oppress, dishonor, and persecute our queer brothers and sisters, who like the rest of us, are also created in the image of God (Miguel de la Torre, The Holland Sentinel, Mi.)
Watchdog group seeks Christian group probe | An organization that monitors religious groups has asked the Internal Revenue Service to investigate whether the conservative Christian group Focus on the Family broke the law by trying to sway presidential election voters. (Associated Press)
Adoption not an option | For weeks, government officials and adoption agencies have been quietly telling kind-hearted Americans the same thing: The thousands of children orphaned by the December tsunami are not available for adoption — and most never will be. The same is true of children in Africa, even though 80 percent of the world's AIDS orphans live there, and war, poverty and famine have ravaged many of its 54 countries (The Washington Times)
For God and company | More employees are bringing faith to work, but not without rules (The Boston Globe)
Related Elsewhere:
Suggest links and stories by sending e-mail to weblog@christianitytoday.com
Check out Books & Culture's weekly weblog, Content & Context, and the Christianity Today Movies weekly weblog, Reel News.
See our past Weblog updates:
February 3 | January 31
January 28 | 27 | 26 | 25
January 19 | 18 | 17
January 14 | 13 | 12
Tsunami blog: Jan. 11 | 7 | 6 | 5 | 4
January 7 | 6 | 5 | 4
Weblog
Launched in 1999, Christianity Today's Weblog was not just one of the first religion-oriented weblogs, but one of the first published by a media organization. (Hence its rather bland title.) Mostly compiled by then-online editor Ted Olsen, Weblog rounded up religion news and opinion pieces from publications around the world. As Christianity Today's website grew, it launched other blogs. Olsen took on management responsibilities, and the Weblog feature as such was mothballed. But CT's efforts to round up important news and opinion from around the web continues, especially on our Gleanings feature.
Ted Olsen is Christianity Today's executive editor. He wrote the magazine's Weblog—a collection of news and opinion articles from mainstream news sources around the world—from 1999 to 2006. In 2004, the magazine launched Weblog in Print, which looks for unexpected connections and trends in articles appearing in the mainstream press. The column was later renamed "Tidings" and ran until 2007.
Previous Weblog Columns: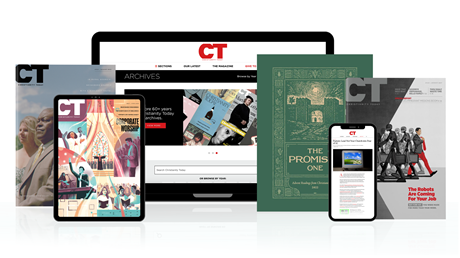 Annual & Monthly subscriptions available.
Print & Digital Issues of CT magazine
Complete access to every article on ChristianityToday.com
Unlimited access to 65+ years of CT's online archives
Member-only special issues
Subscribe
Paul Shanley Trial Ends, Goes to Jury
Paul Shanley Trial Ends, Goes to Jury