true
Dwarfed by a giant bank of TV monitors, the rock star Bono gyrates across the arena stage—a dancing shaman channeling the ecstasy of thousands of U2 fans.
"In waves of regret, in waves of joy, I reached for the one I tried to destroy," he sings passionately. "You said you'd wait till the end of the world."
Hands reach out to him as he walks among the faithful. Video clips show tidal waves crashing, lightning flashing and a woman wailing.
The soundtrack to apocalypse? No, it's a splice of a TV special about a U2 tour of the early 1990s.
It's also a sign of increased interest in the spiritual significance of this immensely popular Irish rock group.
The images are taken in by a class of Calvin College students, who are probing what Bono and his band have to say as Christians to the world of pop culture.
"You hear U2 everywhere," said Bemis, one of 14 students gathered in a Calvin video theater on a recent morning. "They have so much more influence as Christians than most other people who claim to be Christian."
Tim Gruppen calls them "brutally honest."
"They say a lot of things many Christians would be ashamed to 'fess up to, some of the struggles they have," Gruppen argues.
But why a class on U2, one of the world's most adored rock bands, at a conservative Christian college?
"Religion and rock 'n' roll can meld together," insists Katie Arbogast. "U2 does the best job of it."
Many scholars and clergy agree. They say U2 is an important spiritual influence on a youth culture more enamored of popular media than of the church.
"What they have to offer is a vision," said Mark Mulder, who is teaching the U2 course during Calvin's three-week interim semester. "They're saying there's something wrong with the world. But at the same time, they offer a hope. The gospel message is embedded within."
Mulder, who teaches sociology, sees the band bringing a Christian worldview to a "very elaborate cultural critique." In that critique, they share common ground with other rock bands such as Radiohead and movies such as The Matrix trilogy, he said.
"If you listen hard enough, there are a lot of things going on in pop culture which really question the ordering of the world today, and offer a vision of what things could and should be like," said Mulder.
The Rev. Beth Maynard also sees a spiritual surge in pop culture, from the rock groups Switchfoot and Evanescence to the TV show "Joan of Arcadia."
"We're in a phase as a society right now where a great deal of theological reflection is happening in pop culture," said Maynard, an Episcopal priest from Fairhaven, Mass. "U2 were in the vanguard of that."
Maynard co-edited Get Up Off Your Knees (Cowley Publications, 2003), a collection of sermons based on U2 lyrics and biblical texts. Among them is a sermon preached in 2002 at the Calvin chapel by Steven Garber, a former Calvin scholar-in-residence.
Maynard sees the group fertilizing the ground of pop culture for the sowing of the gospel, helping people take "small steps in the direction of God."
"They seem to be seeking to just give an open invitation for people to move into the realm of asking questions about spiritual life, about God, about Christ. It's raising the questions but not overtly or forcefully prescribing the answers."
The main man asking questions is Bono, the charismatic lead singer, lyricist, and frontman of U2. His sexy swagger and powerful voice have spearheaded the group from its debut 1980 album Boy to its recent release How to Dismantle an Atomic Bomb, which hit No. 1 on the Billboard charts.
In recent years, Bono has become an ardent social activist, traversing the globe to combat the African AIDS epidemic and relieve third world debt, and lobbying leaders from President Bush to Pope John Paul II.
Through his activism and his "music with a conscience," Bono points listeners toward issues and introspection much as folk artists of the 1960s did, said Philip Goff, director of the Center for the Study of Religion and American Culture at Indiana University.
But Goff said Bono is hardly a squeaky-clean Christian, citing as evidence his use of the F-word at a 2003 Golden Globe Awards ceremony.
"On the one hand, while a lot of Christian young people would look at him as a great exemplar, some of them would turn him off immediately because he cursed," Goff said. "He doesn't fit the usual idea of some evangelicals of what a Christian should be doing."
But he also speaks a language understood by many young Christians, Goff adds.
"They do want to look at Christianity in different ways," he said. "There's no doubt about it, his approach is more global, and this is a more global society."
As a fan since college, Mulder felt U2's approach to spiritual longing and social justice merited a mini-course at Calvin.
Besides video clips and CDs, he's using the text Walk On: The Spiritual Journey of U2 by Steve Stockman (Relevant Books, 2001). Mulder touches on the band members' personal faith—they once were affiliated with a charismatic Protestant movement called Shalom, and Bono and bandmates the Edge and Larry Mullen Jr. have publicly professed to be Christians.
But the focus is on the group's recordings and performances. Mulder sees a strong thread of "Christian critique" throughout U2's three-decade career.
"Bono's view of the world is very close to what we teach here at Calvin. We're not just sitting around waiting for the Earth to be destroyed. We expect the world to be renewed."
Some of the group's lyrics are explicitly scriptural, others more subtle.
"You can just tell by their art that they're very fluent in the Christian tradition," said Maynard, the Episcopal priest. "They understand the metaphors, the thought patterns of Christianity."
That comes through clearly for Katie Arbogast. The Calvin student described a U2 concert as "a spiritual experience."
"It's not down-your-throat Christian values," she said. "You have to search for it and crawl for it."
Related Elsewhere:
More about U2, including downloads and the U2 iPoD, is available from their website.
Steve Stockman's Walk On: The Spiritual Journey of U2 is available at Christianbook.com. Christianity Todayinterviewed the author last April.
Co-editor Beth Maynard's Get Up Off Your Knees is available from Christianbook.com. CT interviewed her last April.
Christianity Today's cover story on Bono's trip across the Midwest urging Christians to fight the AIDS epidemic in Africa is Bono's American Prayer | The world's biggest rock star tours the heartland, talking more openly about his faith as he recruits Christians in the fight against AIDS in Africa.
Books & Culture's cover story on Bono is The Legend of Bono Vox discusses Get Up Off Your Knees.
Other Christianity Today articles on Bono and U2 include:
Pop Love for a War-Torn World | Atomic Bomb is classic U2, with a prescription for healing the world. (Nov. 23, 2004)
The Dick Staub Interview: Exegeting U2 | Get Up Off Your Knees preaches U2 from Boy to All that You Can't Leave Behind. (April 20, 2004)
Bono's American Prayer | The world's biggest rock star tours the heartland, talking more openly about his faith as he recruits Christians in the fight against AIDS in Africa. (Feb. 21, 2003)
'Pop Music with Brains' | From the beginning, U2 has engaged spiritual questions. (Feb. 21, 2003)
Bono's Thin Ecclesiology | Any person can stand outside the church and critique its obedience to the gospel. (Feb. 21, 2003)
Bono Tells Christians: Don't Neglect Africa | He urges evangelicals to take a lead in fighting AIDS and poverty. (April 19, 2002)
Inside CT: Bono's Burning Question | Evangelicals and the U2 front man try to figure each other out. (April 19, 2002)
Honest Prayer, Beautiful Grace | The messianic and passionate U2 sounds like itself again. (Feb. 8, 2001)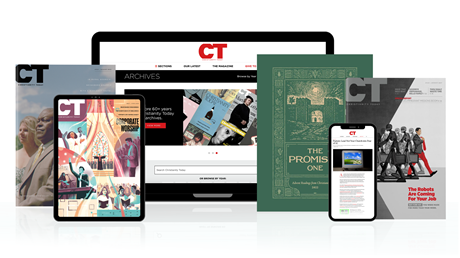 Annual & Monthly subscriptions available.
Print & Digital Issues of CT magazine
Complete access to every article on ChristianityToday.com
Unlimited access to 65+ years of CT's online archives
Member-only special issues
Subscribe
Calvin College on U2
Calvin College on U2