Charles Marsh thinks the religious motivations of civil-rights workers don't receive enough attention in mainstream accounts of the civil-rights movement. In The Beloved Community, Marsh tells the story of the civil-rights movement, beginning in Montgomery, Alabama, in the context of the Christian faith of those who risked their lives not just for equal rights, but also for the gospel. Marsh says that many of those who are carrying on the work of reconciliation today are those in the faith-based community who have taken up the calling of early civil-rights activists. Marsh is professor of religious studies and director of the Project on Lived Theology at the University of Virginia. Marsh spoke with CT online assistant editor Rob Moll.
What is the Beloved Community?
The "beloved" community phrase has been used by social philosophers to describe the culmination of world history in some kind of universal brotherhood. But King believed in original sin, so he didn't share that understanding of beloved community. He understood beloved community as something that is a gift of God. He often tied that to the new order, which came in to time in the event of the Cross and the Resurrection. For him, the beloved community had a distinctively Christian understanding. The very possibility that there can be reconciliation between black and white, for King, was grounded in the Incarnation.
Your book talks about Christian radicals who worked to create beloved community. What is a Christian radical?
I get that term from the life of Dietrich Bonhoeffer. I think of the wonderful term he offered in Cost of Discipleship, "costly grace." Cheap grace is that sense that we are entitled to the benefits of our salvation and can luxuriate in it and not do anything in terms of bearing witness to the harder demands that attend discipleship. Costly grace is radical discipleship to Jesus Christ.
I think the term radical is an overused term, but there's something so arresting and so compelling about the stories of those men and women who are committed to Jesus Christ in an absolutely wild and radical sense. I am challenged to get off my lazy rear too, when I reckon with these stories.
Dr. King is celebrated in the public square in Black History Month and Martin Luther King Jr. Day as a great political leader, social organizer, an orator, a kind of poet of democratic ideals. But Dr. King always said, "In the inner recesses of my being, I'm a Baptist preacher. I'm the son of a Baptist preacher. I'm the grandson of a Baptist preacher." I think the fact that King has been deracinated from the pew and the parish by secular historical narratives is a real thinning out of the fullness of his memory and who he was. Who he was, is a radical Christian.
The Montgomery story, more than any other in King's life, focuses our attention on the real Christ-shaped character of his goal. I wanted to get a sense of the civil-rights movement, some of these radical Christians who are often marginalized in the secular narrative, back into the civil-rights story, like Clarence Jordan and John Perkins. John Perkins, in my opinion, the most influential African American church leader since Dr. King, does not appear in any civil-rights book that I have ever read.
Koinonia Farm also doesn't appear in civil-rights narratives, but they're still in Georgia practicing racial reconciliation.
Yes they are. Clarence Jordan, who founded Koinonia Farm in 1942, died in '69, and the practice of the common purse was abandoned by the farm in '68. It's not only one of the most fascinating stories about radical Christian community in American history that's not fully appreciated by the church, but it's also the birthplace of Habitat for Humanity. This is the community Millard Fuller and his wife stopped by on a summer afternoon and become a part of. Habitat is now based in Americus, just a few miles away from Koinonia.
Jordan was trying to live out racial reconciliation long before others were. It wasn't on many people's radar in 1942.
Here is another character who has been written out of the civil-rights movement. So many of the civil-rights workers I've interviewed over the years, particularly student activists in the Student Nonviolent Coordinating Committee, and the church-based people in the Deep South said Clarence was their brother. He offered retreat when they were tired, when they needed to rotate out of action for a weekend or a week. They often went over to Koinonia and enjoyed their good food and their abundant table with fresh vegetables and pies, and the time to relax and make retreat.
Jordan is not written into the story because he's not a civil-rights organizer. His idea of racial reconciliation was that it must first happen in the body of Christ. It must happen in these intentional ways, in communities that are willing to bear witness to reconciliation and to suffer the consequences.
People look at Koinonia and they say, "They're irrelevant. They did nothing. They made nothing happen." And yet, that is such a truncated way of seeing the story. What Koinonia shows us is another compelling way for Christians to engage the social order.
It's an amazing story, and Clarence Jordan was a great Christian. Like so many of these radical Christians, he died a virtual stranger in his hometown. There were only a few people at Jordan's funeral.
How have white evangelicals failed in the creation of beloved community?
That question is the reason why 12 years ago, I veered slightly away from the more conventional academic track I was on, writing monographs and essays and philosophical theology. I became haunted by memories of my evangelical upbringing in the South. Why was it the case that white evangelicals who raised me and nurtured me, and gave me gifts and skills and passions that I will forever cherish, remain indifferent, if not contemptuous, toward the sufferings of African Americans under Jim Crow?
That question has been explored in social scientific, cultural, or historical studies of the South, but I knew that there was a theological explanation. It had to do with the way we were thinking about our relationship to Jesus, and our identities as Christians. I think one of the most plaguing problems is the way in which we have often defined salvation and the Christian life in terms that are almost solely focused on the fate of the individual soul at the expense of what John Perkins likes to call a holistic faith. Bonhoeffer said that when Jesus calls a man or woman, he calls that person out into the anguish and complexity of the world.
The Christian life and the new being that I am in Jesus Christ is incomplete until we begin to live out our discipleship to Jesus in the fullness of our social selves. I think the individualism that is still a part of some white evangelicals has made our witness fairly narrow.
You're nearly quoting Carl Henry.
I think this points to the fact that, while I say this, there has been an even more rich and powerful countermovement within the evangelical subculture of understanding the fullness of faith and making those connections between the salvation of the individual soul, which is not an unimportant thing, and building the kingdom of God.
And that has continued with the faith-based movement.
When I look around the United States and see what places are digging in and rekindling the vision of beloved community and doing the work of justice, mercy, and building community in distressed places, I see that being played out daily in this quiet, intentional way among Christian communities, often called faith-based communities.
Let's not forget that it has its historical origins in the radical work of John Perkins in Voice of Calvary. It's arguably the most interesting example of working out the unfinished business of the civil-rights movement.
This happens under the radar screen of the national media. I think one of the problems with our whole faith-based debate has been that we haven't really listened carefully to what the people doing the faith-based work are actually saying about themselves. It doesn't lend itself nicely to partisan loyalties. There are things that cut against the grain of the Right, and cut against the grain of the Left.
Could you trace the faith-based movement back to the work of John Perkins?
The question after 1968 when the whole civil-rights movement disintegrates is who's going to take the baton and carry it the rest of the race. If that's going to happen, it's going to be because local black and white people took the initiative. Perkins is the most dramatic example of an African American who after the civil-rights movement rekindled the moral and spiritual vision of the civil-rights movement, but did so in a way that was more explicitly evangelical.
What's interesting is that the Voice of Calvary community becomes a training center of a younger generation of faith-based organizers. It's similar to the way that Freedom Summer Project Mississippi 1964 became a kind of training period for a generation of student activists in the '60s. Over the period of 1970-1989, which is when the Christian Community Development Association was born, there were hundreds and thousands of white and black Christians coming in to Mississippi and then to Pasadena learning the three Rs: redistribution, relocation, and reconciliation. They worked alongside Perkins and got the vision and went back to Baltimore, or Atlanta, Dallas, Chicago, Oakland, all over the nation, and planted the seeds of what has become the most compelling example of the faith-based movement. These places provide services, they organize communities in campaigns for improving conditions, but at the end of the day, what makes these places exemplifications of beloved community is that they offer redemptive space in which one can stand and share fellowship.
Related Elsewhere:
The Beloved Community is available from Christianbook.com and other book retailers.
Article continues below
More information is available from the publisher.
More about Marsh is available from the Project on Lived Theology.
Other Christianity Today articles on civil-rights include:
Hope Deferred | Christians are uniquely positioned to further racial equality. (June 29, 2004)
CT Classic: Confessions of a Racist | It wasn't until after Martin Luther King, Jr.'s death that I was struck by the truth of what he lived and preached. (January 17, 2000)
Martin Luther King, Jr.: A History | No Christian played a more prominent role in the century's most significant social justice movement than Martin Luther King, Jr. (January 17, 2000)
CT Classic: The March to Montgomery | Christianity Today's coverage of King's historic voting rights march, from our April 9, 1965 issue (January 17, 2000)
Catching Up with a Dream | Evangelicals and Race 30 Years After the Death of Martin Luther King, Jr. (March 2, 1998)
She Has a Dream, Too | Bernice King talks about her father's death, her call to ministry, and what the church still needs to do about racism. (June 16, 1997)
Billy Graham Had a Dream | American revivalist preachers have been evangelical Christianity's most visible spokesmen over the centuries. What does their record on race relations show? (Jan. 12, 1998)
An excerpt of The Beloved Community is available from our sister publication, Books & Culture.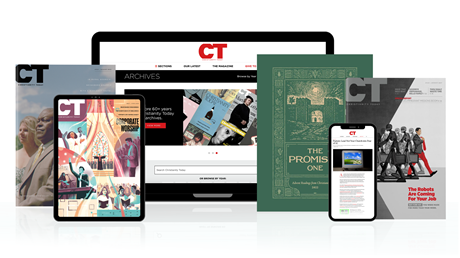 Annual & Monthly subscriptions available.
Print & Digital Issues of CT magazine
Complete access to every article on ChristianityToday.com
Unlimited access to 65+ years of CT's online archives
Member-only special issues
Subscribe
The Work of Faith
The Work of Faith