David Thomson is a British-born, American-based film critic known for his encyclopedic knowledge of movie history (see for example his massive New Biographical Dictionary of Film) and his caustic wit. He is well respected in the film industry, but that doesn't mean he doesn't have his enemies, too. Let's just say he's very blunt.
Here is Thomson on Marlon Brando: "Brando had a childhood in which he decided he was not loved, and these circumstances allowed him to use that experience to explain all kinds of mistakes, disaster, and bad luck that befell him and those around him. Famously, he … grew into the bloated wreck that is the opposite of his youth and the American ideal for actors." Ouch.
In his new book, Thomson strives to get at what F. Scott Fitzgerald, in The Last Tycoon, called "the whole equation of pictures." By this he means that picture-making is not simply about the writers, directors, actors, sets, crewmembers, and producers. It's largely prompted and bolstered by historical context. Maybe this explains why I hated The Deer Hunter (Best Picture in 1978) when I first saw it a couple of years ago. I was a child during the Vietnam war, and I lacked the anger or discontent to "get" the movie. Thomson, of course, loved it and devotes several pages to it.
Above all, of course, movies are a business. In 1915, when Louis B. Mayer (later of Metro-Goldwyn-Mayer, M-G-M) orchestrated the first movie sensation, Griffith's racist yet riveting The Birth of a Nation, people flocked to see it. Money poured in. And so it has been ever since, Thomson laments: "[Movies] derive from corporations and producers, not individuals or artists." Although I cringe at this statement, I do so because I know it's true. Why else would producers hold test screenings where they bring in random audiences to pre-judge their movies, then change scenes and endings to reflect the audience's taste? Why else do screenwriters lose all power over their stories once they've sold them? Because movies have to sell first.
These imperious demands crush even the most accomplished writers. Case in point: Chinatown. For the script, Robert Towne won the Oscar for Best Original Screenplay. He was planning to write two more movies about Jake Gittes, but because Towne had sold the story to the producers (losing his rights over the movie) and because Hollywood is full of projects begun and abandoned, the trilogy never got off the ground. Instead, he ended up working on the Mission Impossible scripts—not a shabby job, and certainly well compensated, but not what he had dreamed of doing.
This is an old story, one that will surprise no one who has progressed beyond adolescence, but Thomson tells it uncommonly well, with passion and an insider's knowledge. Still, for a book entitled The Whole Equation, there are two glaring omissions. I'm assuming lack of space, but it could be Thomson's lack of interest. First, he ignores animated films, though they account for the majority of G-rated movies and are the steadfast diet of children everywhere. Nor does animation cater to kids only (think Pixar's multi-layered Toy Story, A Bug's Life, Monsters, Inc., and Finding Nemo, or DreamWorks' Shrek and Shrek 2).
Thomson's second omission, films made within the last decade, may stem from his disappointment with the industry, with the exception of a few talented independent filmmakers (he names David Lynch as one) and HBO (for doing smarter, more grown-up entertainment). In a 2003 interview with Robert Birnbaum, Thomson bemoans the fact that TheNew York Times reviews every film that opens, rather than the ones that merit review: "Generally, the quality of movies today is horribly low and depressing for anyone who loves the medium and depressing for anyone who might want to work in it. … For some time now the tendency has been downward and just not in interesting directions."
Those of you who regularly peruse The Internet Movie Database will not want to miss Thomson's book. He will enlighten you about how movies have evolved—why we go to movies, how they're made, and how they change us. For movies do change us, whether or not we believe they have that much clout. And it's important to be wary of the power we give them.
Elissa Elliott is a writer living in Rochester, Minnesota.
Related Elsewhere:
The Whole Equation: A History of Hollywood is available from Amazon.com and other book retailers.
More information, including an excerpt, is available from the publisher.
Christianity Today Movies reviews films, interviews filmmakers and actors, and evaluates movies for Christian audiences.
Books & Culture Corner and Books & Culture's Book of the Week, from Christianity Today sister publication Books & Culture: A Christian Review, appears regularly on Tuesdays at Christianity Today. Earlier editions include:
Wayfaring Strangers | Set in Mexico, Anita Desai's latest novel is a compact but multilayered tale of pilgrimage. (Feb. 01, 2005)
Article continues below
What Do You Mean, 'Moral' Fiction? | John Gardner, Martin Amis, and the ethics of the novel. (Jan. 25, 2005)
Taking the T.U.L.I.P. Out of the Garden | Relating Calvinism to "the complexities of contemporary life." (Jan. 18, 2005)
Booking Ahead | The conclusion of our seasonal roundup—and, at last, truly, this time we mean it, The Worst Book of the Year (Jan. 18, 2005)
From the Big Bang to my Office | More books to note from 2004. (Jan. 11, 2005)
The Top Ten Books of 2004 | And a warning about the risks of reading. (Dec. 28, 2004)
Modern, All Too Modern | Tom Wolfe's new novel, largely reviewed as a satiric report on the sexual mores of today's college students, is fundamentally about the nature of the human will. (Dec. 14, 2004)
Unfashionably Good | A savory collections of essays by Alan Jacobs. (Dec. 07, 2004)
Communicating Communication | A roundup from the National Communication Association's annual convention. (Nov. 30, 2004)
"Summer's Ebullient Finale" | A richly varied anthology offers a "spiritual biography" of autumn. (Nov. 15, 2004)
Autumn Books | Some that stand out in this season's plenty. (Nov. 15, 2004)
Reaching the Light | A review of On Broken Legs: A Shattered Life, a Search for God, a Miracle That Met Me in a Cave in Assisi. (Nov. 09, 2004)
The Prayers of a Self-Governing People | A psalm for Election Day. (Nov. 02, 2004)
In Memoriam: Jacques Derrida (1930-2004) | Remembering a philosopher who never forgot about death. (Oct. 19, 2004)
Whose Independence? | All the Founding Fathers of America celebrated "independence," but what the word meant depended on who was speaking. (Oct. 12, 2004)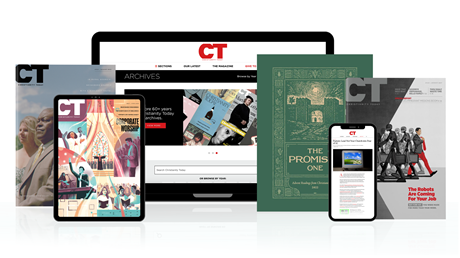 Annual & Monthly subscriptions available.
Print & Digital Issues of CT magazine
Complete access to every article on ChristianityToday.com
Unlimited access to 65+ years of CT's online archives
Member-only special issues
Subscribe
Dreams for Sale
Dreams for Sale