A key witness against prominent China house-church leader Pastor Shengliang Gong says she was tortured and sexually abused to force her to sign testimony charging the pastor with sexual assault and rape.
In 2001, the Chinese government prepared a criminal case against the pastor by arresting several of his followers and allegedly coercing them to sign statements incriminating the pastor with sexual misconduct. Lianzhi (Sarah) Liu, 33, was arrested on May 27, 2001. In August 2001, the Chinese government arrested Pastor Gong and dozens his followers.
The government claimed in court that Liu and more than a dozen other female members of the South China Church had signed testimonies that Pastor Gong raped or mistreated them. Initially, the Chinese government imposed the death penalty on the pastor. After an international uproar and Bush administration intervention, the government retried the case in 2002 and handed down a sentence of life imprisonment. The case continues to reverberate internationally as evidence of government misconduct becomes clearer.
Liu was recently able to escape from close surveillance in China due to the efforts of China Aid, an American group led by Bob Fu, a Chinese church leader now based in the United States. At a press conference on February 10 at the National Press Club in Washington D.C., Fu said that Liu's treatment indicated that religious freedom in China is deteriorating.
From the beginning, defenders of Gong have charged that the government coerced or faked Liu's written affidavit at Gong's trials. During the first trial, three women who were imprisoned with Liu circulated their eyewitness accounts of how Liu was beaten, shocked, and sexually assaulted to force her to sign a statement against the pastor.
At that trial in 2001, 16 or 17 witnesses signed accounts alleging that Pastor Gong had raped or sexually abused them. But persistent leaks from eyewitnesses about police misconduct undermined the credibility of Pastor Gong's conviction.
During Gong's second trial, the Chinese prosecutors produced only four of the signed accounts. But those four witnesses have also publicly accused the police of torturing them and manufacturing their testimonies. The Chinese government was also forced to withdraw a claim that they had DNA proof of Pastor Gong's fathering a child by one of the women.
Government alarmed by church growth
Gong is the founder and leader of one of China's larger church networks. His South China Church emerged in the 1990s as one of the fastest growing and innovative of the church groups.
Gong organized "armies" of evangelists to tackle different areas of China with singing, preaching, and poster paintings teaching the gospel. An unusual feature of the movement is that all members are required to memorize the Christian confessions, including the Westminster Confession of Faith.
Alarmed by the fast growth of the church and other religious groups, the Chinese government crafted a massive response of intelligence, arrests, imprisonment, and public relations. Registered church officials defended the government's actions as necessary to stamp out "evil cults."
Critics have documented extensive use of torture, bribery, and fake evidence in the government campaign. However, few significant government witnesses have managed to escape to democratic countries where they could freely tell journalists how their testimonies were coerced and manufactured by Chinese prosecutors. The Chinese government had made Liu, a prominent leader in the South China Church, one of their star witnesses. Her sudden escape and appearance at congressional meetings in Washington, D.C., this week to tell how her court testimony was faked is certain to continue the international controversy over the Chinese government's human-rights abuses.
Bloody footprints
At the press conference and in subsequent interviews with CT, Liu recounted how in 2001 she was isolated for special interrogation at a police training center in central China. "I was put in a bedroom with seven male police surrounding me, laughing and touching my body." One of the policemen pawed at her body. She told CT, "A fat guy came up and kicked me, saying, 'Glorious indeed, believing in a foreign god rather than the Communist Party!' "
The police then tried to get Liu to confess that Pastor Gong had used her as a sexual concubine.
Liu says that after several rounds of beatings, she was so wounded that wherever she walked, she left behind a trail of bloody footprints. Still defiant, the police stripped her of her clothing and started using electric cattle prods on her. At one point they forced an electric cattle prod into her mouth to shock her. Afterwards, Liu says that her mouth was covered with blisters.
After a period of softening up, the local police superintendent himself took over Liu's interrogation. Liu told ct that he repeatedly held her up in the air by her hair before throwing her to the ground.
During the interview, Liu used nicknames that members of the South China Church developed to describe each abusive technique. Liu says that the first time she was imprisoned in 1996 that it was called "walking past the field," which means that instead of a neighborly "Hello," the police say, "First, we will teach you a lesson by beating you up."
When the police put an electric cattle prod on her, she told CT that she was "passing through the electricity." Then, when the police forced the prod into her mouth, she was forced to "eat the electric stick."
Police instigated other prisoners to force Liu to "watch TV," which means that she was forced to stand on one leg while the prisoners turned her around by twisting her ear to change "TV channels." South China Church men arrested with Liu received "salty sticky rice" torture. They were forced to take off their pants so that their bare bottoms could be beaten and their wounds covered with salt.
The legal charges against Liu were eventually dropped, but she was still sentenced to three years of labor camp by administrative order.
Released on February 1, 2004, Liu told CT that she was determined to escape her close surveillance so that she could give the full story of the Chinese government's judicial misconduct against Pastor Gong. Disguised as a young daughter of an elderly parent, the diminutive Liu was able to make her escape from China in January.
Related Elsewhere:
Earlier Christianity Today coverage of Pastor Shengliang Gong includes:
Gong's 'Accusers' Claim Torture Induced False Confessions | Letters from imprisoned Christian women in China describe assaults with electric clubs (Feb. 01, 2002)
Church Leader Gets Reprieve | China's case against Gong Shengliang now on hold. (Jan. 24, 2002)
Chinese House Church Leader Granted Time to Appeal Death Sentence | Sentence likely to be commuted to imprisonment, but church remains in danger. (Jan. 8, 2002)
More Christianity Today articles about China include:
Behind China's Closed Doors | Newly confident house churches open themselves up to the world. (Feb. 07, 2005)
A Look Of Love | Persecuted priest's smile planted faith in a Chinese activist. (Feb. 07, 2005)
North Korean Refugee Advocates Roughed Up | Security officers forcibly break up Beijing press conference that called for 'compassion.' (Jan. 13, 2005)
House-Church Leader Arrested | Zhang Rongliang has a high profile in China and internationally. (Jan. 05, 2005)
The Chinese Church's Delicate Dance | A conversation with the head of the Protestant Three-Self Patriotic Movement. (Nov. 11, 2004)
Article continues below
Loose Lips | Christians in Hong Kong worry over remarks by broadcaster. (Aug. 13, 2004)
A Captivating Vision | Why Chinese house churches may just end up fulfilling the Great Commission. (April 14, 2004)
China Arrests Dozens of Prominent Christians | At least 50 detained in fresh crackdown on house churches, reportedly promoted by new video and book releases. (Feb. 18, 2004)
The Red Glowing Cross | A veteran journalist makes vivid the hidden and expanding world of Chinese Christianity (Feb. 18, 2004)
House-Church Christian Dies in Custody | Family saw prisoner injured and bound with heavy chains (Jan, 15, 2004)
Crushing House Churches | Chinese intelligence and security forces attack anew. What you can do to help persecuted Christians in China (Jan. 13, 2004)
About-Face on Charities | Communist leaders invite even Christians to help the poor. (Oct. 21, 2003)
'Dangerous' Chinese Bill Is Thwarted | Article 23 would have automatically banned Hong Kong groups now outlawed on the mainland. (Aug. 21, 2003)
Breakthrough Dancing | A look at the one of the most creative youth ministries in Hong Kong—if not the world. (July 23, 2003)
Hit by the SARS Tornado | Breakthrough reacted quickly when the disease hit Hong Kong. (July 23, 2003)
Inside CT: Chinese Puzzle | Things are changing for China's church. (March 07, 2003)
Under Suspicion | Hong Kong's Christians fear antisedition measures will curb religious liberty. (Feb. 21, 2003)
Did Apostles Go to China? | Evidence suggests Christianity reached China in the first century. (Oct. 21, 2002)
Working with the Communists | Some evangelicals minister happily within China's state-supervised Three Self church. (Oct. 18, 2002)
Bush: 'I'm One of Them' | Religious persecution allegations set the stage for George Bush's visit to China. (Feb. 27, 2002)
'New' China: Same Old Tricks | Top communists, despite their denials, endorse arrest and torture of Chinese Christians by the thousands. (Feb. 15, 2002)\
The Unlikely Activist | How a bitter atheist helped besieged Christians—and became a believer. (Feb. 15, 2002)
What China's Secret Documents Reveal | The New York archive of religious persecution in China contains numerous government documents that show how the government controls religion. (Feb. 15, 2002)
China Persecution Dossier: Zhang Wu-Ji | Tortured to the point of death. (Feb. 15, 2002)
China Persecution Dossier: Shi Yun-Chao | Beaten for Hosting Bible Studies. (Feb. 15, 2002)
Article continues below
China Persecution Dossier: Gu Xiangmei | Surviving on "tiger's diarrhea." (Feb. 15, 2002)
In Perspective: What is the Falun Gong? | And why does the Chinese government want to destroy it? (Feb. 06, 2002)
Gong's 'Accusers' Claim Torture Induced False Confessions | Letters from imprisoned Christian women in China describe assaults with electric clubs (Feb. 01, 2002)
Gospel View from China | He Qi first saw Jesus' face in an old magazine. Now he paints his own images of the biblical story. (Jan. 25, 2002)
Church Leader Gets Reprieve | China's case against Gong Shengliang now on hold. (Jan. 24, 2002)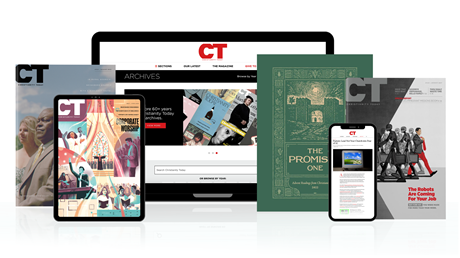 Annual & Monthly subscriptions available.
Print & Digital Issues of CT magazine
Complete access to every article on ChristianityToday.com
Unlimited access to 65+ years of CT's online archives
Member-only special issues
Subscribe
Escapee Denies Rape Charge
Escapee Denies Rape Charge