true
Most romantic comedies proceed as if on autopilot, mechanically following the routine, providing predictable plot twists and unremarkable humor until the leads finally overcome implausible obstacles and live happily ever after. But even more troubling is the genre's tendency to focus on sex rather than love, infatuation rather than relationship.
According to some Christian press film critics, Hitch—which follows the slapstick-happy capers of a professional dating consultant—is an exception to the rule. While they admit it does follow the formula, they praise Will Smith for his charm and comic timing. They're also happy to see director Andy Tennant's film is focused on issues of character and virtue instead of just sex.
Russ Breimeier (Christianity Today Movies) says, "Romantic comedies can be tricky for Christian audiences these days, too often relying on crude humor and irresponsible sexual behavior to carry the story. So it comes as a pleasant surprise to discover that Hitch is an old-fashioned love story that (mostly) has its heart in the right place." He says it's "both sweet and funny—a predictable but amusing descendant of the kind of movie that Cary Grant or more recently Tom Hanks were famous for."
Harry Forbes (Catholic News Service) agrees, calling it "a light romance of the kind they don't make much anymore. Indeed, Hitch is an entertaining, if flawed, old-fashioned comedy."
Barbara Nicolosi, screenwriting guru for Act One: Writing for Hollywood, praises it in her blog, Church of the Masses: "Hitch continues and expands the Gen-X friendly theme that sex is easy but relationship is really hard—and it's the relationship that we should all want. [It] indicates that romance is not a series of techniques to get what you want, but is a dying to self to bring gifts to another. Lovely. Except for some unfortunate choices in language, Hitch is a lot of fun and popularizes goodness. If you like romantic comedies, go see it."
J. Robert Parks (Looking Closer) raves, "It's rare that a date movie released around Valentine's Day actually lives up to the promise, but Hitch is that rare romantic comedy that will satisfy both the men and women in the audience. One of the many great things about Hitch is its fantastic dialogue, courtesy of first-time screenwriter Kevin Bisch. I'll be honest—I didn't write much of it down because I was usually laughing too hard. But it's not only funny, it's sharp and witty."
But Michael Elliott (Movie Parables) isn't pleased. "I'm being gracious when I call Hitch standard romantic comedy fare. When looking solely at the script and storylines, it's actually a bit sub-par. The film's saving grace is the easy-going charm of Will Smith. Unfortunately, the flaws in the material becoming alarmingly noticeable whenever he's not in a scene."
Marcus Yoars (Plugged In) is similarly dissatisfied. "The film does have its moments. But a plodding pace and predictable story severely undermine the effort. Hitch may be smooth, but his movie isn't."
Jonathan Rodriguez (Christian Spotlight) says the film starts strong and declines. "The first two-thirds of the film is a light, enjoyable comedy that knows it is dabbling slightly into conventional romantic material and doesn't care. But, the last third of the film gets so dreadfully conventional, concocting scenes that never happen in anyone's reality, except that of bad romantic comedy writers. It doesn't ruin the fun we have had through the first part of the movie, but does a decent job of trying."
Mainstream critics are fairly pleased with it.
In the original stories of Winnie the Pooh, by author A. A. Milne, Heffalumps were the manifestations of Pooh Bear's fears. He had nightmares that they would tromp right in and threaten Pooh's honey pots. But in Pooh's Heffalump Movie, the third feature-length film based on the beloved Milne characters, the lovable little Roo discovers that Heffalumps can be our friends.
Many Milne fans have been disgruntled with Disney's exploitation of the Winnie the Pooh legacy. This film is not likely to change things—like The Tigger Movie, the storyline was invented for the film, not drawn from the book. Christian film reviewers disagree on whether the movie is worthwhile entertainment for children. (The Internet Movie Database informs us that it was originally slated for a direct-to-video release. Perhaps they should have stuck to that plan.)
Mary Lasse (Christianity Today Movies) says it "isn't a brilliant animated feature, but it's a good one … a safe, family-friendly movie. Among others, Heffalump's themes include how we treat those different from ourselves, growing up too fast, enjoying childhood, and learning Roosevelt's age-old maxim, 'The only thing we have to fear is fear itself.' For childhood's sake, take your little guys and gals to see this movie—you won't be disappointed."
But Annabelle Robertson (Crosswalk) objects. "I really hate to say anything bad at all about a Winnie-the-Pooh movie—even if he is a bear of little brain. The only problem is, so is this film. Be sure to wait for the video … because few adults will want to sit through this film with their children. And frankly, some kids might not want to, either. I can't help but feel … as if the entire film was created simply to market yet another stuffed animal."
David DiCerto (Catholic News Service) defends it. "Pooh's Heffalump Movie will leave you feeling, to borrow a phrase from its cuddly cartoon star, 'as happy as a tummy full of honey.' [It's] a heartwarming parable about friendship and acceptance, which celebrates family and childhood innocence. In our age-inappropriate society, that is nothing to pooh-pooh."
Pooh seems to have scored with mainstream critics, who give it generally favorable marks.
Uncle Nino

feels like a TV movie, but offers honorable lessons
Uncle Nino won the Crystal Heart and Audience Choice Awards at the Heartland Film Festival in 2003, and is finally making its way to theaters nationwide. It tells the story of Nino (Pierrino Mascarino), an estranged uncle in a family that needs some repairs. When he travels from Italy to Chicago to surprise his nephew Robert (Joe Mantegna), he finds that America holds plenty of surprises for him in return. As he forms bonds with other members of the family, he begins to nudge them toward healthier relationships.
"Uncle Nino is formulaic, predictable, and cliché d—but endearing nonetheless," says Angie Ward (Christianity Today Movies). "At times, however, [it] tries so hard to be a nice, family-friendly film that it ends up coming across as superficial and inauthentic. Still, the message in Uncle Nino is timeless. Family matters. Tell people you love them. Although possibly better suited as a TV movie than a major motion picture, Uncle Nino nevertheless is an enjoyable film for anyone willing to go along for the ride."
Rhonda Handlon (Plugged In) calls it "a film that's paced for Sunday night TV and that fails to get very far under the skin of most of its characters." But she adds, "Uncle Nino's ageless message … shines as a beacon of hope for families everywhere: It's never too late to mend broken relationships, and the most potent healers are love and forgiveness."
Annabelle Robertson (Crosswalk) is not impressed with the performances, but she blames the script rather than the actors. "Their one-dimensional characters have little that is memorable and instead stick with very simply-drawn stereotypes. With its 'after school special' feel, Uncle Nino won't impress movie connoisseurs or those looking for an engaging cinematic experience. It is, nonetheless, a positive family film that offers an excellent opportunity to talk with kids about a range of issues, from smoking to estranged family members to the importance of spending time together."
The film is faring poorly with mainstream critics, who describe it as "a creaky, cliché d, feel-good family drama."
Bride & Prejudice

gives Jane Austen the Bollywood treatment
No, the 'B' is not a typo. Gurinder Chadha's latest movie is called Bride & Prejudice.
Chadha's bio identifies her as "born in Kenya … an Englishwoman of Indian descent," so it should come as no surprise that Bride is yet another multi-cultural experiment. Taking a step up to something more elaborate and ambitious than her last film—Bend It Like Beckham—Chadha stirs together the thick, cheesy stylings of popular entertainment from India with the plot outline of a beloved Jane Austen novel (Pride and Prejudice, of course). The result is earning mixed reviews.
Agnieszka Tennant (Christianity Today Movies) says it's "a deliberate caricature" of Bollywood's "lavish musicals that include over-the-top song-and-dance montages, cleaned-up onscreen morality … and little complexity." Will Austen fans enjoy it? "If you want vintage Austen, go to the library and check out the book. If you want a realistic, complex, redemptive, beautiful wedding story set in a non-Bollywoodized India, you must rent Monsoon Wedding. If you want a wacky multicultural pairing to make you laugh a lot and learn a little, head for the movie theater playing Bride & Prejudice."
Harry Forbes (Catholic News Service) says, "The adaptation is not the last word in wit, not all the dialogue sparkles, and the dialect initially takes some getting used to, but the story moves along entertainingly. If you don't mind your Jane Austen set in a world of saris and cell phones, this otherwise remarkably faithful adaptation may be just for you."
This cross-cultural spectacle is scoring with mainstream critics.
Martial arts fans are celebrating the arrival of a new hero: Tony Jaa, who makes his big screen debut in the U.S. with Ong Bak: The Thai Warrior, and his spectacular exhibitions of skill and daring will give fans of Jet Li and Jackie Chan reason to cheer. Movies like this are more like sporting events than storytelling—oh sure, there's a plot to give some structure to the action, but the real attraction is the thrill of seeing a human being perform seemingly impossible stunts. (An awestruck friend e-mailed me after seeing the film, saying, "Jaa can make a standing leap six feet into the air with ease!")
David DiCerto (Catholic News Service) says, "Director Prachya Pinkaew dresses up the film's generic chop-socky premise with hyperkinetic fight sequences—as balletic as they are brutal and all done without special effects—which show off the athleticism of Jaa, who combines the acrobatic daredeviling of Jackie Chan and the lethal limbs of Bruce Lee."
Mainstream critics are cheering on Tony Jaa and saying things like "It's not often that you witness the creation of a star, so grab the chance now."
More reviews of recent releases
Film Forum has covered these films more extensively in previous editions. But here are links to new reviews of now-playing titles.
Hotel Rwanda: Josh Hurst (Reveal) says, "It's not the performances or the direction that stay with you, but the story itself. Hotel Rwanda is a film that should be watched in Christian faithfulness, and should stir us to show greater kindness and compassion to the least of our brothers and sisters. Though it may have come out in the same year as The Passion of the Christ, this is the one 2004 film that should be required viewing for all Christian moviegoers. And the fact that this movie saw so little support from the Christian media … the same Christian media that were so eager to endorse The Passion … well, you can decide for yourself what that says about our priorities."
The Chorus (Les Choristes): Artie Megibben (Film Forum) writes, "Isolation, loneliness and the resulting self-destructive 'acting out' are the themes of the film. But the main theme is that of redemption. The movie tells the story of a lonely world invaded by grace. Alienated children of failed parents are transformed by the transcendent power of heavenly music. Angelically voiced arias lift hard-boiled delinquents to something higher. By the end of the movie we are reminded of another page from the Scriptures. 'And you were by nature children of wrath … but God who is rich in mercy … has made us alive.'"
CORRECTION:Last week, I inadvertently attributed the film Born into Brothels to the wrong filmmaker. The filmmakers due such high praise were Zana Briski and Ross Kauffman. My apologies, and the story has been corrected.
Next week: Angels, demons, and Satan—oh my! Here comes Constantine! Plus, Because of Winn-Dixie.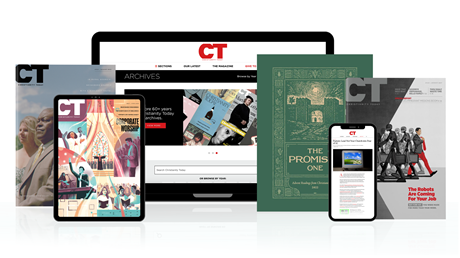 Annual & Monthly subscriptions available.
Print & Digital Issues of CT magazine
Complete access to every article on ChristianityToday.com
Unlimited access to 65+ years of CT's online archives
Member-only special issues
Subscribe
Hitch Proves Romantic Comedies Can Be Funny and Ethical
Hitch Proves Romantic Comedies Can Be Funny and Ethical