true
Adventurous moviegoers who catch up with the film Born into Brothels, which is making its way through various U.S. cities, will probably be amazed, deeply troubled, and ultimately inspired by it.
The prostitutes active in the red light district of Sonagchi, Calcutta, are the neighbors of British filmmakers Zana Briski and Ross Kauffman. Briski and Kauffman observe them as they make money off of drug-addicted, alcoholic men in order to support themselves, their prostitute mothers, and their children. The poverty, the bitterness of the women, and the irresponsibility of the damaged men make this corner of India one of the world's most hellish environments.
But these filmmakers are there for a purpose. It's a risky, difficult, and honorable mission, and it reveals a corner of this lost culture that is often overlooked—the children. There, they discover joy, wonder, and possibility.
As Briski teaches the children photography, their creativity and personality is unleashed. And, in some cases, the pictures may pave the way to a better future. This is all part of a program called Kids with Cameras.
I saw Born into Brothels in Seattle last Saturday, and I'm not surprised to learn that the Cannes Film Festival presented the film with the Audience Award last year. The faces, voices, and stories of the children have stayed alive in my mind since the screening.
It's easy to talk about Christ's call for service and love, but it is difficult to find such dedication and compassion modeled on the big screen. Briski sets a strong example for the rest of us, investing herself in the hard, sometimes tedious, work of love in an unfriendly neighborhood, offering grace with little hope of reward, ministering to students who may be lost causes indeed. As she finds her way through a labyrinth of obstacles—stubborn and contentious families, confounding legal processes, the naiveté of the children she loves—we come to desperately hope she can save some of these beautiful souls.
Born into Brothels may be a hard movie to find. (A schedule of screenings is available here.) And it may be, at times, difficult to watch. But these are two precious hours that offer a surprising measure of joy, discovery, and inspiration. It's one of those rare films that stands a chance of awakening a conscience, changing a life.
Some Christian press filmmakers have caught up with the film in recent weeks.
Steve Lansingh (Film Forum) says, "This is not primarily the story of a Westerner sweeping in and saving the day. This is the story of children, still unbeaten by the harsh conditions of their situation, finding a voice through the camera. As we see their photographs, we see their world through their eyes. We see sadness and squalor, yes, but we also see kites and animals, colors and smiles. These photographs are not intended to elicit our concern nor abate it; they have no agenda. The photos are simply a record of their world, glorious and broken—the only one they know."
Stef Loy (Looking Closer) says, "The pictures reveal a new way to view life, and the lens of a child transmits hope to the viewer—we want a better life for these little kids. In snap shots we see the world through their eyes, and it's a world that breaks our heart for their plight."
J. Robert Parks (Looking Closer) says, "Born into Brothels is certainly a compelling work and one likely to bring tears to your eyes. And its noble goals of raising awareness of the problem and money for a solution are worth celebrating." But he adds, "While the film is ostensibly a portrait of particular children in a particular place, it doesn't do much to explore the place itself."
Mainstream critics are celebrating the movie here.
Meanwhile … a male prostitute gets glorified in
The Wedding Date
The box office proves it again and again—people love movies about weddings. Just put "wedding" in the title, and you're almost assured some measure of success.
Perhaps that has something to do with the opening-weekend success of The Wedding Date. It has "wedding" in the title, yes. But viewers who thought they were in for a romantic movie about a celebration must have been surprised when they learned it was instead about a woman and a prostitute.
Or, excuse me—a male escort. Debra Messing of TV's Will and Grace plays Kat, a single woman who hires Nick (Dermot Mulroney), a male escort, in order to deceive her ex-fiancé . Clearly, this is a character who could use some counseling.
And so could moviegoers. Those with eyes to read should check out these reviews.
Camerin Courtney (Christianity Today Movies) says it "ends with predictable complications and resolutions, and more cliché s than Liz Taylor has had weddings. And the couple of great romantic lines it does offer … it completely wastes by not backing them up with enough character development, time, and motivation. While there are many of the right ingredients here—a likable cast, plot potential, a dreamy English countryside setting—I still can't say 'I do' to this fluffy flick."
"Oh, how romantic! Hooking up with a hooker!" exclaims Annabelle Robertson (Crosswalk). "And just in time for Valentine's Day, too. I'm a pretty easy sell when it comes to romantic comedies. But this film, despite solid performances from the cast (save Mulroney, who is appallingly boring), just doesn't do the trick."
Megan Basham (National Review) says, "Some films are so bad it seems a tragic waste of time even bothering to describe the details of their dreadfulness. In such instances, the film critic wishes she had the option of simply writing, 'This is an awful, awful movie. If you spend a single dime gaining admission to this 90-minute affront to morality, creativity, and reality that could otherwise be spent on some worthwhile cause, surely God will record it among the most egregious sins of your life, and you will be called on to justify it come Judgment Day.'"
David DiCerto (Catholic News Service) says, "The movie is about the pitfalls of pretending to be something you're not, and of confusing surface illusion for reality—which is exactly what this low-wattage love story is guilty of doing. The picture's tag line states, 'Love doesn't come cheap.' But the laughs do, when they come at all."
Michael Elliott (Movie Parables) writes, "First time screenwriter Dana Fox heads off in the wrong direction at the onset and never recovers. The attraction between Kat and Nick is evident from the beginning and Fox builds no obstacle of any import to keep them apart. Briski doesn't appear to have the artistic vision to do more than a straightforward approach to substandard material which inevitably results in a substandard film."
"What is it about gushy movies about prostitutes?" asks Steven Isaac (Plugged In). "Are all guys attracted to street-weary 'pretty women'? Do women go goo-goo over GQ gigolos? If alien anthropologists were studying our culture by watching our movies, they'd certainly come to that conclusion" He concludes, "If you can manage to overlook the downsides of Nick's ancient vocation, the physical intimacy he shares with Kat, their deceit, drunkenness and foul banter, you might find yourself actually enjoying the connection that develops between them. But, quite frankly, that's too much to ask."
Sherri McMurray (Christian Spotlight) says, "The Wedding Date is not about a wedding and it is not about a date. To be frank, it's about sex. Illicit sex, sex with lust, sex with strangers, sex before marriage, sex with a male prostitute and before it's done this film shows how uncontrolled sex is not love and how it can hurt and ruin the lives of far more people than just the two who are involved in the act. If your children happen across this film before you can pre-screen it, please discuss in depth the will of God for their lives, their bodies and what true unconditional love is really all about. There is so much confusion in the world today over this issue."
Mainstream critics are not in the mood for this theater date.
To escape torrential rain, a Japanese tourist ducks into a declining movie theater and waits out the storm while watching a classic martial arts film called Dragon Inn. There, the few who have gathered enjoy the final hours of this timeworn cinema, and share some meaningful encounters.
Goodbye, Dragon Inn, the latest film by the acclaimed Taiwanese director Tsai Ming-liang, is earning rave reviews from cinephiles and critics at festivals around the globe.
It also caught the attention of a Christian film critic recently. J. Robert Parks (The Phantom Tollbooth) joins the chorus of praise. "Tsai Ming-liang is known in film circles for his rigorous, slow, demanding works. Though he has a quirky brand of humor that shows up in movies like What Time Is It There? and The Hole, his films are challenging for audiences not used to his long takes. His latest work is a profound meditation on the reasons why we watch movies as well as a stirring defense of his own approach to cinema. It is certainly a slow, difficult work but one that richly rewards those who can appreciate Tsai's approach."
You'll find mainstream reviews of the film here.
In this week's forgettable horror flick, Boogeyman, a young man haunted by terrifying childhood memories must struggle to sort out the difference between fantasy and reality.
Similarly, those watching the film may walk away scarred by the experience and trying to escape the memory of it.
David DiCerto (Catholic News Service) says it's "a muddled mess of failed frights, horror-movie cliché s and late-coming special effects pieced together by a mostly incoherent screenplay."
Marcus Yoars (Plugged In) says, "Despite the fact that Boogeyman contains fewer overtly problematic elements than most of its horror peers, its fear quotient and willingness to dabble its toes in dark spiritual waters are still pretty strong reasons to keep the closet door shut."
Brett Willis (Christian Spotlight) says, "Although the story is weak and manipulative, the cinematography … is very good, as is the acting. There are many films of this genre that dabble far deeper into the occult supernatural than this one does. But I still wouldn't recommend it to anyone."
Mainstream critics don't believe in Boogeyman.
More reviews of recent releases
You've probably read reviews of these films in previous weeks here at Film Forum. Here are the latest opinions on these continuing hits.
Million Dollar Baby: Kevin Miller (Relevant) reviews Million Dollar Baby and addresses the controversy surrounding its conclusions. CAUTION: Plot spoilers included in the review! Hollywood Jesus now includes three reviews of this film, and they include spoilers as well.
Coach Carter:Denny Wayman and Hal Conklin (Cinema in Focus) give the film four stars. "The happy ending of Coach Carter is not that these boys become basketball heroes, but rather that they become men of self discipline, motivation and integrity, who go on to accomplish far more than they—or anyone—thought possible."
The Aviator:Steven D. Greydanus (Decent Films) describes the film as "an intriguing portrait of a troubled golden boy in a golden age, a man who lived as if he had a charmed life, and whose charm and charisma and vision were enough for awhile to make it seem as if he really did." He then considers how the film measures up to Citizen Kane, which it clearly echoes."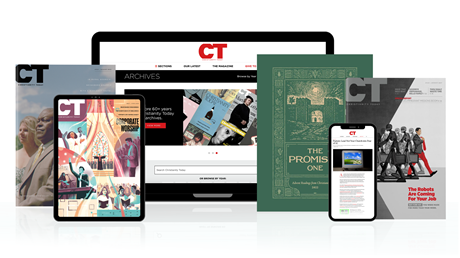 Annual & Monthly subscriptions available.
Print & Digital Issues of CT magazine
Complete access to every article on ChristianityToday.com
Unlimited access to 65+ years of CT's online archives
Member-only special issues
Subscribe
Children Born into Brothels Get a Movie of Their Own
Children Born into Brothels Get a Movie of Their Own