The church of the Messiah in Nashville, Tennessee, is a friendly and energetic Southern black congregation. In a tiny sanctuary that neighbors the city's housing projects, its 300 members soulfully sing the Lord's praises each Sunday, some clapping and dancing with their arms outstretched, others crying out their prayers with their eyes closed and heads thrown back, and still others weeping as the worship sweeps them up.
The animated scene hardly evokes the conservative Southern Baptist Convention (SBC). In fact, there is no sign anywhere of the church's SBC affiliation. Churchgoers use hymnals from the National Baptist Convention USA, and Pastor Bryan Williams removed any reference to the denomination from the church's name some time ago.
But the sermon on one recent Sunday was vintage Southern Baptist. Williams preached on the story of Elijah, who condemned an Israelite king for worshipping both God and a false god. His application—that only a strict following of Scripture is acceptable—is in keeping with the denomination's belief that the Bible is inerrant, in both historical detail and spiritual teaching.
This is how one black congregation, and many others, are finding common ground with Southern Baptists in spite of the racial, cultural, political, and historical differences that long had separated them from the nation's largest Protestant denomination. Today the SBC is seeing dramatic growth in its number of African American congregations, adding 1,600 in the '90s to total more than 2,700 by 2002. By comparison, the historically black National Baptist Convention USA has more than 5,000 congregations, and the Progressive National Baptist Convention counts 1,800 congregations in its ranks. This makes the SBC one of the largest "black denominations" in the United States.
Intentional diversity
This is an unlikely development for the denomination that emerged in 1845 when its proslavery members split from their Northern peers so that their missionaries could own slaves. That's why "there's a perception in many people's minds that growth in the African American churches of the Southern Baptist Convention is counterintuitive," says C. Ben Mitchell, an associate professor at Trinity Evangelical Divinity School and consultant to the SBC's Ethics and Religious Liberty Commission. Today the denomination identifies itself with conservative theology and its public policy positioins mirror many of those held by the Religious Right. The SBC has also drawn fire for its beliefs on homosexuality, women, and much else. But Southern Baptists are reaching out to all racial and ethnic groups like never before. They say minorities are drawn to the SBC's conservative Christian traditions and strong family values. At the same time, church leaders recognize that as the nation grows more diverse, they are obligated to do the same. It's common sense: "If you're going to impact your nation, you've got to be multicultural," says Bob Reccord, president of the church's domestic mission arm, the North American Mission Board (NAMB).
Though the church has supported civil rights for decades (even cheering the Supreme Court's 1954 ruling in Brown v. Board of Education), its first apology to blacks came only in 1995: "We lament and repudiate historic acts of evil such as slavery. … We apologize to all African Americans." Church leaders put priority on the resolution by taking it up on their first day of that year's national meeting.
The resolution made way for an annual Racial Reconciliation Sunday, during which congregations are encouraged to offer special sermons and Bible studies. Since then race relations has become an emphasis of the SBC's Ethics and Religious Liberty Commission. The NAMB restructured in 1997 to better reach out to minorities. Albert Mohler Jr., president of Southern Baptist Theological Seminary, has done so much to advance black studies that the Black Southern Baptist Denominational Network awarded him with its highest honor last June.
Church leaders are sending missionaries into black communities and offering scholarships to black students. The Tennessee Baptist Convention organizes a leadership conference for black church pastors each year. Also in Tennessee, SBC leaders across the state work to identify communities that need black congregations and the up-and-coming pastors who can fit that need, giving them training and money, says Bill George, a church planting team director for the Tennessee Baptist Convention.
Similar efforts are going on across the country. "In 1970 we were almost totally a white denomination by choice," says Richard Land, president of the Ethics and Religious Liberty Commission. "As of 2000, 20 percent of Southern Baptists were ethnic."
What's the attraction?
Blacks are comfortable with the denomination because it does not impose all its beliefs on its congregations, says Jeffrey Curtis, who is black and the leader of a team that starts black churches in the SBC's California division. He grew up in the Progressive National Baptist Convention but became Southern Baptist after attending seminary because of the church's global reach. He and his colleagues now start at least 40 black churches a year in a state with the nation's second-largest black population after New York.
"The thing that binds black Southern Baptists together with Anglo Southern Baptists is missions," he says. "Because the convention is not hierarchical, it's not like the churches can be dictated to as far as what political alliances to have … so they do their own thing."
Some point to Gary Frost's career in the denomination as an illustration of growing diversity in its leadership. A former Ohio pastor, Frost was the first black president of that state's convention, the first black on the denomination's executive committee, and the first black vice president of the NAMB. He now reaches out to new black Southern Baptists as executive director of the Metropolitan New York Baptist Association.
Blacks are drawn to the church for its worship, not its politics, he says. "There are those who are very much in line with all the Religious Right on the social causes and the Bible, but who would take a different view concerning some of the economic issues," Frost says.
Removing barriers
Frost's career and the NAMB's restructuring show that church leaders clearly are working to make the denomination a better home to minorities, says David Key, director of Baptist studies at Emory University's Candler School of Theology. But, he adds, the denomination could do more.
He hears many of his black students complain that the denomination has been weak at following up its 1995 apology with real action, and he wonders how deeply integrated its leadership really is. He says many of the church's black congregations are aligned both with the SBC and with traditionally black denominations, and that they joined the SBC only for the resources and health benefits it offers pastors.
"Being involved with the SBC requires a minimum amount of money and time and effort," Key says. "Most of these churches stay aligned with the traditional African American denominations because of the social justice issues." Martin King, spokesman for the NAMB, estimates about a third of the church's black congregations are aligned with more than one denomination but believes that number is declining.
Reccord says the church's leadership is integrated and believes the day when his agency will appoint a black president is not far off. He cites the scene described in Revelation 7, in which the world's diverse people stand together before God.
"Here's the bottom line," he says. "If we're going to spend eternity together, we better learn how to cooperate and learn how to enjoy each other right here."
Williams acknowledges there are cultural differences that separate blacks from the SBC. That is why he uses National Baptist hymnals and removed any reference to the denomination from his church's name. His message is the same, he says. He merely removed a barrier.
The strategy worked. The congregation was a branch of the 1,750-member First Baptist Church downtown only five years ago. Now it is an independent congregation that has flourished in a low-income neighborhood, but few of its members recognize it as Southern Baptist.
Williams disagrees with some of the denomination's beliefs but sounds Southern Baptist when he defends the church's resolution on a woman's submission to her husband. He explains it is about injecting order into the complicated family dynamics of today's society, and the negative connotation given the word submit is just another example of how today's society has twisted the Bible's meaning.
Despite other differences, he sticks with the denomination because he is free to lead his congregation as he feels is best, and he appreciates the church's global reach. He would rather be a part of change than outside of it, but he puts denominational politics secondary to his preaching. He equates today's religious denominations with the wives of Jacob.
"Denominations are like the mothers who brought us into the faith," he says. "We all have the same father. It's our mothers who got us looking funny at each other."
Amy Green is a freelance journalist based in Nashville, Tennessee. Her writing credits include The Boston Globe.
Related Elsewhere:
The Southern Baptist Convention's website has more information about the denomination's activities.
Baptist Press has an article about Roosevelt Broach who serves as a church growth consultant for African American churches.
Other Christianity Today articles on minorities and church relations include:
7 Habits of Racially Mixed Churches | How to achieve ethnic diversity—and die (to self) trying. (Aug. 11, 2004)
One Lord, One Faith, Many Ethnicities | How to become a diverse organization and keep your sanity. (Dec. 30, 2003)
Healing Salve | United by Faith looks for answers to the problem of race. (Nov. 10, 2003)
Article continues below
Graham Calls Bigotry a Sin | Evangelist calls for racial healing (July 16, 2002)
Sunday Colors | Dallas churches continue to challenge the racial divide. (May 15, 2002)
The Forgotten Founder | The man who altered the course of black Baptist history finally has his say. (March 28, 2002)
To the End, a Baptist Preacher | If you want to know Martin Luther King Jr., consult his sermons. (Jan. 21, 2002)
Separate and Equal | Martin Luther King dreamed of an integrated society. Boston minister Eugene Rivers thinks it was the wrong dream. (August 7, 2001)
Lost Common Cause | Christian focus on racial reconciliation is set back after Cincinnati's riots. (June 14, 2001)
We Can Overcome | A CT forum examines the subtle nature of the church's racial division—and offers hope. (Sept. 29, 2000)
Different Worlds | Interviewing blacks and whites in the same cities makes an author realize that these followers of Christ were speaking separate languages. (Oct. 2, 2000)
Shoulder to Shoulder in the Sanctuary | A profile in racial unity. (Sept. 28, 2000)
Common Ground in the Supermarket | A profile in racial unity. (Sept. 27, 2000)
The Lord in Black Skin | As a white pastor of a black church, I found the main reason prejudice and racism hurt so much: because we are so much alike. (Sept. 25, 2000)
Divided by Faith? | A recent study argues that American evangelicals cannot foster genuine racial reconciliation. Is our theology to blame? (Sept. 22, 2000)
Color-Blinded | Why 11 o'clock Sunday morning is still a mostly segregated hour. An excerpt from Divided by Faith. (Sept. 22, 2000)
Confessions of a Racist | It wasn't until after Martin Luther King, Jr.'s death that I was struck by the truth of what he lived and preached. (Jan. 17, 2000)
The March to Montgomery | Christianity Today's coverage of King's historic voting rights march, from our April 9, 1965 issue. (Jan. 17, 2000)
Martin Luther King, Jr.: A History | No Christian played a more prominent role in the century's most significant social justice movement than Martin Luther King, Jr. (Jan. 17, 2000)
Catching Up with a Dream | Evangelicals and race since the death of Martin Luther King, Jr (March 2, 1998)
Breaking the Black/White Stalemate | Jesse Miranda and William Pannell discuss the next step in racial reconciliation. (March 2, 1998)
She Has a Dream, Too | Bernice King talks about her father's death, her call to ministry, and what the church still needs to do about racism. (June 16, 1997)
Will the Walls Fall Down? | Promise Keepers draws a bead on the 'giants' of racism, family breakdown, and church disunity. (Nov. 17, 1997)
Racism | Youth Are Key in Moving Past 'Feel Good' Reconciliation. (Nov. 11, 1996)
(Please note that some of these articles are available exclusively in the CT Library.)
Have something to add about this? See something we missed? Share your feedback here.
Our digital archives are a work in progress. Let us know if corrections need to be made.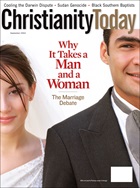 This article is from the September 2004 issue.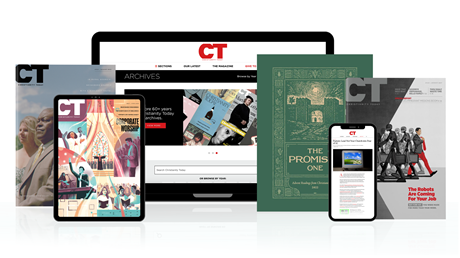 Annual & Monthly subscriptions available.
Print & Digital Issues of CT magazine
Complete access to every article on ChristianityToday.com
Unlimited access to 65+ years of CT's online archives
Member-only special issues
Subscribe
Southern Baptist Surprise!
Southern Baptist Surprise!