true
Editor's note: Andree Farias was among the journalists at the May 16 launch of The ONE Campaign in Philadelphia. The event featured U2 frontman Bono and other celebrities at what was billed as a rally to raise awareness of the emergency of AIDS and extreme poverty in Africa and the world's poorest countries. Here's Farias' account of meeting the rocker at a press conference before the rally.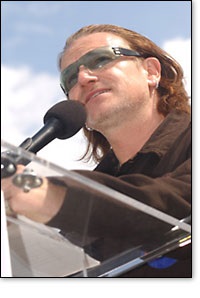 PHILADELPHIA — Bono had the stage, so to speak, and I was closer than a front row seat.
I could've shaken his hand, if I'd wanted to. Nobody could've stopped me, not even the countless media outlets, their intimidating boom mics, or—in the case of local TV personalities—their slicked-back hairstyles.
The pressroom definitely allowed for that kind of physical contact. It wasn't indoors, but on a second-floor terrace, only yards away from hordes of fawning, overzealous fans who knew little about the occasion other than that their favorite frontman was about to give "some speech about AIDS."
The Irish demigod was supposed to meet the press between 1:30 and 2 P.M., a time slot I deeply resented in light of the daunting task that is finding parking on the narrow streets of Philadelphia.
The minute I arrived, I was surprised at how behind schedule everything was. Crowd size in front of Independence Mall was only in the hundreds, and for a moment it seemed that concession tables and other humanitarian organizations at the scene were more aware of the event than the actual general public. Even members of the press—radio, print, and Fox News, among others—seemed more abreast of what was about to transpire than Philly locals.
Considering Bono's imminent advent, I was surprised by the laxity of it all. Just seconds prior to his grand entrance, a woman apologized for the unorthodoxy of the pressroom and the lack of amenities, and kindly asked us to stand three feet away from the table where the ONE petition—Bono's new organized initiative to get lawmakers to send aid to Africa—was to be signed.
The instant the rock luminary walked into the place—followed by a procession of public figures including hoarse-voiced basketball star Dikembe Mutombo, World Vision president Richard Stearns, and Michael W. Smith—the pressroom literally swarmed about him, taking pictures, shouting out questions at random, and violating the three-foot rule.
It was all about Bono.
If I was to catch a glimpse of the star, I had to be assertive and squeeze through the bodies that were blocking my view. So I simply went under one of the cameramen's tripods and got close enough to rest my elbow on the table.
Once there, I simply took notes on the exchange between members of the press and Bono. I never asked the two questions I had prepared for the occasion, partly because I confess to being mildly star struck, but mostly because I figured Fox or another big player would ask better questions. I was wrong! Questions like, "Why did you come so far for this?" or "If you had a chance to talk to President Bush, what would you say to him?" were as deep as the inquiries got. I ended up kicking myself for not asking mine.
Bono might be a rock giant, but I was surprised by his unimposing 5'8'' frame. He wore distressed brown jeans, a relaxed brown shirt, beach sandals, and those otherworldly wraparound shades he wore during the Elevation Tour. Despite the cool he exuded, the creases on his forehead and below his eyes gave the impression he's lived every single one of his 44 years.
The conference culminated with everybody in the room, including me, signing the ONE petition. As I signed my name, I noticed Bono had written "MARS.COM" as his e-mail address, whatever that means.
Bono and Co. were quickly escorted to the site of the rally after this. I soon followed, and noticed the meager crowd had grown to a more respectable size. Colorful ethnic music and dances served as the preamble for the speakers for the day, which included all of the press conference participants, as well as the lovely Agnes Nyamayarwo, a Ugandan nurse who's witnessed first-hand the toll poverty and AIDS have taken on Africa.
I was somewhat worried how the event would be received by the general public—not so much because of the ideals embraced by the ONE initiative, but because of the event's deeply evangelical overtones. The emcee, for example, was Rev. Herbert Lusk, whose impassioned parlance and opening prayer were offered as if the event were a church service. Immediately following his prayer, Bread for the World president David Beckmann gave a short speech and prayed. I wondered if such blatant displays of faith would turn would deter a non-religious person from supporting the cause, fearing they might be endorsing a particular religious agenda in doing so.
Opting not to give a speech like everybody else, Michael W. Smith chose to treat attendees to a musical performance. Though not written with Africa in mind, he said "Healing Rain"—a new song slated for his fall release—could perfectly apply to the situation, as we're all in dire need of God's healing. He got a chuckle out of the crowd when he started the song by singing a line from the chorus of "Pride (In the Name of Love)," but quickly pointed out that he was only kidding.
Finally the big moment came. Bono is quite a character, and you never know what he may have up his sleeve. I'm used to seeing him in full rock star mode, so when he started describing his plans for the ONE Campaign, it was hard to reconcile his humble soft-spokenness with his much-publicized FCC-defying persona. But Africa means a lot to him, and that made me understand why he'd much sooner give up being a music idol than let the afflicted continent die out. After all, aren't his ongoing attempts to save the world forcing U2 to push back its much-delayed 12th studio album?
But Bono loves and believes in America, too. Who other than the renowned Irish rocker would kick off a humanitarian campaign less than two blocks from where the Liberty Bell was first rung, or just around the corner from Independence Hall? Why would Bono choose the birthplace of this country as the starting point for the ONE Campaign? He said it best: "Ring the Liberty Bell. America is not just a country. It's an idea. A great idea where anything is possible: 'Hey, that's the moon up there; let's get up there, take a walk, and bring a piece back.' That's the America I'm a fan of.
"Ring the Liberty Bell. Let's ring it for a generation that thinks, Where you live in this world does not depend on whether you will live. Ring the Liberty Bell."
More: The ONE Campaign, transcripts of Bono's press conference and speech in Philly, DATA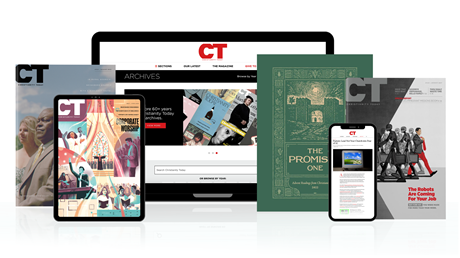 Annual & Monthly subscriptions available.
Print & Digital Issues of CT magazine
Complete access to every article on ChristianityToday.com
Unlimited access to 65+ years of CT's online archives
Member-only special issues
Subscribe
On the Campaign Trail with Bono
On the Campaign Trail with Bono