Despite clear gains for evangelicals this week during the United Methodist global conference in Pittsburgh, some conservative leaders are now calling for the "amicable separation" of the 10-million-member denomination.
"We feel that the time has come to end this cycle of pain and conflict," said Bill Hinson, president of the Confessing Movement, a renewal group representing 675,000 conservative Methodists. "We feel that the gulf is too wide, the differences are irreconcilable—and we cannot bridge these."
Hinson and other leaders of conservative groups are now proposing that the opposing camps go their separate ways. Hinson said, "It would be a new denomination, complete with our Methodist heritage and doctrines. "But they wouldn't want us to have the United Methodist name and we wouldn't want them to have the United Methodist name.
"So rather than having a winner or a loser here—as you would in a split—this is to be an amicable separation, so I'm sure both would continue to carry the best of Wesley's tradition."
Delegate representatives of the General Conference, the top legislative body in global Methodism, which meets every four years, are expected to propose a resolution to appoint a task force that would plan for the division of United Methodist Church. For the resolution to be considered by the Conference, delegates would have to suspend the rules because the resolution is not currently on the agenda. The resolution would then face a vote for approval to go into effect.
Written by Hinson, the anticipated resolution states: "Be it resolved that the General Conference create a special task group to prepare a recommended process by which United Methodism will amicably separate, with the report of the task group to be presented to a special session of the General Conference in 2006."
The Task Group on Amicable Separation proposed by the resolution would have seven members from each of the three constituencies within the denomination: progressive/liberal, moderate/centrist, and evangelical/orthodox. According to James V. Heidinger, president of the Good News renewal group, approximately 70 percent of the 8.3 million Methodists in the United States identify themselves as centrist or orthodox.
Hinson is optimistic. "Even if the General Conference fails to approve [the resolution]," Hinson said, "We believe, if this is of God, if we are hearing the leading of God's Spirit, that this will take a life of its own in our congregations and among the laity of our church who are wearied by this continuing battle—a battle that has caused us to lose our focus on our mission and our ministry."
Hinson said the decision to push for a denominational split came after conversations with people on both sides of the homosexuality debate.
After the General Conference vote on Tuesday to strengthen the church's stand against homosexual practice, many pro-gay persons feel "disenfranchised," Hinson said. "They are begging for a space so they can do their thing. They would like to be autonomous and ordain homosexuals and go for their dream.
Since the early 1970s, Methodists have been intensely divided on the issue of homosexual practice within the church. The topic has been hotly debated at each General Conference since then.
Kathryn Johnson, executive director of the liberal group Methodist Federation for Social Action, said she believes it is "totally premature to talk about a split."
"Clearly the church is deeply divided on a number of issues," Johnson said. "But our position is that we need to honestly look at those issues and talk about what to do to seek a solution about how to remain together in the church."
Hinson said the fundamental division within Methodism goes deeper than the church's policies regarding homosexual practice. "For them," he said, regarding to pro-gay constituencies, "keeping pace with the culture is very important. They say the church is behind the culture."
"We don't give a fig about keeping up with culture," Hinson said. "Many times we're over against culture. Our concern is being faithful to the biblical message. So, we don't even speak the same language."
Though Hinson said he does not presume to speak on behalf of the conservative movement, he believes most Confessing Movement members are in "harmony" with the move to split the denomination.
Heidinger and Mark Tooley, director of the conservative UMAction, said they too believe it may now be time to consider a new course for the denomination.
After what Heidinger describes as ad-hoc, informal dialogue with "folks from the other side," which included some homosexuals, he said, "There was little excitement for continuing dialogue. They know where we are coming from, we know where they're coming from."
"I think if both sides are honest, we know that we're not going to sit down after another decade of dialogue and come to a mutually acceptable understanding. We are poles apart," Heidinger said.
"So we feel like, perhaps it's time that the church at least consider, is a better way amicable, loving division—where each side has the opportunity to minister with integrity, according to their own convictions."
"Idealistically," Tooley said, "we would like to see the whole denomination renewed and transformed, not divided. But realistically, especially given the recent example of the Episcopal Church, an amicable separation might be worth discussing. Many on both sides of the spectrum are simply exhausted from decades of battle."
Related Elsewhere:
More Christianity Today coverage of homosexuality and the United Methodist Church includes:
Lesbian Is Eligible for Reappointment, Bishop Says | Differing interpretations of Methodist court ruling prolong denomination's fight. (May 06, 2004)
Methodists Strengthen Stand Against Homosexual Practice | Lesbian pastor may not be reappointed. (May 05, 2004)
Weblog: Methodist Council Says Homosexuality Is 'Incompatible' with Christian Teaching (May 03, 2004)
Flouting Church Law | Two gay controversies likely to dominate United Methodist General Conference this week. (May 2004)
A Methodist Mob Mugging | There are real victims in the farce that was the Methodist church trial of a lesbian minister. (March 25, 2004)
Weblog: Methodist Court Acquits Homosexual Minister (March 22, 2004)
Weblog: Methodist Trial Opens With Arrests, Comparison to Crucifixion (March 18, 2004)
Weblog: In the United Methodist Church, a Trial Comes After the Court's Decision (Dec. 18, 2001)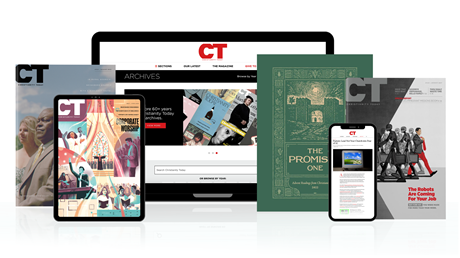 Annual & Monthly subscriptions available.
Print & Digital Issues of CT magazine
Complete access to every article on ChristianityToday.com
Unlimited access to 65+ years of CT's online archives
Member-only special issues
Subscribe
United Methodist Conservatives Seek 'Amicable' Split
United Methodist Conservatives Seek 'Amicable' Split