With the release of the 12th and final book of the Left Behind series (though a prequel and sequel are scheduled), the phenomenon has once again shocked media elites. The nearly two million print-run sold out before the book even went on sale prompting news coverage. Newsweekput the writing duo of Tim LaHaye and Jerry Jenkins on its cover. The series is almost ten years old, however, and Christianity Today and its sister publications have been following it for some time.
Left Behind: The Book Series
Our original review of

Left Behind

: The Bible Study at the End of the World | Recent novels by evangelical leaders say more about popular American Christianity than about the end times (Sept. 1, 1997)
Newsweek catches up to Left Behind | What more can be said about the Left Behind series? Not much, though this week's

Newsweek

cover story tries to go for one less-played angle
Compiled by Ted Olsen | posted May 20, 2004
Weblog: Time's Up? | Have You Heard About the Left Behind Book Series?

Time

Apparently Hadn't
Compiled by Ted Olsen | posted May 20, 2004
No Longer Left Behind | An insider's look at how Christian books are agented, acquired, packaged, branded, and sold in today's marketplace.
By Steve Rabey | posted April 12, 2002
Bible Prophecy Sales Boom | Whether scholarship or fiction, prophetic books are top sellers after September 11.
By Mark A. Kellner | posted Oct. 28, 2001
Left Behind Has Been Very, Very Good to Tyndale | Success leaves publisher wondering how to best steward the company's increase.
By Corrie Cutrer | posted Oct. 17, 2000
Weblog: Readers Apparently Enraptured with Latest Left Behind, Now #1 |

The Indwelling

hits number one on

New York Times

bestseller list
Compiled by Ted Olsen | posted June 9, 2000
Christian Fiction Gets Real | New novels offer gritty plots and nuanced characters—but can they find a market?
By Susan Wise Bauer | May 11, 2000
Amassed Media: Why The New Republic likes Millennialism | Millennialism in

The New Republic


Compiled by Ted Olsen | November 3, 1999
Apocalyptic Sales Out of This World | With its fast-paced plots and high-velocity sales, the Left Behind fiction series has popularized pretribulational premillennialism much as Frank Peretti's

This Present Darkness

interested readers in spiritual warfare in the 1980s
By Steve Rabey | March 1, 1999
Left Behind: The Films
Few Flashes of Creativity Enliven Left Behind 2 |

Tribulation Force

will satisfy those who feel the movies are meant to explicitly preach the gospel.
By Douglas LeBlanc | posted Nov. 14, 2002
Author LaHaye Sues Left Behind Film Producers | Producers didn't make the blockbuster they promised, he says.
By Michael R. Smith | posted March 28, 2001
At the Box Office, Left Behind Gets … Well, You Know | Moviegoers not enraptured by Left Behind: The Movie
Compiled by Ted Olsen | posted February 5, 2001
Horror Stories for Christians | Believers dream again of a breakthrough film. Left Behind is not it.
By Douglas LeBlanc | posted Dec. 6, 2000
Cameras Rolling | Bestseller Left Behind's big-screen debut set for 2001.
By Denyse O'Leary in Toronto | posted July 14, 2000
Christian Filmmakers Jump on End-times Bandwagon | Bestseller Left Behind is slated for the big screen (Oct. 25, 1999)
Left Behind: The Authors
The Dick Staub Interview: Jerry Jenkins's Solo Apocalypse | His new novel,

Soon

, imagines a world where religion, blamed for war, is banned.
Sept. 16, 2003
Surviving Soul Survivor | A business guide to Tim LaHaye's other series.
By Jeremy Lott | posted Oct. 30, 2002
Jenkins Gets Left Behind | Tim LaHaye signs Bantam Dell book deal for $45 million.
By Ted Olsen | posted April 11, 2002
Left Behind: The Theology
Christian History Corner: How Will It All End? | Left Behind is neither the first nor the last word on "last things."
By Steven Gertz | posted April 02, 2004
'The End Is Not Yet' | The president of Dallas Theological Seminary says there will be an increase in wars and rumors of wars before the end times, but date setting should not be a priority for evangelicals.
An interview with Mark Bailey | posted March 27, 2003
The Iraq War Has Little Effect on the Rapture Index | The founder of an online end times "speedometer" says that other current events are more connected to biblical prophecy.
An interview with Todd Strandberg | posted March 27, 2003
Weblog: Newspapers Miss the Real End-Times Story | Evangelicals believe this is the end, say papers. Oh really?
Compiled by Ted Olsen | posted Mar 25, 2003
Christian History Corner: Zion Haste | Does the passion of a few nineteenth-century Chicagoans still influence American policy in the Middle East?
By Elesha Coffman | posted Feb. 1, 2002
Opinion Roundup: Was September 11 the Beginning of the End? | Observers say geography and gravity of attacks have led to little prophecy speculation
By Todd Hertz | posted Sept. 19, 2001
The Rapture: What Would Jesus Do? | An end-times pilgrim counts the cost of discipleship.
By Glenn Paauw | posted Feb. 6, 2001
The Revelation Will Be Televised | "Apocalypse!," tonight's episode of PBS's

Frontline

, gets better after its biblical criticism
By Elesha Coffman | posted November 22, 1999
Is Revelation Prophecy or History? | Some events described in Revelation occurred contemporaneously with the prophecies themselves
By David S. Dockery | October 25, 1999
What Hal Lindsey Taught Me About the Second Coming | At UCLA, amid war protests and police helicopters, teachings on an imminent end made a lot of sense.
By Chris Hall | October 25, 1999
Apocalypse Now | Worried about the future? Revelation says more about church life today than about how the world will end.
By J. Nelson Kraybill | October 25, 1999
Stop the Dating Game | Don't do what Jesus said can't be done.
By Vernard Eller | October 25, 1999
The Millennial Book Awards | A review of end-times books with only a wee, little bit of Y2K hype thrown in
By Mark Galli | October 25, 1999
How Evangelicals Became Israel's Best Friend | The amazing story of Christian efforts to create and sustain the modern nation of Israel
By Timothy Weber | Oct. 5, 1998
Obsessed with the End Times | Are evangelicals embarrassed or enraptured by dispensational theology?
By Michael G. Maudlin | October 5, 1998
Reflections: End Times Edition | Classic and contemporary quotations
October 25, 1999
From Our Sister Publications:
Before Left Behind | It's not easy to say something new about the end of the world.
by Crawford Gribben |

Books & Culture

, July/August 2003
Left Behind: Stronger Than Fiction | Nearly 3,000 people have written to say they accepted Christ after reading the Left Behind series


Today's Christian

, November/December 2002
Take Five: Jerry Jenkins | An interview with the Left Behind coauthor—and our magazine's first editor


Today's Christian Woman

, November/December 2000
The End | What Christians have believed about the Second Coming for 2,000 years


Christian History

, Winter 1999
The Revelation of LaHaye and Jenkins | Why 7.4 million fans watch and wait for the next Left Behind


Today's Christian

, November/December 1999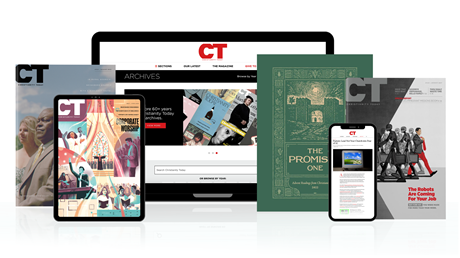 Subscribe to Christianity Today and get access to this article plus 65+ years of archives.
Home delivery of CT magazine
Complete access to articles on ChristianityToday.com
Over 120 years of magazine archives plus full access to all of CT's online archives
Subscribe Now
Left Behind: Raptured Believers and Enraptured Readers
Left Behind: Raptured Believers and Enraptured Readers