A situation in desperate need of hard reporting
According to police in Kano, Nigeria, 30 people died this week as Muslims sought revenge for the murder of hundreds of their fellow believers last week.
Andrew Ubah, general secretary of the Christian Association of Nigeria (CAN) in Kano, has a different number. "Almost 600 people have been killed and 12 churches burned," he told Reuters, saying the numbers were based on direct reports from priests across the city.
The news service agrees that the official death count is a gross underestimation, explaining that "Nigerian authorities routinely underestimate death tolls from religious violence in the belief the true figures could spark reprisal attacks."
But do they think they're fooling local Nigerians? David Emmanuel told the news service that "he saw two truck loads of bodies being driven along Kano streets on Wednesday night and counted at least 30 corpses in the street."
Christian leader Mark Amani reports that "some corpses were burned in wells. Even little children were killed. The bodies of pregnant women were ripped open and their bodies burned."
Kano's chief of police told a reporter, "We still stick to our figure of 30 killed and 40 hospitalized … [CAN's] figures are baseless."
When such people who have seen such atrocities with their own eyes hear their government say that less than three dozen were killed, does that really reduce their anxiety and anger? Or does it simply mean that they'll be unable to trust the government?
Likely the latter. The Vanguard newspaper reports that "angry residents alleged that the true reason the bodies were being concealed was to hide evidence that many of the dead had been shot by police, not killed by sectarian mobs."
At a meeting of political and religious leaders yesterday in Jos, Nigeria, CAN state chairman Yakubu Pam suggested that President Olusegun Obasanjo was too late in trying to ease tensions in Plateau State. Why, Pam asked, did Obasanjo remain silent when 40 Christians were killed by Muslims in February? While Pam was still asking the question, the president interrupted:
Mr. Chairman of CAN, you are talking absolute nonsense and don't provoke me. When I did invite people to Abuja in April, do you think I invited them for a picnic? You are talking rubbish and I will not accept that. I invited all people that are stakeholders including the governor and I was saying that I would set up a committee to look at every aspect under the Emir of Zaria as Chairman. Then what I read in the papers was that some of you CAN said you didn't accept the Emir as the chairman. You have the audacity (to say) that you didn't hear anything from me; did I hear anything from you? What meaningful thing have you contributed to make peace in this state other than that you are chairman of CAN? CAN my foot! As a Christian, what did Christianity teach you? Revenge? Is that what the Bible teaches you? What type of leader are you? And you are asking me this type of rubbish question. You are an idiot. A total idiot. And I have no apologies for that.
Assuming you said I didn't do anything, what did you do? What did the leaders in this state do, the Christian leaders? Don't tell me that. And if you think that you are a Christian, I can claim to be a better Christian than you are. Let us tell ourselves the home truth. If you are a Christian, what do you do in a situation of conflict? So what you are saying is that people die and I don't care because I am a Christian? You are an idiot to say that. I have always been fair. I don't care whether you are a Christian or a Muslim. If you do what is wrong, I will condemn you, if you do what is actionable, action will be taken.
Pam later told Vanguard that the president's outburst didn't do much to boost confidence in government-sponsored peace efforts. "The same people who cooked up the crises in Plateau State have been going to him and deceiving him by telling him all kinds of lies," he said. "This is the first time I am seeing a leader abusing a pastor, an ordained man of God."
Vanguard reports that an Islamic leader "had his own share of the president's temperament" when he expressed his concerns that the government wasn't doing enough.
Meanwhile, the Kano morgue is overflowing with bodies. "The violence subsided in many districts on Thursday although police barred access to suburbs where fighting was still raging," Reuters reports. There's no doubt, however, that peace is far from returning to the area.
More on the Kano riots:
Coming extractions
Regular Weblog readers will notice that something's been missing this week—all those neatly categorized links of religion stories from English-speaking media around the world. Unfortunately, time pressures mean we've had to wait until today to compile these links. Check here for our massive collection of links galore later today. In the meantime, here's a few stories to get you started.
More articles
Mass. gay marriage:
Toward a more perfect union | The way a lawyer named Mary Bonauto made — and won — the case for gay marriage in Massachusetts (David J. Garrow,

The New York Times

)


Town set to defy governor on same-sex marriage issue | One week before same-sex marriage becomes legal in Massachusetts, the Cape Cod town of Provincetown voted Monday to issue marriage licenses to out-of-state same-sex couples even if they have no intention of moving to Massachusetts (

The New York Times

)


Gay marriage elsewhere:
Homosexuality & religion:
14-year-old's abortion controversy in Britain:
Pregnancy & abstinence in Britain:
Television:
Family channel Pax trying out edgier lineup | "The definition of appropriate family viewing has really expanded to include shows like 'American Idol' and 'Fear Factor,"' NBC Entertainment senior vp Sheraton Kalouria said (

Hollywood Reporter

)


Related Elsewhere:
Suggest links and stories by sending e-mail to weblog@christianitytoday.com
Check out Books & Culture's weekly weblog, Content & Context.
See our past Weblog updates:
May 13 | 12 | 11 | 10
May 7 | 6 | 5 | 4 | 3
April 30 | 29 | 28 | 27 | 26
April 23 | 22 | 21 | 20 | 19
April 16 | 15 | 14 | 13 | 12
April 8 | 7 | 5
and more, back to November 1999
Weblog
Launched in 1999, Christianity Today's Weblog was not just one of the first religion-oriented weblogs, but one of the first published by a media organization. (Hence its rather bland title.) Mostly compiled by then-online editor Ted Olsen, Weblog rounded up religion news and opinion pieces from publications around the world. As Christianity Today's website grew, it launched other blogs. Olsen took on management responsibilities, and the Weblog feature as such was mothballed. But CT's efforts to round up important news and opinion from around the web continues, especially on our Gleanings feature.
Ted Olsen is Christianity Today's executive editor. He wrote the magazine's Weblog—a collection of news and opinion articles from mainstream news sources around the world—from 1999 to 2006. In 2004, the magazine launched Weblog in Print, which looks for unexpected connections and trends in articles appearing in the mainstream press. The column was later renamed "Tidings" and ran until 2007.
Previous Weblog Columns: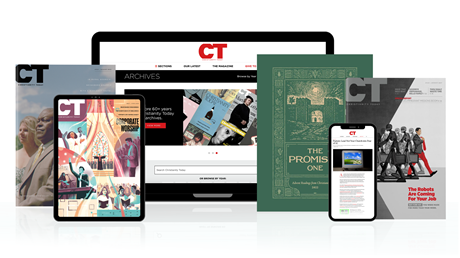 Annual & Monthly subscriptions available.
Print & Digital Issues of CT magazine
Complete access to every article on ChristianityToday.com
Unlimited access to 65+ years of CT's online archives
Member-only special issues
Subscribe
Nigerian Christians Say Nearly 600 Killed In This Week's Riots
Nigerian Christians Say Nearly 600 Killed In This Week's Riots