Last year Thomas Nelson made a splash with Revolve, a glossy version of "the complete New Testament" wrapped in a brightly colored clean-teen magazine, complete with cute models, dating columns, and makeup advice. Teenage girls—who told Nelson's researchers that "the Bible is freaky and we don't read it"—finally had a Bible they could call their own. (Or half a Bible, anyway, since it's hard to call the New Testament "complete" without the 39 books that its own writers constantly quoted.) Those girls, or their parents, made Revolve a bestseller. Once again, through evangelicalism's trademark fusion of mission and marketing, the Word had become fresh.
I thought of those teenage girls when I heard the story of Elizabeth.
Elizabeth is in her late teens. She has shy, laughing eyes as she tells her story on videotape to a patient interviewer. Like the teenage girls who are the target audience for Revolve, she grew up praying, trusting God, and hoping to go to college.
But Elizabeth, the daughter of Christian parents, grew up not in America but in a small village in Southeast Asia. When Elizabeth was 16, a relative in her village said she could find a well-paying job in a neighboring country. Eager to help her family and earn money for college, Elizabeth went with the woman, who handed her off to traffickers who shipped her across the border.
There Elizabeth was forcibly confined to a brothel, where for about $250 a man purchased the right to take away her virginity. She was held in the brothel for seven months, where she was raped by customer after customer.
Elizabeth could easily still be in the brothel—as hundreds of thousands of girls are worldwide—if investigators from International Justice Mission (IJM) hadn't rescued her and persuaded local police to raid the brothel. When they arrived, they found that Elizabeth had written on the wall in her own language: "Ps 27:1. The Lord is my light and my salvation. Whom shall I fear? The Lord is the strength of my life. Of whom shall I be afraid?"
There were dozens more Scripture verses on the wall of Elizabeth's room—or, more accurately, her cell—all written by hand, taken from the Bible she read when not being forced to serve customers. But Psalm 27—describing the psalmist's trust in God even though "evildoers assail me to devour my flesh"—was what Elizabeth's rescuers saw and remembered.
American Christianity is a curious thing. We have our Extreme Bibles, our Christian rock operas, our Revolve—ingenious attempts to make Scripture relevant to affluent people who are largely insulated from this world's wild beauty and poverty.
And then we have organizations like IJM, which I serve as an unpaid senior fellow. For eight years, IJM has mobilized thousands of young people, as well as lawyers, law enforcement professionals, and diplomats, to intervene on behalf of girls like Elizabeth, along with other victims of oppression. In the world where IJM's clients live, the stories and promises of Scripture are as real as a dimly lit brothel wall and a suddenly unlocked door. It's a world where specialty Bibles are neither available nor necessary.
Indeed, great advances in demonstrating the Bible's relevance rarely come from the restless minds of marketers. They come from people who dare to obey what they read. The Great Commission seemed like a relic of a distant apostolic age until the pioneers of global mission actually started making disciples of all nations. Amos's call for justice was relegated to the backwaters of the "minor prophets" until Martin Luther King Jr. led a campaign of Christian nonviolence.
Now activist organizations like IJM and diplomatic ones like the Institute for Global Engagement are discovering God, as IGE founder Bob Seiple says, "on the cruel edges of the world." On the cruel edges of the world, there is no need for elaborate explanations to bring a distant biblical text closer to our lives. Rather, when we go to the cruel edges of the world, we bring our lives closer to the text. When someone like Elizabeth writes, "The Lord is the strength of my life," it is not in a manner of speaking.
We live in a society that drives publishers to create a profusion of Bibles for people who consider a profusion of options their birthright. But in the end, the Bible is not a makeup mirror, casting a flattering soft light and showing us mostly ourselves. It is a window into a larger world—Elizabeth's world—full of tragedy and hope. The world where God's Word becomes flesh. No batteries required.
Related Elsewhere:
Christianity Today's Agnieszka Tennant looked at Ten Things You Should Know About the New Girls' Biblezine.
Earlier Andy Crouch columns for Christianity Today include:
Pilgrims to Nowhere | Freedom isn't much good if you don't have a sense of direction. (March 30, 2004)
Glittering Images | A profound Christian rethinking of power is overdue (Feb. 17, 2004)
Before the Deluge | All of us have a sexual orientation that bends toward the self. (Dec. 03, 2003)
Article continues below
Two Weddings and a Baptism | It's still impossible to predict what will advance the gospel in Hollywood. (Oct. 15, 2003)
Wrinkles in Time | Botox injections as a spiritual discipline. (Aug. 11, 2003)
Rites of Passage | Self-improvement is our culture's most durable religion. (June 6, 2003)
Christian Esperanto | We must learn other cultural tongues. (June 4, 2003)
We're Rich | But why is it so hard to admit? (Feb. 20, 2003)
Blinded by Pop Praise | To see God "high and lifted up," just open your eyes. (Dec. 17, 2002)
The Future Is P.O.D. | Multicultural voices have an edge in reaching a rapidly changing America. (October 12, 2002)
Rekindling Old Fires | We can resist technology's chilling effects on how we spend time together. (August 2, 2002)
Interstate Nation | The national highway system is a lesson in how to transform a nation. (June 21, 2002)
Amplified Versions | Worship wars come down to music and a power plug. (April 17, 2002)
Thou Shalt Be Cool | This enduring American slang leaves plenty out in the cold. (March 18, 2002)
Borrowing Against Time | We live in a fallen world. We will die. We need to face that. (Jan. 17, 2002)
Grounded | Our technologies give us an illusion of omnipresence—most of the time. (Nov. 15, 2001)
Zarathustra Shrugged | What apologetics should look like in a skeptical age. (Sept. 5, 2001)
Have something to add about this? See something we missed? Share your feedback here.
Always in Parables
Andy Crouch is an editor at large for Christianity Today. Before working for CT, Crouch was chief of re:generation quarterly, a magazine which won the Utne Reader's Alternative Press Award for spiritual coverage in 1999. He was formerly a campus minister with InterVarsity Christian Fellowship at Harvard University. Crouch and his wife, Catherine, a postdoctoral fellow at Harvard, have two children. His column, "Always in Parables," ran from 2001 to 2006.
Previous Always in Parables Columns:
Our digital archives are a work in progress. Let us know if corrections need to be made.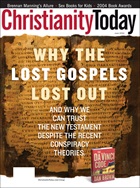 This article is from the June 2004 issue.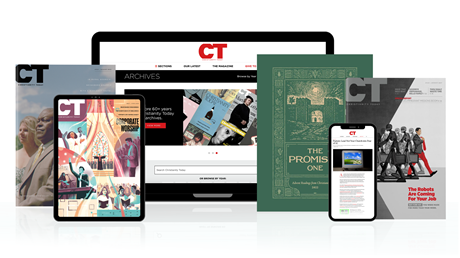 Annual & Monthly subscriptions available.
Print & Digital Issues of CT magazine
Complete access to every article on ChristianityToday.com
Unlimited access to 65+ years of CT's online archives
Member-only special issues
Subscribe
The Cruel Edges of the World
The Cruel Edges of the World