Fireworks. Parades. Three days of celebration in Guatemala City followed the signing of peace accords on December 29, 1996. Peace had come to Guatemala at last after 36 years of civil war. Or had it?
Church historian Martin E. Marty introduces the documentary Precarious Peace with two questions: What does it take to end a war? What does it take to ensure a peace?
The secular media have largely overlooked the church's influence during Guatemala's troubled past. Precarious Peace fills in some of the gaps. In this two-part documentary, producers Rudy and Shirley Nelson challenge Christians to consider how to address social ills in Guatemala, where civil war, corruption, genocide, ethnic discrimination, and injustice have led to a culture of fear and violence. They see Guatemala as a case study that parallels other conflicts.
La Violencia
The Nelsons, along with co-director Dennis Smith (a Presbyterian missionary in Guatemala) and executive producer Bill Jersey, look at how Christian groups and individuals have responded (or not) to years of what Guatemalans call la violencia. They involved Guatemalan filmmakers, advisers, and spokespeople. They culled war footage from the extensive archives of Guatemalan filmmaker José Vasquez, and two other in-country photographers filmed interviews and local color.
"We didn't want to make a documentary produced mainly by gringos," the Nelsons write.
As the video explains, Guatemala's civil war can be traced to 1960, when military officers rebelled against a dictatorship. Earlier, in 1954, the CIA had helped overthrow a democratically elected government seen as a communist threat. Military rule soon followed. Later, revolutionary forces moved their base of operations to the mountains, where poor, mostly illiterate Mayas lived.
The government viewed the Mayas—more than 50 percent of the population—as a threat. It began counter-insurgency measures and wiped out villages suspected of guerrilla support. During the civil war, some 200,000 people, mostly indigenous Mayas, caught between government forces and insurgents, were massacred or "disappeared" and were never found. These included not only rural Mayas, but also teachers and church and civic leaders.
Quietly Apolitical
While most evangelical groups tended to favor the government, they tried to be quietly apolitical. Some denounced Roman Catholic and Mayan leaders suspected of aiding the guerrillas; a few spied on them and reported their actions to the army. Their rationale was Romans 13: obey the government. Juan and Grace Par, Methodist directors of the 1,200-student Colegio Utatlán in the highlands, openly declared themselves neutral. They forbade any discussion of politics in the school and were not disturbed by either government or guerrilla forces.
But neutrality did not guarantee safety. A Methodist teacher was killed for teaching his students the Guatemalan constitution and the Bible—both safe subjects, he thought. The video does not directly speculate on who committed the murder, but it indirectly implicates the army. Anything that might empower the people to improve their lives was construed as communist.
For the same reason, more than 500 Roman Catholic lay leaders died during la violencia, especially during the 1980s. Mayan catechist Alejandro Atz managed to survive, but his wife was brutally tortured and killed. One of his daughters disappeared, and many extended family members died. The Atz family represents those who suffered during the civil war, usually at the hands of the Guatemalan army. Their story is woven throughout the film.
When Lutheran clergyman Paul Wee first visited Guatemala, he was appalled by stories of brutality. He vowed to help bring peace.
Later, as assistant general secretary for the Lutheran World Federation, he convinced opposing sides to meet on neutral ground to discuss prospects for peace. Accords signed in Oslo in 1990 provided groundwork for later negotiations.
Six years later, peace accords were finally signed in Guatemala City amid celebration and hope. Military hostilities ceased—but hopes for peace remain unfulfilled, and threats, assassinations, poverty, and discrimination continue as the government fails to make changes and various factions of the military seek power.
The video juxtaposes U.S. missionaries, journalists, professors, and anthropologists alongside Guatemalan priests and pastors, a former guerrilla leader, government officials, and poet Julia Esquivel.
"By 1979," Esquivel says, "I desired, from my impure sense of justice, that the guerrillas would give the army a good lashing. This is what the army had done for years to the indigenous people. But around 1983 I realized that war is not the way."
Varied Voices
Sandwiched between scenes of worship in various churches are comments from various faith groups addressing how they try to advance the cause of peace. Speakers include Mennonites, Pentecostals, Methodists, Presbyterians, Lutherans, Roman Catholics, and members of an independent "health and wealth" church. One Pentecostal church has placed itself in jeopardy by supporting a community of squatters in an adjacent illegal barrio.
The progressive faction of the Roman Catholic Church in Guatemala tended to side with the revolutionaries during the war. Concerned with land grabs (from early Spanish occupation to modern agribusiness ventures) and the poverty and repression of Mayas, they helped set up cooperatives and community organizations.
They still see peace as a goal. Roman Catholic Bishop Alvaro Ramazzini of San Marcos, says "A country that professes to be 90 percent Christian should manifest fruits of justice, solidarity, and true peace."
News reports indicate that recently elected President Oscar Berger plans to include more indigenous people in government. This is a sign of hope. But last year was the most violent since the peace accords were signed.
The video comes with a group study guide to encourage Christians to discuss problems and search for solutions.
One question in particular poses the challenge squarely: As part of the global church, how are we to respond to challenges to Christianity throughout the world?
Jeanette Hardage is a freelance writer. Precarious Peace: God and Guatemala is available from Vision Video at 1-800-523-0226 (www.visionvideo.com) or Maryknoll, 1-800-227-8523 (www.maryknollmall.org).
Related Elsewhere:
Precarious Peace is available from Christianbook.com and other video retailers.
More Christianity Today articles on Guatemala include:
Three Military Officials and a Priest Jailed for Killing Guatemalan Bishop | Since the 1998 death, six witnesses, a prosecutor, and a judge have fled in fear of their lives. (June 14, 2001)
Three Military Officials and a Priest Jailed for Killing Guatemalan Bishop | Since the 1998 death, six witnesses, a prosecutor, and a judge have fled in fear of their lives. (June 14, 2001)
U.S. Investigators Asked to Help Solve Mystery of Nun's Death in Guatemala | What initially seemed to be auto theft gone wrong now has overtones of politics and persecution. (June 01, 2001)
United Nations Asked to Protect Judges in Bishop's Murder Trial | Death threats and attacks common in case against military officers and priest. (June 01, 2001)
Almost Three Years After Bishop's Death, Five Go on Trial | Threats of violence continue as military officials stand trial in Guatemala. (April 11, 2001)
Guatemala's New Government to Probe 'Loss' of File on Murdered Bishop | File empty, reports Christian news agency. (Jan. 31, 2000)
Have something to add about this? See something we missed? Share your feedback here.
Our digital archives are a work in progress. Let us know if corrections need to be made.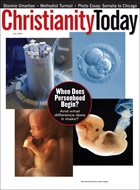 This article is from the July 2004 issue.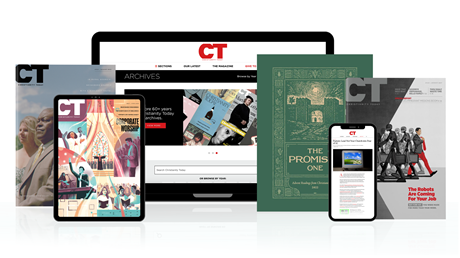 Annual & Monthly subscriptions available.
Print & Digital Issues of CT magazine
Complete access to every article on ChristianityToday.com
Unlimited access to 65+ years of CT's online archives
Member-only special issues
Subscribe
Witness Amid War
Witness Amid War